You may have noticed that your music stopped playing when you opened the Facebook app.
Have you wondered what is happening and wish to know what to do to rectify the situation?
The answers you need to the question of why your music stopped playing when you opened Facebook are provided in this article.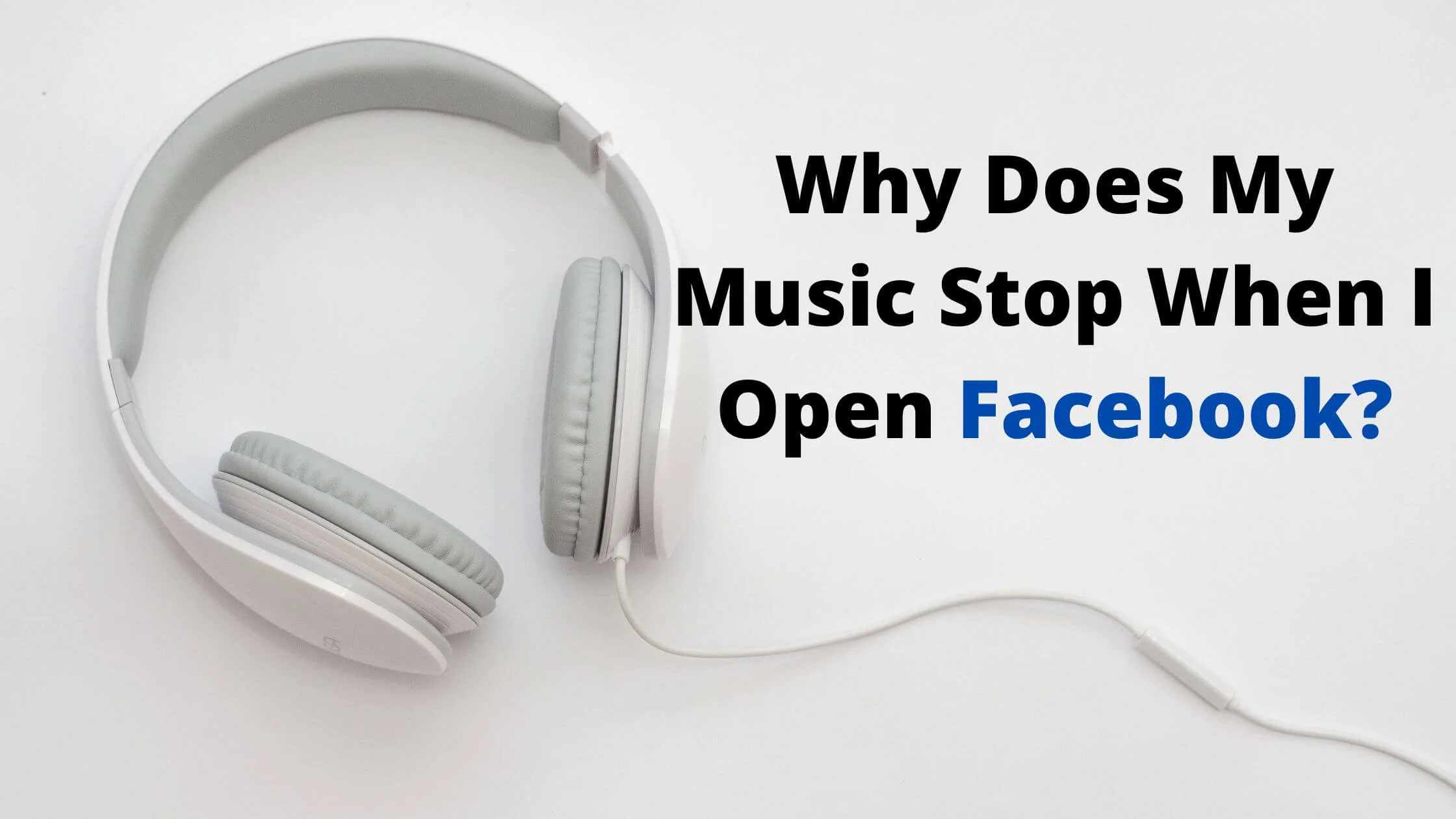 Facebook is an amazing platform to do a lot of wonderful stuff.
There are beautiful features to be enjoyed on the platform. Given its existence for a longer period, it has enjoyed usage from a wider range of generations; both the older and the younger generation.
However, it is frustrating to have this amazing platform interfere with other functions on your mobile device.
Having your music stopped or paused because you launched Facebook, though can be a result of good intentions from Facebook may not always sit well with a user.
It's bad when you are not certain why this has happened and worse when you don't know what to do. This is where this article has got you covered.
You will learn the possible reasons why your music stopped when you opened Facebook and what you can do about it.
Why Does Your Music Stop When You Open Facebook?
It is not a great thing to have more than one sound playing concurrently on your device.
The one way to manage this is to put a hold on one sound and have the other play. This is to ensure that there are no overlapping sounds.
This is one reason why your music stopped playing when you opened the Facebook app.
Without stopping your music from being influenced by anything else, the normal is that this happens because the Facebook platform launched has videos and sounds playing.
Therefore, to curb the interference, your music from your music playing platform like Spotify ends up being paused or stopped.
The solution to Your Music Being Stopped When You Open Facebook?
The whole idea of having your music stopped when you open your Facebook app may be uncomfortable for you especially if it is disturbing something else you are doing.
Don't worry, there are a few things that can be done to remedy the situation. All you have to do is ascertain the reason for the action.
You have to know why your music was stopped because more than one thing can influence this. Afterwards, you can learn how to manage the situation.
To make it easy for you, about 6 different ways of handling this situation are explored as you read along.
Change Sound Settings on Facebook
Having your Facebook account on video autoplay will make your music playing function to be disrupted when you launch the Facebook platform.
So, for a remedy, have your Facebook autoplay features disabled, as well as toggle off the sound in the settings of the platform to prevent an overlay between the two platforms; your music app and the Facebook app.
To fix the autoplay feature, here's how;
Go to Facebook Settings which is the three horizontal dots icon at the base of your screen (•••).
Navigate to the Account Settings.
Select Sound.
Toggle OFF the "In-app sound" feature.
The tick icon beside the In-app sound feature will disappear once it has been disabled.
Prevent overlapping of sounds by doing the following;
Go to Settings and Privacy on your Facebook account.
Press the Settings function.
Go to the Media section.
Have the Sounds and App feature toggled OFF.
Refresh Background App
Having a lot of apps running in the background of your device can disrupt the smooth functioning of your device.
It will be in your best interest to have your background apps refreshed as this can equally make it an unpleasant experience to have both your music player and Facebook app functioning at the same time.
You can make use of your Home button to have your background apps refreshed.
You can either clear the apps in the background one after the other after tapping your home button or make use of the "Clear All" feature.
Facebook App Reinstallation
Another thing you can do is to have your Facebook app uninstalled, and then, reinstalled.
It is possible that the incompatibility between your music player and your Facebook app is a result of a cluttered app.
Reinstallation of the app will give you access to get the app in a bug-free state.
You don't have to be bothered about how this can negatively affect your Facebook account because it comes with no damaging effect whatsoever.
Follow the steps below to have this done.
Open your mobile device Settings.
Go to the Application Manager section of your Settings.
Select Facebook from the apps available in the section.
Press the Uninstall feature.
After uninstalling, it is best to restart your phone.
Afterwards, go to either Google Play Store (For Android users) or the Apple store if you are using an iOS device and have the Facebook app reinstalled.
Close Facebook App
If having your Facebook app at a particular point in time is clashing with what you are listening to and disturbing you, you can simply close the app and concentrate on listening to your music only.
You can always put on the app again when you have more time to give to it alone.
Update the Facebook App
It is important to have your Facebook app updated whenever you need to. Not doing so, can make it difficult to enjoy the app.
The reason you may not have a smooth experience using both your Facebook app and your music player can be a result of your Facebook app being out of date.
Go to your Play Store or App store and update your Facebook app.
Restart Your Phone
If your phone has constantly been active and on heavy-duty usage, it may need to be restarted to refresh the system.
Either switch OFF and switch ON your phone or make use of the Restart feature.
Clearing out your Facebook cache is important too.
You can go to the Facebook app under your device Settings and clear the cache memory of the app to enhance a better user experience.
Why Does My Music Stop When I Open Facebook FAQs
Why does my music stop when I open Facebook?
Many things can facilitate this course of action. It can be a result of having your Facebook account Media settings on autoplay.
This way, there has to be a balance in your device. Hence, your music gets stopped to prevent the overlapping of sounds.
The other reasons can either be a device or an app issue.
What can I do to fix the interference between Spotify and Facebook on my device?
Spotify and Facebook are great apps. However, you may not have a very pleasant experience running the two together if you don't structure your device in a way to handle the running of the two apps at the same time.
A way of managing the interference between the two apps is to deny Facebook access to your iPhone camera.
This way you can surf through the Facebook network while enjoying music from Spotify.
The steps below will guide you on how to deny Facebook access to your camera.
Go to your iPhone Settings.
Find your Facebook app.
Under the "Allow Facebook Access" section, deactivate the camera access permission.
When you toggle this OFF, the colour will turn grey instead of the usual green to show that the permission has been disabled.
Conclusion
It is understandable for you to feel annoyed that you cannot enjoy both your music playing from your favourite player and navigating through Facebook.
You can take a few minutes to find out what could be wrong and have it fixed. As basic as restarting your phone can do the magic.
Also Read: