Survey sites can be an interesting and easy way to make extra money the side.
Most companies want to know how much you love certain products and kind of detest others, that's more reason why they'll be willing to pay for your thoughts.
Did you know that you can as well earn some really good cash or gift cards by just sharing your thoughts on some market research topics such as online stores, groceries, and food?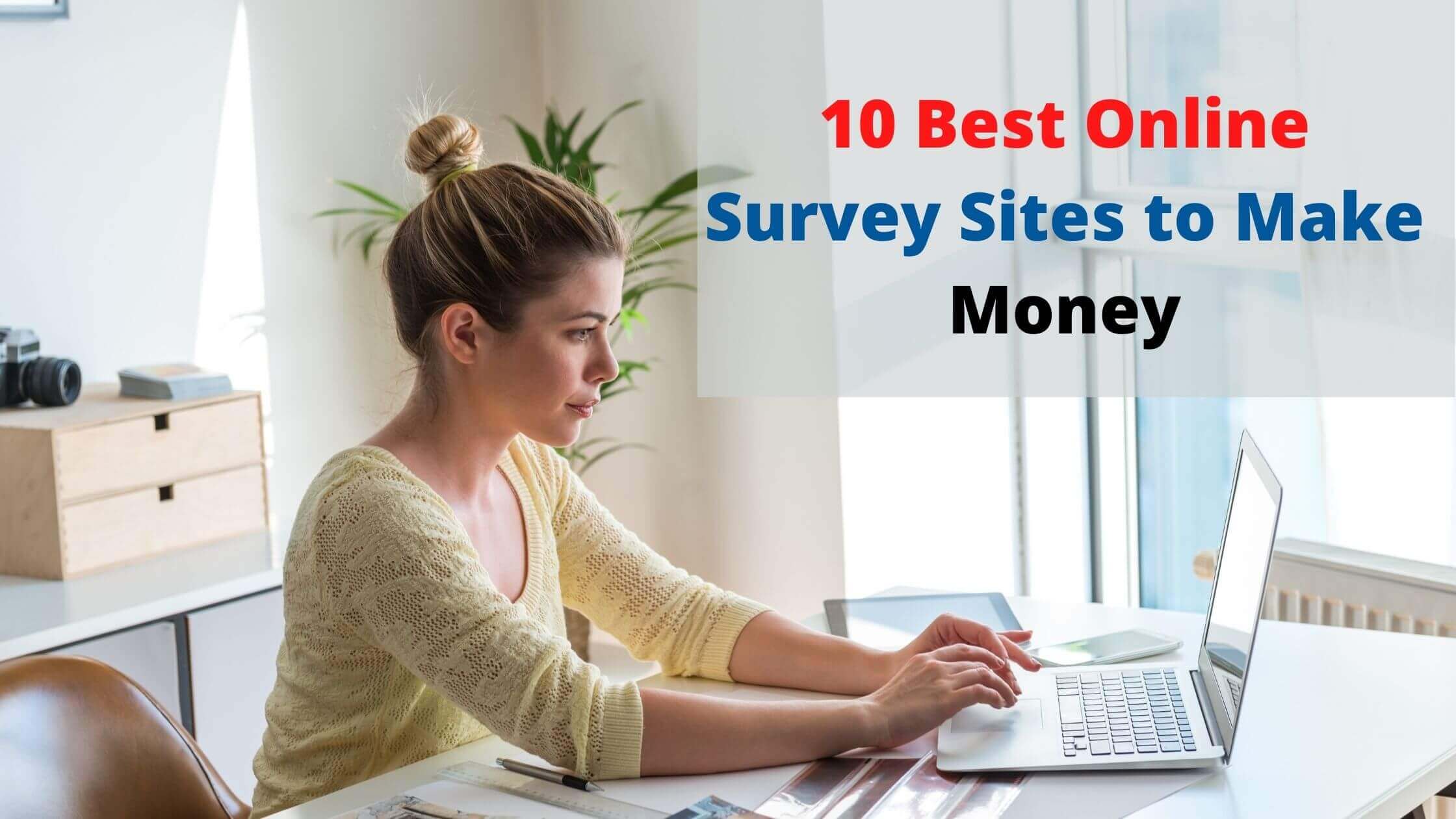 The good thing about most surveys is that it takes less than 15 minutes of your time. It's quite simple to be done in your free time and as a fun side hustle.
I can guess you're here because you're looking for how to make extra money online doing surveys without paying a dime.
This article will be your guide on how to start taking surveys for money really fast.
See Also: How to Become a Tiktok Influencer and Make Over $10K Monthly.
Why Should You Take Up Paid Surveys For Money?
As a matter of fact, all top market research companies really want to understand their customers so they can create the best products and services. 
At the same time, this also can't be done if they do not understand YOU and what YOU want. This is the main reason why are being paid in exchange for your thoughts and opinions.
10 Best Online Surveys Sites to Make Money
Here are the best ways how to make money by taking surveys from home.
1. Survey Junkie
Survey Junkie is interestingly one of the best survey sites you can think of. It has a great user experience and at the same time, you can attempt multiple surveys daily.
Survey Junkie was launched in 2005, the platform is one of the oldest that has ever existed, and it currently has over six million members.
Excitingly, it's really easy to start earning money on Survey Junkie. You will have to answer a number of screener questions to know if you'll be qualified for the entire survey.
There is another way you can earn points, and that is by installing the Survey Junkie browser extension.  The tool actually helps you track your web browsing and entire online shopping history, however it does not record sensitive information like your password and username.
See Also: 21 Best High Paying Remote Jobs ($100k+)
2. Toluna
This is one of the largest survey companies you can find online, which consists of members from various countries around the globe. 
Making money through surveys remains the best way to make money, but you can also earn some extra cash by attempting mini-polls and also interacting with others within the same community.
You might be surprised to know that you can receive about 3,000 to 6,000 points per survey. There are also surveys offered by Toluna that pay up to 50,000 points.
Also, to be able to redeem these points for cash, the minimum of $30 in PayPal Cash is equivalent to 95,000 points. You could as well earn points by buying apps or magazine subscriptions.
There are other online survey sites you can make money on, but Toluna is worth giving a shot at. With Toluna, the minimum withdrawal threshold is $30.
After reaching this amount, you can then think of cashing out your earnings through PayPal.
See Also: Top 30 Best Digital Marketing Certifications Worth Your Money
3. Panda Research
With Panda Research, you can earn up to $40 per survey. It is considered to be among the highest paying survey sites.
Apart from paid surveys, there are also a number of offers you'll get to discover on the Panda Research platform, and they include:
Discounts

Email Offers

Referral programs

Third-party deals.
You're also free to invite friends and earn 10% from their savings. Once you have earned up to $50, you can then withdraw your funds into your PayPal account.
If you are seeking survey sites that pay the most, Panda Research is worth giving a shot.
4. Branded Surveys
It is quite easy to sign up and also complete surveys with Branded Surveys, compared to some other sites. After successfully filling out your profile, you'll be matched to Surveys offered by some market research companies.
At the same time, taking daily polls and shopping at local businesses can also help you earn some good extra points.
Actually, the gift card and cash redemptions start at 1,000 points for every $10 reward.
See Also: 9+ Best Influencer Marketing Software Tools
5. MobileXpression
There's a very slight difference between MobileXpression and the others. You can easily get paid for your opinion without stress with an iOS or Android smartphone.
The app is simple to use, and it's much easier to open an account.
All you have to do is to install the application and receive rewards when you turn on data on your mobile phone. You can redeem your rewards for gift cards by receiving weekly usage credits.
6. Swagbucks Surveys
Swagbucks is definitely on the list of my favorite best online survey sites to make money online. It's also really popular and one of the well-known legit survey sites to make money online.
I remember this being the very first site one of my friends joined to make money, right here at the university. That's honestly how I got to know about  Swagbucks, and I totally loved the site.
Swagbucks goes a long way to give you the highest payout for your efforts.
You can as well choose to redeem your points for free gift cards, asides from getting paid with PayPal.
Besides taking surveys on Swagbucks, you could also earn cash by:
Online Shopping

Watching videos that are entertaining

Surfing the net and playing online games as well
7. LifePoints
LifePoints is a community of over 5 million members located in more than 70 countries that definitely share the same opinions about products and services every day.
This site claims its members most products such as anti-lock brakes, and baby and toddler safety car seats and does not leave out cash reward credit alerts.
LifePoints sends surveys through emails, and you have the chance to decide if to participate or not. You'll occasionally get diaries where you can pen down your activities and habits.
Topics will cut across sports, travel, health, and diverse aspects of daily life.
Don't forget how amazing the rewards are. You have the liberty to choose from hundreds of options in the catalog, it includes getting cash through PayPal.
You could as well choose to donate your points to charity.
See Also: 15 Smart Ways to Make Money on Facebook in Nigeria
8. SurveyClub
With a variety of sites to earn money taking online surveys, SurveyClub is on the top list and you just can't ever go wrong with it. 
Interestingly, SurveyClub was founded in 2005 and it is a research recruitment platform that consists of a very long history of connecting consumers with paid online surveys and study opportunities.
Members could also partake in research panels, product testing, clinical trials etc.
When important, you'll be contacted with locally-based Survey opportunities that pay with Pay cash.
And did you know?
It really costs you nothing to register, and you can choose to get opportunity updates through either email or text message.
9. YouGov
This is yet another legit Survey company that enables you the chance to come across interesting topics and then make money for doing it. YouGov also creates new ways to participate each passing day.
The opinions you give might as well be taken into consideration.
This company also works with a good number of organizations to easily seek opinions on interesting topics that include: politics, current affairs, brands etc.
Most of the surveys are quite short and don't last for so long. Its duration is always between 5 to 7 minutes.
Don't forget that for every single survey you successfully complete, you'll earn points that will help you redeem your rewards.
To get started, you can sign up for free and you can either use your Facebook or email address to join.  This process doesn't take more than five minutes to complete, after that is done you can get started.
See Also: How to Increase Facebook Post Engagement Really Fast
10. Harris Poll Online
This is such an amazing way to earn money from surveys. It should interest you to know that this company has been in existence for more than 45 years, and it is also well known as a good political polling organization.
This implies that you have the chance to influence public policy. Isn't that amazing?
However, politics isn't all that Harris Poll Online does. You can absolutely take part in any number of market research surveys.
You can also redeem your points for rewards and gift cards. With Harris Poll Online, your privacy is secured.
The survey site seriously protects your information. Some of these security enhancements include Two-factor authentication and IDs that are not email-based.
Signing up for this survey site is absolutely free.
See Also: How to Make Money on Instagram Without Followers
Frequently Asked Questions on Making Money With Survey Sites
What Surveys Sites Pay the Same Day?
Below are a few survey sites that pay cash instantly; InboxDollars, Survey Junkie, Toluna, Swagbucks, PrizeRebel etc
Do Surveys Really Pay?
Yes, but the truth remains that not all surveys actually pay so well. That's to say that not all survey sites are equal.
It's no longer news that there's a scam out there, so you have to be careful and only sign-up for legitimate Survey sites.
These legitimate sites definitely act as the middlemen that connect consumers easily with market research companies to reward them for taking up Surveys
How Do You Make Money Doing Surveys?
First of all, sign up for different survey sites. Sign up for as many as you think you can comfortably manage.
Most Survey sites actually offer one or two high-paying Surveys that you can take advantage of. If you really want to make the most of surveys, you need to join more sites.
Then you focus on the ones that pay the most.
Conclusion
I hope this piece was worth reading, and you had a nice time coming across our list of the best online survey sites to make money.
I'll strongly advise you to join these sites so you can have a constant flow of paid surveys you can always choose from.
Inasmuch as online surveys might not make you so rich, they can be a good way to monetize your free time and get paid. Try a few options I listed above and pick what works best for you.
It's time for you to get it started!
Also Read: