Influencer marketing is one that is more profitable when brands and influencers see eye to eye on the product or service being marketed.
This is because it can only be more rewarding when you find an influencer that has large followers within your niche. Hence, this article details the 9 best influencer marketing software to increase your brand visibility and revenue.
Note that the necessity of the following influencer marketing software or platforms cannot be overemphasized.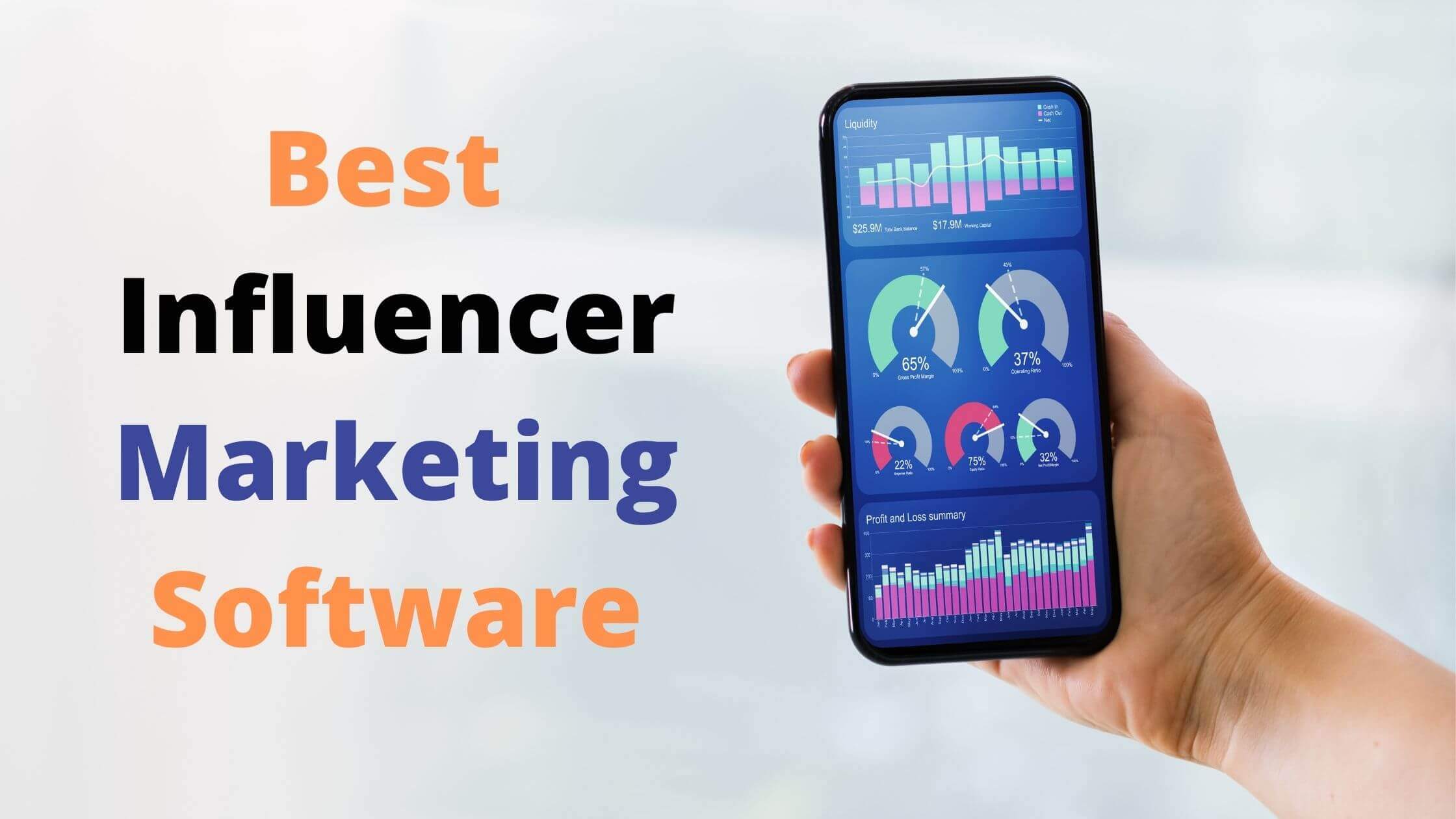 These tools play a great role in the search and discovery of the perfect influencers a brand can work with.
To this end, brands seeking the best influencers to promote their products and services can use these tools or combine a few of them to get the best results.
"It can be quite pricey when you partner with the wrong influencer for your business. However, finding an influencer based on search campaigns would definitely prove to be worth it. This is in terms of productivity, interest, reviews, etc."
See Also: How to Become a Tiktok Influencer and Make Over $10K Monthly
Benefits of Influencer Marketing Software
Influencer marketing tools let marketers locate the most relevant and engaged bloggers, journalists, or media outlets in their respective industries

Helps easy and quick contact

It allows automation for repetitive low-level jobs

Track and monitor the results
9 Best Influencer Marketing Software
The following influencer marketing software are worth considering for marketing purposes.
1. Grin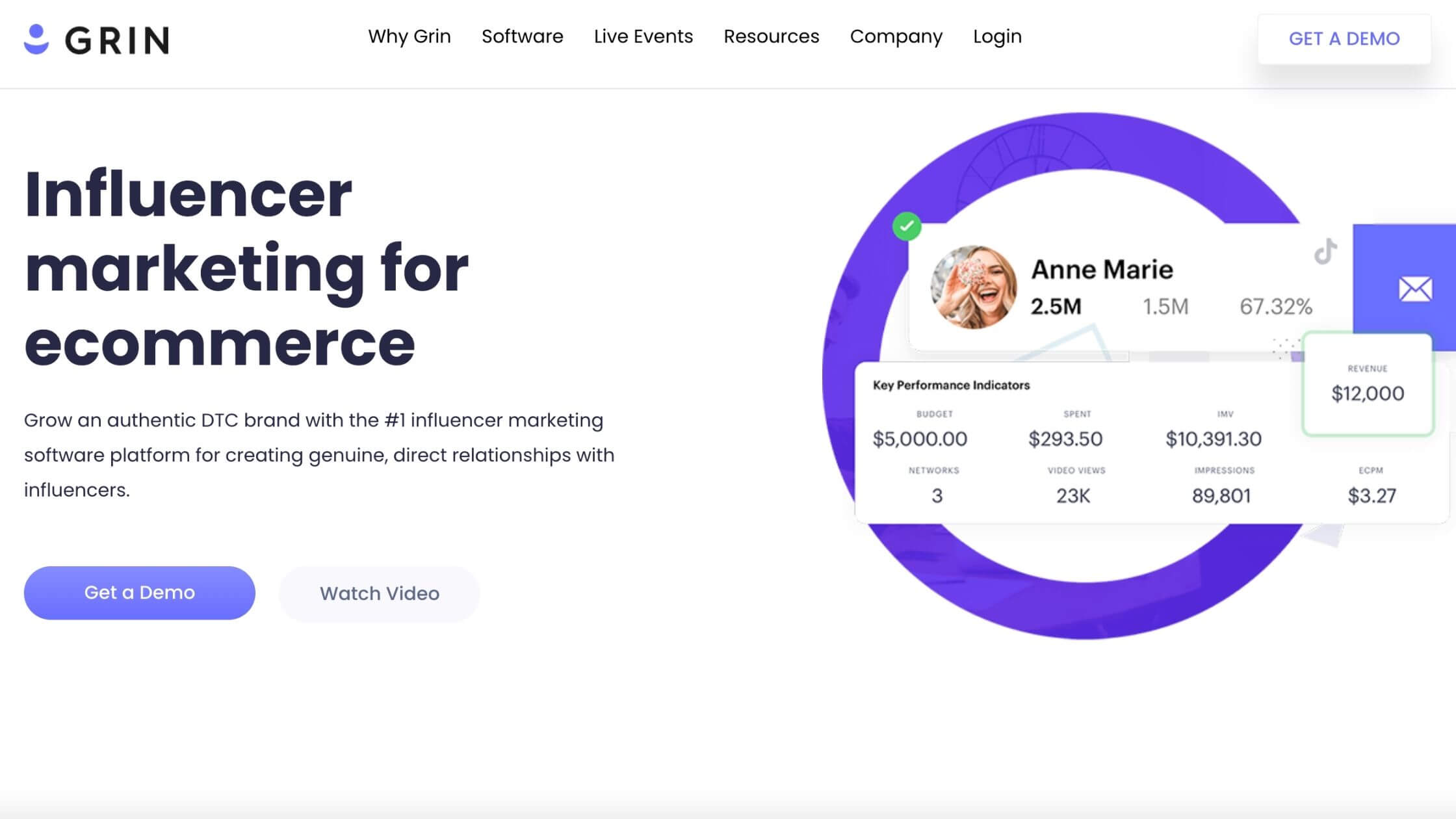 Grin is the world's leading all-in-one influencer marketing software, helping brands take control of their influencer relationships.
With the tools at your disposal, you'll be able to cultivate a network of trustworthy brand ambassadors or Influencers and certainly realize the financial and brand benefits that come with it. 
Grin provides the ability to search a network of 33 million social media users across all platforms to locate the perfect faces for your company.
Grin's pricing is flexible to meet the needs of its clients.
However, it is designed for direct-to-consumer (DTC) ecommerce firms who run influencer marketing programs and want to grow their operations with streamlined processes and ecommerce integration options.
It has all of the main capabilities that a top marketing management software should have and organizes them into processes so that users have easy navigation.
Grin integrates real-time eCommerce apps such as Shopify, WooCommerce, and Magento. It also integrates email systems such as Gmail, Outlook, SMS, and Slack.
In addition to that, Grin also integrates office apps like Google Drive and Office 365 into all major social networking platforms.
Isn't that amazing? 
See Also: Free Social Media Icons to Spice Up Your Posts (Copy and Paste)
2. AspireIQ
The AspireIQ platform is amazing.
It's similar to a dating site where brands can meet influencers. It's simple to set up campaigns (extremely user friendly), and the account managers are attentive and committed to ensuring the success of your campaign.
I appreciate how simple it is to find, invite, and discover new creators on the site. 
To gain access to the platform, AspireIQ provides three levels of service. In all cases, the price is flexible and involves a year-long commitment.
It's a good idea to give it a year to see how it works. There are no regrets with AspireIQ as your influencer marketing software.
AspireIQ Plans
The Basic Plan:

Amazingly for this plan you get, 1 active campaign, 1 User. However, you still get complete access to the database of Influencers and all the management tools necessary. You also get a campaign analytics system to monitor if the need be.

Pro: 

Everything above but for four users and four active campaigns this time. Also inclusive is a specialized and dedicated "success manager,". Social listening and the opportunity to track the influencers of up to five competitors is also included in this package.

Enterprise:

All of the above but for unlimited users and

10 active campaigns

. Also inclusive is the ability to automatically transmit legal contracts for electronic signatures, adjustable media values to calculate ROI if need be, and the data export option.
They do, however, take a number of factors into account before accepting any profiles. If your profile was rejected, it might be for one of the following reasons:
Low commitment:

Your social media account does not satisfy the standards for platform opportunities

Subject:

when 50% or more of your material is re-conceived and not original.

Unusual commitment:

the percentage of commitment is not what brands typically look for (like comments).

Explicit:

When there was half/full nudity in more than 30 percent of the author's feed material.

Not enough Posts:

At least 50 Instagram entries, 20 Youtube videos and 10 blog posts are required.
Your social account(s) have to comply with the following commitments (based on industry standards for each platform) in order to apply for campaigns:
Instagram – at least 2,500 followers and at least 400 likes/post average

Facebook – likes at least 10K

Twitter – 5k followers at least

Pinterest – at least 10,000 views

Blogs – 3000 views per month and 1K followers at least

YouTube – 2,500 median views and 3K at least

TikTok – a thousand followers
3. Upfluence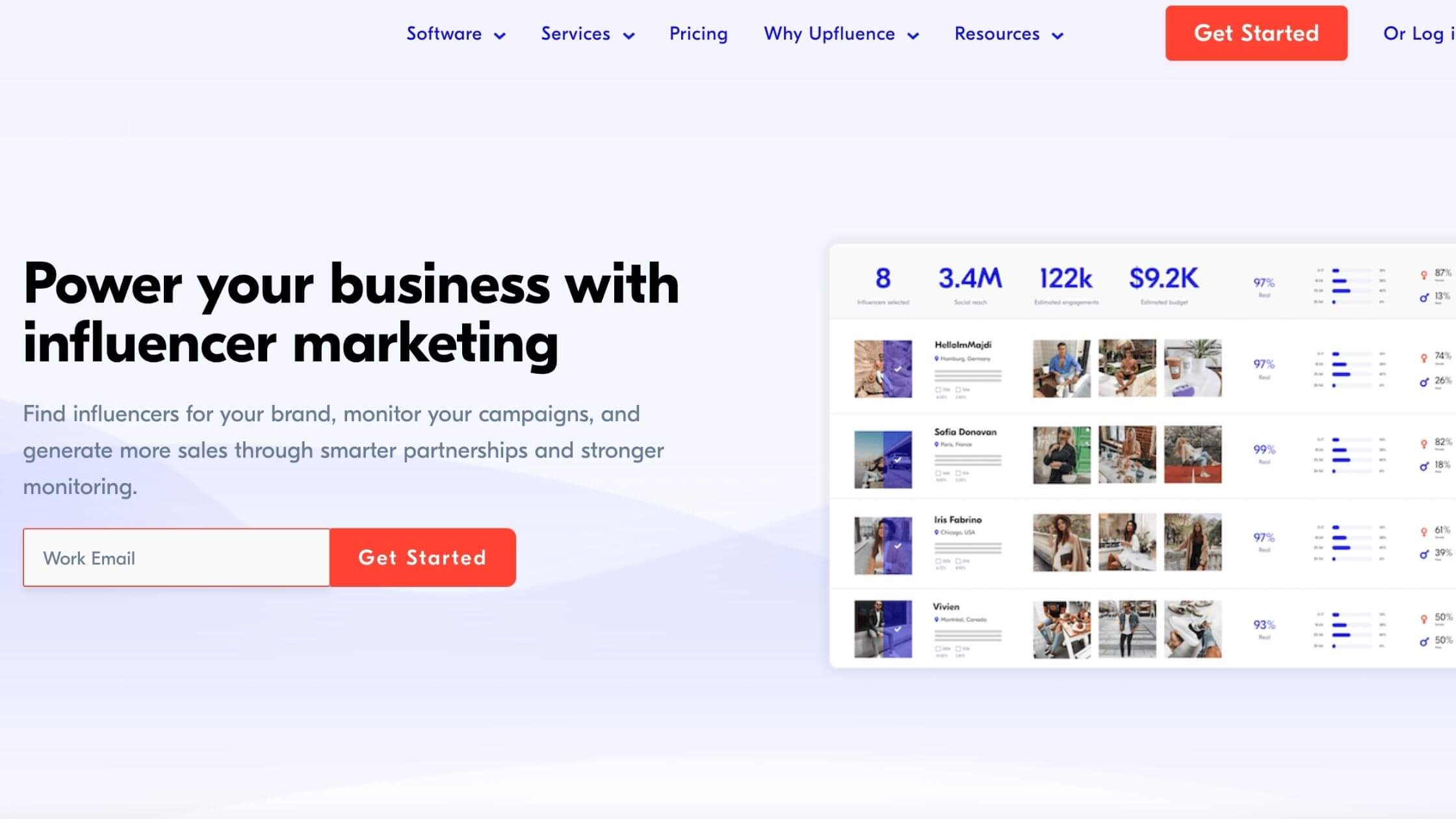 Upfluence gives marketers all of the tools they need to streamline their influencer campaigns and increase revenue.
Personally, we love Upfluence's portfolio of influencer discovery solutions which includes a vast database of validated influencers.
We can't also forget the organic influencer identification via Live Capture, and influencer identification via ecommerce integrations. Upfluence is a very easy to use platform/software.
They have in one platform, everything to manage all of your influencer connections, manage influencer payments, and track campaign results.
The end-to-end platform from Upfluence makes expanding influencer marketing easier than ever.
This influencer marketing software is quite simple to use. It works similarly to Google. You could just search for influencers that publish about specific topics by typing in keywords.
Thus, with Upfluence you can get very accurate results relative to the best influencers for your niche as a business, service provider, or idea generator. Whatever you need to sell!
See Also: 15 Best Social Media Scheduling Tools (Ranks & Reviews)
4. CreatorIQ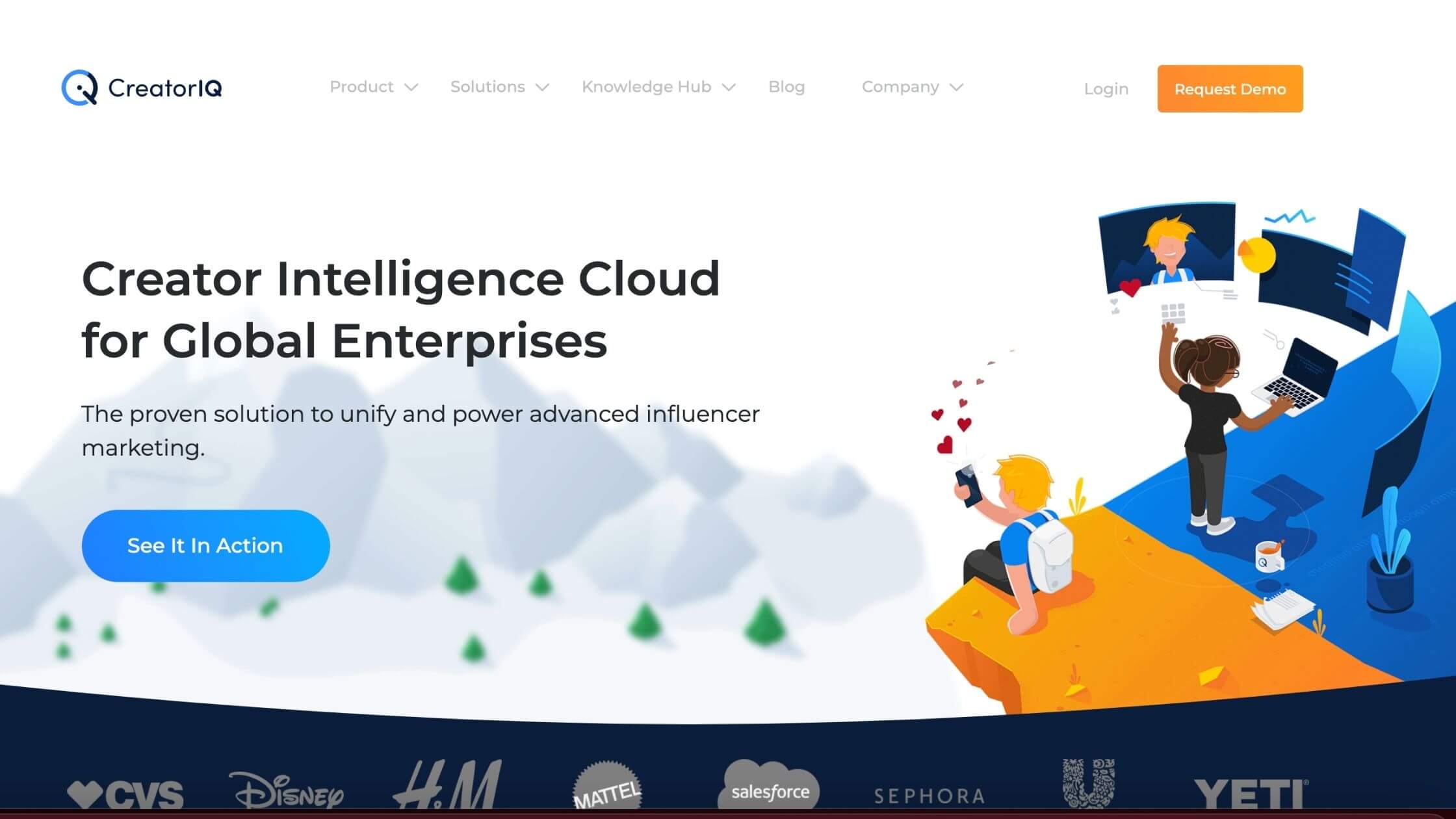 CreatorIQ is the most trusted software for unifying and powering advanced influencer marketing for the world's most forward-thinking businesses.
With CreatorIQ you can get access to the following with ease:
Over 20MM Detailed, Enriched Influencer & Creator Profiles

Over 1 Billion Accounts in Real-Time

Ability to search for Influencers & Creators by Name, Bio, and Advanced Attributes, e.g. Content Details

You can search and Filter Influencers & Creators by Audience, Social Platforms, Content Details, and More.

You can use the 28 Defined Categories and 750 Sub-Categories to narrow down your search.

Great navigation as you can easily return to any previous influencer & creator search with a single click of 'saved searches

You can also Identify Engagement, Follower, and Audience Fraud properly
And so much more!
Some of the businesses that use CreatorIQ's platform to create actual business results across their influencer marketing ecosystems include AB Inbev, Airbnb, Calvin Klein, CVS, Disney, H&M, Sephora, and Unilever.
5. NeoReach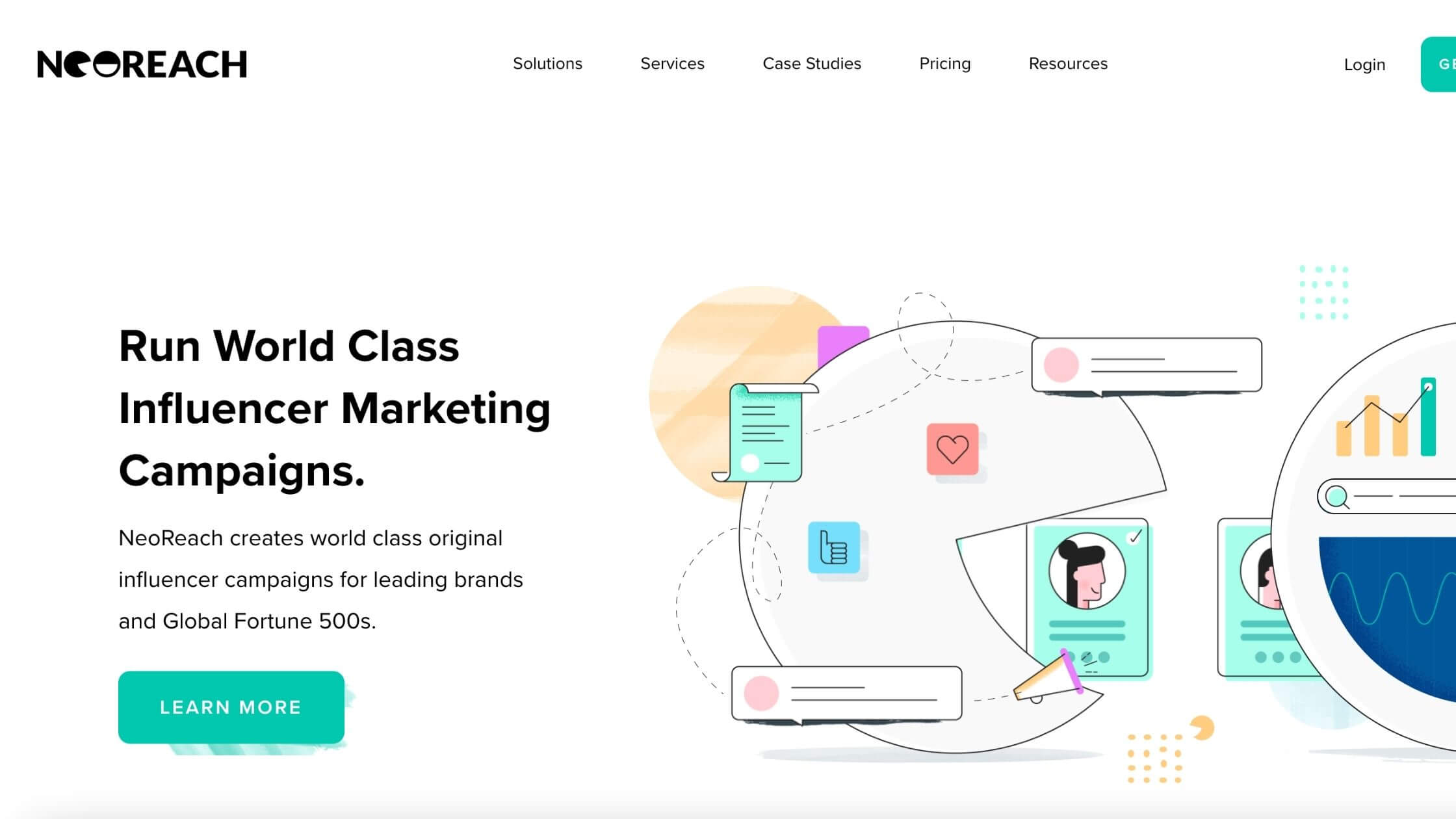 NeoReach offers quality influencer search, management, and tracking. They also offer enterprise-grade analytics, making it simple to establish influencer relationships and plan new campaigns if need be. 
NeoReach also offers managed services, API connectivity, and fraud detection and reporting.
They are very much dedicated to identifying the right influencers to reach your target audience and they also devise creative approaches that suit your company's objectives.
It is built around data. It has a staggering amount of data for each influencer in its database.
However, a  yearly subscription is required to use the NeoReach platform.
There are several service levels, although, but not in the usual categorizing of Small, Medium, and Large. Instead, each client receives personalized pricing based on the number of users and a few other important factors. 
As a result, it would be unable to provide you with particular pricing information.
But do note that NeoReach's target customers are major corporations with big marketing departments; this software, although perfect, is not suitable for small or medium-sized businesses. $50,000 to $500,000 is a budget range to look at when considering utilizing the software tool.
It's worth noting that NeoReach has—sort of—created its own method of evaluating ROI, which they term Influencer Media Value (IMV). IMV is similar to Earned Media Value (EMV), a metric used by marketers for years to highlight the genuine value of non-traditional advertising strategies.
IMV works in the same way, but the formula includes metrics related to influencer campaigns and sponsored content.
See Also: How to Grow TikTok Followers Really Fast
6. Julius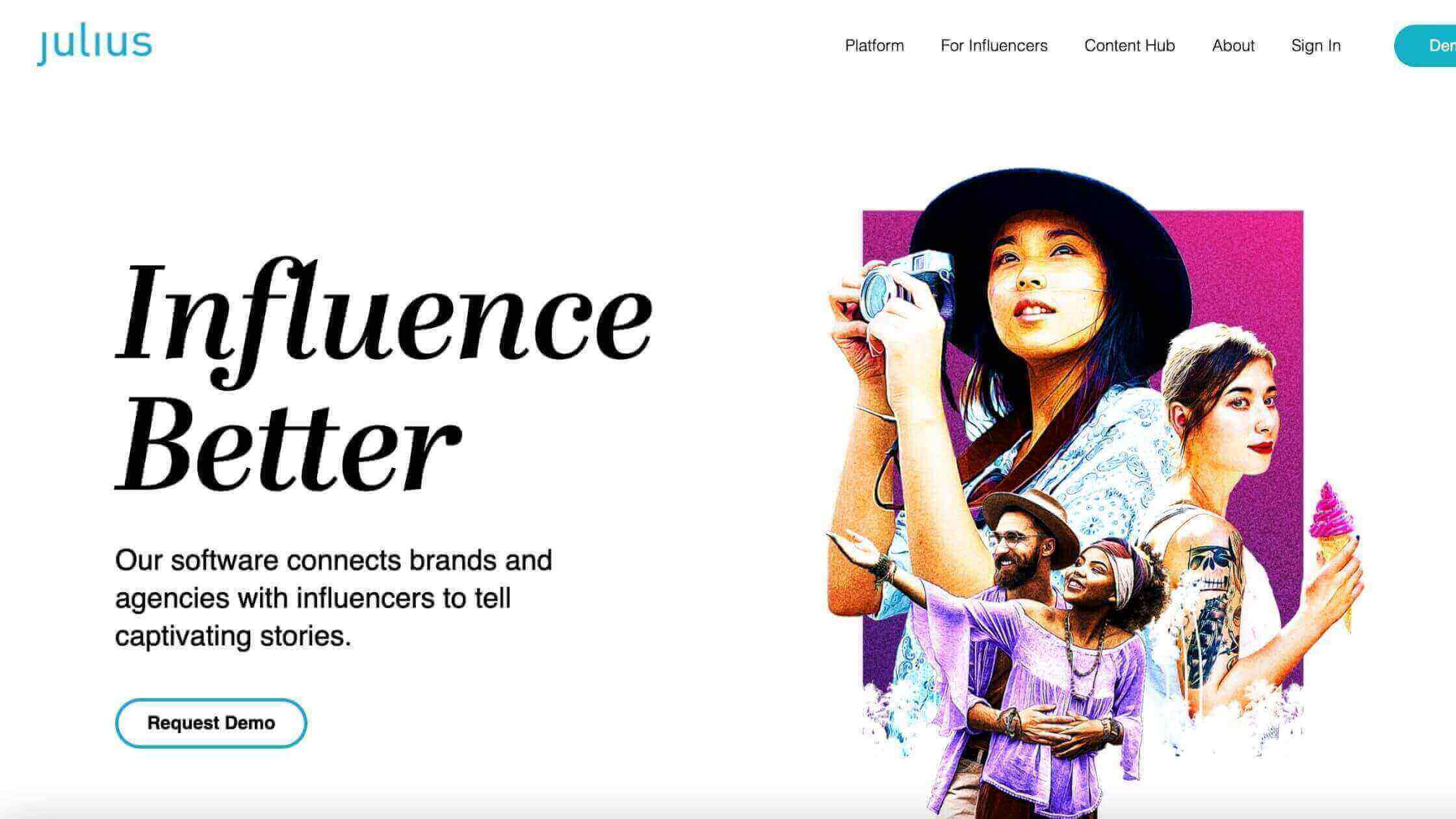 Julius is presently a full-service marketing suite with a database of over 120,000 influencers. It has over 50 different search parameters including psychographic and demographic information for influencers and the general public.
Julius is one of the leading influencer marketing software tools, handing over to businesses extensive influencer data.
It also gives out extensive search capabilities and end-to-end campaign management tools. These tools are needed to implement a successful influencer marketing plan.
All of your influencer marketing programs can be found, contacted, activated, and reported on in one spot. With unequalled influencer insights and 100 percent validated, hand-curated data.
However, unlike other search platforms, you must pay an annual subscription cost.
There is no monthly alternative with Julius.
The exact amount you'll pay is determined by the number of users you wish to have access to the product. This is because each instance is unique, we cannot provide specific figures.
To get specific pricing, contact Julius
All memberships include full platform access, unlimited messaging, customized influencer lists, and access to a dedicated and on-demand account manager for assistance, regardless of the number of users.
Julius' dashboard functions similarly to a social feed, announcing new influencers, new brand affiliations, and a curated feed of industry-related news.
See Also: Clubhouse Marketing: How Businesses Can Benefit From it
7. Fanbytes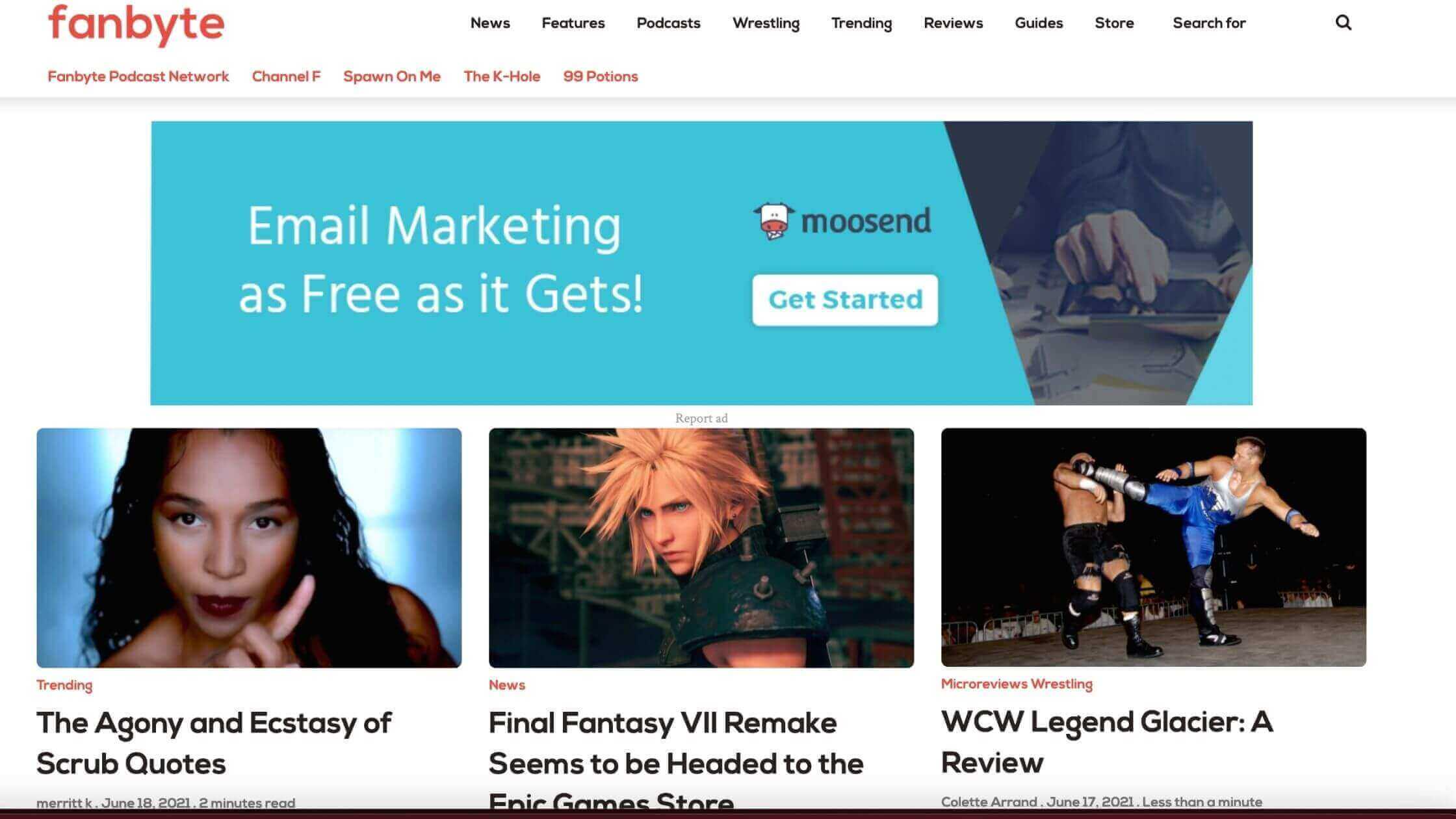 Since its establishment, Fanbytes has positioned itself as the foremost platform for marketers to reach Generation Z, a frequently overlooked population of 13 to 21-year-olds that the Old Guard of Marketing just does not grasp.
They are aware that you cannot reach that group through Facebook.
Also, they understand that if you want to reach them on Instagram, you must use the Stories tool.
You may recall that Instagram Stories is a carbon clone of Snapchat, the social media platform favored by Generation Z.
With TikTok's recent ascent, Fanbytes was quick to recognize yet another avenue into the hearts and minds of that not-quite-adulting population.
The Fanbytes influencer marketing software has made its purpose plain on their website: "We help brands win the hearts of Gen Z and Millennials on social media.".
However, It's not exactly a catchy phrase, but it is direct and easy to understand. 
A Fanbytes employee's average age is 22, and they do not hide their youth, they don't. Snapchat and TikTok users are overwhelmingly Gen Z, and businesses can't reach them as consistently anyplace else. 
So who is better to assist in the creation of advertising than a group of whip-smart teenagers fluent in the language?
Fanbyte Pricing
Fanbytes is not a SaaS platform that requires a monthly membership.
Brands instead collaborate with the company on a campaign-by-campaign basis, spending whatever their budget allows for each one.
However, the minimum purchase amount is £3000.
The pricing strategy is somewhat innovative and encouraging. Every dime paid is worth it, and this is because they charge on a cost-per-completed view basis.
There is no charge if a user abandons an ad halfway through. It would also be good to note that they have a very attractive track record, which has seen a 90 percent completion rate on average. 
What if you receive more views than you anticipated? Not to worry: you will only be charged up to your maximum, and anything above that will be considered a bonus.
See Also: Top 15 Instagram Story Maker to Get More Views on Instagram Stories
8. Post For Rent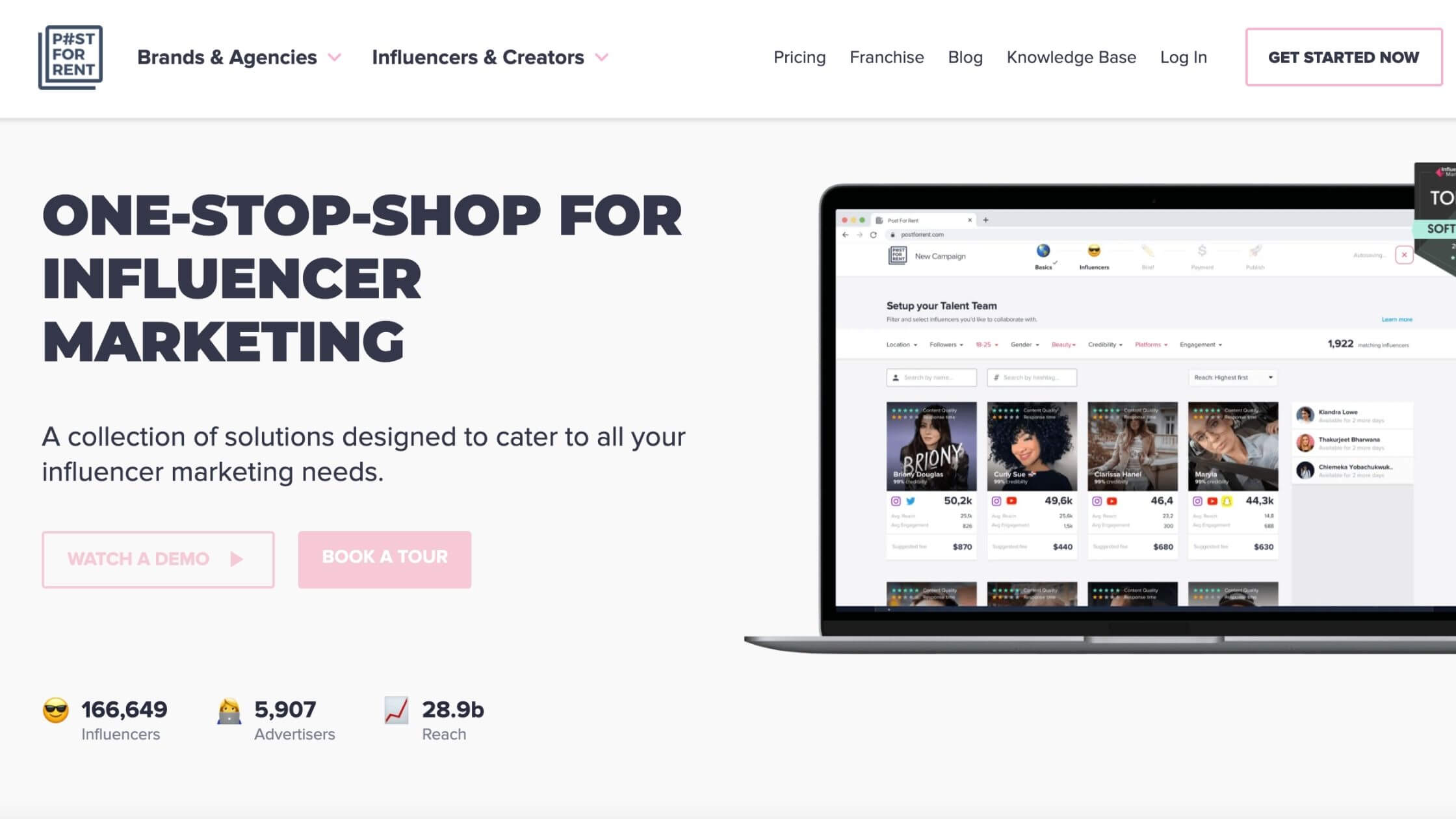 All-in-one solution for all influencer marketing participants.
Comprehensive selection, reduced administration, simple discovery, and transparent pricing – all with just a few clicks.
Post For Rent is a collection of the most cutting-edge Influencer Marketing solutions.
As one of the best influencer marketing software, they provide technical and marketing experts who have managed over 10,000 campaigns ranging from small businesses to Fortune 500 organizations.
They also purchased a Multi-Channel Network at the end of 2018 and within a year became the most rapidly growing MCN in Europe.
"We fully get the complexities of Influencer Marketing. We are data-driven nerds who are obsessed with Influencer Marketing"
Post for Rent has a technique for locating influencers who are relevant to your brand. It contains a database of over 154k profiles as well as people you already wish to communicate with.
9. Tagger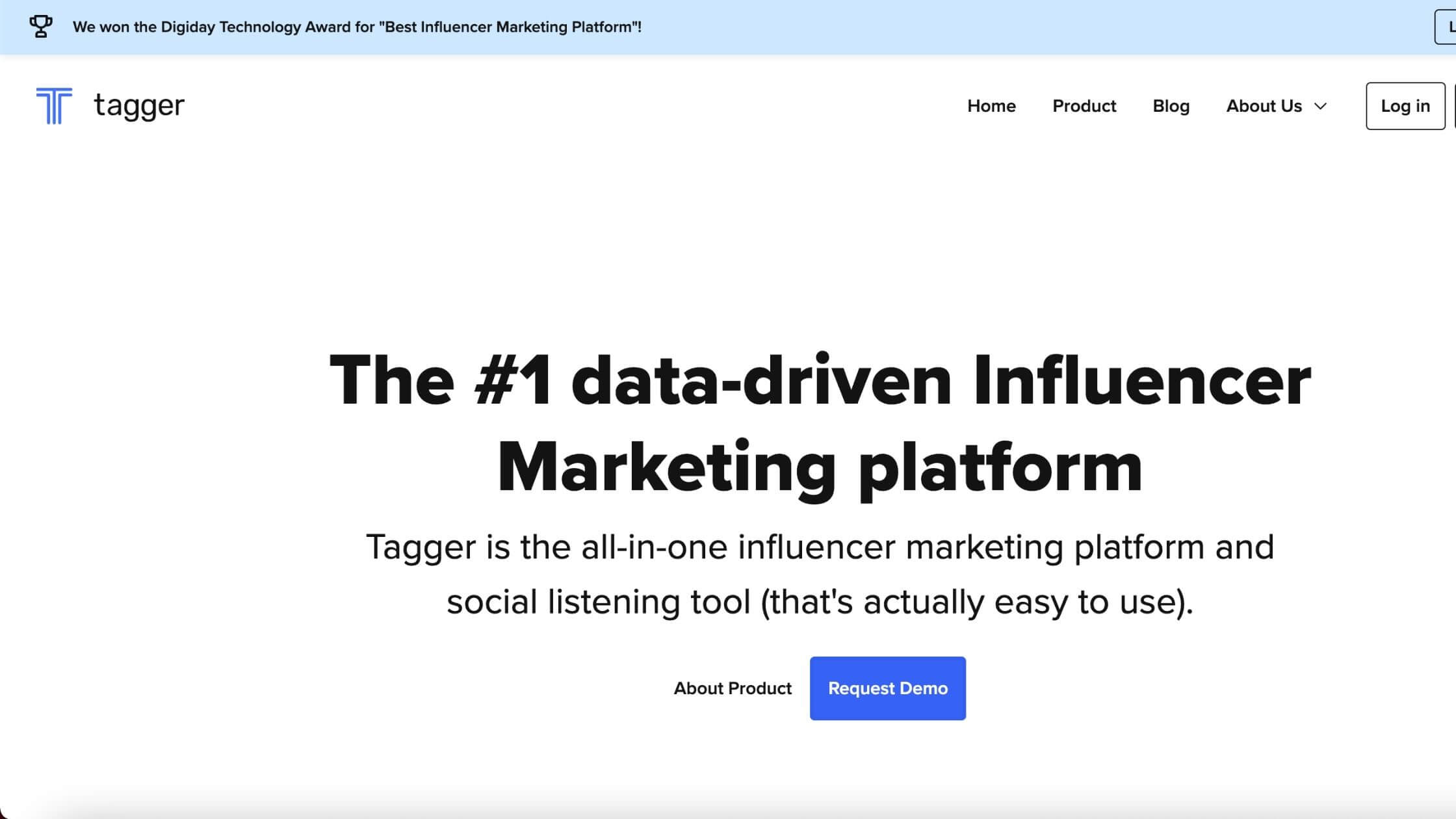 Tagger is a strong, user-friendly end-to-end influencer marketing and social listening tool that is reshaping the industry.
It provides users with important research and analytics thanks to direct ties with all major social media networks and exclusive access to billions of useful pieces of data.
The platform enables brands, agencies, and media firms to plan campaigns, assess popularity through social listening, connect with and hire influencers, and report on what matters most, all on a single, unified platform.
Tagger's SaaS solution offers a seamless experience, empowering users to report relevant data and maximize their ROI with ease. 
We have not forgotten it was named "Best Influencer Marketing Platform" at the 2020 Digiday Technology Awards, "Best Influencer Marketing Company" at the MarTech Breakthrough Awards in both 2019 and 2020, and "Industry Choice" gold medal at the 2019 Influencer Marketing Awards.
Tagger however is not a piece of software for small businesses.
See Also: Top 21 Best Content Writing Tools To Create Better Content
10. Pitchboard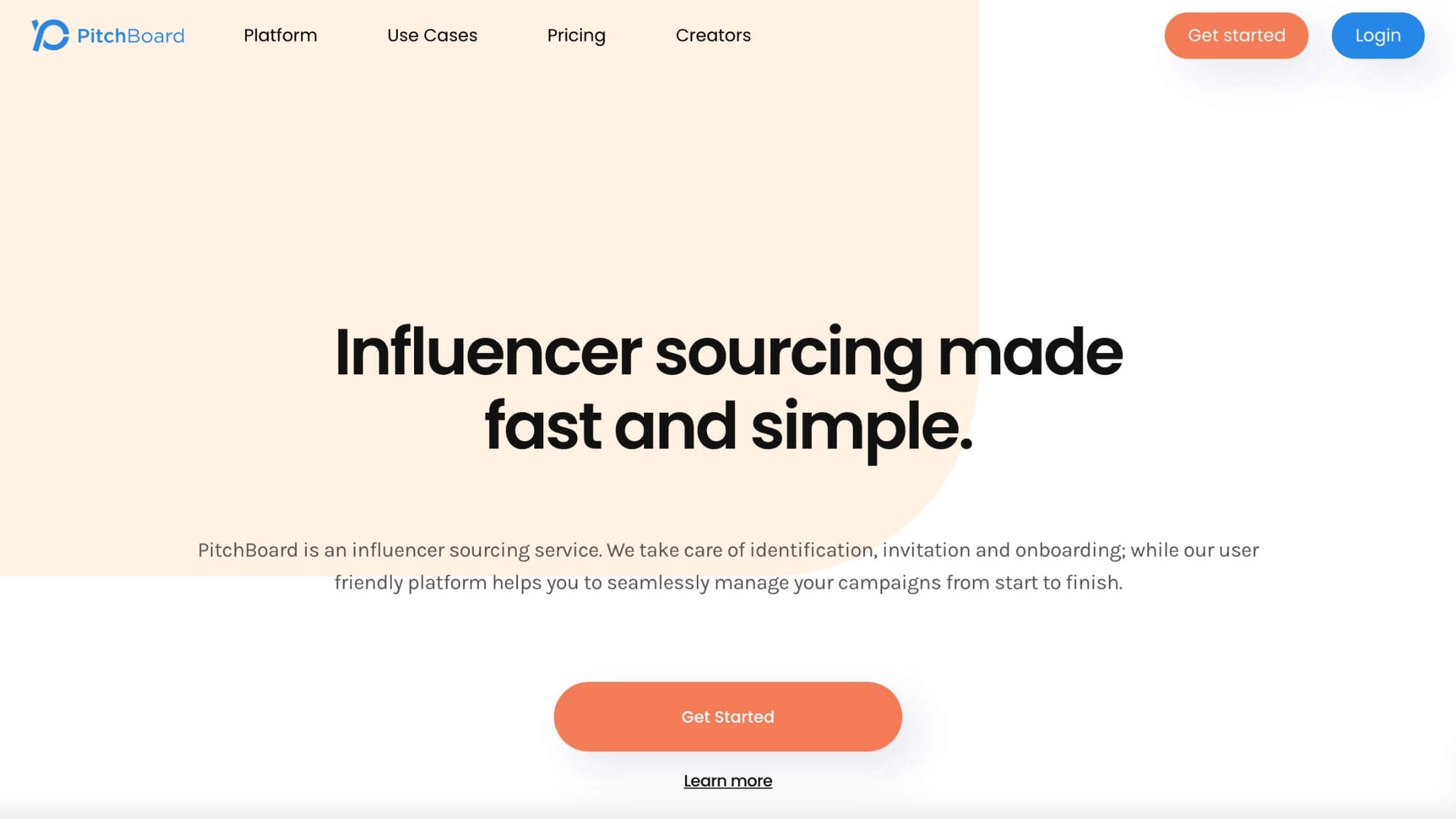 PitchBoard is an influence marketplace that focuses on large-scale campaigns and quick turnarounds.
There is no relationship management or discovery influencer software.
It claims that by using various influencer discovery tools, you can identify exceptional influencers and data insights. PitchBoard believes that as an influence marketplace, it can assist you in connecting with new and diverse influencers.
PitchBoard examines influencer data from various sources and identifies individuals with the most campaigning audiences using its own machine-learning methods. You accomplish this without having to sift through lists of influencers and then consult with one another.
Conclusion
An "influencer" is a content publisher who already has a sizable online and social media following. Regardless of the quality of the content, it can take months, if not years, for new content publishers to be discovered and avidly followed.
As a result, there are influencer marketing agencies that marketers can use, but these services are typically more expensive than using influencer marketing platforms alone.
With this strategy, marketers can benefit greatly from associating their brand with an already well-known influencer in order to increase the visibility of their businesses.
However, to find key influencers, the very best, the above-mentioned influencer marketing software should be engaged. Note that a good combination will definitely result in a massive success of the marketing agenda.