Have you always been curious about how to start a vlog and make money? You usually visit YouTube and watch videos there for free.
So, how can one start a vlog and monetize one's time online?!
You can earn money by uploading videos to YouTube in various ways. Thanks to YouTube, many people are now self-made celebrities, and they are accumulating wealth from it.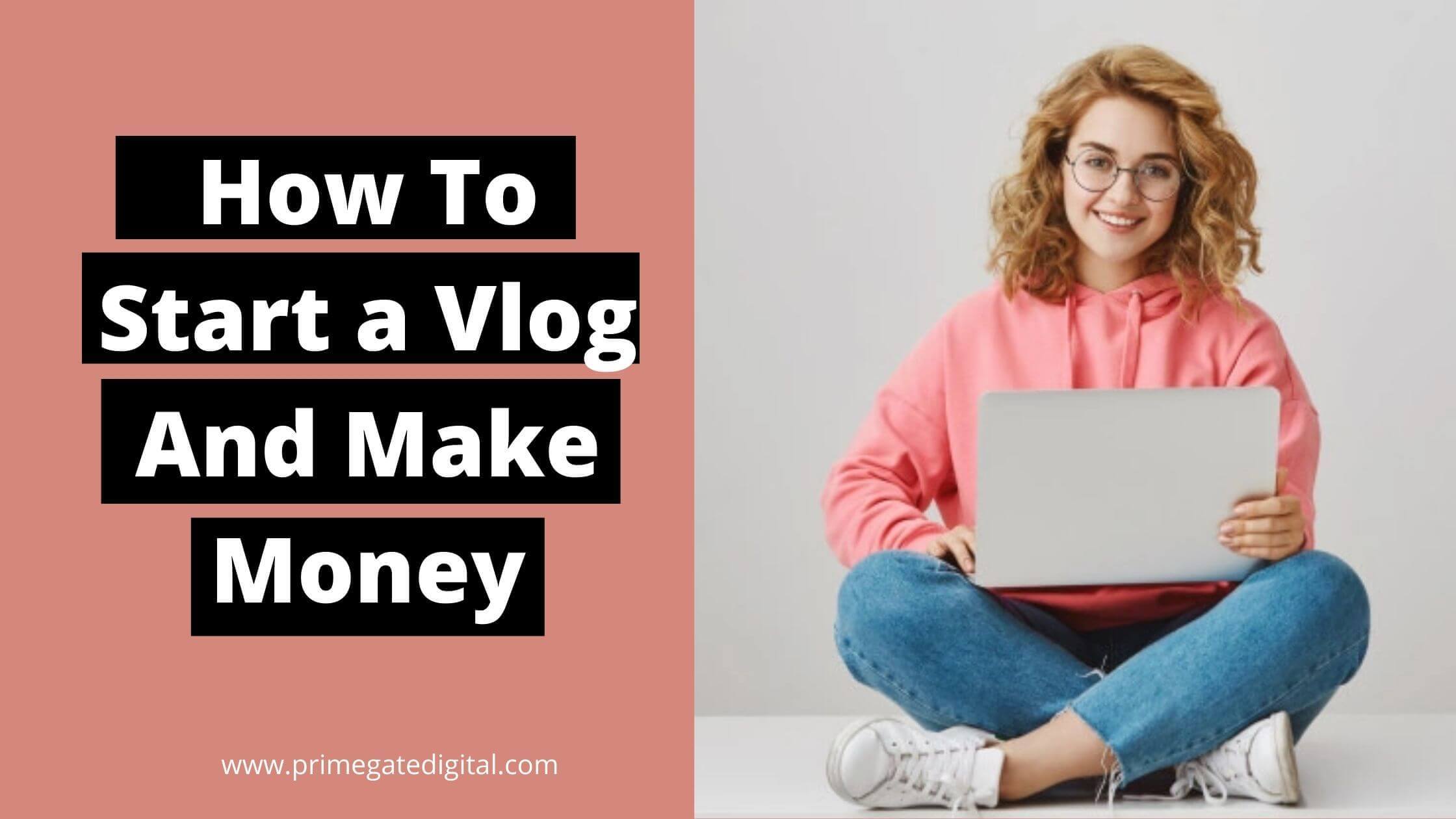 If you want to make a living from vlogging, you should know a few things. If you're already a YouTuber with sizable subscribers but haven't yet figured out how to make money from your channel, this article reveals how you can start a vlog and make money from it.
Without further ado, let's get into how to get started vlogging and become a successful vlogger.
See Also: Blogging for Beginners: 21 Things You Should Know Before Starting
How to Start a Vlog and Make Money
Getting started on YouTube is a simple process for everyone.
YouTube is a great platform to share your experiences with others, whether you're a hobbyist or a business owner looking to connect with your customers on a deeper level.
While it may appear easy, starting your vlog channel and building an audience requires time and effort. This guide will offer you the resources and strategies you need to start a successful blog as a beginner.
You can check out how to start a vlog channel on YouTube here.
1. Identify Your Niche 
It's not unusual to hear negative things about vloggers from people who aren't knowledgeable about the YouTube community.
Because the platform is open to everyone, many people are baffled as to why so many people choose to follow certain content creators.
Vlogging on YouTube is, in fact, a business unto itself.
Some of the most successful vloggers are savvy business people who adapt to the demands of their target audience.
The first step is to identify your niche and better understand the target audience of your vlog.
The central theme of your vlog channel will be your niche. Will you stick to one theme or post videos randomly? If you want to be a successful vlogger, pick the first option.
Countless vloggers have struggled to make it big on YouTube, and despite this, only a small percentage of them achieve success. Why is this so?
Take a peek at one of Youtube's top names. PewDiePie's YouTube channel has millions of followers. While he has broadened his channel to cover a variety of topics, gaming remains his key niche.
He rose to prominence by producing entertaining insight and reacting to popular games. That gaming niche ultimately exploded in popularity.
This is only just one example. You can indeed find a niche in any area of interest. Crafts, travel blogging and music are gaining popularity.
Any niche can be successful as long as there is a big audience interested in watching your vlogs. It will be a good idea to vlog on topics you are passionate about.
If you're a business owner and you've already identified your target market. After that, you can start thinking about spreading out and learning more about how your business fits within the YouTube ecosystem.
See Also: How To Start a Side Business While Working Full-Time
2. Know Your Audience
Once you've identified your niche, you'll need to understand your target audience and what they value. YouTube is a bustling website with a wide range of video styles to choose from.
If your target audience is predominantly middle-aged workers, the same happy and frilly video style used by beauty vloggers will not work.
You must tailor your content to your audience to maximize your chances of success. You can get some inspiration from friends, on social media as well as on Pinterest.
When you start a channel on YouTube, you have the chance to stand on the shoulder of giants. So why not steal a page from their book and get some ideas?
Examine all of your favourite vloggers' channels, as well as some popular channels in your niche.
Why are they successful?
It's important to think about what you can bring to the table those video bloggers can't.
You don't want to be a copycat of another YouTuber while you're looking for inspiration. Originality is something that viewers are looking for, and they're seeking a fresh perspective on the topics they enjoy.
However, it doesn't suggest that you have to invent an entirely new idea to succeed. All you have to do now is put your own unique spin to make yourself stand out.
Take some time to learn more about the platform and build from there.
3. Know the Intricacies of the Platform.
One of the most common mistakes vloggers make is the failure to understand the workings of YouTube works. You will find countless examples of this on the platform.
Some big businesses routinely create tone-deaf content, hoping to appeal to audiences. Their lack of understanding of the platform, on the other hand, is glaring.
The videos eventually get lost in the noise and fail to gain traction.
Invest some time learning the ins and outs of YouTube. See what titles you can find using a search engine. Examine channel pages, thumbnails, and keywords for ideas.
Be on the lookout for interactive links or subtitles that your favourite vloggers use to promote other videos while you're watching them.
All of those minor nuances can make a significant difference in the long run. By learning how things work right now, you'll have the information you need to get your channel off to a great start.
It's also a great idea to brush up on the technical aspects of things.
Visit YouTube Creator Studio to learn more on how to start a vlog channel.
This is a portal where vloggers can upload their videos. It comes with useful features, like an audio library and a video management system.
Most significantly, you'll learn about the video formats supported by YouTube. YouTube accepts various video formats; however, there are some restrictions on file size, aspect ratio, and other factors.
Get to know these requirements so you don't wind up making a video that you can't upload.
4. Create a YouTube Channel and Build a Personal Brand
Now we're getting down to business. It's time to start working on your YouTube channel.
It's incredibly simple to start a channel, and it won't cost you anything.
You likely have one already if you've ever subscribed to another vlogger's channel or posted comments on a video. Because any user can upload videos, each user's name is linked with a channel.
If that's the case, you might want to start over with a new channel. As a general rule, it's a good idea to keep your professional vlogging channel separate from your personal account.
This can protect your brand and prevent your activities from damaging all of your hard work.
See Also: 9 Creative Ways to Increase Brand Awareness
How to Make Money as a Vlogger
Now you know the nitty-gritty of starting a vlog, it's time to learn how to make money from vlogging. Here are some ways you can use to monetize your vlog and get paid vlogging.
YouTube Ads
To monetize your channel, you must have at least 4,000 viewing hours and 1,000 subscribers in the last year.
Then you can register to be a part of the YouTube Partner Program and start displaying advertisements in your videos.
Once YouTube approves and verifies your channel, you can start displaying advertisements on your videos and receive payment for any viewer who clicks on them.
To get paid as a YouTube vlogger, you must have an active AdSense account. This is the only way Google pays her partners.
See Also: How to Promote Your YouTube Channel for Free
Sell Merch
You can use your vlog to promote your products or other visual elements such as logos or symbols.
You can, for instance, vlog about healthy food or recipes. In this case, you can promote your recipe book, a nutrition plan you've designed, or even some of your homemade wares.
You can market souvenirs like T-shirts, backpacks, mugs, keychains, and other merch with your brand or name if you have a loyal fan or audience.
This is another way on how to get paid for vlogging and monetize your vlog really fast.
Sponsored or Paid Posts
Sponsored posts are videos that have been ordered by a business to advertise a product or service. In this case, you and your vlog serve as brand ambassadors, promoting the brand to your viewers.
It is a great way to earn money or freebies as a vlogger.
Product reviews are the most popular video type for sponsored content among vloggers.
However, there is one big caveat. Reputable brands are only interested in sponsoring vlogs with a sizable audience.
It's important to keep dishing out great content and building up your fan base.
So, ensure you nurture relationships with businesses that are a great match for your content. The truth is that the more people see your materials, the more opportunities you will have.
In short, sponsored posts are the most lucrative and thus attractive source of vlogging earnings, but they're also the most difficult to secure.
Affiliate Links
It is easier to secure affiliate sponsorships, but they often generate fewer earnings than sponsored posts.
The following are the steps to becoming an affiliate marketer:
Apply for affiliate programs for products or businesses you'd like to market. Or, you can join the Amazon Associates program and advertise the products you already own, such as camera systems and video recorders.

Get special affiliate links that your audience can utilise to enjoy discounts and/or reward you with a portion of the purchase.

You can include affiliate links in the description box, the clip itself, or somewhere else. You can also highlight the link in your video and ask your viewers to click it to get a sweet deal or get more product information.

If a viewer clicks on your link and purchases something, you'll get paid.
See Also: 15+ Newest Ways to Promote Your Affiliate Links and Get Paid
How to Start a Vlog FAQs
Can I Start Vlogging with my Phone?
The simple answer is yes. You can start vlogging with your phone. There are lots of micro-influencers that vlog using their phone and they are earning from it.
You can start vlogging with just your smartphone or webcam.
There are lots of free video editing tools today that are free, cheap, and easy to use. You can make your vlog video with these tools.
How Much Money does Vlogger Make?
It depends on the industry and how well you engage your target audience. The majority of channels only pay a few cents per 1,000 views.
Popular vlogger make between $500 to over $10,000 monthly.
However, you can use other avenues to monetize your vlog, like selling merch, Youtube Ads, and sponsored posts.
How Can I Promote my Business with a Vlog?
If you're in the content marketing business, you can use vlogging to build your audience and drive traffic to your services and products.
When using a vlog to sell your brand, make sure you provide value to your audience to keep them coming back for more.
Conclusion
Starting a vlog and monetizing it is not as difficult as years ago. As long as you provide value through your videos and remain consistent, you'll steadily grow your brand and fan base.
Ensure you post high-quality, well-researched content that your audience will appreciate.
Remember, the vlogging landscape is becoming saturated as the day goes by; you may need to think out of the box to add originality to your vlog.
Lastly, don't give up on your dream of becoming a vlogger. Create your vlog account and enjoy the learning curve and improve your skills at every opportunity, and in no time, you will strike gold. 
We hope that this guide helps answer your questions on how to start vlogging and earn money. Don't forget to share this with your community.
Recommended Tools to start out as a Vlogger with a Bang!
=> Get UBeesize 10'' LED Ring Light with Stand and Phone Holder, Selfie Halo Light for Photography/Makeup/Vlogging/Live Streaming, Compatible with Phones and Cameras
=>Get PoP voice Professional Lavalier Lapel Microphone Omnidirectional Condenser Mic for iPhone Android Smartphone,Recording Mic for Youtube,Interview,Video
=>Get 3-Axis Gimbal Stabilizer for iPhone 12 11 PRO MAX X XR XS Smartphone Vlog Youtuber Live Video Record with Sport Inception Mode Face Object Tracking Motion Time-Lapse – Hohem iSteady Mobile Plus