SurveyMonkey, a leading online survey platform all over the world, is quite invaluable to individuals, groups, companies, corporations, institutes, and business organisations as an online survey tool.
It allows the user to design surveys, design questionnaires, send the questionnaires to respondents, collect results and analyse responses.
To use SurveyMonkey, you must register and have a SurveyMonkey account.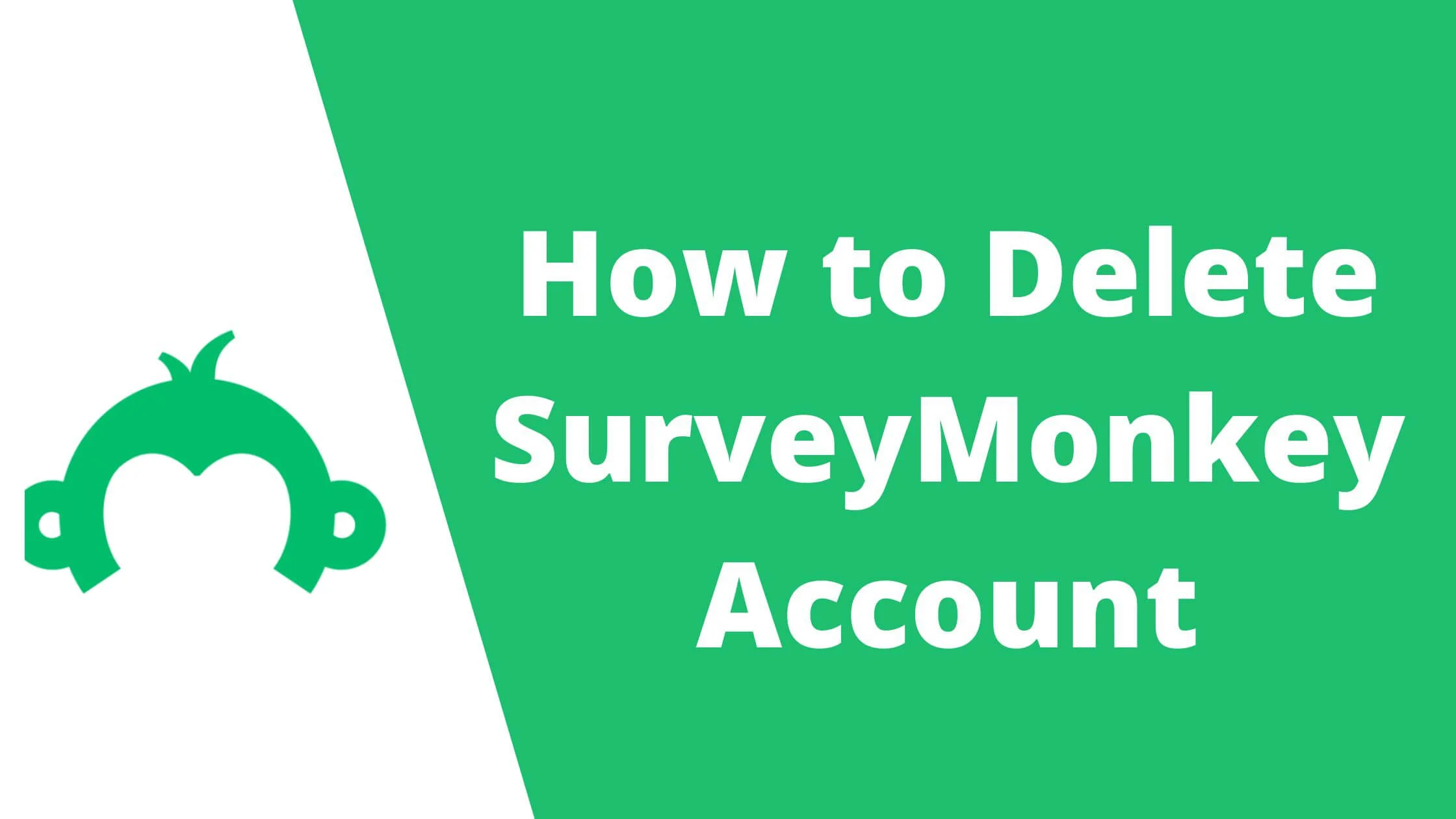 However, if you don't want to use the SurveyMonkey platform anymore for any reason, you may want to delete your SurveyMonkey account and you may find it difficult trying to do so.
The aim of this article is to show you the simple steps you should take to delete your SurveyMonkey account.
Types of SurveyMonkey Account Plans
There are three types of SurveyMonkey account plans. They are:
Individual plans.
Team plans.
Enterprise plan.
Each of the accounts has a basic subscription package or paid package. The free basic package has limited features.
There are several paid packages: premier annual, advantage annual, standard monthly, and team premier. They have more advanced features with different response limits.
As the respective name implies, an individual plan is just for an individual. Team account for a group of persons. While the enterprise plan is for large organisations, companies, and institutes.
You must know the type of account you are using before attempting to delete your account.
For example, an individual plan which is simply just for a single person can easily be deleted by that person without affecting the collective works of others.
Whereas for team or enterprise plans only the group admin can delete the account. Thus, an individual who is just a member of a team or enterprise may not have to liberty to delete such an account.
See Also: How to Delete SurveyMonkey Responses
Delete or Downgrade a SurveyMonkey Account
Instead of outrightly deleting your SurveyMonkey account, you may consider downgrading it. Why is that once you delete your account, it is permanent and irreversible.
You will lose your data forever. Should you need them in the future, you may regret deleting your account as you will not be able to retrieve them again.
But you can downgrade your SurveyMonkey account from costly plans like premium plans to the free basic plan.
In the future, you can upgrade it back to a premium plan if you want. Your data will be safe and intact and your expenses minimum.
Note that the SurveyMonkey subscription, which could be monthly or yearly, is relatively expensive – especially the premium plan.
Nevertheless, the cost of keeping your account aside, receiving messages, notifications, spam etc from an online platform you are no longer using or interested in can be very annoying.
SurveyMonkey is notorious for some of these unwanted activities, especially spam. So, you may just want to delete your account for good.
In the subsequent sections of this article, we shall be taking a detailed look at the practical steps you need to take if you want to delete your SurveyMonkey account.
Deleting a SurveyMonkey Account
If you are fed up using your SurveyMonkey account and you are completely adamant about deleting it, there are three ways you can delete your account, namely:
Delete the account through email.
Delete the account through their website.
Delete the account through a computer.
How to Delete Your SurveyMonkey Account by Email
You can simply send an email to the SurveyMonkey company, requesting them to delete your account from their database.
Take the following steps:
Open your email account. It must be the email you used to register your SurveyMonkey account.
Write and send an email to SurveyMonkey. The email address is,

[email protected]

On the email subject, write 'REQUEST TO DELETE MY ACCOUNT'.
Now in the body of your email, write requesting them to delete your account from their database, and to wipe all your data and information with them.
Send the email.
SurveyMonkey will receive, process and delete your account within a couple of days.
Delete Account Through the SurveyMonkey Website
You can delete your account through the official SurveyMonkey website. Follow the steps below:
Go to the official SurveyMonkey website.
Sign in to your account.
A form will be visible.
Under 'how are you using SurveyMonkey', click on 'the SurveyMonkey website'.
You will see a section called 'select an issue'. On it, select 'login and account setting'.
Then a section 'select issue detail' will show. On it, select 'DELETING MY ACCOUNT'.
You will see a subject section, here, write REQUEST TO DELETE MY ACCOUNT.
In the section 'Additional Detail', write the reasons you want to delete your account.
Click on 'SUBMIT QUESTION'
Then, wait for about 48 hours. SurveyMonkey will send you a message through your email.
Once you receive the message, reply that you want to delete your account. Then, SurveyMonkey will delete your account permanently.
Delete SurveyMonkey Account Through a Computer
While you can perform the first two methods through a smartphone, you can only carry out this last method through a computer – desktop or laptop. The steps are as follows:
Log in to your SurveyMonkey account on a desktop or laptop.
Click your username in the upper-right corner.
Select my account.
Scroll down the page.
Click on 'Permanently delete account'.
Review the information provided.
Click all checkboxes.
Enter your password and click ok.
Here you go. Successfully deleting your SurveyMonkey account. Cheers!
How to Delete SurveyMonkey Account FAQs
Which way is better to delete an account, through email, website or a computer?
There's no clear advantage of one of these methods over the other. Use anyone of them that is easier and more convenient for you. The result is the same.
Can I get my data back after deleting my SurveyMonkey account?
No.  once you delete your account, it is permanent and irreversible. You will lose all your data in the account forever.
What will happen to the survey data on my deleted account?
The SurveyMonkey company will permanently clear all your data from their databases or system within 90 days of deleting your account. So, all your previous data will become non-existent.
Can I register for a new account after deleting my formal one?
Yes, you can register for a new SurveyMonkey account having deleted your previous account.
Should I downgrade or delete my SurveyMonkey account?
Well, if your primary reason for considering deleting your account is the cost of keeping the account, you may rather downgrade it. It becomes free once downgraded.
If, however, there are others reasons, apart from cost or cost alone, why you are considering deleting your account, deleting will be a better option than downgrading.
If I have more than one SurveyMonkey account with the same email, will deleting one account affect the other?
No. You can safely delete one account and nothing will happen to the others.
Conclusion
There is little or no doubt that SurveyMonkey could be indispensable to you for your online survey and research.
However, since all good things do come to an end, your SurveyMonkey account may reach its 'good' end too, thus, no longer useful to you at some point in time.
Then your best option at such a point is to delete it, perhaps.
This article has shown you in the simplest steps, exactly how you can delete your account and I hope it will spare you the frustrations associated with not being able to delete an unwanted account.
Also Read: