Now, after tirelessly working to get your Facebook page up and running, it is time to change your page owner on Facebook. Sometimes you may need assistance or professional hands to manage your page.
However, the important question is, "how do you change Facebook page ownership smoothly and properly?"
Fortunately, this task is very simple compared to other Facebook account diagnostics and privacy set up.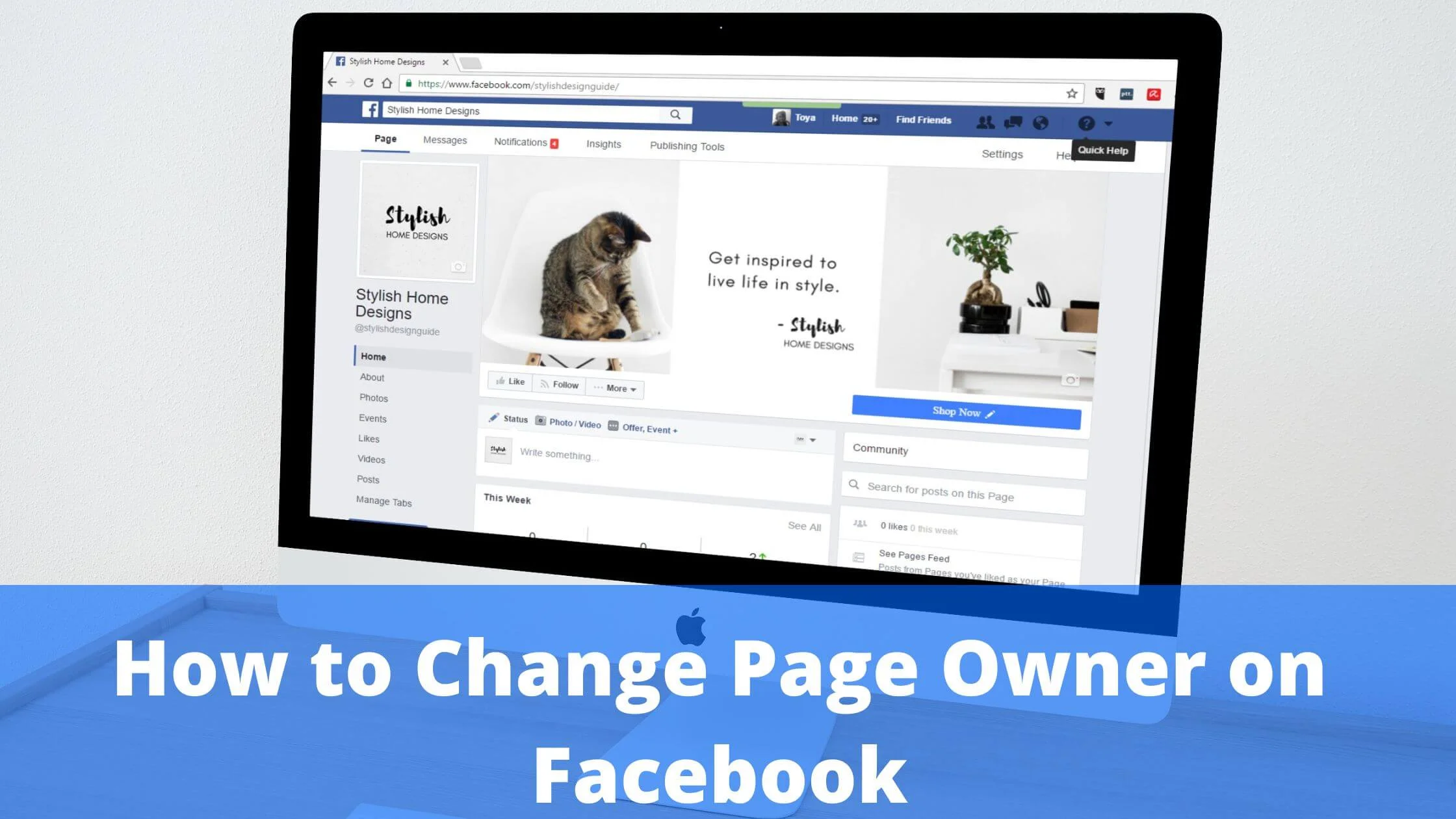 In this article, we will show you all the basics and intricacies involved in changing your page ownership and ways you can rectify Facebook page disputes if the need arises. 
Why Change Page Owner on Facebook?
If you own a digital marketing agency, you may set up a Facebook Page for your partners or clients.
This happens often and might require changing the Facebook page owner at some point. 
It could also be that you lend a helping hand to your old aunt, who can't seem to perfectly understand the nitty-gritty of social media, and it's time to transfer her page ownership to your niece or nephew.
Entrepreneurs and business owners may encounter the need to change ownership of their Facebook page in the event of a merger, takeover or business acquisition.
There will definitely be a need for a change of guard in these circumstances unless the Facebook page has meddled in negative reviews. 
There will eventually be a time when you will need to change ownership of your Facebook page, whether for business or personal reasons. We will equip you with accurate information so you can perform the task without hassle.
How to Transfer Facebook Page Ownership
So, what's the easiest way to change the owner of a Facebook page? It is by first designating the new owner as an "admin" of the page. Next, you will forfeit your admin status. 
Let's show you how to do it!
Please note: You have to be a Facebook page admin and access Facebook desktop mode. There are so many unique roles that you can set up for individual pages.
An example is the "advertiser" role, which you can assign to a member of your team to carry out marketing duties and oversee ad expenses and budget.
First, the person you will grant admin privileges to on the page has to "like" the page.

Access the admin section of your Facebook page.

If you browse your page using

business.facebook.com

, select "settings in the upper right of your Facebook page section. Next, choose "Page Roles" in the menu item.

However, if you sign in to your page using

Facebook.com

, navigate to the "settings" option in the upper right corner of your Facebook page section. 

Input the Facebook name of the person you wish to change your Facebook Page ownership to in the field next to "Assign a New Page Role."

Click "Admin" from the menu list and select "add." 

If you wish to relinquish the admin role, access the page admin section and navigate to "Page Roles," and then switch your role to something different from "Admin."
Now that you can change your page owner quickly and without stress, let's explore other popular Facebook page owners' issues. 
How to Remove a Page Owner on Facebook
At this stage, that you have successfully changed the page owner on Facebook, the next step is to learn how to remove that page owner.
The same steps you used to change your page owner can also be used to remove a Facebook page owner.
Once you get to the "Page Roles" section, select the page admin you intend to remove and click on a different role aside from Admin to revoke admin privileges. 
How to Remove a Facebook Page From Business Manager
Is there an easy way to remove your page from Facebook Business Manager? Yes. Before anything else, ensure that your role is set to "admin" on the page. 
Next, review the page and make sure it is not tied to any existing item in Business Manager. If this is the case, delete those links. 

Now, here is a simple strategy to remove a Facebook page from the Business manager:

Access

business.facebook.com

and navigate to the options on the left panel. Select "Business Settings."

In the users/people section, review the designated items for any errors or abnormalities.

In the left menu, below "Accounts," choose "Pages." 

Click on the Page and select the "Remove" option beside it. 
How to Request the Transfer of a Facebook Page
At times, problems can spring up. For instance, you might have disputes or disagreements with your business partner, collaborator or colleague. 
Whatever the case, you will want to ensure that your page is safely in your ownership without fuss. 
Before anything else, ensure that you haven't been denied access to your account for any valid reason.
For instance, if you hired a digital marketer for social media page management, be sure you are not indebted.
When this happens, there is a likelihood that it will end in a court settlement.
So to be on the good side, ensure you clear any unpaid bills or fees before proceeding with your request to transfer your Facebook page. 
At this stage, we have gotten to the last stage of this Facebook issue that can only be fixed by the authentic owner of the Facebook page. 
Ownership of a Facebook Page Dispute
As we have seen, there is a need to resolve disputes regarding who has access to a Facebook page in case there is separation or restructuring. 
It can be disturbing when you think of your business page laying fallow on social media without anyone managing it or using it to engage with your customers. 
In this case, you can deploy a chatbot, a piece of automation that helps to automatically respond to inquiries from customers, fans and leads while you sort out the page dispute issues. 
Here's a simple way to take over your unmanaged page on Facebook:
Access the unmanaged Facebook page, navigate to the upper right corner and select the "Is this your business" option. 
In the space provided, enter the required details, such as your business website and address. 
Specify the verification option; if you wish to be verified via email, phone or document and then upload the necessary paperwork. 
However, in a situation where an unauthorized user is managing your Facebook page, what do you do?
If your Facebook page has been hijacked by someone else, roll your sleeves, it's not going to be easy. 
Facebook may request that you submit a sworn or certified statement from your legal counsel about the authenticity of your page. 
If it happens that the marketing agency you hired to manage your page is no longer operational or has ceased to exist… You may be in jeopardy. 
The most effective solution is to reach out to the person in charge of your page, whether a team member, staff or admin officer. 
Request that they rectify the issue and spare you from Facebook's cumbersome legal quagmire. 
It may also help if you start submitting an impersonation and copyright violation complaint on Facebook. 
Another option you have is to set up a new page and do a merger between the two pages and authenticate the ownership of the pages along the way. 
We hope this has rectified your Facebook issue and claimed your page ownership. 
How to Change Page Owner on Facebook FAQs
Below are some of the frequently asked questions on how to change page owner on Facebook.
How can you legally claim Facebook ownership?
Before you change the owner of a Facebook page, ensure you have established yourself as the legitimate owner of the page. 
After confirming that the page is yours, the next step is to claim that the page is yours. 
If another user has laid claim to the page ownership, Facebook will request that you submit paperwork to retrieve it. 
You may be asked to provide the following documents: 
Business registration permit, 

Bank statement of your business account. 

Tax Identification Certificate
What can I do if someone has seized control of my page ownership on Facebook?
The easiest way to rectify this issue is to reach out and request that they patch it up.
If they won't give up your page ownership, you can use other strategies, such as setting up a new page or filing a copyright violation report. 
Who is a Facebook page's true owner?
The Facebook page ownership belongs to the user who set it up. Oftentimes, this is the user who secured the name and launched the page.
If you did not create a page and wish to claim ownership, you can request that they set you up as a page owner.
Is there a difference between Facebook page admin and owner?
Yes. The Facebook page owner is the user who secured the name and launched the page. 
An admin is a user who has complete authority over the management of the page. Admins can update posts, make replies to comments and even add other users as admins.
However, page owners are only allowed to update the page settings.
Conclusion
In this article, we explored ways you can transfer Facebook page ownership and different strategies to resolve ownership disputes.
When creating a business page on Facebook, ensure you supply accurate information to easily claim your page ownership if need be in the future. 
Also Read: