First Bank Nigeria is a bank based in Nigeria that has been operating for over 100 years.
Over the last decade, they have made great strides to improve their online presence, and now they are offering online banking services to customers all over Nigeria.
First bank offer internet banking services, which allow customers to conduct all their banking transactions online.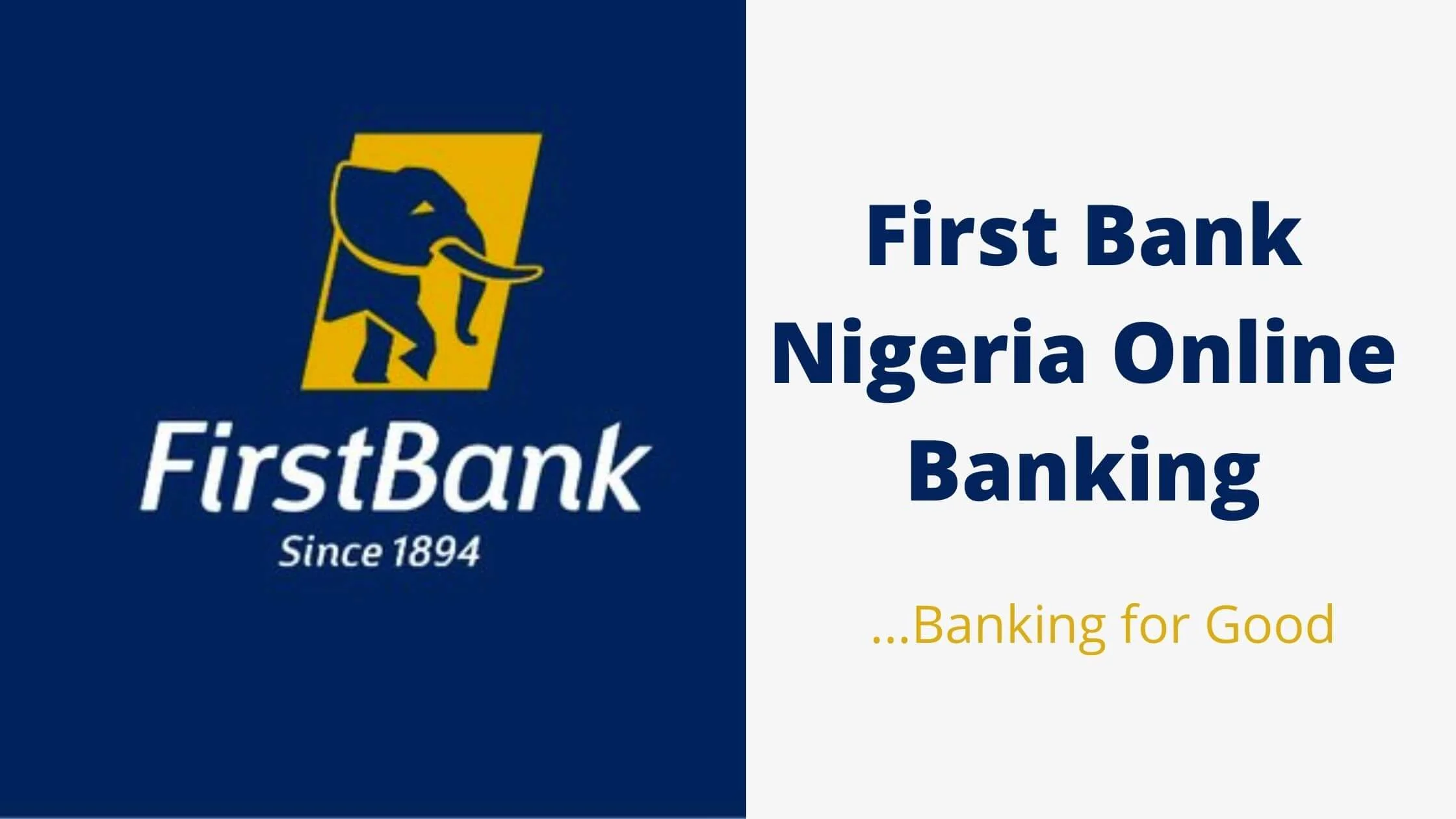 This includes account management, bill payments, transfer of funds, and other services. It's one of the most trusted banks in Nigeria.
To help you understand more about First bank online banking, this article will discuss First Bank Nigeria's online banking services and how to register and activate its features.
What is Online Banking?
What to Know About First Bank of Nigeria
First Bank is the first commercial bank and one of the largest banks in Nigeria. It is headquartered in Lagos and was established in 1894.
First Bank is a multinational banking group headquartered in Lagos, Nigeria. It has over 53,000 branches across Nigeria, making it one of the biggest banks in the country.
The bank has a total customer base of over 15 million and over 6 million current accounts.
See also: How to Make Money on Owodaily
First Bank Nigeria Internet Banking
Online banking has become an integral part of financial services. It is easy to use and convenient.
However, the fact that many people are still not using online banking is surprising. This is because of the lack of awareness and education.
First Bank offers a wide variety of products and services to help their customers grow their businesses.
One of the products they offer is internet banking, which allows customers to access their accounts online. Internet banking is an easy way for customers to access their accounts and perform transactions.
How to Register for First Bank Nigeria Internet Banking
As a customer of First Bank Nigeria, you should know how to register for First Bank internet banking.
If you're new to internet banking, you may be wondering what you need to do to get started. Here's how to register for internet banking.
Enter your customer details such as card number, pin as well as User ID.
Enter the verification code on your screen by retyping it.
A notification with your First bank online banking details will be sent to you. That is your User ID and password.
Also, you can visit the nearest First bank branch to register for your online banking.
How to Activate First bank Nigeria Online Banking
Once you have received your First bank Nigeria online banking User ID and PIN, the next step is to activate it.
Follow the steps below to activate your First bank Nigeria online banking:
Go to the First bank Nigeria online portal here.
Proceed to input your User ID and the verification code shown on your screen.
Once you have successfully logged in, you will be asked to change your password.
Next, enter your new password and tap submit.
Features of First Bank Nigeria Online Banking
If you are a customer of First bank, you will appreciate the great features they offer. The features include:
Access real-time updates to your account balance.
Quick access to download your account statement.
Instant fund transfer.
Easy utility bill settlement.
24/7 access to customer service.
Cheque confirmation.
First Bank Nigeria Online Banking Products
FirstEconnect
FirstEconnect is a First Bank banking product targeted at retailers and eCommerce store owners as it facilitates digital transactions for purchased goods and services on their websites.
It is a multi-platform online payment tool that simplifies payment for businesses.
FirstEconnect accepts payments via international and local cards like:
Benefits
Create brand awareness for free.
Boost the exposure and visibility of your brand, products and services.
Offer a chance to engage with buyers and prospective customers from regions across Nigeria and internationally.
Lower business expenses because clients can order products online without visiting store locations.
Online analytics feature.
Offers the chance to engage buyers and prospective customers
Boost visibility and sales conversion
Improves the prospects of interacting with a community of entrepreneurs and friends.
Helps customers purchase at affordable rates.
Access to credit facilities and product loans (subject to consumer banking loan policies)
Corporate benefits
Allows you to receive online payments from users regardless of their residence and time zone.
Round-the-clock availability for business.
Ensures better management of cash flow because corporate brands can enjoy scheduled payments in their account.
FirstOnline
FirstOnline is one of First Bank's e-banking products. It allows customers unlimited, encrypted access to their accounts whenever and wherever via smartphone or PC.
It is known for its rich features, great user experience, user-friendliness and ease of use.
The platform has met widespread acceptance and use as FirstOnline celebrated close to 600,000 customers in 2021, which is a 17 percent increase from the year before, and an average value of 388 billion Naira monthly from more than 550,000 transactions every month.
FirstOnline caters to customers such as:
Retailers and vendors
Small and Medium enterprises
Corporate Clients
Individuals.
Benefits
The benefits of FirstOnline align with FirstBank's goal of collaborating with customers to grow their future and helping them achieve excellence through quality banking services.
The bank is known to prioritize customers in every aspect.
Here are the benefits of FirstOnline for individual and corporate clients:
It lets customers carry out transactions regardless of the time of day, as there is round-the-clock availability.
Customers can conduct quick transactions from the leisure spot of their home or business without the hassles and waste of time associated with a trip to the bank. The platform is known for its stability.
Easily accessible account management.
The platform is easy to use and has a secure dashboard. You don't need anyone to assist or aid you in using it.
How to use Online Banking safely
Always update your password
Generally, before you sign into your online banking account, your bank will issue you a password.
However, to safeguard your account, you will have to change this password. It is also advisable to regularly change your password and reveal it to no one.
Avoid accessing your account on a public computer
Never access your bank account on public computers in internet cafes or computer centers. These places are public and it is easy for your password to be monitored or tracked by others.
If you wish to sign in from such areas, ensure you delete your browsing history and cache. Also, clear your temp files and login registry from your computer.
Remember not to enable the browser to store your email ID or password.
Never reveal your personal details to anyone
Your bank will not request your account logins via email or phone call.
Thus, if you receive phone calls from anyone claiming that they are from your bank or email, never reveal your login credentials.
Make sure you only input your email ID and password on the official webpage of your bank, which has to be an encrypted website. Before logging in, check for 'https://' on the web address. It shows that the website is safe
Check your savings account routinely
After conducting any transactions over the internet, review your account. Ensure that the exact amount is debited from your account.
If you notice any problems or irregularities, contact your bank right away.
Be sure to utilize licensed antivirus tools
Antivirus helps safeguard your computer against viruses. Make sure you use a licensed one.
Stay away from copied or bootlegged versions of the software because they may not be effective in protecting your PC from the most recent viruses littered across the internet.
They won't notify you to routinely update the software. Thus, only purchase antivirus tools from authorized vendors for your computer's protection.
Turn off your internet connection when you are not using it.
Most people fail to turn off their internet connection when they are not on their PC.
This increases the risk of cybercriminals and hackers gaining control of your PC through the internet and hijacking your private banking data.
To safeguard your data, be sure to turn off internet access when not needed.
Conclusion
First Bank Nigeria Online Banking is a great online banking platform for those looking for a secure and reliable way to manage their finances.
They offer features like paying bills, sending money, making transfers, and checking account balances.
It's an alternative to the more traditional methods of banking. This guide will help you maximize the benefits of online banking at First Bank.
Also Read: