Zenith Internet Banking also know as Zenith ibanking is the most trusted internet banking solution for the majority of Nigerians.
With the launch of the Zenith Internet Banking, users are now able to enjoy a more secure, faster and easier experience when logging into their accounts.
Zenith bank have been in the banking industry for over 3 decades now. It was in 2014 that Zenith bank started offering internet banking to its customers.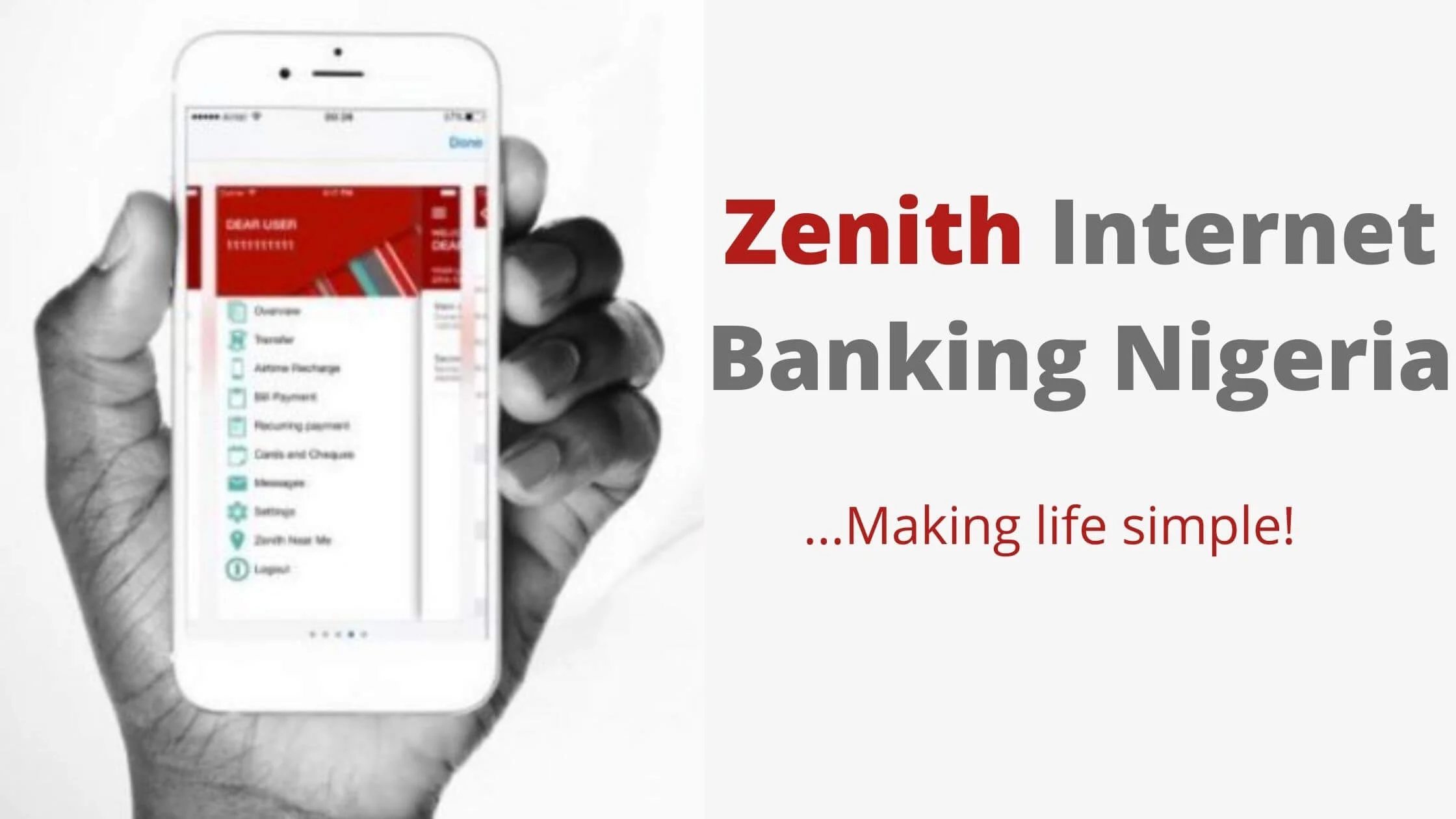 Since then, their customer base has increased and they have managed to expand their services.
In this article, we'll take a look at the new features and functions available to users of the Zenith Internet Banking service.
Without any further ado, let's get started!
See Also: First Bank Nigeria Online Banking – How to Register, Activation & Features
What is Internet Banking?
Internet banking also called online banking, e-banking, virtual banking is a method of conducting online transactions that are protected by encryption technology.
The first internet-based electronic banking service was launched in the mid-1990s, and it was quickly adopted by many financial institutions.
Since then, internet banking has grown to be one of the most popular ways for people to conduct financial transactions.
Benefits of Zenith iBanking
When it comes to banking, many people are still wary of using online banking services.
It's understandable why, with the rise of mobile banking, it has become more convenient to use your phone to manage your finances.
However, if you're worried about the security of online banking, you might be overlooking one of the best benefits of using the internet to manage your bank account.
Here are 3 great reasons why you should consider using an online bank:
24/7 access to your zenith bank account.
Convenience at it peaks. You don't have to queue in the bank to make any transaction.
Faster response time from customer service and ability to connect with them with just a click of button.
What Are the Requirements for Zenith Internet Banking?
To use the Zenith online banking, there are certain requirements that must be met. This requirements includes:
You have an account with Zenith bank.
Valid Zenith bank ATM.
An internet enabled device
With all of these available, you are a few steps to register and activate Zenith ibanking.
See Also: How to Make Money on Owodaily
Features of Zenith Internet Banking
The features of Zenith internet banking are super amazing. Below are the features for Zenith online banking:
Scheduled payments
Self-service options i.e. PIN change, Block Card
Target Savings i.e. "SaveForMe"
QR Payments
BVN Display & Account Display customization
FX Transfers
Personal Information Update
Customizable Shortcuts
Transfer Limit control
Airtime & Data Bundle Purchase
Biometric Sign on for Android
Types of Zenith Bank Internet Banking
Zenith online banking offers two types of internet banking:
The Zenith corporate internet banking.
Zenith Personal internet banking.
Zenith Corporate Internet Banking
With Zenith Corporate Internet Banking (CIB) service, you can perform secure internet banking transactions and e-payments of all kinds, monitor trade transactions and administer payroll.
Transactions are processed through our secure web servers, which means that they are encrypted and protected against cyber attacks.
The encryption keys used to protect your information are stored on your computer, not at Zenith Bank.
As an added benefit, you can get better visibility into your business with online access to your bank account.
=> Download Zenith Bank Corporate Internet Banking Form.
Zenith Personal Internet Banking
With the Zenith personal internet banking, you can easily request for cheque books, transfer money between accounts and settle utility bills.
To use the Zenith personal internet banking, download the form below and submit to the nearest Zenith bank to you.
How To Register And Activate Zenith Bank Internet Banking Services
To enjoy the benefits of Zenith ibanking, follow the steps below:
If you're a personal account holder, click on here to download the Zenith Internet banking registration form. For Zenith corporate internet banking account holder, click here to download the form.
Proceed to print the Zenith internet banking form.
Fill the form correctly with your details.
Next, submit the form online by sending an email with the filled form as an attachment to [email protected] or visit the nearest branch closest to you to submit the form.
You will get a confirmation email from Zenith bank once your application is approved.
Also, you will receive an email with your Access code, Username and Password.
How Do I Activate Zenith Internet Banking
Activating Zenith internet banking is very easy. To do so, follow the steps below:
Navigate to the Zenith Internet Banking Page.
Sign in to your Zenith internet banking with either your username and password or the access code that was sent to you during registration. You made decide to use your Zenith bank account number and token.
Upon successful login, your Zenith internet banking is now activated.
How to Download Zenith Bank Mobile Banking App 
Once your Zenith internet banking is set up, you can now proceed to download and use the mobile app.
To download the Zenith bank mobile banking app follow the steps below:
Navigate to Google PlayStore for Andriod and App Store for iPhone.
Download the app.
Go ahead to install it.
You can login to the app with your details and enjoy the Zenith bank services
Zenith Internet Banking Token
How Can I Get Zenith Bank Token online?
As an existing Zenith bank customer, you will require a hard token to access the iBanking for Zenith.
To get your Zenith bank hard token, you will have to visit the nearest branch to request for your token.
Also you can use the Zenith Bank app to request for your toke. To do so, navigate to "Other Services" on the app and select "Token Request".
The Zenith bank token request fee is N3,500. It is safe and secure to use.
It leverages on the recent electronic encryption technology that ensures that your transactions and safe secured over the internet.
How to Create Pin for Zenith Bank Token?
It is easy to create a pin for your Zenith bank token. Kindly visit this link and follow prompt.
After that, you will have access to your token.
Zenith Bank Internet Banking Daily Transfer Limit?
The daily transfer limit for Zenith bank online banking is set at N3,000,000 million in an account and N1,000,000 million in others.
The limit applies to every bank account and can change at any time.
How to Download Zenith Bank Account Statement Online
There are three ways to view and download the Zenith bank statement of account.
Using the Zenith internet banking account
The Zenith bank mobile app
USSD and transfer code.
To download your account statement using the Zenith ibanking profile, follow the steps below:
Sign in to your Zenith bank internet banking page.
Select your account type (Personal or Corporate).
Upon successful login, tap on the "Account".
Then select the "Account Summary".
You can also select the duration that you need the statement on. Let's say your want the statement in the last 30 days. You can choose this date from the calendar.
Perhaps you want to use the Zenith bank app, then follow the procedures below:
Login to your account on the Zenith bank mobile app.
Tap on you account number that you want statement on.
Next, tap on the "History" from the overview section.
Click on "Email Statement" option and select the date range from the statement.
Enter your email address and click on "Send Statement" to download the account statement.
A PDF version of your zenith bank account statement will be attached in the email.
How to Open Zenith Bank Account Online
You don't need to visit any branch to open a zenith bank account. You can open and account at the comfort of your home.
To open a Zenith Bank Account online, simply click on this link to open one.
Also, you can use the USSD code *966*0# to open a Zenith bank account. Simply enter the code in your smartphone and follow prompt.
Conclusion
Zenith Internet Banking is a great online banking platform for those looking for a secure and reliable way to manage their finances.
I love the fact that they offer features like the ability to pay bills, send money, make transfers and check account balances.
It's a great alternative to the more traditional methods of banking.
I hope that this guide helps you to maximize the benefits that comes with Zenith online banking.
Also Read: