Planning and coordinating social media posts beforehand reduces the effort, anxiety, and frustration of finding and producing exciting material every day.
Instead, use an editing schedule and some online social media productivity tools to prepare ahead. These social media tools make this easy for anyone, regardless of experience level, to be effective at social media posting.
There is a perfect medium for you, whether you are a person, a small business, or a major company.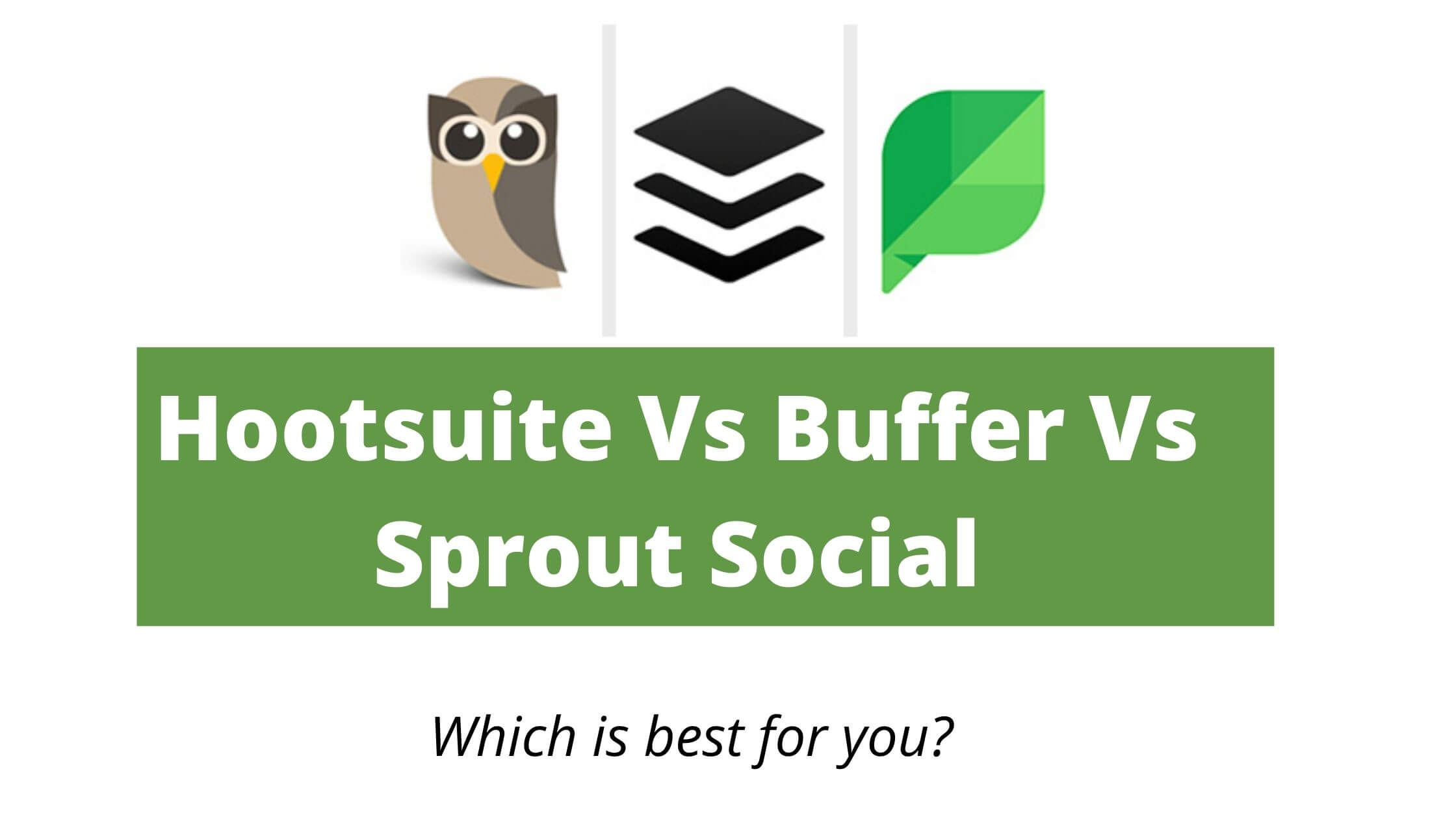 As a company, you must always be on top of this discourse, so social media management tools are vital to include in your social media plan.
Most social media management software can aggregate, monitor, and evaluate interactions across multiple social media networks from a single dashboard. If you're still undecided about the different social media management tools you should use, don't worry.
This article has come up with three primary social media tools Hootsuite, Buffer, and Sprout Social.
Hootsuite Vs Buffer Vs Sprout Social, let's see which one is better!
Hootsuite
Buffer
Sprout Social
Core Benefits

Best for publishing social media posts

 Great for driving social media engagement

Best for providing customer service

Pros
– Vast content publishing, post engagement, analytical and social listening features
– Amazing free plan
– Unlimited scheduling feature across all plans
– Great content publishing, post engagement, extensive analytical and social listening features
– Awesome free plan
– Rebuffer feature
 – Vast content publishing, engagement, big data analytics as well as social listening features
– Offers amazing auto-response to incoming communications
– Great team communication features
Cons
– Extra cost for listening add on
– No direct email or phone number for customer service
– Analytic feature attract extra cost
– No Instagram Integration feature
– It does not come with search, hashtag, or mention technology
– Social metrics and reports are only available to premium users.
– Most expensive plans on capped profiles
– Advanced big data analytic and listening feature cost more
– Extra users attract extra cost
Starting Price
$29 per month
$15 per month
$99 per month
Free Plan
√
√
X
Unlimited Posting
√
√
√
Browser Extension
√
√
√
Hootsuite Vs Buffer Vs Sprout Social – Which is Best for You?
1.  Hootsuite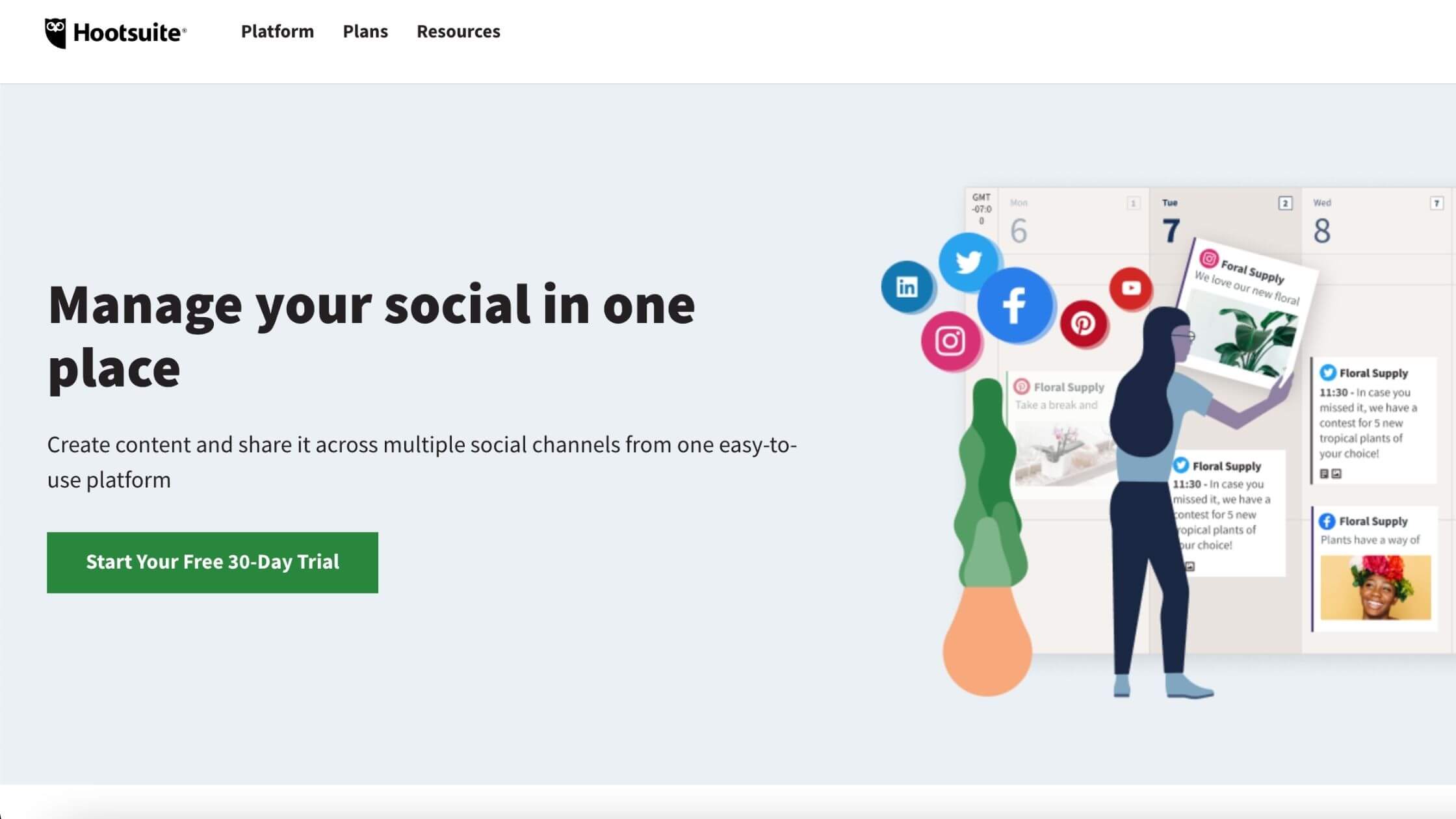 With the ongoing development of social media, the requirement for genuine, one-on-one interactions with your audience has become increasingly important.
Hootsuite allows organizations to implement effective communication skills across a variety of social media platforms.
Its goal is to give businesses the tools they need to turn these contacts into meaningful connections.
Advantages Of Hootsuite
Let's see what the advantages of using Hootsuite as a social media management tool are.
The coordination of content distribution across multiple information shared for content distribution optimization. This is very beneficial when you need to rapidly deliver a message to your visitors.
You may track sponsored posts throughout social media networks to see how well your social media campaign worked and how strong your brand is.
Another advantage of utilizing Hootsuite is that it allows you to handle multiple social media sites at once.
Your company can use this program to post content and monitor replies on up to 35 popular social media platforms, include Facebook (Profiles, Pages, Groups, and Events), Twitter, and LinkedIn (Profiles, Pages, and Groups).
In a single move, you may manage all of your social networking networks.
The messaging tool is another element that makes Hootsuite useful for teams. Members of the team can send each other personal messages. This is especially handy if you have members of your team that work for an outside agency, freelance just outside of the office, or work from home.
Disadvantages Of Hootsuite

 
Now that you saw the advantages of Hootsuite let's talk about its disadvantages too
The Pro and Business plans of Hootsuite include a monthly or annual price. It can cost upwards of $100 every year.
Hootsuite's free account has several limitations, but it is free. You can handle three social media profiles, access rudimentary statistics, message scheduling, and basic applications, among other things.
When your auto-scheduled your post, various bugs need some time to fix. For example, you won't upload photographs to all of the social media sites you want to use. That is, after manually uploading yours. CVS file, you will have to include them in.
See Also: Top 30 Social Media Marketing Strategies For Small Businesses
2. Buffer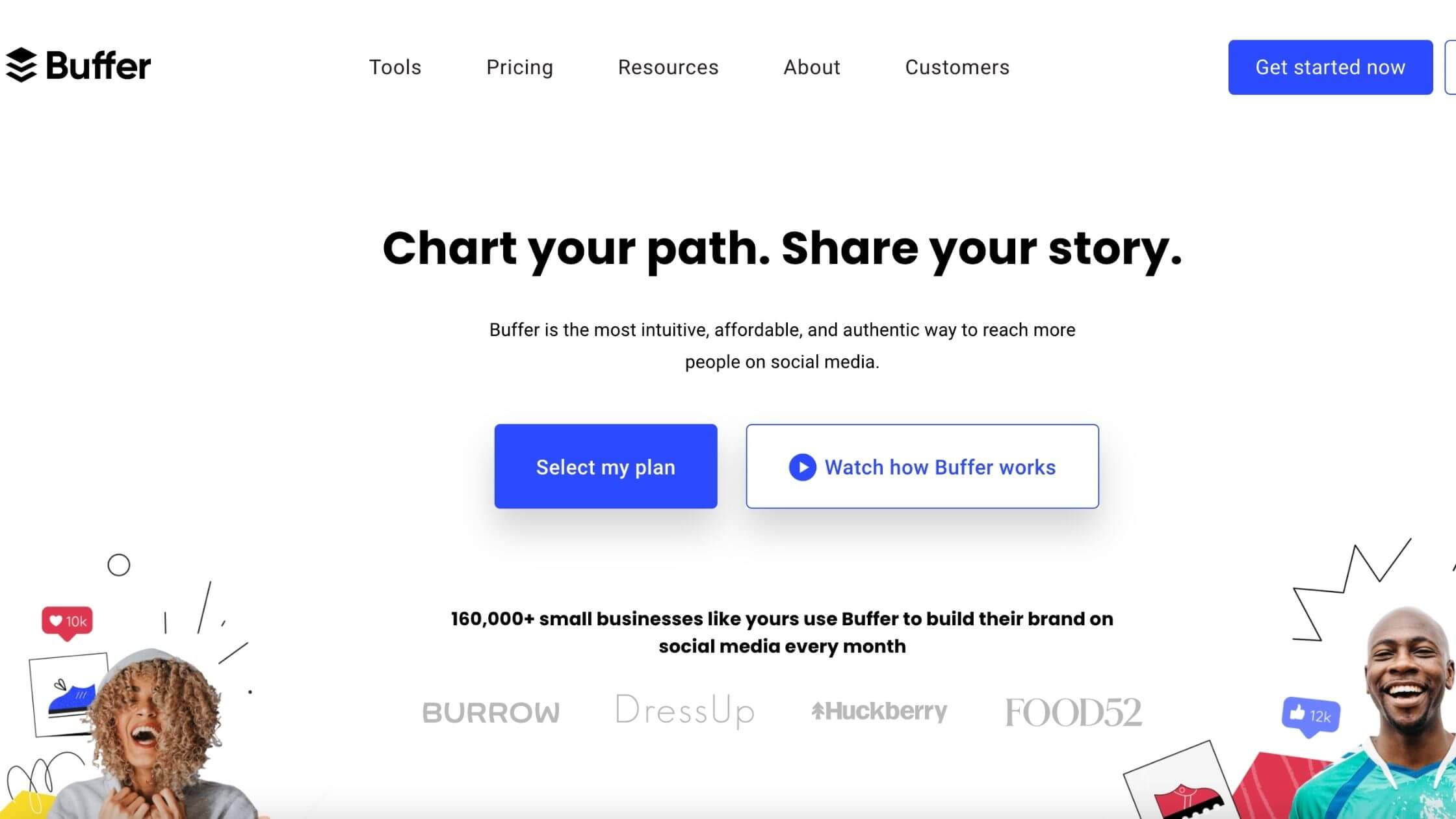 Since social media is an open discussion with a group of people you care about, it can hurt your personal life.
As a result, Buffer was born. Instead of taking a break every few hours or so to change all of your social profiles one by one, you can use Buffer to arrange them in advance.
Content on the web, such as films and images, is treated the same way. 
Advantages Of Buffer
You can arrange your posts so that you don't have to worry about blasting your audience at the same time. If you're unsure what the optimum times are to publish, Buffer's Efficient Scheduling tool can help.
It uses data from your profile and data from people in a similar time zone to make recommendations for the best experiences to post.
The Analytics area shows you how you've progressed over time, including your most popular posts, least popular posts, interaction, and so on.
With a single click, you may repost your most loved material with the "rebuffer" option.
Buffer allows you to publish material across various social media platforms from a single place. Rather than entering into each of your social media accounts individually, you can log into Buffering and publish all of your social media material from there.
Buffer goes beyond simply enabling you to include videos and pictures in your post.
You may develop unique images for your material in seconds using the Pablo tools. Select images from the library or create your own; add phrases and quotations; apply a logo, and scale various online platforms with this tool.
Disadvantages Of Buffer
Despite being a handy tool, Buffer does not handle Instagram, which is currently one of the most popular social media networks. (Edit: Buffer contacted us to inform us of a new manner they serve Instagram, so this point is no longer relevant.)
Buffer's social metrics and reports are only available to premium users.
Furthermore, it does not come with search, hashtag, or mention technology is set. This implies you'll have to collect the data straight from the social media sites or utilize other social marketing apps
See Also: Free Social Media Icons to Spice Up Your Posts (Copy and Paste)
3. Sprout Social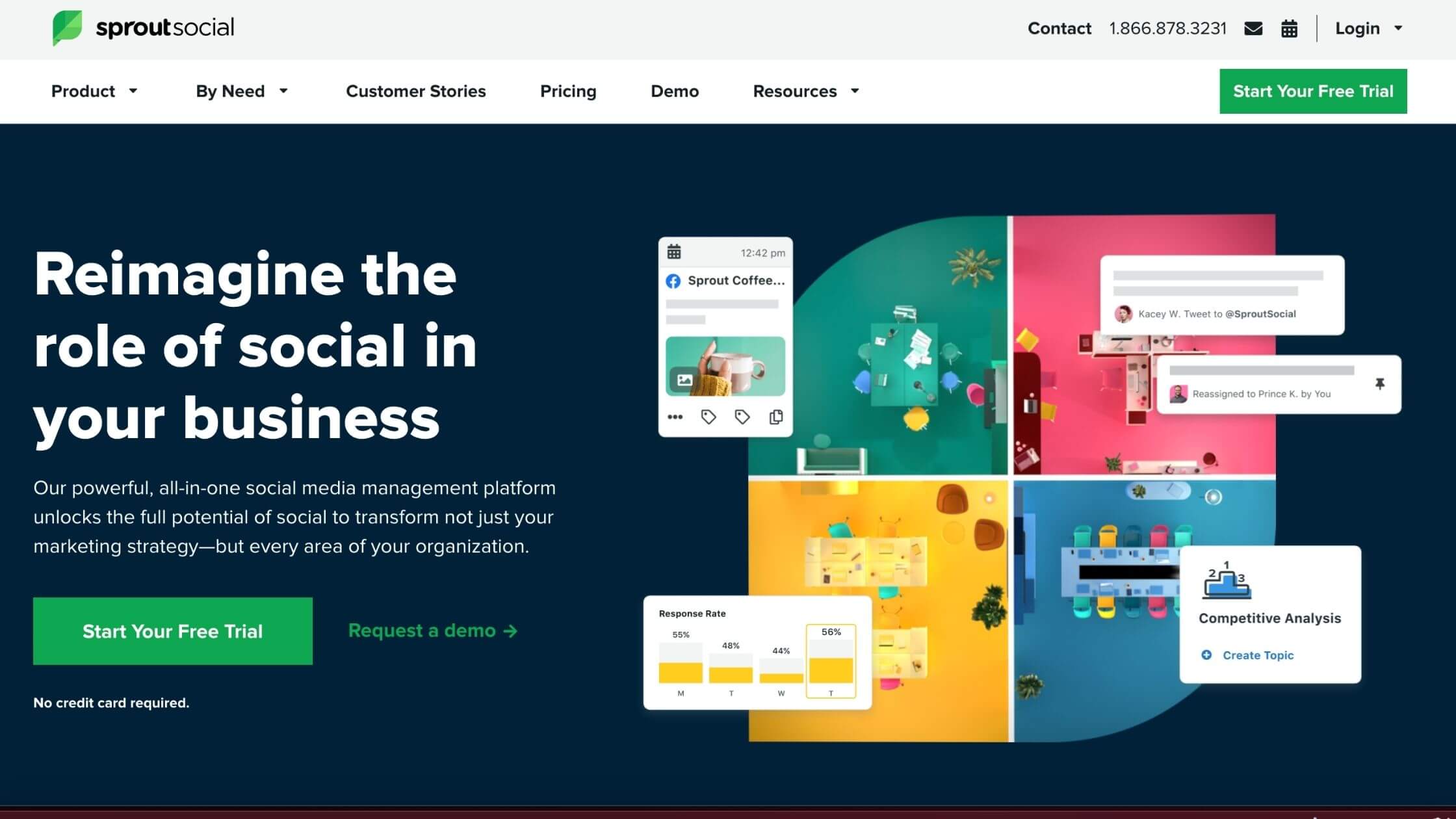 Starting, monitoring, and analyzing social interactions is simple with Sprout Social.
Its three major tasks — engagement, publication, and analytics — are intended to help organizations turn the intimidating world of social media into a clear benefit.
With Sprout Social, you can easily identify potential consumers and connect them, irrespective of their difficulty or query. There are numerous tools available to simplify and manage your social media approach across various platforms.
Advantages Of Sprout Social

 
Sprout Social takes care of the entire issue with its statistics platform, producing many visual reports that may be used in demonstrations. It also actives the customization of these reports to make them more relevant.
With the engagement tool, you can always stay on top of the discussions that mean the most to your organization.
It collects all effective content across the social realm and delivers them to your inbox: Facebook, Google, Instagram, Twitter, and Messenger.
By allocating diverse messages to teammates, you can create engaging team effort and boost efficiency.
Disadvantages Of Sprout Social
Although Sprout Social interacts with Facebook and LinkedIn, publishing in groups on these networks is not as simple as it could be.
Sprout Social is on the bigger picture of the price scale when it comes to social media management services.
While the posting capabilities are fantastic, they are not as excellent as those provided by Buffer.
See Also: 9 Creative Ways to Promote Reels on Instagram
Conclusion
If you're still puzzled even after reading the above article on Hootsuite Vs Buffer Vs Sprout Social, know that each of these suites includes a free trial period, which you should take advantage of.
So hurry up and make your decision fast so that these tools would help you manage your social media.