If you're looking to hire the best SEO agency in Nigeria, congratulations! You have just started your SEO journey. 
To guarantee a successful SEO campaign for your brand, you have to ensure that you're partnering with the right SEO agency managing your website to generate quality leads and implement a strategic digital marketing plan.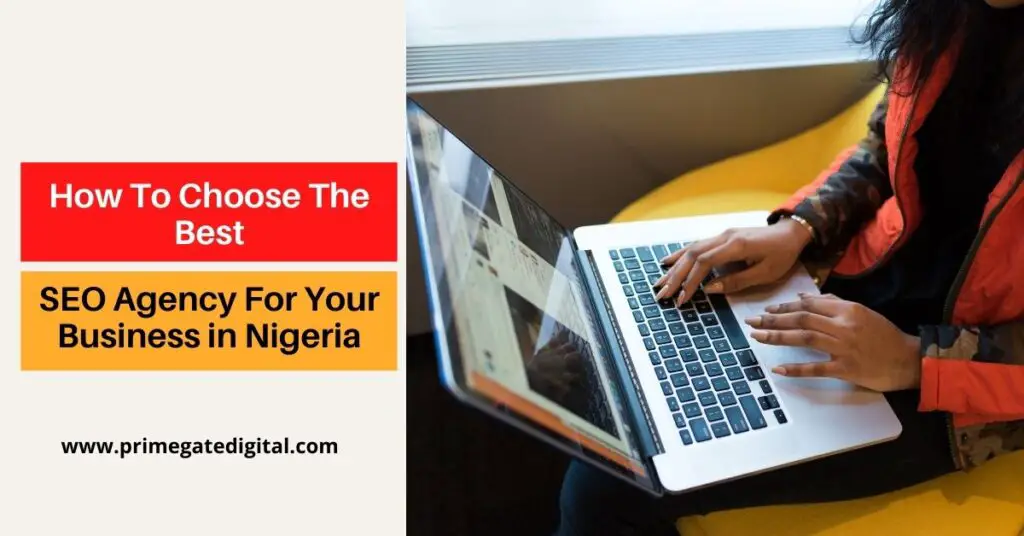 It is not out of place to consider an SEO company as an extension of your team. Beyond experience, you'll want to make sure they're a good fit for the job.
An important part of the job is communication.
You will be requiring updates on the SEO campaign progress on regular basis. Hence, working with an SEO agency in Nigeria that you can easily get along with is key. 
Understanding the benefits of an effective SEO campaign can offer your business is the first step to success.
So that implies that you have done your due diligence. And looking at it critically, you have done a great job. 
See Also: Best 15 Free SEO Tools to Boost Your Website Ranking (Guaranteed)
How Can An SEO Agency Help Companies?
But before we take a deeper dive, let's do a short recap of the benefits an SEO company in Nigeria can offer your brand. If effectively implemented, you should be confident to expect SEO to generate the following results for your business:
Create brand awareness for the business

Improves website search engine ranking

Increased conversion rates

Generate qualified leads

Increase organic traffic to the website

Better website performance 

Improves brand credibility
Irrespective of the SEO needs of a brand, there are hundreds of SEO firms providing SEO services.
Hence, with this huge number of unqualified and spam SEO agencies offering SEO solutions, finding the best SEO agency in Nigeria can be quite tasking.
So, the ultimate question that emerges is how actually can a business be certain that the selected agency for providing SEO and digital marketing services is the best fit for the business.

Types of SEO
Always have in mind that SEO is a complex process. It requires great attention to details and optimization.
However, the ultimate goal remains the same: to make sure your website is easier to understand by search engines bots, boost online visibility, and make your website more user-friendly. 
Technical SEO

Off-Page SEO

On-Page SEO

Mobile SEO

Content SEO

Local SEO
How To Choose The Best SEO Agency In Nigeria For Your Business?
When it comes to finding the best SEO agency in Nigeria, you can't simply choose a name that merely appears to be the best fit.
You need to carry out research to ensure that you make the right decision for your business. 
Hence, before hiring the services of any SEO agency in Nigeria, it is paramount to review the qualities that define a great SEO agency.
These traits can serve as a reference for shortlisting the best SEO agencies in Nigeria.
See Also: 35 Benefits of SEO & Why Every Nigerian Business Needs SEO
SEO Agency Should be Goal Focused
Abstain from hiring SEO companies that work on the vanity goal of growing organic traffic.
Rather, the SEO firm should create an outline on what exactly is intended to be achieved and the estimated time duration to accomplish that. Note that the goal may vary from business to business and also from industry to industry.
While some firms may want to boost the ranking of specific keywords related to the business, product or services, others may be driving at increasing the website conversion rate or decreasing the bounce rate.
Hence, before selecting the SEO firm, ensure that the agency has a clear cut understanding of what the business goals are and the end result.
The Website of an SEO Agency Speaks Volume!
Nowadays, SEO companies provide both SEO and website designing services.
Therefore, the most crucial aspect of selecting an SEO firm is to review its website.
They cannot deliver results better than they have done on their website. This is one of the easiest ways to disqualify SEO firms from your list.
Also, another checklist is to review the project the SEO firm has worked on before and the kind of result that the SEO agency has delivered over time.
Perhaps, if they lack such a list on their website, don't hesitate to request one and if they do not have it, then they deserve a red flag.
See Also: 101 Sure Ways to Make Money Online in Nigeria
SEO Firms Promising the Impossible on your Website
The ultimate goal of an SEO campaign is to generate organic traffic for a website, which does not happen overnight.
Sequel to that, any SEO agency in Nigeria that claims to be a Google algorithm expert and can cause overnight success on your website is not genuine.
To be able to optimize any business website for SEO requires a great understanding of how the search engines functions.
This can only be achieved by keeping up with the daily Google algorithm updates and paying keen attention to details while consistently optimizing the SEO strategy in line with best practices.
Truth be said, every SEO firm makes tall claims on the service they offer, but then a business, it is vital to find out if such claims are backed with fact.
For the purpose of finding the best SEO agency in Nigeria, is important to gather unbiased information about the firm.
You can gather such information using data such as online reviews, customer feedback as well as case studies.
You can review this information starting with the most recent ones.
The recent review will offer insights as to how updated the SEO firm is with the latest SEO changes and trend in the industry.
A reputable SEO firm doesn't hesitate to supply relevant information to its potential clients. 
Deep Dive into the Services of SEO Agency
In the digital marketing industry, SEO firms provide an array of services related to SEO.
However, additional services come with added costs.
So, it is important to know your estimated media budget for different SEO services from SEO companies.
Most agencies provide the cost implication of the SEO service on the company's website, but, if not available, you can request for quotation from the SEO firm.
Have a Meeting with Potential SEO Agencies
Meeting the potential SEO agencies is a very important step to take in the search for the best SEO agency in Nigeria.
The meeting could be physical or virtual.
The meeting helps to ask certain salient questions.
It also provides an opportunity to determine if the SEO firm is the best fit for the organization.
It is important to meet the firm with a list of relevant questions that unveils the digital marketing skills of the SEO agency.
Also, questions on cost and return on investment is also important conversation to have.
Wrapping Up
SEO is a long term business investment that should be done as soon as possible.
Thus, hiring the right SEO agency is a smart digital marketing strategy that you can deploy in expanding your business in Nigeria and beyond.
The right SEO firm is keen on the success of the client's organization just like the client.
The above tips and recommendations will help you in choosing the right SEO firm in Nigeria for your company.
Now is the right time to choose the best SEO agency in Nigeria to drive your organization's objectives. And a reputable SEO partner can help drive such a goal.