Besides being a popular social media network, Facebook offers a video streaming service.  Users on the platform can share recorded videos as well as live videos on Facebook.
These videos cut across different genres including music videos, comedy, entertainment shows, short clips, movies and lots more.
Facebook has a section specifically dedicated to videos.
Perhaps you watched a video a few weeks ago and want to rewatch the video again dues to the value it provides but you can't find it anymore on your Facebook timeline?
I have been there before. And I think it has happened to most of us too.
Sometimes you might be lucky enough to get it to appear on your timeline again when you log back but these chances are very low.
A lot of users on Facebook have complained about this issue in the Facebook community both on and off Facebook groups.
This article will guide you on how to find recently watched videos on Facebook desktop and mobile app.
Without further ado, let's review how to rewatch watched videos on Facebook.
Why do You Need to Find Your Facebook History Videos
To recover valuable information that you missed at first watch
You need to share the video with your community
The video was entertaining with lots of value and you want to rewatch it
You want to download the video and save it in your files
At one point in time, we will need to find our previously watched videos on Facebook.
How to Find Recently Watched Videos on Facebook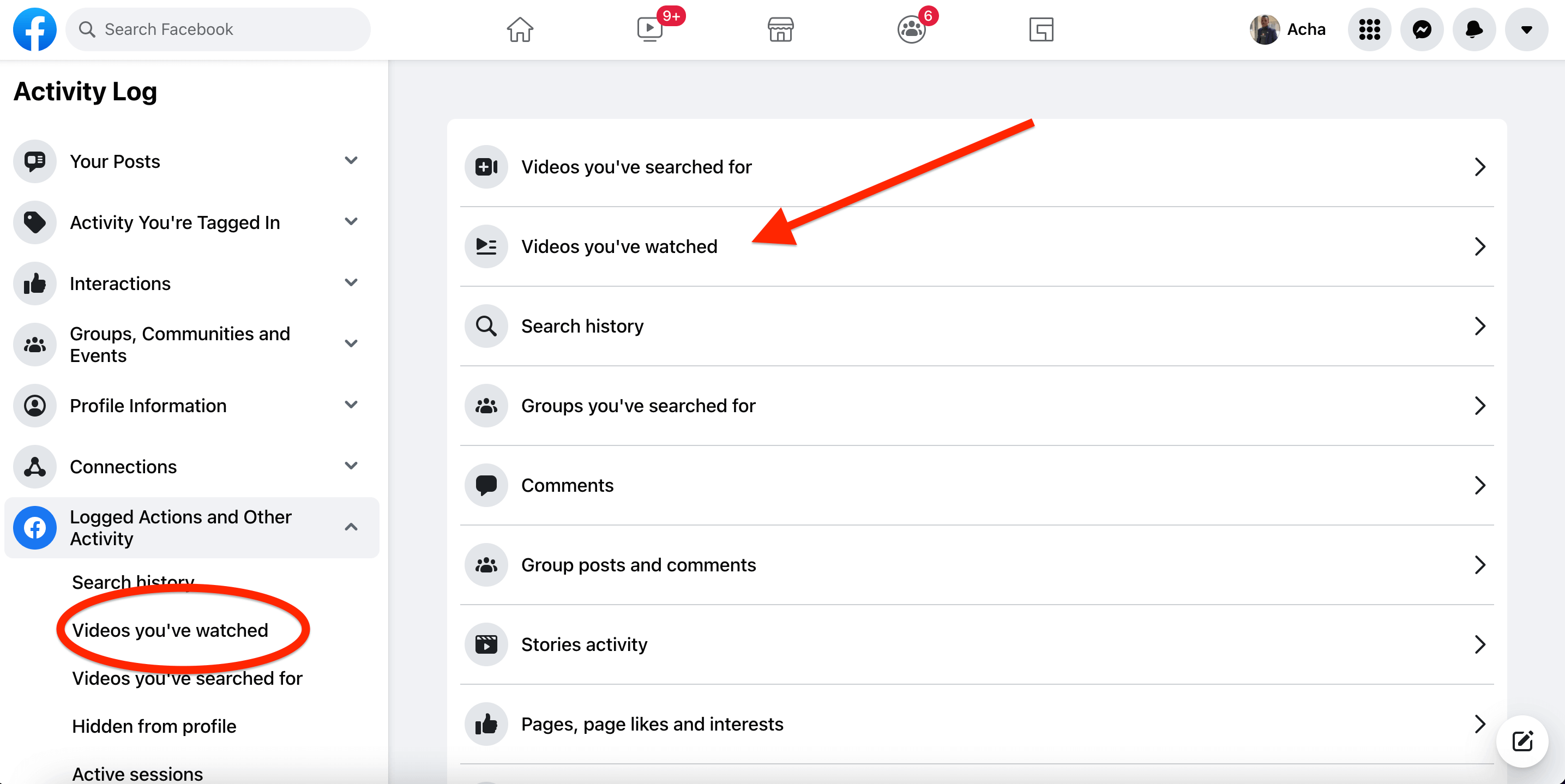 Once a video is played on Facebook, irrespective of the duration, it will have the opportunity to be listed on the recently watched video history on Facebook.
Follow the step below to find watched videos on Facebook.
Login to your Facebook account on your web browser
At the top right corner, click on the drop-down icon.
Proceed to tap on "Settings and Privacy"
Then click on "Activity Log"
Tap on "Videos you've watched" from the options
The list of all of the videos you have watched will appear.
Following these steps will, you will be able to get back all of your recently watched videos from your Facebook history.
How To Find Recently Watched Videos On Facebook App/Mobile
To find the videos you have watched on the Facebook app or mobile, follow the steps below:
Launch the Facebook app on your mobile phone or tablet and log in to your Facebook account
Tap on the three lin bar at the below right of your menu
Click on "Settings & Privacy"
Then click on "Settings" from the drop-down
Scroll down to the "Your Information" section and click on "Activity Log"
On the filter scroll, proceed to click on "Videos Watched"
Following these steps, you will be able to recover your recently watched videos on the Facebook app and mobile.
See Also: How To Get TikTok Account Unbanned
Conclusion
It can be annoying and frustrating to seek the videos you have recently watched on Facebook and you can't find them anywhere.
Facebook understands the importance of this, hence they keep your activity log.
We hope that this guide on how to find recently watched videos on Facebook helps you get started. You now know how to find and recover the Facebook history videos.
Also Read:
Latest posts by Harrison Acha
(see all)