Besides being a popular social media network, Facebook offers a video streaming service.  Users on the platform can share recorded videos as well as live videos on Facebook.
These videos cut across different genres, including music videos, comedy, entertainment shows, short clips, movies and lots more.
Facebook has a section specifically dedicated to videos.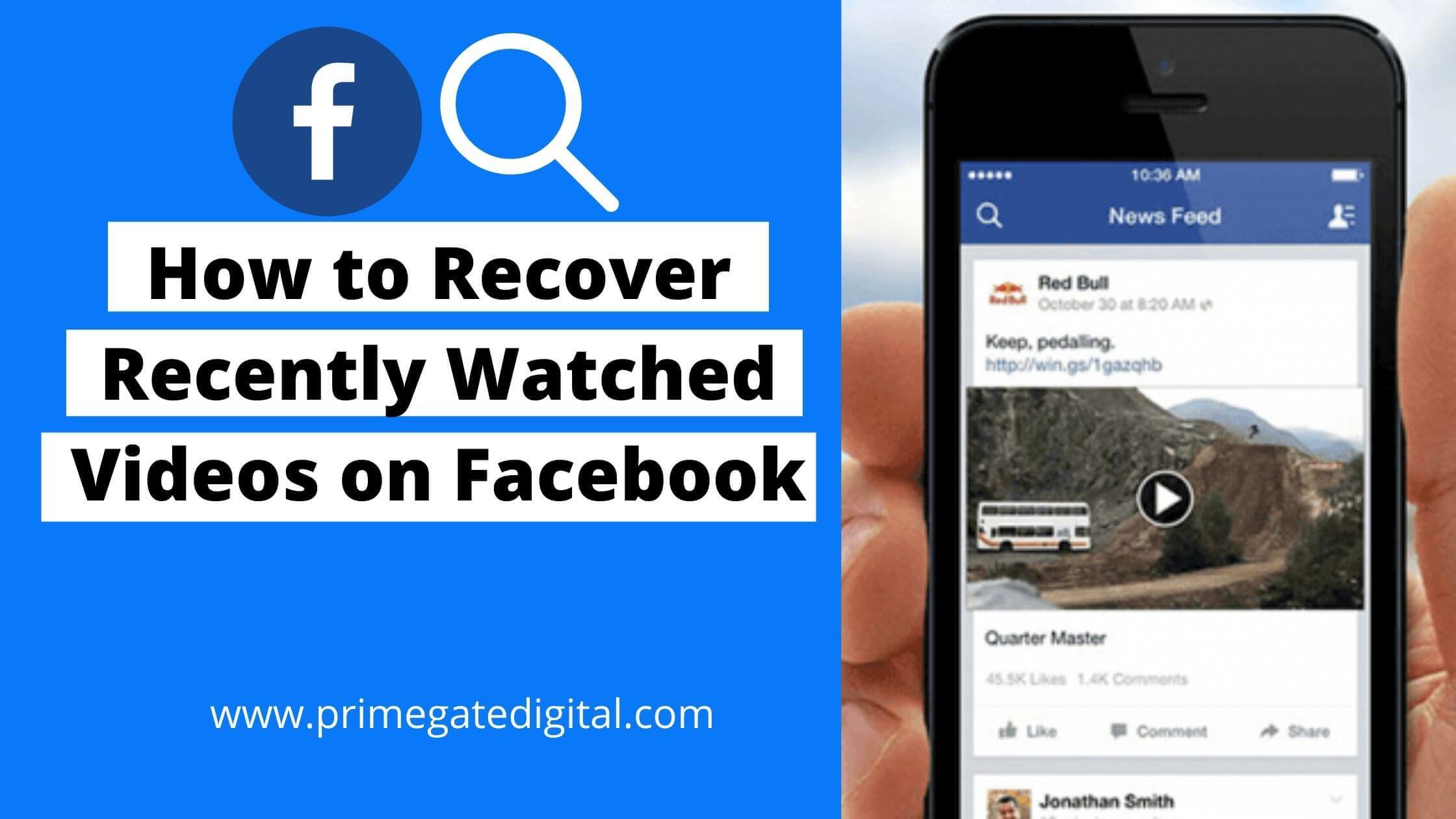 Perhaps you watched a video a few weeks ago and want to rewatch the video again due to the value it provides, but you can't find it anymore on your Facebook timeline.
I have been there before. And I think it has happened to most of us too.
Sometimes you might be lucky enough to get it to appear on your timeline again when you log back in, but these chances are very low.
A lot of users on Facebook have complained about this issue in the Facebook community, both on and off Facebook groups.
This article will guide you on how to find recently watched videos on your Facebook desktop and mobile app.
Without further ado, let's review how to rewatch watched videos on Facebook.
Why You Need to Find Your Facebook History Videos
To recover valuable information that you missed on your first watch
You need to share the video with your community
The video was entertaining with lots of value, and you want to re-watch it
You wish to download the video and save it on your files
At one point in time, we will need to find our previously watched videos on Facebook.
How to Find Recently Watched Videos on Facebook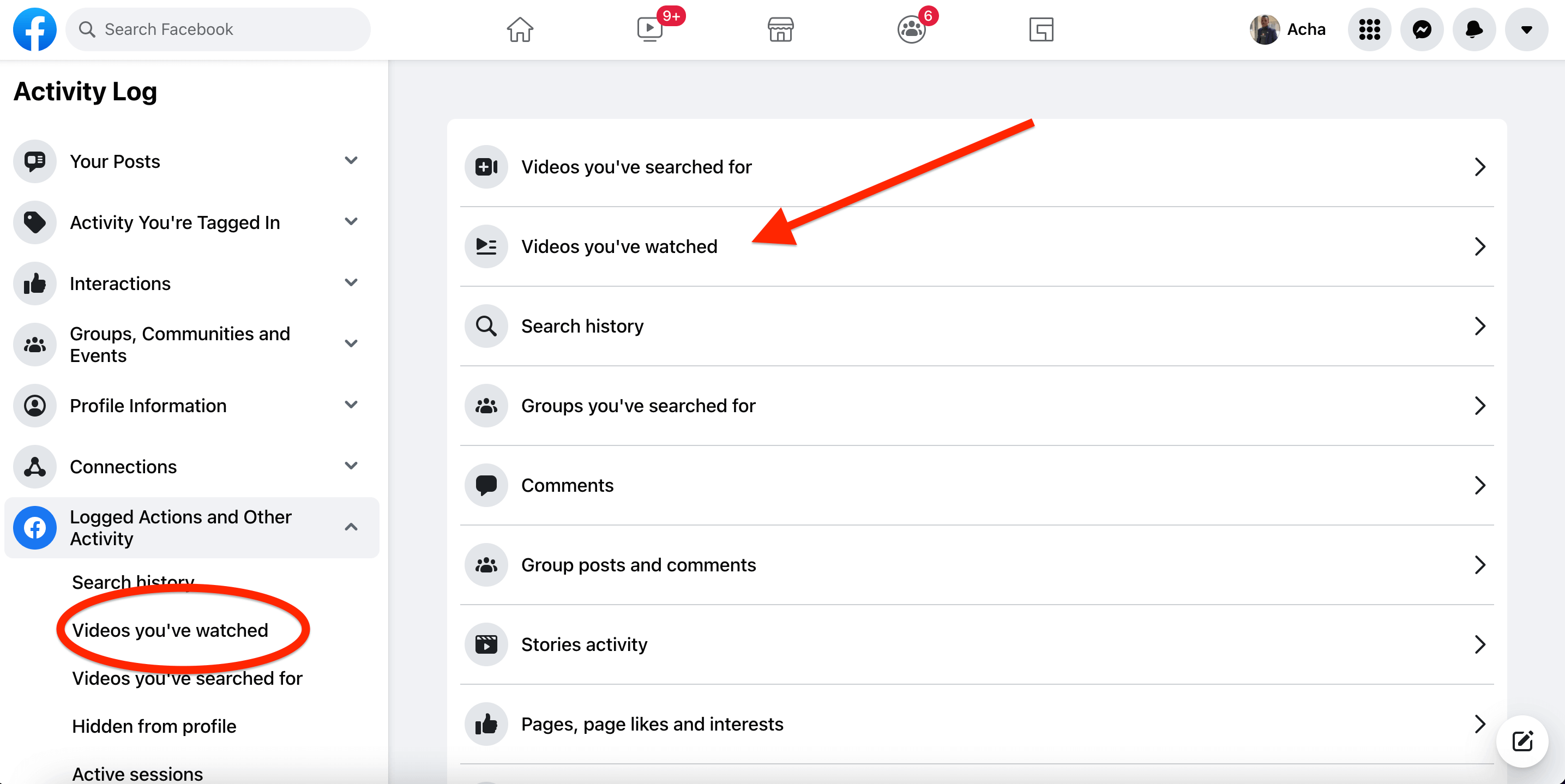 Once a video is played on Facebook, irrespective of the duration, it will have the opportunity to be listed on the recently watched video history on Facebook.
Follow the steps below to find watched videos on Facebook.
Login to your Facebook account in your web browser
In the top right corner, click on the drop-down icon.
Proceed to tap on "Settings and Privacy."
Then click on "Activity Log."
Tap on "Videos you've seen" from the options
A list of all of the videos you have watched will appear.
Following these steps, you will be able to get back all of your recently watched videos from your Facebook history.
How to Find Recently Watched Videos on Facebook App/Mobile
To find the videos you have watched on the Facebook app or mobile, follow the steps below:
Launch the Facebook app on your mobile phone or tablet and log in to your Facebook account
Tap on the three line bars at the bottom right of your menu
Click on "Settings & Privacy"
Then click on "Settings" from the drop-down
Scroll down to the "Your Information" section and click "Activity Log."
On the filter scroll, proceed to click on "Videos Watched."
By following these steps, you will be able to recover your recently watched videos on the Facebook app and mobile.
See also: How to Get TikTok Account Unbanned
How to Discover Recently Watched Videos on Facebook Desktop
How To Discover Recently Watched Videos On Facebook Desktop It is very easy to use your computer to find recently watched videos on Facebook.
All hope is not lost if you can't find the nice video that was on your newsfeed.
There is a way to find them via your desktop or PC. Here's how:
Access Facebook using your web browser on your computer.
Navigate to your Facebook profile
Select the three horizontal dots option (the menu option located on the screen's right side below your profile photo).
Select Activity Log in from the menu options.
Select the "Videos you've watched" option from the Activity Log option. Your Facebook videos will be listed in a reverse chronological sequence.
Select any of the videos if you wish to rewatch them.
How to Delete Videos from Facebook Watch History
By selecting "Clear Video Watch History," you can easily delete your watched video history.
You can also delete an individual video from your video watch history by selecting the three little dots beside each video. Next, select the delete button.
Simple Way to Save Facebook Videos for Later Viewing
If you discover a video that interests you, you can easily save it, exactly the way you do with posts on Facebook.
The quickest method you can use is to select the three dots beside the video and then click Save video. The video will be immediately stored on your saved item list.
You can either create a new collection or add the video to your selected collection. Next, select Done.
Additionally, you can save Facebook videos from your activity log. To do this, navigate to your activity log and select the video to access it. Then, select the three dots and click Save video.
How to Check Your Saved Facebook Videos
If you wish to access your Facebook saved videos on Facebook, there is an easy method for doing that.
Access your Activity Log on Facebook.
Select Interactions (located on the left panel).
Select Saved from the menu that opens.
Navigate through the saved posts list and locate the specific video you want.
Select the video to rewatch it.
Find Recently Watched Videos on Facebook FAQs
Can others see my Facebook watched history?
No. Your watched history is hidden from other users. However, if you carry out certain actions linked to a page or video (for instance, liking a video), other users on Facebook may see them.
Can you find out if someone has viewed your Facebook profile in 2023?
No, no Facebook feature lets you track who has seen your profile.
Can you access other users' Facebook activities?
Yes. Some activities of Facebook users are available to you if they are on your friend list or if you follow them.
This includes their new posts, comments, pictures and video uploads. However, this only works if they set their post privacy to "Public."
Is there a way to tell the number of times someone viewed your Facebook profile?
No. Facebook does not allow users to check the number of times their profile has been viewed. This is part of their policy. It is even stated on its Help page clearly that "No, Facebook doesn't let people track who views their profile."
Can you see the number of times you have been searched for on Facebook?
No. Facebook does not let users access information about the number of times their profile has been searched. It also prevents users from accessing information about who is monitoring their posts, videos and other aspects of their profile. It is not possible to integrate a tracker into your profile to check the number of people who have accessed your profile.
Can your activities be monitored by Facebook?
Yes. Facebook can track your activities on their platform as well as when you access other third-party websites. You can access this information via the Facebook activity tool. This will help you review and remove the data tracked associated with your account while you are on other websites.
What's the way to access someone's Facebook photo without being on their friend list?
Navigate to the profile page of the user whose picture you wish to view. Then select their name on your news feed, look for them on your mutual friend list or use the Facebook search feature to find them. Select Photos.
How long does Facebook store web browsing history?
Facebook presently stores users' browsing history from 3 months to 2 years. This happens even when you are not logged into Facebook — it is mainly for targeted ads.
Can I monitor anyone who has seen my Facebook post?
No. Users on Facebook can't track whoever has accessed their profile. 3rd-party platforms do not offer this service.
Do deleted Facebook accounts disappear completely?
You can revoke the account deletion process if it has been less than thirty days since you started. After 30 days pass, your account and entire data will be irreversibly deleted and can't be recovered through any method.
Did Facebook recently update its layout?
Yes. There have been a series of changes to the Facebook app. The "Home" tab is now separate from the "Feeds" tab to tailor the user experience.
Conclusion
It can be annoying and frustrating to seek the videos you have recently watched on Facebook and you can't find them anywhere.
Facebook understands the importance of this, hence they keep your activity log.
We hope that this guide on how to find recently watched videos on Facebook helps you get started. You now know how to find and recover Facebook history videos.
Also Read: