Instagram is a popular picture and video uploading app that also enables you to back up your photographs and other media files easily. It also allows users to take pictures, resize and add filters or effects to them.
Another astonishing thing about Instagram is that pictures uploaded to the platform can equally be shared to other social media sites like Facebook, Twitter and Tumblr in a synchronised manner. 
Instagram has the 'Explore Tab' feature, which showcases photographs and videos that are specifically recommended for each user. Formerly, the 'Explore Tab' presented highly popular Instagram photographs and video clips to all users.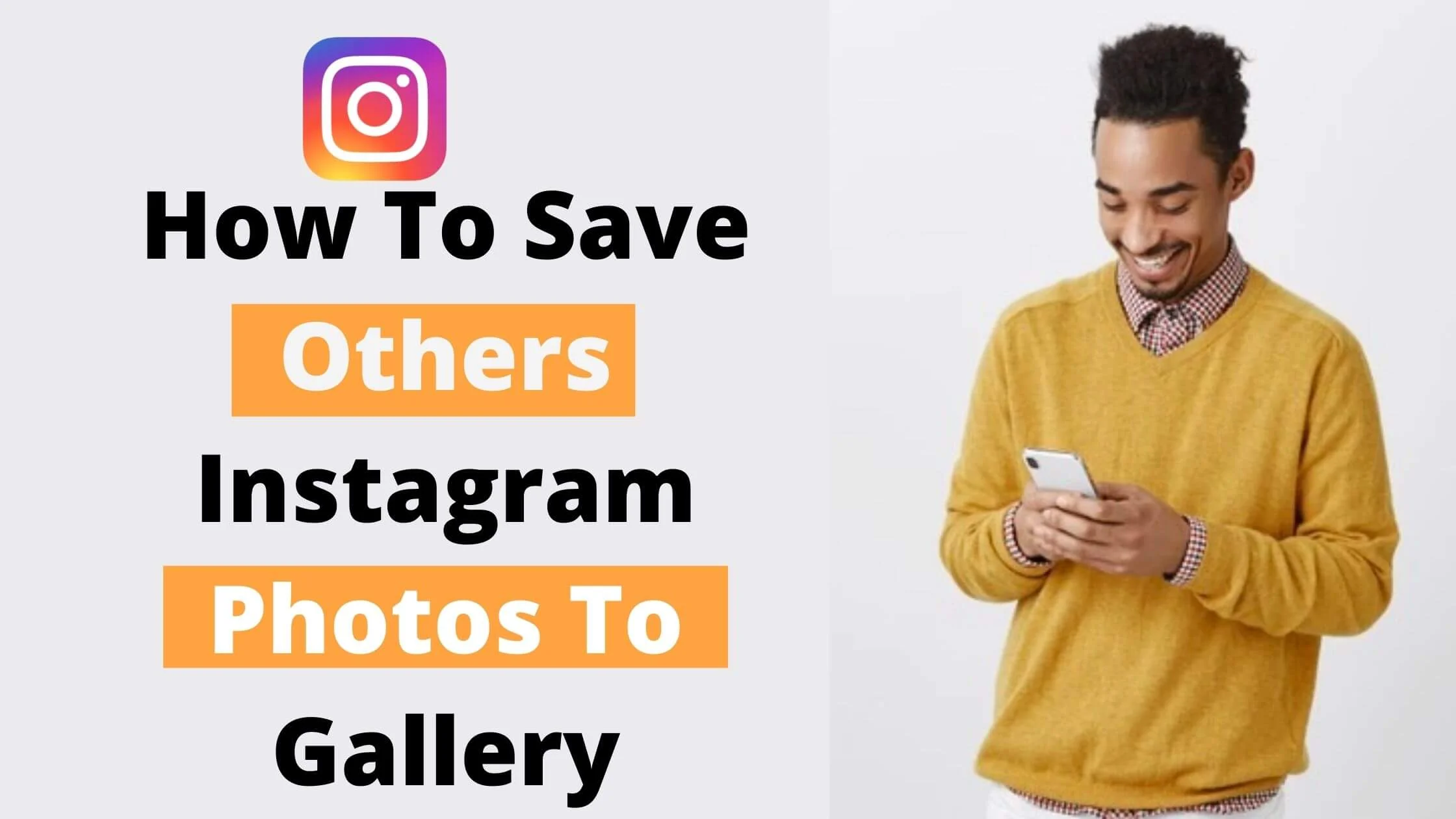 This article will guide you on how to save other users' Instagram pictures to your smartphone, especially if you admire their photos.
See Also: How To View Instagram Stories Without Anyone Knowing
How to Save Others Instagram Photos to Phone Gallery
Below is how to save others Instagram photos to gallery:
Log in to your Instagram account at

http://instagram.com/

. Ensure you input your correct password and phone number/ email address. Set up an account if you don't already have an IG account yet. 

Alternatively, you can install the "Instagram App" from the Google Playstore on your smartphone.

Once you have downloaded the app on your phone, launch it from your menu screen. 

At the bottom of the page, select the "Explore" option.

Choose whichever picture that you want to save.

Navigate to the bottom of the picture and tap on "Three vertical dots."

Then click the "Copy share URL" option.

To view the photo's web page, launch your phone's web browser and paste the URL you copied.

Tap and hold the picture. You will notice a popup window that appears.

Tap "Save image" from the drop-down menu.
Congratulations! You have now saved other people's Instagram photos to your smartphone. 
How to Save Instagram Photos to Your Computer
We will reveal to you another simple but effective method you can use to download other Instagram users' images using your computer's web browser.
Since it is nearly impossible to download images directly from Instagram due to issues related to copyright, this hack will allow you to easily do it from your desktop browser. How convenient?
Warning: Don't use this method for nefarious purposes.
Without further ado, let's get down to business. 
Launch your desktop's web browser. 

On your web browser tab

On the new browser tab, tap on any Instagram image to download it. 

The next step is to right-click on the photo. A drop-down list of options will pop up. Click "copy link address". You can try this step even if you are not logged into your account.

Now, hover your mouse pointer beside the image and right-click it. You'll notice another menu will appear. Click "View Page Source" from the drop-down menu.

This will open the page source code in a new tab in your browser.

Navigate around the code or better still, try using the "Find" tool on your browser until you locate the first.jpg link.

Using quotation marks, copy only the URL text that falls in between the speeches.

Copy the URL and paste it into a separate tab.

After the photo has opened, right-click it to save it to your pc, just like any other image you could find online.
See Also: How To View Private Account Followers On Instagram
How to Save Photos You've Taken on Instagram to Your Phone 
How do you save photos you've taken on Instagram to your phone? What if you have snapped, edited and filtered a photo on Instagram, and you want to save it to your phone's gallery or camera roll? How do you go about it?
Follow the steps below:
Launch the Instagram app.

At the bottom of the page, tap the person-shaped button to access your profile. Note: This might be slightly different depending on the version of the Instagram app your smartphone has. 

After opening your Instagram profile page, select the three horizontal-line options. 

When the popup menu opens, choose "Settings," which is the number one option on the list.

Then select "Account," then tap on "Original Photos," which will pop up on an iOS device. For Android users, the option that will appear as "Original Posts" will be an option.

The Instagram app now easily allows you to store all of your Instagram photos in your phone's gallery.

To save any Original Photos/Posts, turn on the blue toggle.
Now that you've enabled this feature, any photos you upload to Instagram will be stored in your phone's gallery or library as well. What a time saver!
See Also: How To Fix Instagram Tagging Not Working
How to Save Posts and Make Collections
It's very straightforward and easy to save an Instagram photo and add it to a Collection.
Whenever you stumble upon an Instagram picture you'd like to save, simply hit the "Save" option in the bottom left corner. It appears in the form of a bookmark button.
On the Instagram photo, select the save button.
Once you select the save button, the photo will be saved to the "All Posts" part of Instagram. An "Add to Collection" button will pop up for a few seconds.
Hold down the Save button to add a photo to your collection.
There's a more efficient approach to adding a picture to a Collection. To access the "Add to Collection" tab, just hold down the Save option.
In this section, you'll be able to access every post saved in your collections. First-time users will have to create a new Collection before they can make use of this feature.
You can start a new collection by tapping the plus button. 
After that, assign the collection a label and select "Done." The picture will be archived in the new collection you've created.
Save a picture by tapping and holding the "Save" option and selecting collection.
Pick the collection to which you'd like to save your picture.
How to Use Screenshots to Save Instagram Photos
You can take a screenshot of an Instagram photo to save it for later. It's easy to take a screenshot, and the picture will be saved directly to your phone's gallery or library.
However, it is always at the sacrifice of full resolution, and it frequently includes objects on the screen that you might not want to keep.
If you plan to use Instagram photos for professional purposes, I advise you to download them instead of screenshotting.
See Also: How To Get Verified on Instagram For Free
Third-party Apps to Save Instagram Photos to Gallery
Are there third-party tools that can help save Instagram photographs? The simple answer is yes!
You can download or save Instagram pictures using third-party tools or services.
Here are some of the reliable third-party services that are available:
1. DownloadGram
DownloadGram is the quickest and most convenient way to save Instagram pictures to your phone's gallery.
It basically lets you paste the relevant links into a website and get the results. Here's a quick breakdown of how to get started:
Open the Instagram app on your smartphone and search for the photo you want to save.

Select Copy Link from the 3-dot button in the image's upper-right corner.

Visit www.downloadgram.org 

Copy the link and paste it into the text field.

Tap the Download Now option.

Tap the Download button to the right of the photo to begin the download process.
2. FastSave 
Another method of downloading Instagram photos is the FastSave app. It can be installed directly from PlayStore. You don't have to worry about paying anything to use the app.
After that, copying and pasting works in much the same way as it does when using the DownloadGram application. Since FastSave is an Android-only app, non-android users can't access the platform. 
FastSave is available for free on Google Play.
Here's how it works:
Launch the Instagram application and look for the photo you want to save.

Hit the Copy Link from the 3-dot button in the upper corner of the photo.

To download the photo, use the FastSave app and paste the URL link into the search field.

In the lower right panel, tap the download option.

Tick the box next to the photos you want to save.

Tap "Fast Download."
That's it!
3. Save-o-gram
We've previously explained how to download photos from Instagram using android applications.
Save-o-gram is computer software for Windows OS. It is also a pretty robust option. You can use this software to download pictures individually or in a zip package. You may also use a scalable matrix to display photos. It's also easy to grab an Instagram user's whole photo library at once.
There is one major drawback to this fantastic software! It's a premium tool, and it'll set you back $9. However, there is a 14-day trial period. It's also a useful tool so that it could be of much value for your money.
Install and set up the Save-o-gram program.

To view Instagram photographs, type any Instagram handles, hashtags, or links into the search box at the top.

Click on the photographs you want to save.

Select Download Images or Download as ZIP file from the drop-down menu.
Conclusion
You might have legit reasons for wanting to save an Instagram picture but bear in mind that there are fraudulent third-party tools littered across the internet that claim to help users save Instagram photos.
Be careful not to fall victim to scams.
You can use any of the techniques listed above to safeguard your Instagram account from unscrupulous elements and malicious downloaders. 
The right way to store your photographs is via Instagram inbuilt save feature. If you plan on downloading any Instagram picture, ensure you use a reliable tool or technique and seek the owner's permission before sharing it.
Also Read: