As an online business owner, you need to facilitate your business with easier payment solutions.
Perhaps you have been looking for a resourceful guide regarding this, bookmark this article and read it with more attention.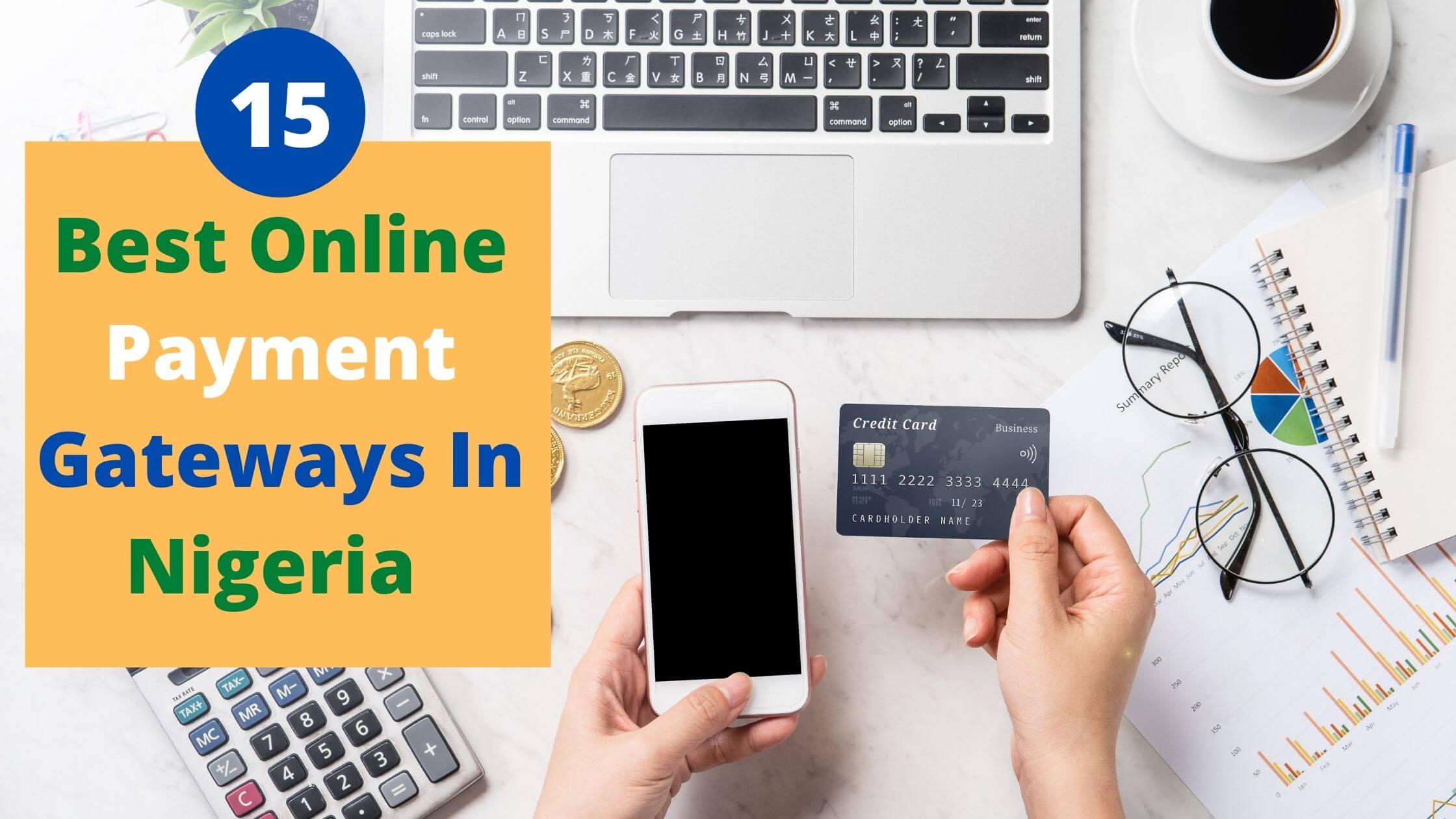 According to statistics, 84% of consumers love to pay by card. Thus, it suffices to say that 84% of your customers love to pay by card.
Hence the reason you need to have integrated a payment gateway as soon as possible.
We are in the digital age and expect more of your customers to pay you via digital platforms. You also must have renewed a subscription, scheduled a paid consultation, or ordered something online.
Therefore, everyone prefers to pay online – including your customers.
Having said that, this content aims to elucidate the top 15 best online payment gateways in Nigeria and across Africa. These options are creamé de la creamé payment gateway you can consider.
What is a Payment Gateway? 
Before we proceed, it suffices to say that online payment platforms are better called "payment gateways."
Thus, you must have a better understanding of what we call a payment gateway, how it works, and its importance.
From a more technical perspective, a payment gateway is a financial technological means through which online business owners receive money from their customers or clients via card. 
It is the financial checkout that customers fill out before booking your service or ordering your product online.
As an illustration, the payment gateway of Amazon is the card details form that you fill to furnish the consideration of your purchase.
Just like the way physical business owners collect payments from every transaction they make with their customers, payment gateways are the virtual prototype of it.
It is the interface that your customers and clients interact with before they can close the transaction from their end.
See Also: How to Start a Profitable Mini Importation Business in Nigeria
Why is Having an

Online

Payment Gateway Important?
You must have wondered, "Why do we have online payment platforms? Are they that necessary?"
Having an online payment platform for your business is as important as anything you do. After all, you want to collect money—from your clients and customers—at the end of the day.
On this note, we will briefly highlight four salient reasons your business should integrate a payment gateway:
The tight security of a payment gateway will eliminate the possibility of customers duping or defrauding you.

Its speed leaves an amazing and remarkable user experience; ease.

It is easy to set up.

Also, makes payment and reception of payments easier for both buyer and seller.
Thus, shall we now consider the top 15 online payment gateways in Nigeria.
See Also: How to Start a Profitable Ecommerce Business in Nigeria
The 15 Best Online Payment Gateways You Should Consider In Nigeria
Below are the best online payment gateways in Nigeria.
Paystack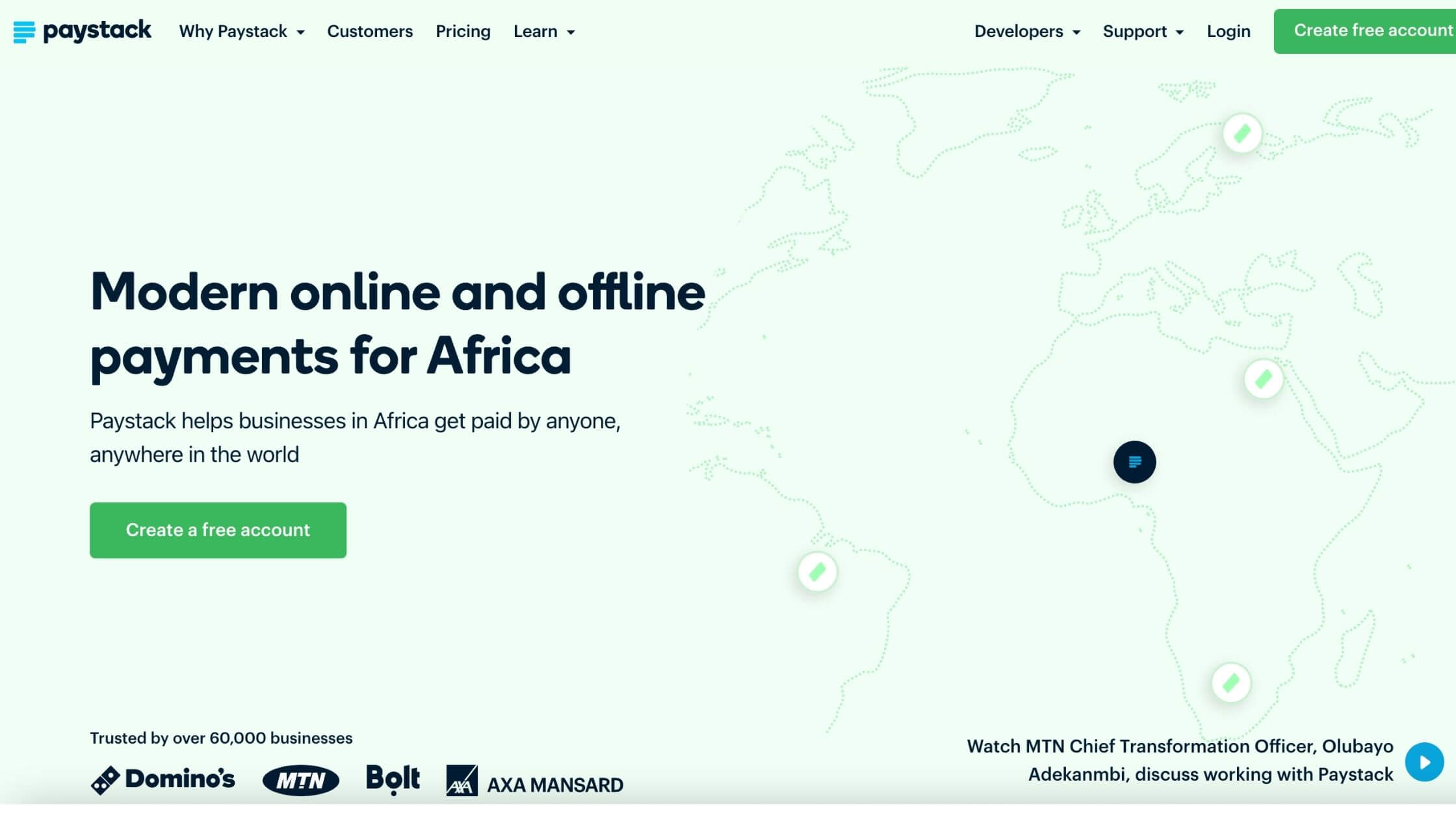 Originally, Ezra and Shola founded Paystack in 2015. However, according to Techcrunch, the startup has exited the ecosystem, and Stripe has acquired it.
In simpler words, Stripe now controls it.
Without a doubt, Paystack is one of the leading online payment gateways in Nigeria. This is due to their top-notch delivery and because they've been around for a while.
Thus, Paystack is the first online payment gateway anyone in Nigeria will recommend for you.
At the moment, they boast of over 60,000 clients. This is not an exaggeration because people—within and outside Nigeria—indeed use Paystack a lot.
Who knows, you also might be their next client.
Checkout Also: How to Create Paystack Free Account
In terms of speed, Paystack is one of the best; because you'll set up your store or integrate it to your website within 10 minutes and that's all.
On the other hand, the customer can buy in nothing less than two minutes.
Perhaps you're hoping to integrate a payment gateway without breaking the bank, we recommend Paystack.
The reason is simple, they don't charge any integration or unnecessary maintenance fee.
All they do is collect crumbs of any transactions that you process with them. In other words, if nobody buys from you in a day, Paystack won't also collect anything.
That sounds nice, doesn't it?
Concerning the price, they collect 1.5% and 3.9% from every local and international transaction. That's pretty much a piece of cake.
See Also: How to Register a Business Name in Nigeria (Explained)
Interswitch Webpay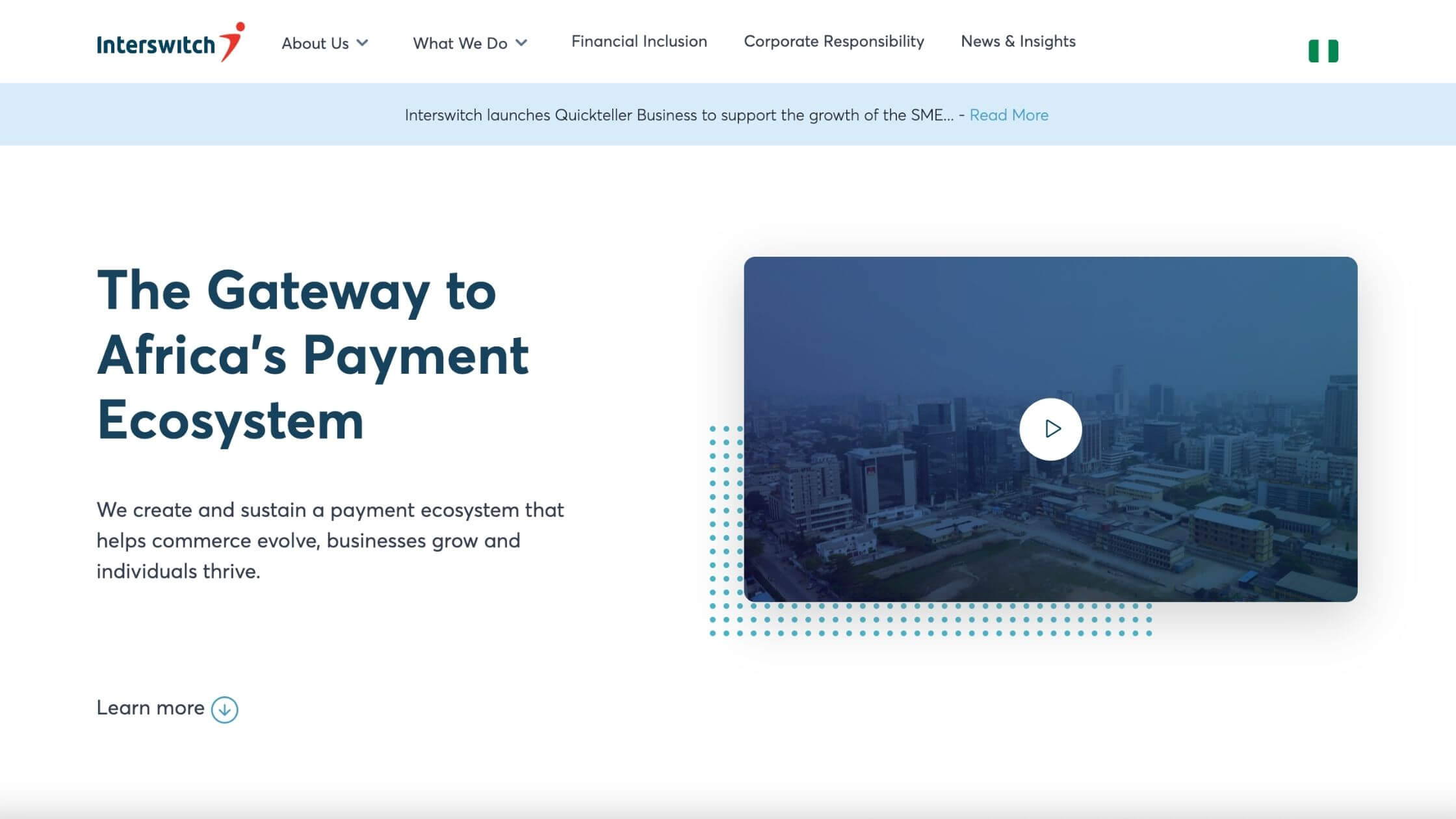 At one point or the other, you must have paid with Interswitch Webpay. They are one of the largest online payment gateways in Nigeria and across Africa.
As the name suggests, "Interswitch" roughly means "swapping and maintaining diversity." That is exactly their role in the Nigerian and African financial ecosystem.
What makes them different is how they facilitate financial transactions across diverse card schemes like MasterCard, Payoneer Card, Verve, Visa, Diners, JCB, American Express, and Discover.
In other words, your customers have a wide option of card payment. 
That is essential because the reason some Nigerian customers leave some online stores or decline some payments is that their card is not part of the options available.
Hence, it suffices to say that the financial inclusion of Interswitch Webpay is their strength.
Foremost, Interswitch has an appealing user interface that will impress almost anyone. Not only that, their interface gives a nice user experience because it's easier to navigate and interact with. 
With their Hi-Tech capacity, they can process huge and fast e-transactions without crashing or malfunctioning.
All your customers have to do is input their card details.
However, it's important to note that before you can integrate an Interswitch payment gateway, you have to create a business account which is free of cost and easy to set up.
See Also: 15 Legit Passive Income Ideas in Nigeria to Make Extra 500K Monthly
Vogue Pay
Do you know the payment processor in vogue? You get it, it's the Vogue Pay.
Vogue Pay is proud of the speedy processing of local payments with well-secured application programming interfaces.
No matter the nature of your business—marketplace, subscription, or store—Vogue Pay offers you a modern payment solution with a fantastic user experience.
The unusual speed of processing payments is one of the reasons Vogue Pay is the favorite of so many. You know, nobody likes delay in any way.
The good news is that the integration of Vogue Pay is fast and seamless. And you'll be receiving money within minutes.
Moreso, they will directly send your funds to your account numbers; you don't need to stress yourself.
Furthermore, Vogue Pay has security and analytics functionalities. What are these for? You can measure and track your revenue to be more meticulous. 
Also, you can secure your payment gateway by introducing authorization means like Google authenticator to disable fraud.
Vogue Pay's multi-currency and multi-card nature make it all-inclusive of your global audience.
And each of them will have various options of perfecting their transactions with you.
This is the good news: you only need #4,000 to set your Vogue Pay gateway up.
See Also: Top 30 Lucrative Business Ideas in Nigeria to Start
Fliqpay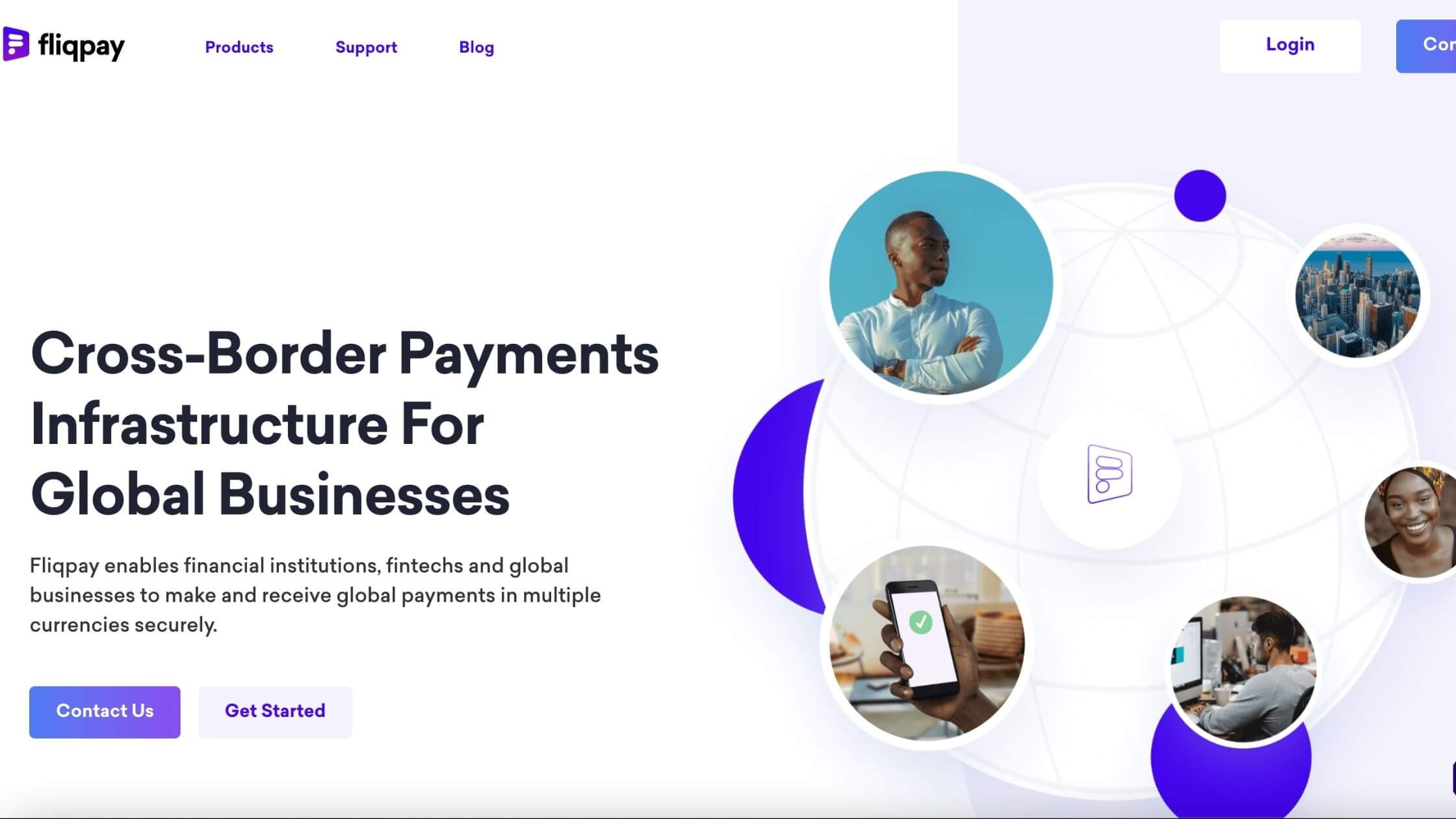 If you want to reach a larger global audience, then you'll need the service of Fliqpay. They provide cross-border payment solutions for businesses all over the world.
Ideally, their use cases are the payment of suppliers, salaries, and customers.
When you pay through them, there's always a speedy delivery of payouts. You can always use your dashboard to track your payments and every necessary detail.
Thus, you can make and receive payments from anywhere in the world. At the moment, they allow over 14 popular African currencies.
Of course, be rest assured that their currency exchange rate is pretty much friendly and affordable.
Fliqpay is a certified payment gateway, Canadian authorities—Financial Transactions and Reports Analysis Centre of Canada (FINTRAC)—have licensed and regulated it.
Also, they are PCI DSS Compliant; the strongest certification of Security Audit as a payment gateway.
Therefore, your funds are secured and unlikely for hackers to break.
On the other hand, Fliqpay itself can neither dupe you nor run away with your funds. They are certified are insured.
Concerning billing, Fliqpay doesn't charge any hidden fees, only 1% transaction fees. And that's fair enough, isn't it?
For the sake of clarity, here is the step-by-step process of using Fliqpay:
Create your account

Generate codes

Paste the codes on your website

Start receiving funds
See Also: How to Start a Profitable POS Business in Nigeria and Win
PayU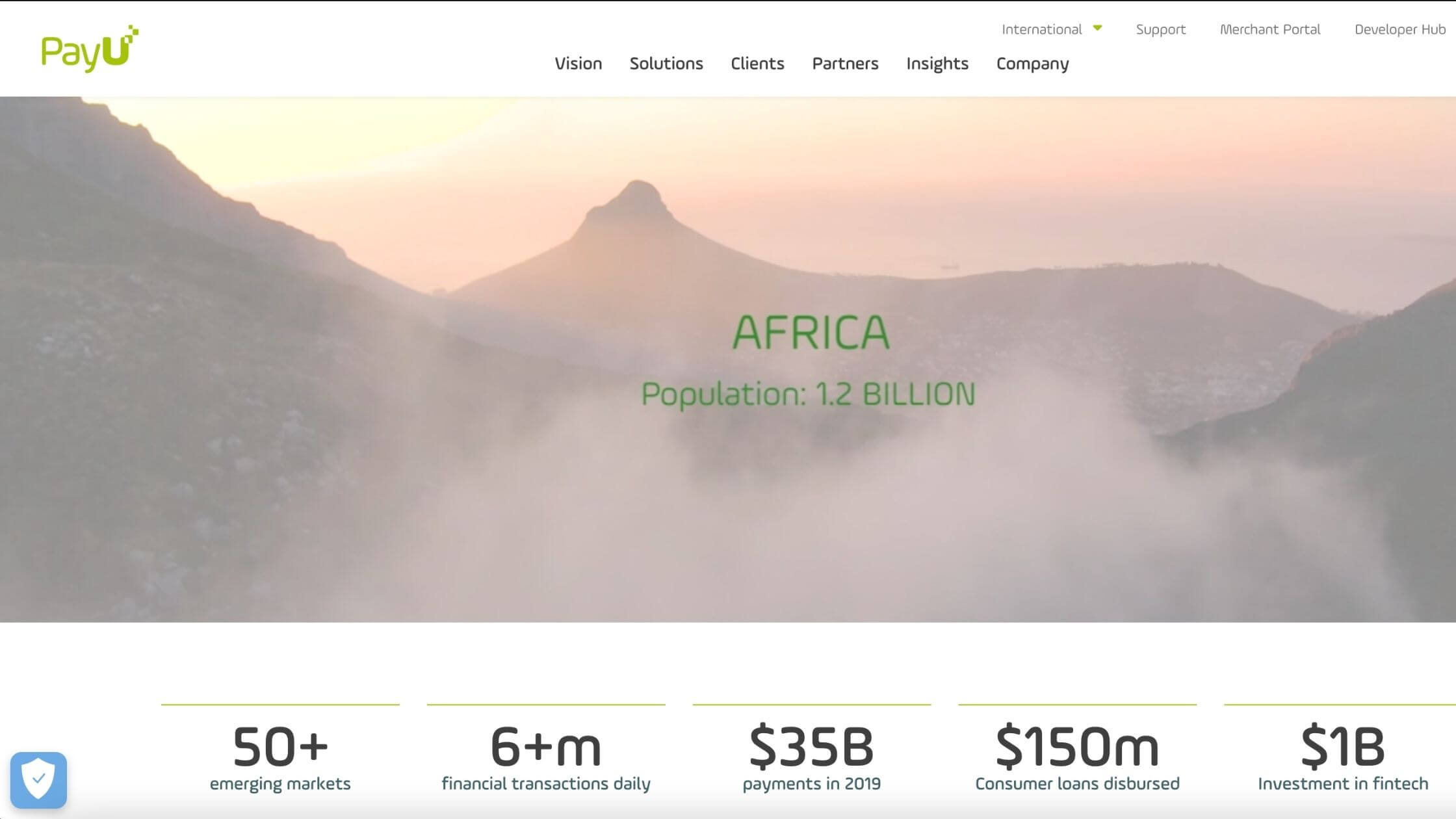 PayU is a leading online payment platform with up to 400 local payment methods and 50 emerging markets. 
It is not targeting the local audience at once. Rather, they are localizing in each country.
For instance, they have PayU India, PayU Nigeria, PayU Egypt, and so on.
They have a direct relationship with the local banks and FinTechs of every country. 
Thus, they can offer efficient local payment processing. Their service is a pure combination of local excellence and Hi-Tech.
The name of their gateway solution is PayU Plus. It is best for businesses hoping to collect money from their customers via their online store or website.
With that integration, your customization and branding will be intact – thereby making your customers feel at home the more.
Now, here is the reason you should consider using PayU; especially if you are a large business.
PayU can process tons of transactions at the same time without any hick-up or hitch.

Also, be rest assured that your transactions are secured with PayU's surefire security firewalls.
See Also: How To Pay For Facebook Ads In Nigeria: A Step-by-Step Guide
PayPal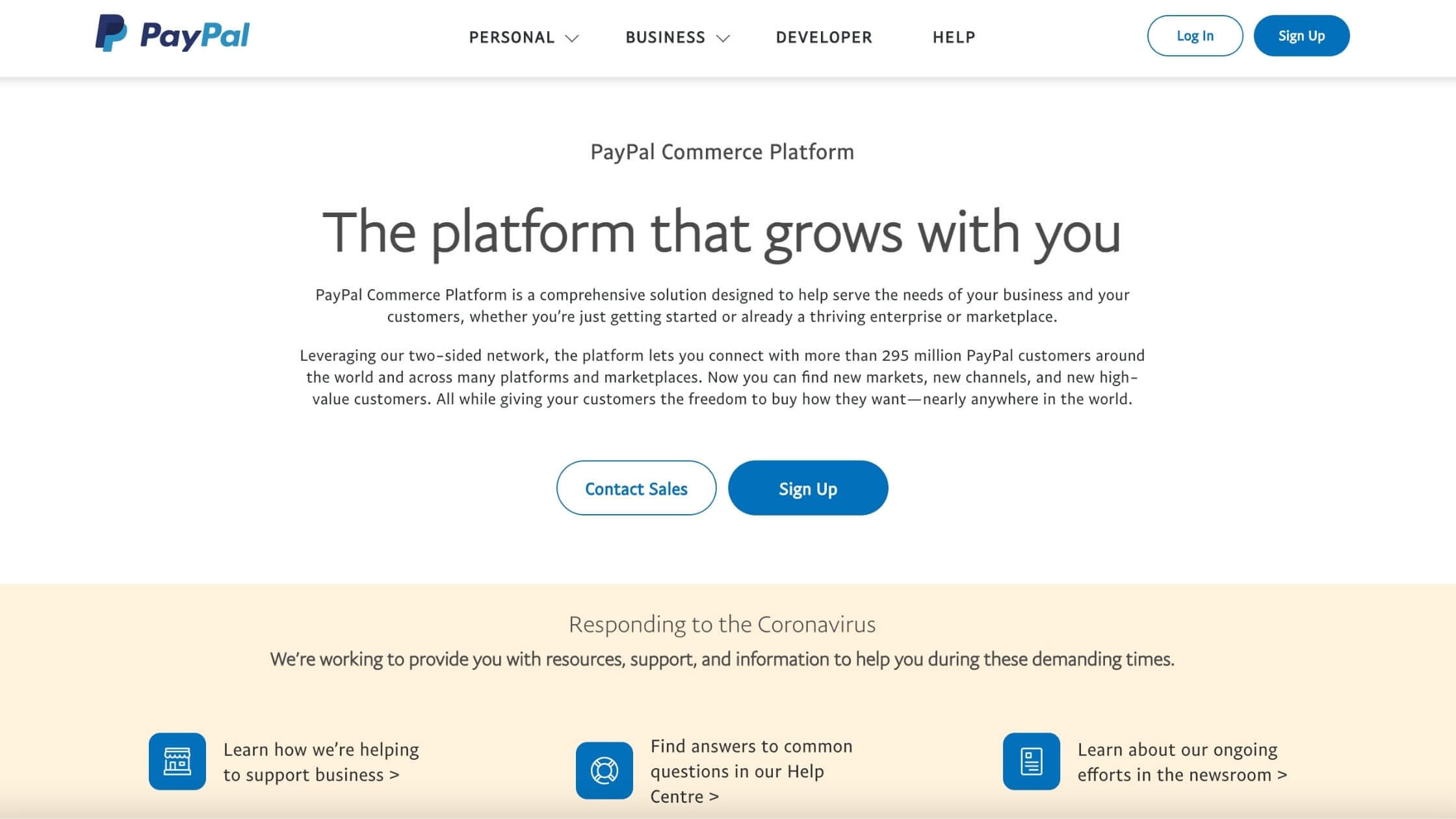 Don't think twice about using PayPal if you're selling to a larger and more diverse global audience.
We recommend PayPal over and over again; due to a thousand reasons.
First of all, you don't need any unnecessary integration fee before you can set up your PayPal gateway.
Not only that, there are even neither monthly nor hidden fees. More or less free. All they deduct is only $0.10 per transaction.
Isn't that interesting?
Also, you don't need to get bothered as to whether or not it will work well for your processor.
Paypal works with almost every payment processor. On that note, you can collect PayPal funds in 25 relevant currencies and 202 countries.
Your customers can pay with almost any card. You'll also have a dashboard to monitor your funds and ensure proper analytics.
You have two options of PayPal gateway:
Payflow Link.

Payflow Pro.
The former is free, while the latter is paid.
See Also: The Beginner's Guide to Facebook Marketplace in Nigeria
Cash Envoy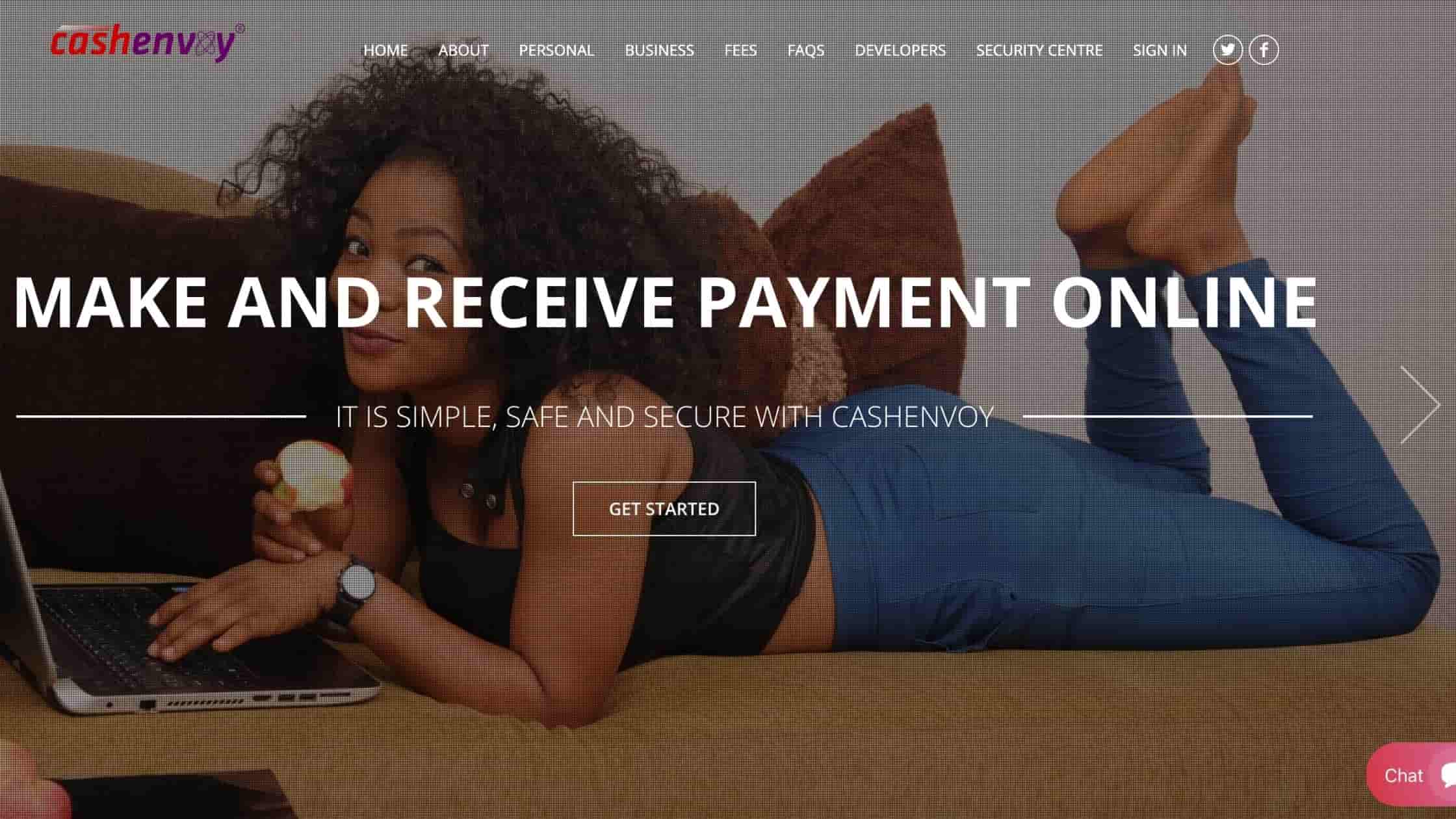 Cash Envoy has existed for over 15 years and they are ready to usher in massive payments from your clients, would you allow them?
As a Nigerian business owner, Cash Envoy is one of the handy options to kick off your online payment.
They have a strong, secure, and speedy payment solution that makes them above their competitors.
You don't need to pay any fee—such as integration, withdrawal, or maintenance—to set up their gateway into your website or mobile app.
Everything is completely free, and that should excite you.
In this age, data protection and privacy for any online transactions. Cash Envoy implements an excellent data protection policy that prevents hackers from hijacking your details or robbing you online.
They also have a PCI DSS certificate to confirm their legality.
Besides, they went a bit further to obtain the approval of the Central Bank of Nigeria as a web payment solution.
Thus, they are part of the Electronic Payment Providers Association of Nigeria.
See Also: 35 Benefits of SEO & Why Every Nigerian Business Needs SEO
GlobalPay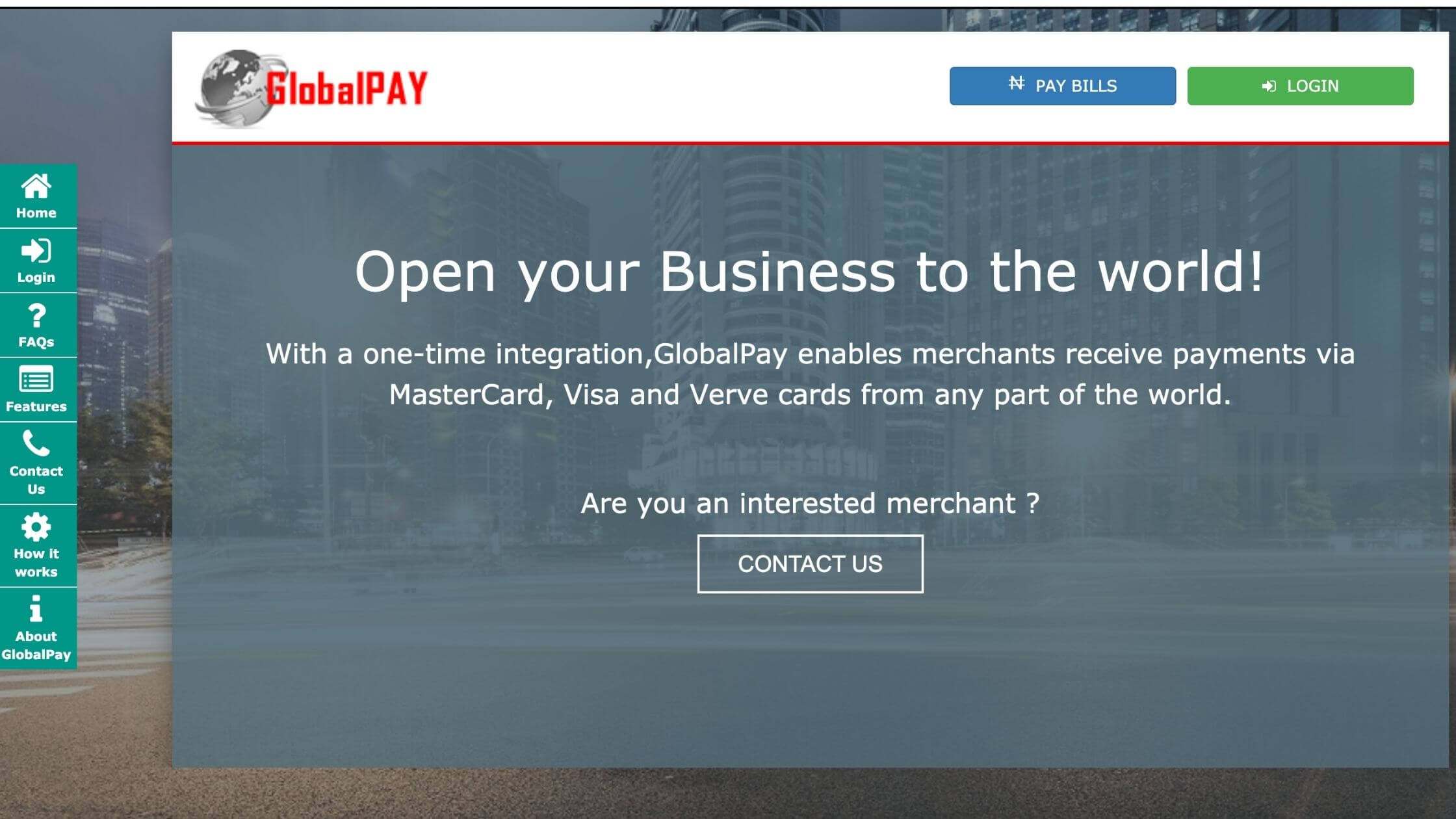 GlobalPay is one of the best online payment gateways in Nigeria. It's ideal for any business targeting a global audience.
Acceptance of payment is easier with global pay. It allows your customers to buy with foreign and local cards like Etranzanct, Verve, MasterCard, and Visa.
As one of the best international online payment gateways in Nigeria, they also allow a wide variety of top global currencies.
In other words, your customers will be able to pay in multiple currencies and cards with just one integration.
Their security system is one of the best in the industry due to their 3-D security Hi-Tech facility that can crack hacking, suspend a fishy move, and ensure smooth financial guardianship.
If you're considering the best online payment gateways for your business, GlobalPay is quite a good option.
See Also: How to Start a Profitable POS Business in Nigeria and Win
2Checkout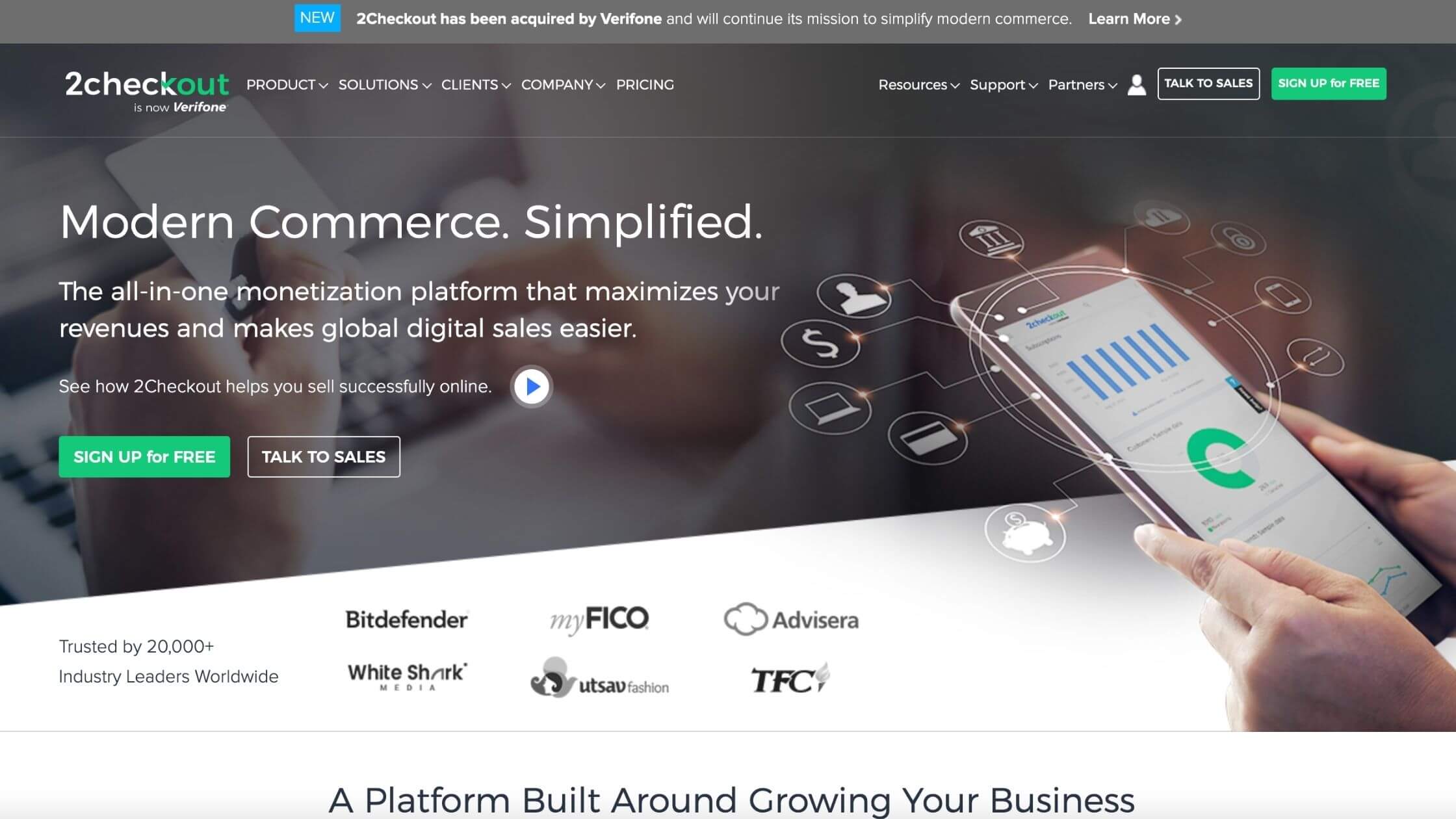 2Checkout is the perfect option for you if you provide online services—like advertising and consultancy—or you sell digital products like photography, music, videos, arts, or courses.
They have built a solid legal relationships with over 200 countries.
Therefore, you're pretty much covered in terms of tax and support from the local payment institutions. That is a huge plus for those who know the implication.
Even if you don't have a website at the moment, 2Checkout will help you get well-designed landing page templates that will guarantee maximal conversion.
These templates have every necessary web copy and pricing; so you don't have much work to do.
Besides, 2Checkout has an efficient dashboard where you can oversee your activities, track your performance, and manage your subscribers better.
Their integration is easy to set up and doesn't give subsequent headaches.
You can check them out.
See Also: How to Sell Digital Products in Nigeria That Makes $10,000 Monthly
SimplePay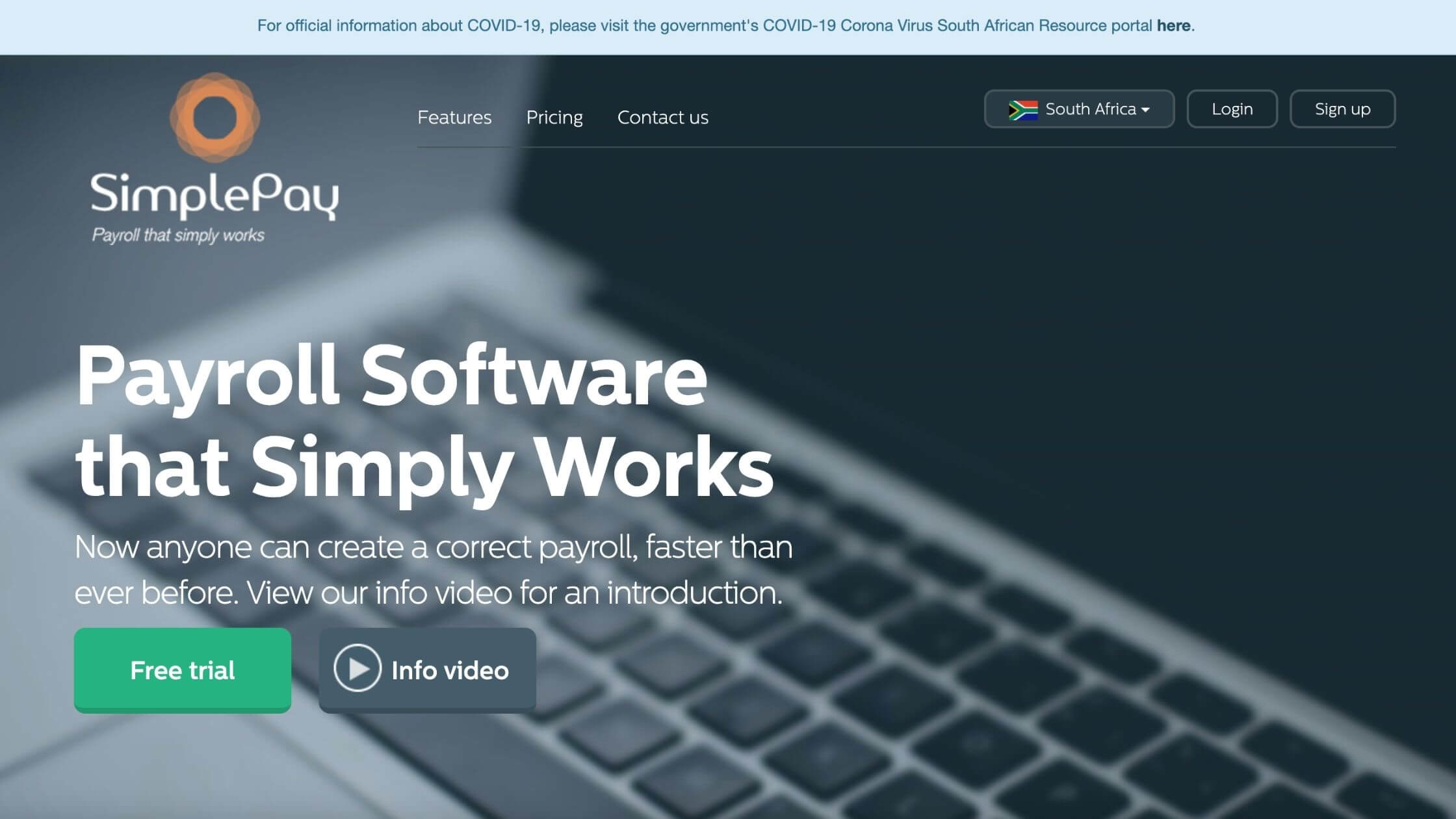 Everyone loves simplicity, isn't it? Then you should love Simple Pay. 
If you have an online store where you sell or where people order your goods and services, ensure that you receive payment from all the popular payment methods in vogue. 
Part of the payment systems they partnered with is PayPal, Yandex Money, Easy Pay, Web Money, and so on.
They offer you viable ways for your clients—international and local—to pay you within a jiffy.
You can add their gateway plug-in to your website without paying a dime – there is also no background or maintenance fee.
They only deduct when your customers have bought something from you.
That is fair enough, right?
See Also: Bes Ways to Make Money Online in Nigeria
GTPay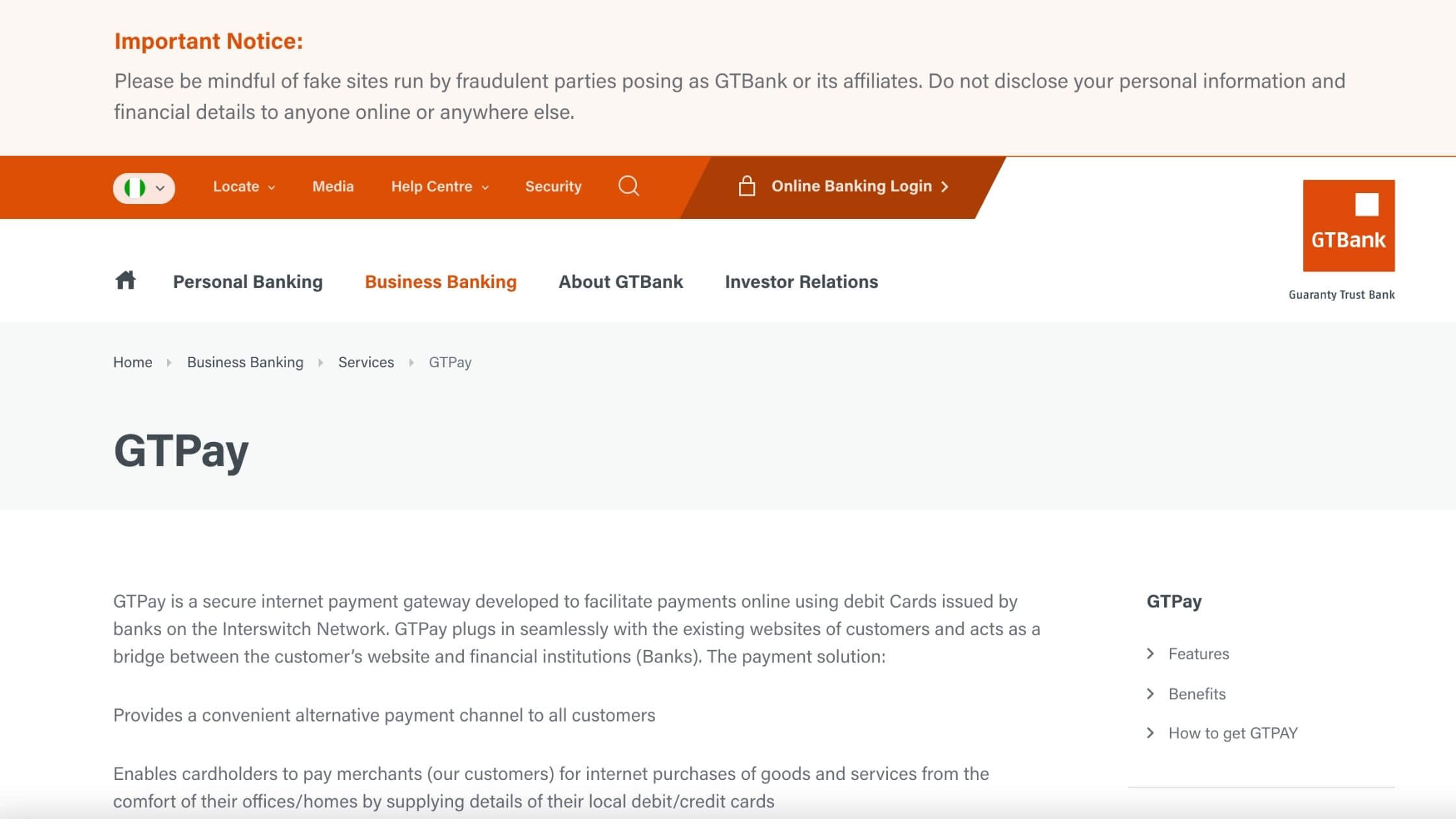 As one of the leading banks in Africa, Guarantee Trust Bank has an online payment solution that they call GTPay.
They partnered with the engineering team of Interswitch to carry out this.
At the moment, they are one of the most patronized gateways in the country.
Merchants in Nigeria have found them useful because of their simple integration. Hence, it enhances the user experience of their customers.
Your customers can foot their bills or invoices with any card scheme that they have – be it Verve, Visa, or MasterCard.
That would facilitate a smooth reception of payments from both your local and international clients.
Yes, you should also give a bright charming smile because their integration is as free as fresh air; you don't need to pay anything.
Just integrate and get going.
Requesting a GTpay is easy, all you have to do is to complete and send your application form on the GTB website.
It's as simple as that.
See Also: 10 Hot High Paying Affiliate Marketing Programs In Nigeria
Opay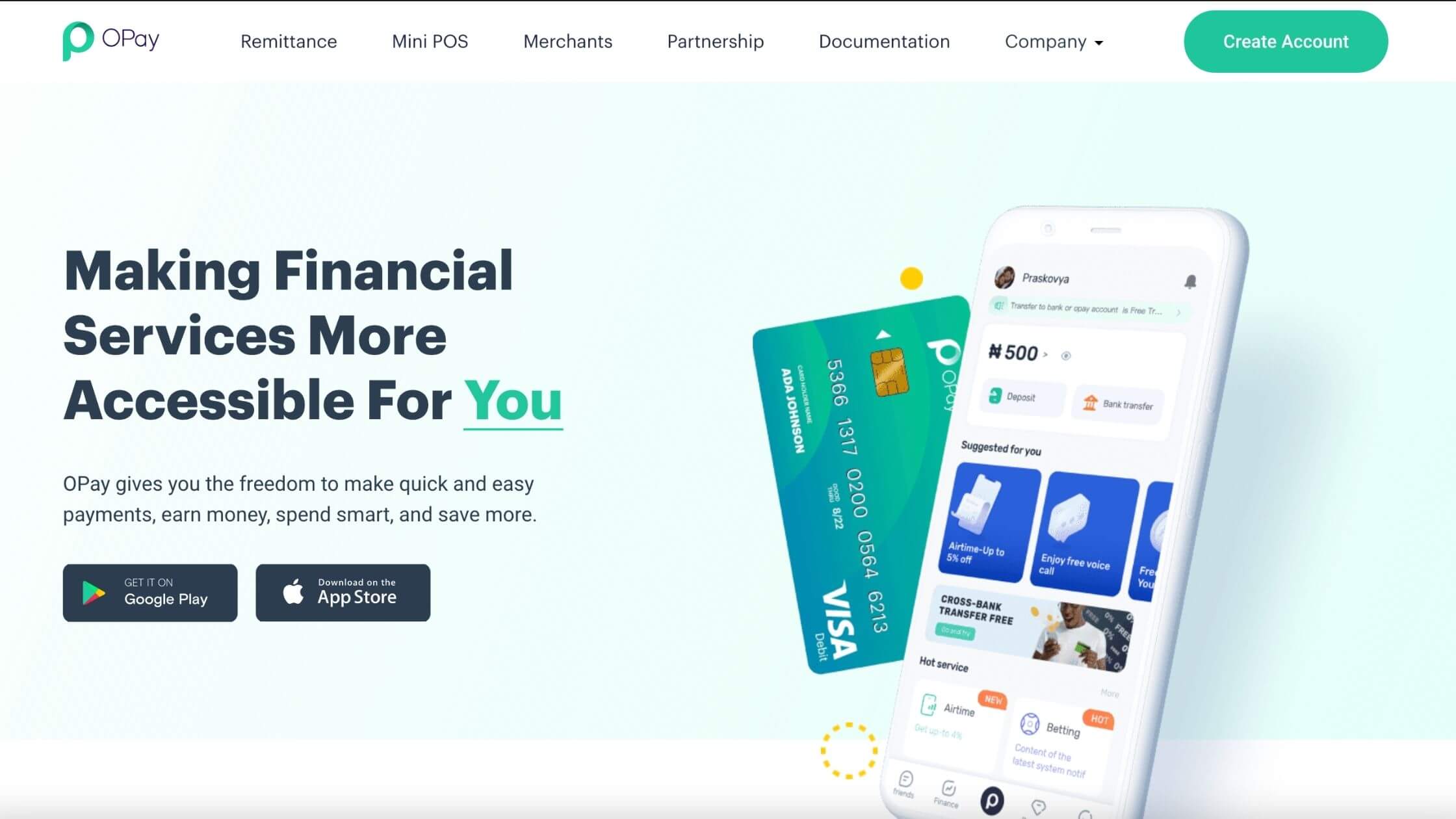 Opay is one of the fast-rising online payment gateways in Nigeria.
They have partnered with Flutterwave and Interswitch to enhance the quality of their service.
They have PCI DSS certification which is an assurance that well-secured and encrypted against frauds. Moreover, they use extremely strong cryptographic scans to measure their security health every day.
Opay is ideal for both online merchants and regular day-to-day customers. They help you to add money, make transfers, and pay bills with ease.
Opay is the easiest way to manage your finances without the frustrating long queue of banks.
Just like a few FinTechs around, they also have their cards.
You can either integrate Opay with your mobile app or website. If you want to do it, here are a few processes:
Register a merchant account

Generate your staging account credentials

Whitelist your IP address

Start receiving funds
See Also: How To Make N250,000 Monthly In Nigeria Working From Home
Remita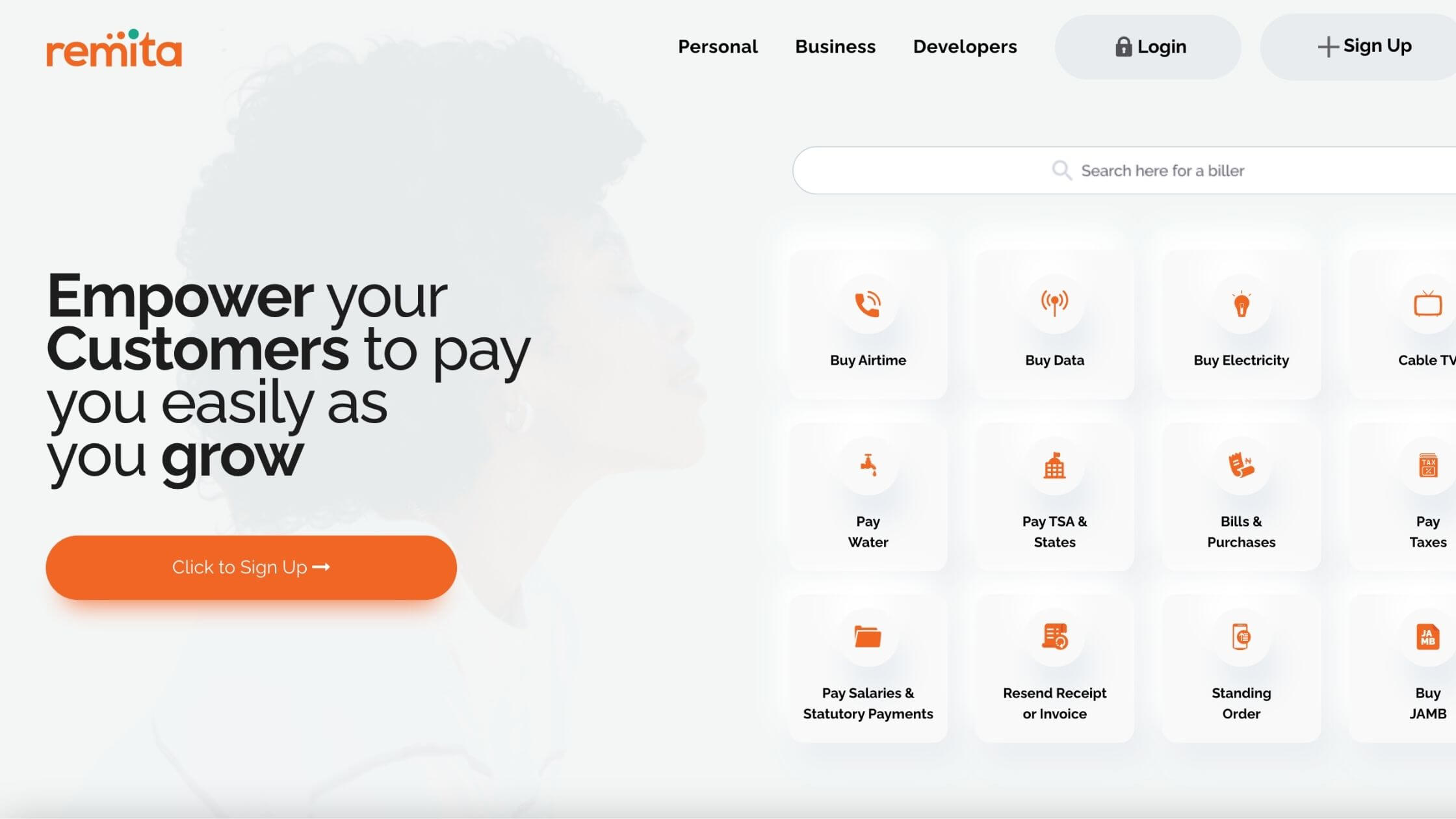 Remita is one of the surefire gateways to receiving and making payments in Nigeria.
Several educational institutions in Nigeria often use Remita most of the time.
With Remita, you can receive funds in several ways. The first one is a checkout.

Your customers can fill out the checkouts with their card details or a simple bank transfer to send you funds.
The good news here is that Remita has a lot of card options, which gives a stronger likelihood that more people will be able to buy from you.
When there has been payment, Remita generates an invoice as proof of the transactions to both sides.
Even immediately after payments, Remita has a way of verifying if it's genuine or not.
Therefore, you cannot be scammed with Remita.
As you know, the integration of Remita to your website is also free.
What are you waiting for?
See Also: 12 Best Mobile Marketing Strategies to Boost Sales Conversion
Rave by Flutterwave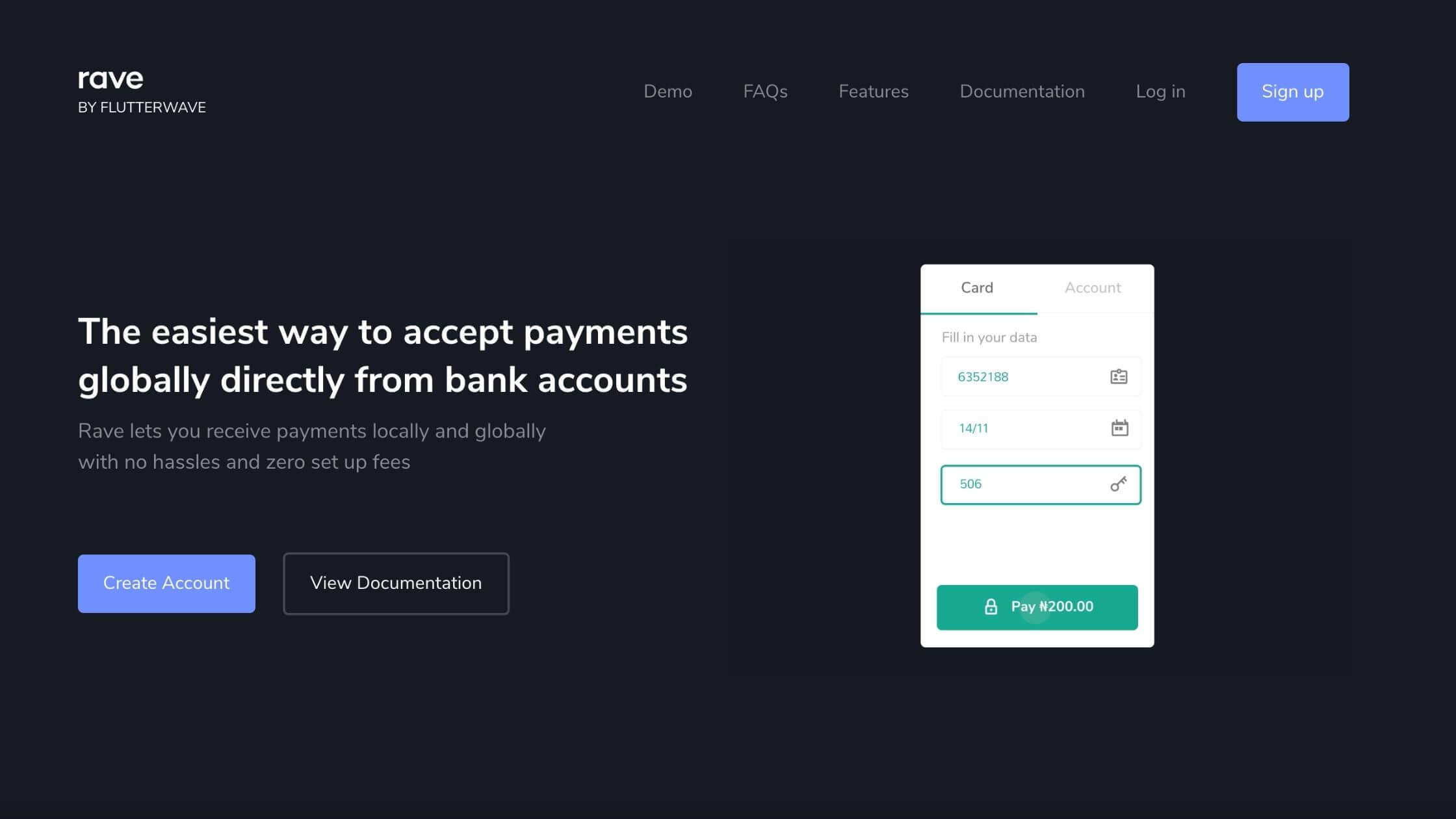 There would be a fundamental inadequacy in this list if we don't include the almighty Rave by Flutterwave. This is perhaps one of the biggest payment gateways around. 
They have an office in San Francisco and Lagos. In other words, they are not only serving the Nigerian audience alone. Moreso, the YC has backed them up, so they're a global whale in the ecosystem.
To simplify things for you: if you've been indecisive about the gateways above, we recommend you pick Flutter. Their service is excellent and matchless.
However, there's a hitch: their customer support is poor. But you won't even have any reason to contact them anyway.
Flutter helps you to receive funds in 150 relevant currencies. In addition, your customers can use any payment method that they prefer – including  Card payments, MPESA, and so on.
Thus giving your buyers a wide variety of options to pick from. Also, their integration process is perhaps the fastest – you'll be up within a couple of minutes.
One of the reasons folks love Flutter so much is that there is a lesser likelihood of a payment bouncing or slowing.
Their hybrid software solutions enhance payment from one end to the other with something close to the speed of light.
In terms of security, Flutterwave has a few industry-standard certifications. Therefore, you can trust their service.
One more thing, integration is completely free.
See Also: How to Become a Social Media Influencer in Nigeria (The Fastest Way)
Conclusion
This is the age where every business owner is looking to create the best user experience that will give them an edge over the serious competition in their industry.
On that note, the question of "How do I accept online payment?" is one that they must answer with swift alacrity.
So far in this piece, we discussed the best online payment gateways you can consider in Nigeria. The ones we listed above are the best of the best. Therefore, you're safe with any of them.
Integration of these gateways is not technical at all.
Some require you to get a plugin, while some only need you to copy and paste some lines of code. 
Wait, read this before you leave!
Don't hesitate to reach out to us at Primegate Digital for your digital marketing services, and book digital marketing consultation.