There are hundreds of websites that facilitate online learning, virtual education and skill development.
These e-learning platforms vary according to quality, pricing structure, beginner-friendliness, membership structure, certification and diversity of courses.
However, Pluralsight seems to be leading the pack.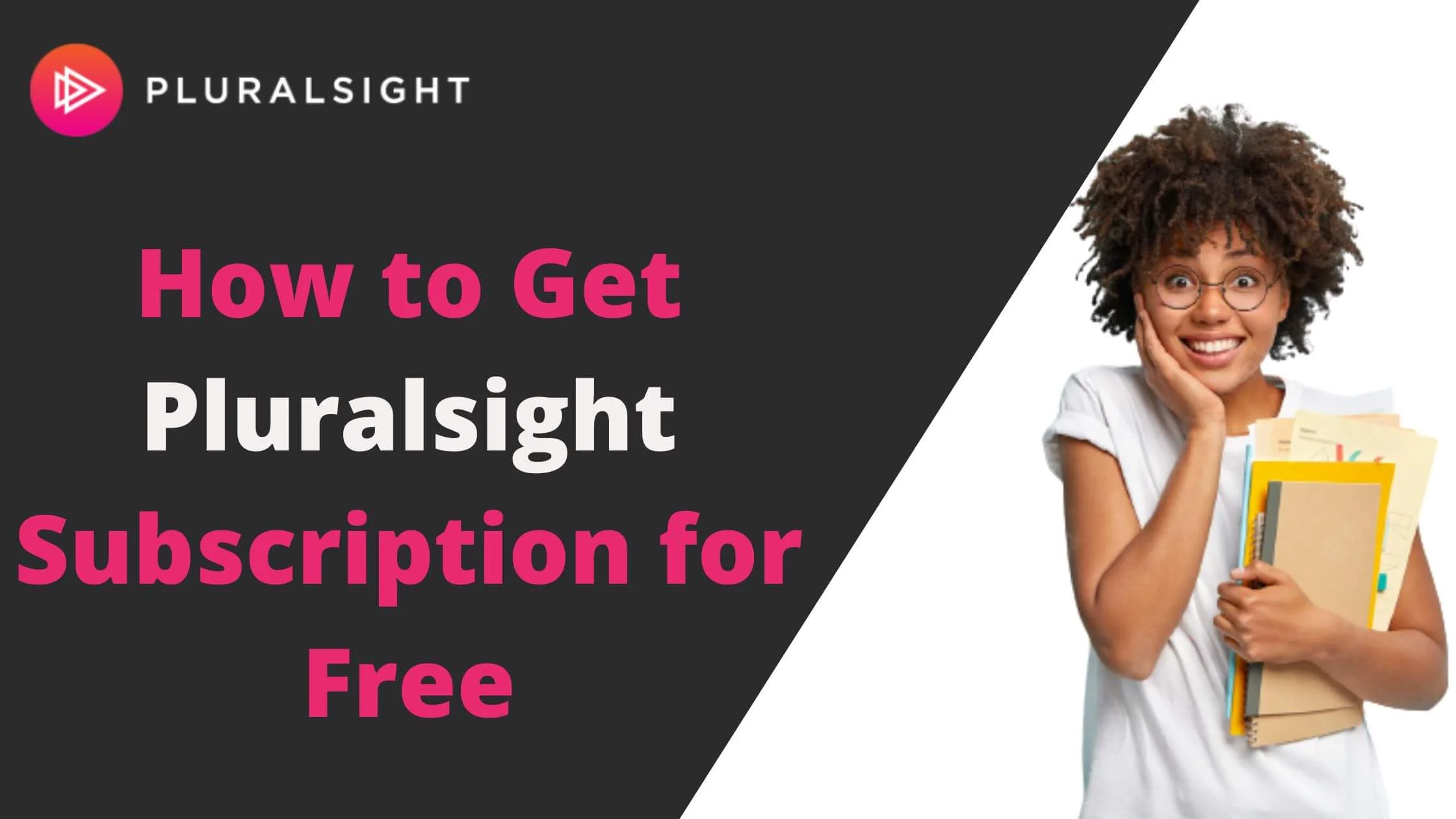 However, Pluralsight is relatively high-priced, and the cheapest plan goes for $29 monthly or $299 annually.
This is why so many people are searching for ways to get a Pluralsight subscription for free because it is beyond their budget.
The goal of this article is to show you the ways in which you can access Pluralsight for free without paying a subscription. 
We want to clarify that the strategies for accessing free Pluralsight subscriptions we would outline here are totally legit and devoid of any hacks, cyber-attacks or vulnerability breaches. 
We will make the most of Microsoft's offerings that allow their users to enjoy free Pluralsight subscriptions.
Don't know how? Check out a more detailed explanation below:

How Do I Enjoy a Free Pluralsight Subscription?
As mentioned earlier, we will capitalize on the opportunity offered by Microsoft. This method will help you access Pluralsight for free for three months. 
Let's outline a step-by-step approach to help you get a 3-month free Pluralsight subscription. 
Set up Microsoft Visual Studio
Visual Studio is a full .NET platform developed by Microsoft where users can carry out a wide range of programming language-related tasks, particularly ASP.NET, HTML, CSS, Machine Learning, C# and many more.
Once you set up a visual studio developer account, it will be easy for you to access Pluralsight for three months free.
And the most interesting part is that there is no need to install the video studio on your PC. 
To set up a Microsoft Visual Studio account, click this link. You will see the "Join or access now" option. Select it.
If you have seen nothing like that, identify the sign-up button and click it. 
You will be redirected to a new page. This is where you can easily sign in or set up a new account. 
Next, enter the requested details. Ensure that your phone number and email address are accurate because you will receive a verification code to finalize the account creation process.
Sign in With Your Microsoft Account
After you have completed the account creation process, you'll be required to sign in.
Enter your login details and access the Visual Studio page.
At this stage, you will see different sections, but our attention will be on the professional development page. 
From there, you will see an offer that will get you three months of free Pluralsight subscription. 
You will also find another offer to enjoy two months of free DataCamp subscription. Next, select the "Activate" button you find beside the Pluralsight section. 
Claim the Offer 
To claim your free Pluralsight subscription offer, select the activate button. A form will pop up. You will be required to provide information. 
And voila! Your account is set up, and you are good to go! 
Access Premium Courses on PluralSight for Free
Next, enjoy free access to courses you are interested in learning without paying premium subscription fees or having a paid membership plan.
You can browse hundreds of courses relating to Icon for software development, cybersecurity, machine language, data analysis and cloud computing. 
At this stage, you can start learning any course you desire on Pluralsight. This offer may most likely be limited, so it is important that you take full advantage as early as possible. 
Microsoft has been giving away free Pluralsight subscriptions for a long time.
The offer was originally for six months, after which it was temporarily halted for months before it resumed with a three-month free subscription.
Thus, it is a smart idea to leverage this free Pluralsight subscription at the earliest opportunity.

An Overview of Pluralsight
Pluralsight is an e-learning and personnel training platform that assists businesses and users in adapting to evolving technological trends.
Through the utilization of a data-driven strategy, the platform specializes in developing the skills of those in the tech industry, like system analysts, cyber-security experts and software engineering, in addition to those in management positions. 
To optimize workers' job performance, Pluralsight features tools for analyzing distinct skill sets and charting workflows, and it facilitates a quality learning experience via video lectures and certification training sessions.
The platform has two paths with unique goals: Skills and Flow. 
The Skills path helps users to improve or enhance their skills and take advantage of the technologically advancing landscape.
The primary targets of Pluralsight for this are Software designers/engineers, system managers/operators, cyber security teams and individual users.
Anyone can get access to numerous self-paced learning videos, which cover topics like cloud technology, web application, system architecture, videography and animation.
You can also design your own training programs, take part in collaborative projects and prepare for certification examinations.
Team leaders, managers and administrators can also use metrics to assess the competencies and skills of their team members, outlining where improvement is necessary, and through video lectures and activities, members can grow their skills. 
Flow Path facilitates, streamlines and optimizes the productivity of engineering teams.
This allows teams to make comparisons between old and new code, pinpoint and rectify glitches, and organize pull requests.
Team leaders and supervisors can utilize analytics to effectively evaluate their team performance, especially when it relates to coding.
Managers and executives can also access metrics to learn team structure, foster collaboration and communication processes, and promote a culture that encourages productivity and success.
Furthermore, members of your team capitalize on the data supplied by Flow Path to optimize their skills and routines. 
Pluralsight has its head office in Utah, United States. It also has branches in Ireland and Australia. 
Pluralsight Pricing Plan
Pluralsight pricing plans are flexible as users can pay for subscriptions monthly or yearly.
The subscription plan for a month costs $29, which covers the entire course catalog.
On the other hand, the yearly plan goes for $299 and features educational tracks, pathways, tutorials, references and many more.
There is also the individual premium plan that goes for $499, which includes immersive learning experiences, engaging courses, projects and certification exams. 
There is also a pricing plan for teams. The pro plan costs $579 annually per user, which covers simple metrics and user data.
Then there is the enterprise plan that goes for $779 for each user annually. It covers detailed analytics and cloud-based research. 
There is a free trial plan for Skill users, which has a duration period of 200 minutes or ten days of access.
The individual free trial allows users to enjoy video lectures, set up channels, make annotations and participate in certification programs.
The premium free trial covers extra features like engaging courses, projects and examinations. 
There are also seasonal price slashes and discounts available for Skills users.
A good example is a limited promo on Black Friday.
The yearly Skills plan was discounted, and it went for $179 annually.
The premium subscription plan went for $269 for each user on an annual basis. Users can also enjoy a free trial period before paying for the plan. 
For the Flow plan, there are three subscription packages.
These are standard, plus and enterprise packages. The standard plan goes for $499 for each contributor and covers actionable insights, basic software principles, customer support and many more.
The plus plan goes for $599 for each contributor annually and covers skills reports, advanced insights and metrics.
The enterprise plan goes for $699 for each contributor annually and covers professional support, performance metrics and cloud-hosting features. 
Both plans come with a 30-day free trial offer.
There is also a trial version of the enterprise plan available for businesses. The pricing plan depends on how many active contributors and custom features are chosen. 
The Best Pluralsight Courses and Learning Paths
Below are some of the best courses on Pluralsight that you can get started with today:
How to Get Pluralsight Subscription for Free FAQs
Is Pluralsight worth it?
If you have a career in tech and wish to improve your skills, or if you are in a managerial or executive role and need to optimize the effectiveness and productivity of your team, Pluralsight will be of immense value to you. 
Is Pluralsight free to use?
No. Pluralsight is a subscription-based online learning platform.
However, you can set up a free account and enjoy a limited free trial. You can also use the steps we have outlined in this article to enjoy a free three months access to Pluralsight.
Which is best for learners, Udemy or Pluralsight?
Which is best for learners, Udemy or Pluralsight? The obvious winner is Udemy.
This is because it has a wider variety of courses and video lectures than Pluralsight. Users of Pluralsight are limited in their choice of courses.
Is account sharing allowed on Pluralsight?
No. Users are discouraged from sharing accounts. However, learners can invite their friends via a team plan. 
Does Microsoft own Pluralsight?
No. Microsoft collaborates with Pluralsight to allow their users access to Microsoft viva. With this collaboration, Pluralsight will grow and optimize its tech skills learning program via real-world applications. 

Conclusion
In this article, we covered the ways in which you can get a Pluralsight subscription for free.
This will be of immense benefit to you if you want to develop your skills.
Ensure you share the article with your friends via the social media button below. 
Also Read: