Skillshare is among the most popular learning platforms. It is a great website for skill development and improvement.
Students are not the only users of the platform; teachers also sign up to generate income by sharing their expertise and educating others. 
Although Skillshare offers many free courses, many others will require a premium subscription to access them.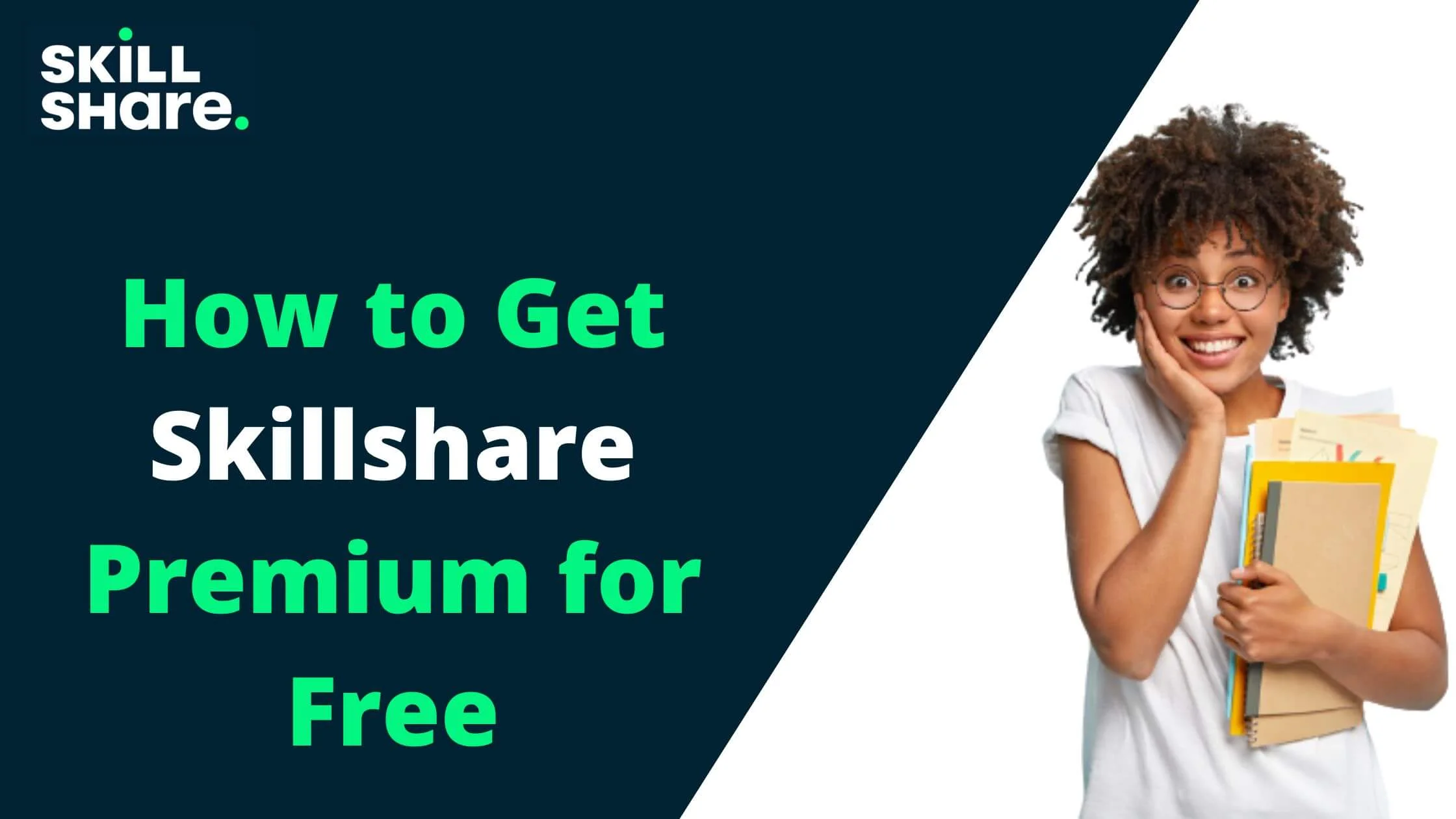 In this article, we will explore ways to get a skillshare premium for free. 
If you are unfamiliar with Skillshare, let's do a brief overview of the platform.
Skillshare is an e-learning community home to over twenty thousand premium courses and more than two thousand free courses for eager and motivated learners.
Skillshare courses cover a wide range of disciplines like songwriting, art, animation & graphics, multimedia, copyrighting and many more.
Skillshare creates an avenue where millions of users connect to draw inspiration, seek encouragement and excel in their bid to seek creative pursuits.
When it was established in 2012, it had less than 30 courses then, but it currently offers thousands of courses across diverse niches.
Skillshare is the perfect e-learning site for anyone who wishes to discover new skills or improve upon existing ones. For a monthly charge, users can enjoy numerous learning materials. 

Skillshare revolves around learning advancement, capacity building, skill development and growing knowledge. These courses are pathways to career growth.  
Here are some important benefits of Skillshare to note:
Skillshare has more than two thousand free courses.

Click here

to access them. 

A premium membership account lets you enjoy more than 25000 courses. This article will help you access Skillshare premium for free. 

The platform is community-based, so you can join groups, engage in chats, make inquiries, share your projects and learn from others.

After setting up a project in any of your Skillshare courses, a link will be sent to you that you can add to your portfolio, CV, Linkedin profile, etc. These courses are of tremendous value and highly interactive because the teachers are well-paid via Skillshare. 

Skillshare courses have a duration period of 30 minutes to an hour. This reduces boredom and retains the learner's interest.

Around 2020, Skillshare launched the Live section, allowing learners to engage, network and gain knowledge from each other. If you are interested,

click here

. However, note that it is exclusively available to premium members, and membership is limited. Ensure you explore the list of forthcoming live events. 

Skillshare Live is restricted to a membership base of 300 users. It plays host to a diverse range of workshops and learning sessions that go on for weeks and are great for users who seek more extensive learning programs. These workshops are often conducted by highly respected Skillshare teachers. 

You can access the courses at your convenience on your PC, laptop or mobile device. 
There are two payment plans on Skillshare: Monthly and yearly.
At the same time, the monthly plan costs $13.99 per month. The yearly plan costs $167.88. However, Skillshare allows new users to enjoy a free 7-day trial before billing. 
Skillshare cookies are browser records that consist of account information for Skillshare premium, such as passwords and usernames.
These cookies assist in creating a more enjoyable UX (user experience). 
Anytime you access your Skillshare account by signing in, the browser records your login information, such as your password and username, as cookies. 
The next time you visit the Skillshare website, you will be automatically signed into your account without the need to input your account details.
This is because cookies assist the website in remembering your account information and eliminating the need to fill in data during the login process.
Once you have signed out of your account, the cookies will no longer be valid. This means you will be required to fill in your login information whenever you wish to access the website. 

This method is an incredibly easy and quick way to access Skillshare premium accounts without making subscription payments. 
First, before you can use the cookie method to access Skillshare premium, you will have to install a chrome extension in your web browser.
Here's how to do this: 
Access the Chrome web store and on the search bar, type in "cookie editor."

Select "Add to Chrome." This will automatically download the extension to your web browser. 

Now, you have successfully installed the extension. It can now be accessed in the upper right area of your Chrome browser. 
At this stage, the chrome extension "Cookie editor" is currently active in your browser. The next step is to integrate the Skillshare Premium Cookies into your Chrome browser. 
Here's how to use your Skillshare Premium cookies to access your web browser:
Access the Skillshare website with the cookies you have copied. 

The next step after accessing the Skillshare website is to select the cookies editor extension in the upper right area of your web browser. 

Four menu items will be displayed to you: Add, Delete All, Import and Export). Choose "Delete All" to clear all Skillshare website cookies.

Next, hit the insert menu option after selecting the extension.

In the field provided, add cookies and select Insert. 

Next, reload the page, and instantly you will be signed into Skillshare Premium free of charge. 
This is the simplest way to sign into Skillshare premium for free via cookies. 
Remember not to sign out after accessing the Skillshare premium account because it will lead to the expiration of the cookies, causing it to be invalid.
This means that the cookies can't be used to sign in anymore. 
If you are not interested in using the account, do not sign out; instead, delete the cookies, and you will instantly be signed out from the premium account. 
There is a quick and hitch-free way to remove cookies. It is through the cookie editor extension that it is effective for accessing the Skillshare premium cookies.
Here's how:
Visit the Skillshare website. 

Select the extension and access the four menu items, then choose "delete all." 

There it is! You have successfully removed the cookies without negatively impacting the functionality of the Skillshare premium cookies. 
Skillshare is a highly popular e-learning community. Some of its top-quality course categories include:
Business
This category consists of e-learning programs linked to data science and business intelligence. For instance, users tend to opt for courses like data processing, machine learning, Excel spreadsheet and word processing software. 
Animation
This category is highly popular. It consists of courses like visual effects, motion graphics and mockups. You can access classes related to vector graphics, keyframe animation and Adobe After Effects.
Design
This is a diverse field. You can access courses related to information architecture, wireframes, website design and digital art. Skills learned from the courses can immensely help you to set up a website or brand identity. 
Illustration
This helps you to develop graphic illustrations and visual content.
Filmmaking and cinematography: Ready to learn the principles of lighting effects in motion pictures and videos? You can find courses on videography, film production and video editing.
Music
 If you want to improve your musical artistry, this category is for you. You will find courses in sound engineering, digital audio, musicology and songwriting. 
Skillshare adds immense value to the lives of most users. It creates an exciting educational experience for everyone and connects brilliant teachers to enthusiastic learners.
You can also access a diverse range of high-quality course videos. Lastly, the platform is essentially self-paced.
Skillshare is far better. It has highly interactive and beginner-friendly courses, while Udemy courses tend to be underwhelming along the line.
Another plus for Skillshare is that it promotes bit-sized learning, allowing users to enjoy a quick and easy experience. 
When it relates to learning, Skillshare offers a far superior experience. Skillshare provides well-detailed content structured into digestible lessons. This promotes mindfulness and concentration with less ad interruption. 
Yes, your Skillshare certificates and achievements can be added to your resume. 
What are the best online learning websites?
Coursera. Coursera is a widely used e-learning website that lets users access courses from leading academic institutions across the world. 

Edx

Udemy

LinkedIn Learning

SkillShare

Udacity
Yes, Skillshare is an excellent platform for learning about all types of arts.
It has thousands of high-quality courses and learning materials for artists to improve their skills and grow their creative abilities. Skillshare is valuable for aspiring digital artists looking to craft a career path.

Conclusion
In this article, we explored ways in which you can access the Skillshare premium account for free. If this article is valuable to you, ensure you share it with your loved ones and friends via the share button below.
Also Read: