Pro Rank Tracker is an excellent ranking tracking platform that can tremendously improve and add value to your SEO (search engine optimization) campaign.
Your SEO shouldn't just revolve around planning and implementation; you'd want to experience successes and favorable outcomes. 
The good thing is that the Pro Rank Tracker helps your website to improve its ranking on Search Engine Results Pages (SERPs).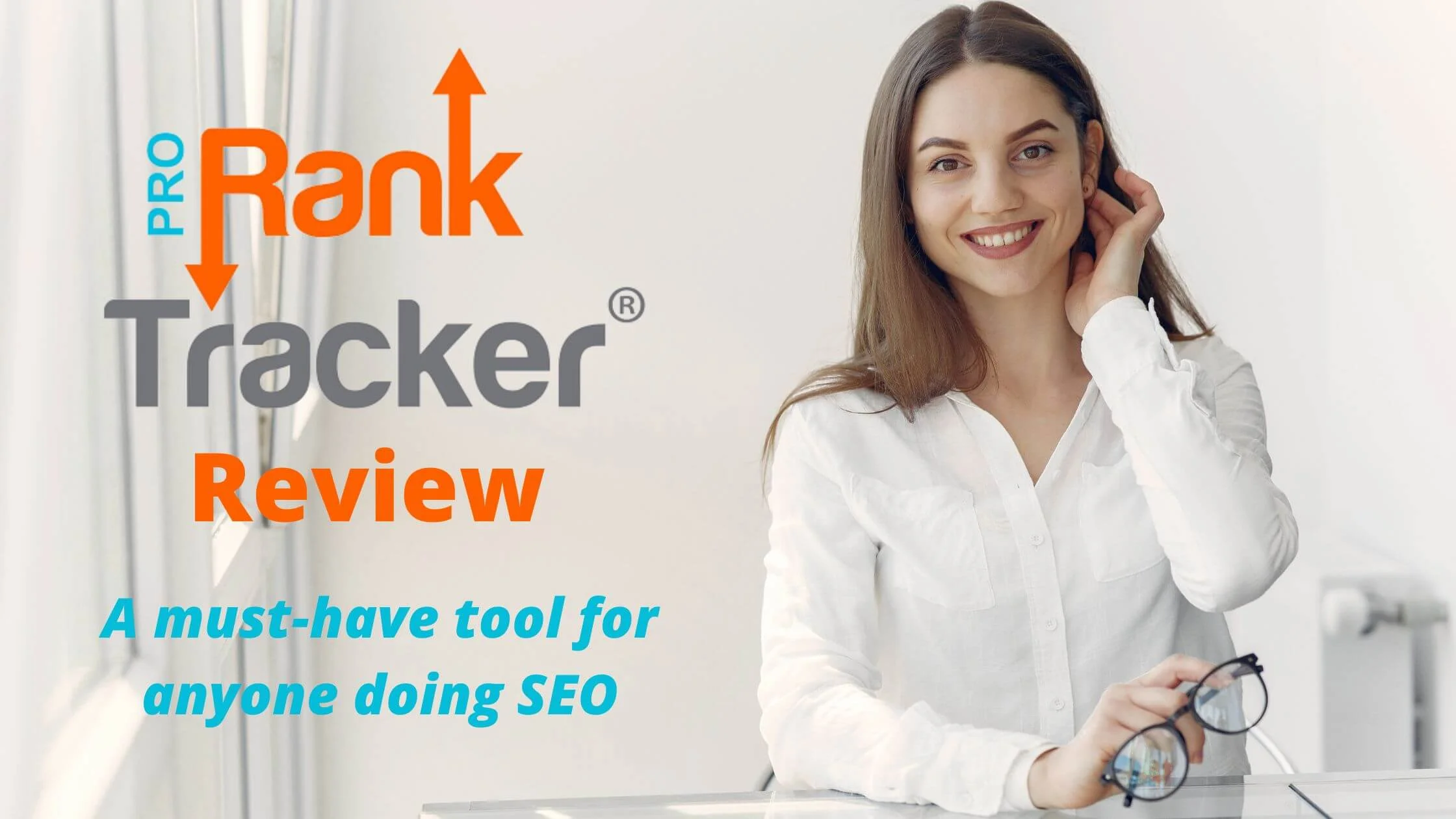 In our comprehensive review of Pro Rank Tracker, we will explore the features, pros and cons, as well as the pricing of the tool.   
This will help you decide if the tool is best for you or not.

What is Pro Rank Tracker?
Pro Rank Tracker is among the most widely-used keyword research and ranking tools on the internet today.
But before we proceed further, let's analyze the meaning of "keyword tracking" and "keyword research." 
Keyword research is the practice of discovering, identifying and evaluating search terms that searchers usually input into search engines.
The data collected from this research is for SEO or marketing optimization purposes. Keyword research can provide details about suggestions, difficulties, popularity and relevance of search queries.
It is highly relevant because it helps you gain insight into your target market and the way they carry out searches about your products, content or services. 
Keyword rank tracking (popularly known as "SERP tracking" in some circles) is the process of routinely monitoring a website's overall ranking for a particular set of search queries.
Keyword rank tracking is carried out mostly to evaluate or check rankings on Google SERPs.
However, this approach can be used on other popular platforms like YouTube, TikTok, Amazon etc.
It is highly essential to monitor your keywords because it gives you an idea if your existing SEO campaign is successful or not.
Pro Rank Tracker is among the best tools for monitoring the effectiveness of your SEO campaign. This is its underlying mission.
However, a good keyword tracker has powerful features that can help you optimize your rank on SERPs when it comes to your specific keywords.
So what are the features of the Pro Rank Tracker?
Key Features of Pro Rank Tracker 
Search Engine Optimization can be a very complicated and extensive process.
This is why you must use an SEO tool that can handle as many areas as possible. The Pro Rank Tracker comes in handy because of its wide range of functionalities.
This includes;
Rank tracking

Rankings discovery

Keyword suggestions/research. 
Rank Tracking
This is a key feature of the Pro Rank Tracker. The tool does a tremendous job at tracking website rankings on search engine result pages. 
The Pro Rank Tracker is not just a neophyte in the business of keyword monitoring.
It has consistently positioned itself as an effective tool since its creation eight years ago and has garnered over 55,000 customers. 
Once you have registered an account, you can access the dashboard and key in as many URLs as you want.
Please note that your subscription plan will limit the number of keywords you can monitor for every URL you add.
With the starter plan, you can monitor a hundred keywords, while the Pro plan allows you to monitor a thousand keywords at most.
Lastly, the agency plan monitors three thousand keywords. Understandably, the scale of your website traffic and the needs of your business will determine the plan you will choose
Terms Ranking Changes
This is a powerful feature. It is crucial that you keep tabs on the efficacy of your keywords on search engines like Google in specific time frames. 
Current Ranks
This is another rank-tracking functionality. You will be shown a table with a ranking that shows your current position on the SERPs.
You can access the keywords you currently have in positions 1 to 20 on Google. 
Ideally, your task is to earn the number 1 position on as many keywords as feasible. This is why you need the data from the Pro Rank Tracker; it will assist you with accurate information.
This lets you evaluate your performance, which adds value to your SEO campaign.
Biggest Jumps and Biggest Drops
This is the third vital feature available on the platform. The Pro Rank Tracker lets you monitor your top and low-performing keywords.
Rankings Discovery
In this section of our review, we will look at the Rankings discovery. This is a very popular feature of the Pro Rank Tracker.
However, what's the function of the Rankings discovery?
Competitor Research
The first element of Rankings Discovery is competitor research.
Your website does not exist away from others. It operates in a highly competitive niche.
There is a high chance that you are competing with other websites for similar keywords. 
For this reason, you have to keep an eye on your competitor's strategy. How can this be done? You have to use the Rankings Discovery feature. 
For instance, if you are trying to target the key phrase "how to sign up for Google My Business," you have to check for competitors of that keyword.
You can do a search on Google to identify your current position. 
Next, identify a specific competitor and copy/paste their URL to the Pro Rank Tracker dashboard via the advanced add option.
After inserting the keyword, you have to navigate to Rankings Discovery. 
This will give you access to the other keywords your competitor has ranked for.
You can also access data from more than one competitor instantaneously. Collecting data this way is super-useful because it helps you optimize your keyword strategy.
Check for Keywords You Have Ranked For
The ranking discovery feature can be utilized to check the keywords you have already ranked for. Most times, we target specific keywords and work hard to get our websites to rank for them. Using this feature, you can check for other keywords that your site has ranked for even though you did not particularly target them. 
Keyword Research/ Suggestions
Another spectacular feature of the Pro Rank Tracker tool is Keyword Suggestion.
This section will explain what the Keyword Suggestions feature does and why it is important to you.
Keyword research is a crucial starting point for a successful search engine optimization campaign. 
Your job as a content writer, blogger or website owner is to generate content that addresses search queries that people enter into Search Engines. 
While there are a lot of keyword research tools online, the Pro Rank Tracker stands out because it goes one step above rank checking.
It has the capacity to help generate the right keywords for your website content.
This will help you create content that offers solutions to people's queries. 
Using this tool, you will get access to plenty of suggested keywords drawn from the search terms you have been tracking.
You can also access the search volume to help identify the popularity of the given keyword. 
Most websites usually opt for high-volume keywords in spite of their difficulty. But at times, it is best to stick with low-volume keywords. It is an easy way to rank without having to fight a losing battle against reputable and bigger sites. 
Pro Rank Tracker Pricing
With the starter-100 plan, you get to monitor no more than 100 keywords; it costs $13.5 each month. 
The next plan is the Pro-1000 plan, which costs $89 monthly. This plan allows you to set up ten sub-accounts, which means you can start a mini agency.
Lastly, the Agency 3000 plan is the most expensive package. This allows you to monitor 3000 keywords. It prices $180 monthly. 

Pros and Cons of Pro Rank Tracker
Pro: Easy Report
The Pro Rank Tracker has a hitch-free "add a report" process.
All you need to do is access the dashboard, navigate the left side menu and select Report Center. Then, select the report type you prefer. 
Then, on the menu options, select Add New Report.
Type in a new name for your report, make a choice if you wish to get your report in an email or PDF style and indicate the time you need notifications, whether every day, on a weekly or monthly basis. 
Once that is completed, notifications will be sent to your email address featuring the data that you specified while adding the reports.
You will receive emails based on the schedule you created. 
Pro: Super Accurate Data
Accuracy is a critical factor when determining which tool to use for monitoring your website's SEO performance.
We have realized that a lot of people are genuinely cautious about the rank tracking tools available online. 
There have been conversations about the reliability and consistency of rank tracking tools.
However, the Pro Rank Tracker is known for delivering highly accurate data.
If you have any doubts about this, do a quick Google search, and you'll see the exactitude. 
Pro: Wide Coverage
Pro Rank Tracker has the most powerful and diverse search engine coverage available today.
The tool covers more than 175 local Google websites, 28 Yahoo! portals and 30 Bing websites. Not only that.
You can also track ranking information from online stores like Amazon. 
Cons: Inadequate Integrations
The Pro Rank Tracker only supports limited Integration with Google Drive, Dropbox and WordPress.
This can be problematic because the majority of SEO professionals depend heavily on actionable insight from tools such as Google Search Console, Google Analytics and Google Ads. 
However, the Pro Rank Tracker is still great to use if you have a small SEO firm. It is still a great tool for streamlining tasks.
Cons: Not a Comprehensive SEO Tool
Another major drawback to using the Pro Rank Tracker is that compared to other tools, it has limited SEO functionalities.
It is only excellent for keyword rank tracking. It lacks the ability to analyze backlinks, audit a website or even grade keywords according to difficulty levels. 
Nonetheless, the keyword rank tracking feature is where the tool shines. It does the job marvelously. 
Pro Rank Tracker Review FAQs
Can I attach my brand logo to the Pro Rank Tracker dashboard?
Yes. The tool lets users tailor the appearance of the dashboard with their brand name and design.
Where do I set up an account on the platform?
Click here to get started. 
Is my data stored in a physical server?
No. Your data is stored on a cloud server. This implies easy accessibility.
My business is large scale. Can I use the Pro Rank Tracker?
Yes. One of the best features of the Pro Rank Tracker is its scalability. It is perfect for every business size, from startups to big corporations. 
Conclusion
Whether you are an SEO newbie or professional, the Pro Rank Tracker lets you access current, insightful and accurate ranking metrics for your SEO campaign. 
Compared to other tools, it is budget-friendly and can add value to your rank monitoring project. 
Also Read: