The focus of digital marketers oftentimes is usually on channels like email, text, and social media.
But push notification plays an important role in digital campaigns as well.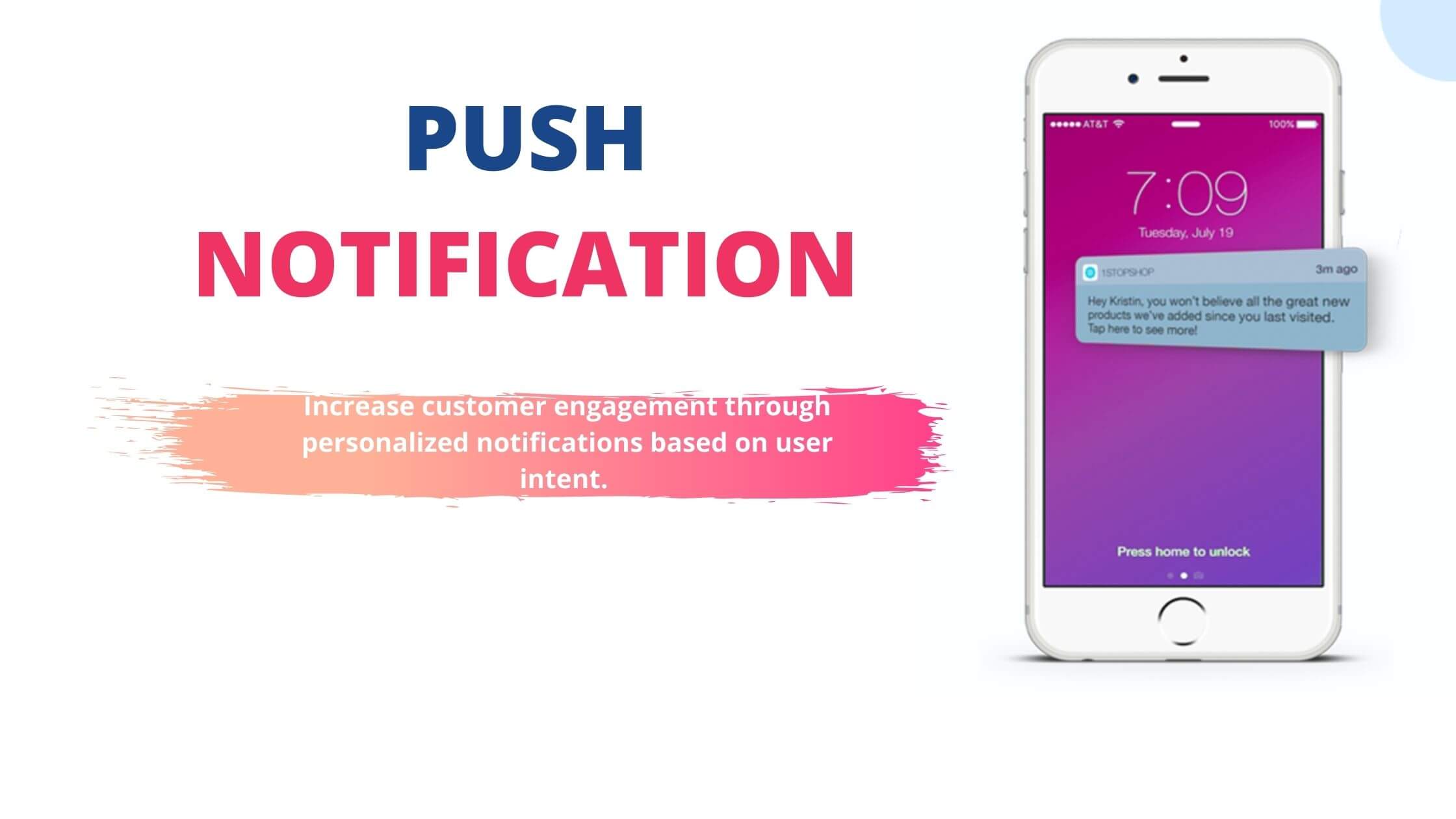 A good thing about push notifications is that they particularly effective for certain types of messages, and they are easy to set up.
Well, with this in mind, this post would cover everything that you (marketer) need to know to utilize and develop better marketing strategies for push notification.
What Exactly is Push Notification?
Push notification is a strategy of advertising in which the marketer informs their audience about potential products and services through browser notification.
It is available and compatible on both mobile phones and tablets as well as computers.
Push notifications are a common advertising strategy that works with any product, service, and even CPA offers.
You would configure your website in a way such that it asks visitors if they would like to see push notifications.
From here you will have absolute control over who to target with each message to send.
See Also: Top 21 Best Content Writing Tools To Create Better Content
Types of Push Notifications
Push notifications can be categorized into two different types:
Mobile Notifications

Browser Notifications
Mobile notification
The push notification messages are sent through mobile apps to users as pop-ups.
Push notifications can send offers, news, sales alert, events reminder, and more.
It taunts users to perform a particular action. A mobile user would have to install your app in order to receive mobile notifications
Browser Notifications
These alerts are browser-based, the visitor would be prompted to give permission to receive alerts while visiting a website.
Marketers usually use this to notify users about events, sales, news, and promos. These alerts or notifications are usually applicable with PC browsers such as Google Chrome, Firefox, and Opera.
See Also: 15 Best Lead Generation Software to Consider
Why Push Notifications Are Important to Marketers
Push notifications are somewhat similar to those notifications sent on websites. But in the case of push notifications, it does not necessarily require users to check your website in order to view the message.
Your push notifications will show up instead as soon as each user gets on to the internet with the browser running.
A user can subscribe to these push notifications without providing any personal information of any kind.
Push notification marketing in general leads to higher lead generation and conversion rates than alternatives like email or text.
Getting leads would usually lead to a conversion rate, and users/visitors who subscribe to push notifications are most likely to be converted easily later on.
The number of smartphone users is projected to reach about 4.6 billion.
When businesses use push notification marketing, they can showcase their products and services to a large number of people.
Push notifications would enable brands to get more engagement by up to 92 percent. It allows brands and businesses to drive visitors back to their own website
Push Notification Marketing Strategy
Push notifications are programmed to send a quick reaction, so they are precisely effective for certain messages.
Rather than basically using push notifications to relay the same ads that you broadcast on other channels, it is best to look out for ways to utilize the advantage of its distinctive features.

Personalized Offer
Personalization is a very important aspect of digital marketing, and customers would be expecting relevant messages from their favorite brands.
This is very important for push notifications because push notifications can be easily unsubscribed, so it is important to make your push notifications targeted.
Abandoned Cart Recovery
One of the reasons for revenue loss in eCommerce businesses is huge because oftentimes there are a lot of many online shopping carts abandoned before the purchase.
Converting even a minor percentage of abandoned carts can have a noticeable significant effect on your eCommerce business.
It would help if set up your push notification to notify an hour after a user leaves your site and you can use email to follow up from there.
Viewed Product
You can set your push notifications to opt-in after a visitor has browsed through multiple items or viewed an item.
Perhaps this action shows that the visitor found value in one of the products of your website, and they would benefit well from your notifications as well.
This is applicable to eCommerce business owners.
See Also: 10 Effective SEO Techniques to Drive Organic Traffic
Read a Post or Article
In a blog or news website, you can set the push notifications to pop up right after a visitor reads a post or an article.
A viewer would likely allow notifications to pop up to receive updates on such news or post when released after going through your content.
Section Count/Time Spent
You can set a push notification to pop up when a visitor has reached a certain amount of time spent on a session on your website or mobile app.
At this point, they would already know what your website or app is about and they would be interested in the value your push notification would be offering.

Breaking News Stories
If you are a news website or media, and you have been having or noticing hordes of incoming traffic on a particular story or breaking news, you can use this to your advantage and set your push notifications.
This will pop up every time a new user spends a specific amount of time on this story.
Ask them if they would be interested in receiving notifications to stay updated on trending and breaking news stories.
See Also: The 15 Best Online Marketing Strategies to Increase Sales Revenue
Tips for Writing an Effective Push Notification
Writing an effective push notification that would engage your audience is very effective in the social media world.
A large number of people will opt out of push notifications or uninstall an app if they do not like the push notifications they are receiving.
Following the tips below would help you to write an effective push notification that would not turn away your visitor/customers.

Do Not Be Scared… Get Creative
Before rushing into writing a push notification, take time out to jot down a few approaches to your message. Make sure the title is catchy and the body crisp.
Think of powerful words and clear call-to-action notifications that a user/visitor can grasp from just a glance of your message popping up on his/her phone or pc.
Keep It Short and Straightforward
"The shorter the better", a good push notification should adhere to that adage.
Good push notifications should be as short and straightforward as much as possible.
For high conversion rates, you should write a push notification that is 24 characters or fewer.
Emotions Matters
Users or visitors visiting your websites are not robots and neither are you.
In light of this do not be scared or shy to get a  little emotional.
Whether it is anticipation, humor ( just double-check that you are actually funny), curiosity, and any emotions that are positive will improve your user engagement.
Usage of emojis can help relay the emotion you desire.

Spice It Up With More Than Just Texts
Your push notifications can stand out from the crowd of push notifications if you have access to rich push notifications.
Try spicing up your push notifications with, GIFs, pictures, videos, etc… as part of your message.
Emojis are great options too it can help reduce your character count and drive the desired mood, theme, or emotion.
See Also: Top 30 Social Media Marketing Strategies For Small Businesses
Ask Questions
Questions are a longtime go-to for any engagement-seeking writing, whether an email or Facebook you name it. But they have a place in push notifications as well.
It is because questions are a pronounced way to start a conversation.
They prompt our natural instinct to answer and hopefully are well-crafted enough to make users or visitors pause to consider an answer. And (even better) click on the notification to open your app or website to find out more.
Be Clear About The Value
When writing push notifications you are probably going to be tempted to share information for awareness's sake, but try to resist as much as you can.
Always put yourself in your audience's shoes.
Of what value is your notification to them?
Would a more generalized message turn them off?
There should always be a reason, an urgency, to your notification.
Always think about what you would like your users to do as well, as what is your call to action for them should they click on the notification?
Try to get to the point of why you are popping up on their phones, and seize the opportunity to show them that they are special.
Maybe an exclusive offer you can give them or a piece of special information (like behind-the-scenes photos of a relevant event).
See Also: Pinterest Marketing: 10 Great Hacks For Beginners
Choosing the Right Push Notification Services
Choosing the right push notification service to use would make your engagement strategy much easier. This makes it easier to send notifications and engage with visitors or users.
It is going to be worth taking a look at the options of push notifications before deciding which service you would choose.
Here are a few push notifications you can choose from:
Conclusion
Adding push notifications to your business is a good addition to your marketing utility tool as a marketer.
It is a good marketing tool for driving leads into conversions.
Giving it a shot would be a good decision for a marketer. It can also help with CPA marketing campaigns.