Mobile marketing is extremely powerful, but it's easy to get puzzled in a rut with strategies that don't produce the results you were hoping for.
If that's you, then it's time to change the status quo and maximize other mobile marketing strategies to enable you to reach more of your target audience and drive more lead conversions.
Therefore, to help you out we have come up with a list of twelve mobile marketing strategies that are extremely effective but that you seemingly haven't considered applying—either because you are not aware of them or because you simply believe they won't work for you.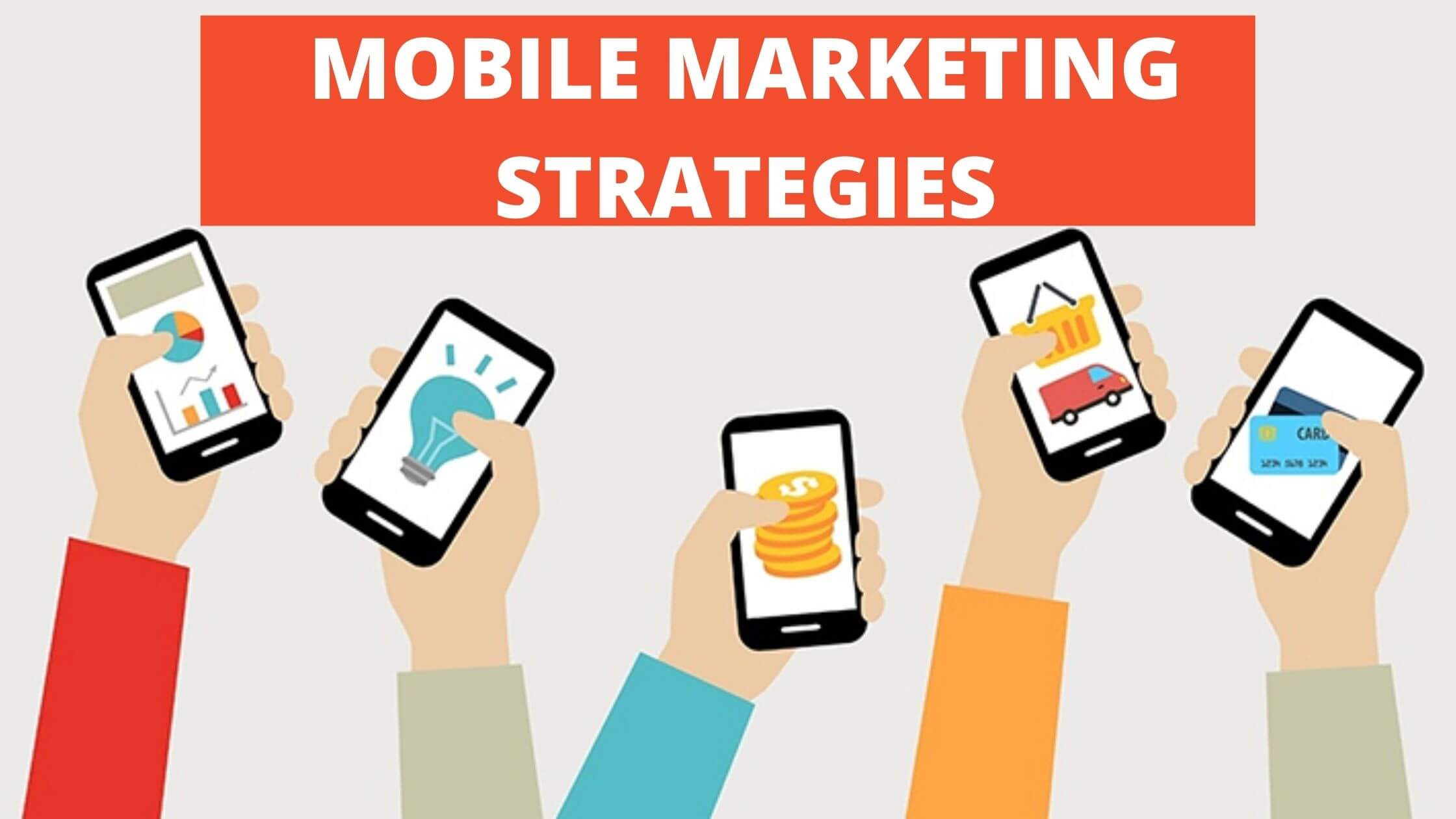 Statcounter did a study to find out that 50.48% of web traffic is generated from mobile devices. This goes to show that over the period of 1 year, mobile user shares have increased by over 10%. Indeed mobile is overtaking!
Mobile Marketing Strategies that Drive Sales Conversion
Below are some mobile marketing strategies that drive sales conversion really fast.
1. Mobile Prioritization in Every Marketing Campaign
The goal of every marketing campaign is to reach consumers or prospects with the use of media and texts. Marketing campaigns should be set up in such a way as to achieve the business goal.
However, recent developments suggest that 50.8% of internet users surf from a mobile. This would imply the use of marketing tactics that are highly mobile user friendly is important.
See Also: How To Increase Sales Volume With Digital Marketing
2. Location Targeting
With the understanding of mobile usage statistics on the internet, it would be very effective to run marketing campaigns based on location.
This is because mobile devices have an already installed locator, GPS, and IP address that allows retargeting of adverts, or campaigns. Hence, geofencing and geotargeting are becoming more important than ever.

To add to that, in your advert campaigns, and from your email campaign list, you can choose to target a specific audience that has a keen interest in your business.
Location-based targeting often turns out to be very effective, having the option to retarget them with personalized products and services.
For example: if you own an ecommerce store, and you have sweaters to sell or dropship, it would not make any sense to target mobile users in the northern part of Nigeria for your campaigns. 
See Also: 9 Best Video Marketing Tools Ever for Online Marketers
3. Always Test Mobile Website Speed
Bounce rates are often high with very slow page-loading websites. This is because mobile users do not have 15 seconds to wait for your website to display.
Mobile websites should be optimized to have a very fast loading ability. This helps to improve your SEO and search ranking.
In addition, that would increase your website's page-to-page traffic generally, as users tend to navigate more on a website that has a very high page loading speed. 
Factors That Frequently Affect Page Loading Speed:
i. Bad Hosting Providers/hosts
The reason why we often recommend web hosts like Bluehost, Siteground, and the rest is that they have very high bandwidth and their servers are very reliable. 
If your website loads in minutes or as many as 30 seconds, it is a highway to zero conversions. Often try as much as possible to host your website on reliable hosting service providers.
ii. Too many plugins and widgets
In as much as plugins and widgets enhance the functionality of your website, excessive usage can lead to slow page loading. 
Try as much as possible to remove unnecessary plugins, or contact your web developer to handle such. Also, ensure that you are consistently updating your plugins.
See Also: 10 Effective SEO Techniques to Drive Organic Traffic
iii. Heavy CSS and Javascript Use
CSS and Javascript styling and functionalities do have their bad sides. They can get too heavy and slow down every page load speed on the website, try to minify with the effective use of plugins like WP Rocket, etc.
iv. Hotlinking
Showing images on your website that are on a different host server altogether is one major thing that can slow page speed loading. Try uploading pictures directly to the dashboard.
v. Poor Coding Ability
Error codes often lead to careless features and background processes that can slow down page speed loading at any moment. If you want to have your website coded from scratch, do well to contact reliable website developers to handle the project. 
See Also: Pinterest Marketing: 10 Great Hacks For Beginners
4. Responsive and Attractive Email Newsletters:
The usage of newsletters to get prospective emails for email marketing has proved to be very beneficial.
However, creating and designing responsive email newsletters is a sure mobile marketing strategy to drive sales conversion. Try as much as possible to not have pop-ups that are not responsive. 
5. Deploy Google My Business Effectively
Not so many mobile marketers are taking advantage of Google My Business. It is one of the most beneficial mobile marketing strategies that drive sales conversion as a small business. It is a smart local SEO strategy.
This is because almost every mobile device is hooked up to Google as its default search engine. For every search a mobile user makes online, looking for a product, service, etc.
Google tends to publish a certain amount of business on the home page. Your business can be on Google My Business Listings as well. 
Do not avoid it, it is very profitable. It proves a very great deal of expertise, etc. 
See Also: Affiliate Marketing for Beginners: 15 Things You Should Know
6. Go for a Mobile-Friendly Website
Without a doubt, mobile-friendly websites tend to have more sales conversion as the majority of users searches for product and services via mobile. Ensure that your website is optimized for mobile. 
Also, you can use tools like Accelerated Mobile Pages (AMP) to help improve your website mobile experience.
7. Market with SMS
Emails are not the only mobile marketing message strategy to drive conversion. SMS is another major tactic, and oftentimes it is even more effective.
This is because there is no text message that is unseen.
However, emails can be skipped from time to time. Marketing with SMS is a sure way to get your sales conversion well-driven. Consider marketing with SMS today to enhance your boiler marketing visibility, progress, and profit. 
8. Create Content for Voice Searches
Voice searches are the future of web searches. Voice searches are gradually taking over the google search engine especially, this is because some internet users now prefer to speak directly to their phone.
That being said, the AI (Artificial intelligence) installed within the framework has the ability to pinpoint every request based on the following factors.
Long-tail keywords and phrases.

Understand that questions will be asked, and your content should always answer: Optimize your content and website to respond to queries. 

Local SEO optimization degree.
See Also: The 15 Best Online Marketing Strategies to Increase Sales Revenue
9. Use QR Codes
With QR Codes, you can do the following:
Business number dial-up

Send an Email

View the precise and exact location of the business

App downloads

Pay cash

Ecommerce

Direct prospects to quality landing pages.

To share social media pages
Did you also know that there are several advantages of using QR Codes today for mobile marketing, as part of your strategies to drive sales conversions? 
The following are some advantages of QR Codes:
Reliable call-to-action

Using QR Codes is a boost in creativity

Effectiveness is measurable

QR Codes can be used to grow SEO and SMO

A lot of intentional and organic customers have fallen in love with QR Codes
Are you wondering how to start generating QR Codes?
Below are the 5 best QR Code generators.
QRStuff

QR Code API

QR-code Generator

Scanova

Visualead
See Also: How to Increase Facebook Post Engagement Really Fast
10. Utilize Social Media
Every mobile device or at least 98% of mobile active devices has a signed-up user on social media. This implies further the necessity to utilize use of social media as a marketing strategy that drives sales conversion.
You cannot afford to not be on social media today as a mobile marketer seeking strategies to drive sales. Why?
Your customers are on social media

Lead generation can be sponsored by social media

Adverts with a wider bandwidth can be done on social media.

Online discussions with prospects from any part of the world can be done on social media.

With no social media background for your goods, services, and products you can be sure of extreme difficulty as a business or service deliverer.
See Also: 15 Effective LinkedIn Marketing Strategies to Grow Your Business
11. Video Marketing on Mobile
Among the mobile marketing strategies that drive sales conversion, is video marketing for mobile devices.
Mobile device users tend to scroll over images according to research quickly, however, there is always a pause when there is a video to see.
Video marketing is an exceptional strategy for mobile marketers to implement today in increasing business revenue.
12. Push Notifications
Push notifications are messages. However, they are direct messages from websites or stores, etc.
They are always intentionally sent to mobile devices. Push notification is a mobile marketing strategy that can drive a lot of sales conversion for your business.
This is because every mobile user can receive a notification when there is an update on your website or store. Push notification is a system to draw awareness back to your pages.
Enabling push notifications is very possible on every website. This is possible with the aid of certain scripts or plugins like; OneSignal, etc. 
See Also: How to Make Money on Instagram Without Followers
Conclusion
Mobile marketing strategies have proven to be extremely helpful to businesses of all sizes. With all the recent developments and competition for attention, to stand out one must be willing to try something new. 
A smart marketing tactic for businesses of this century is mobile marketing. You can get started today!
Also Read: