If I told you that you could launch a profitable ecommerce business in Nigeria today, would you think I was crazy? 
Well, the simple truth is, you can!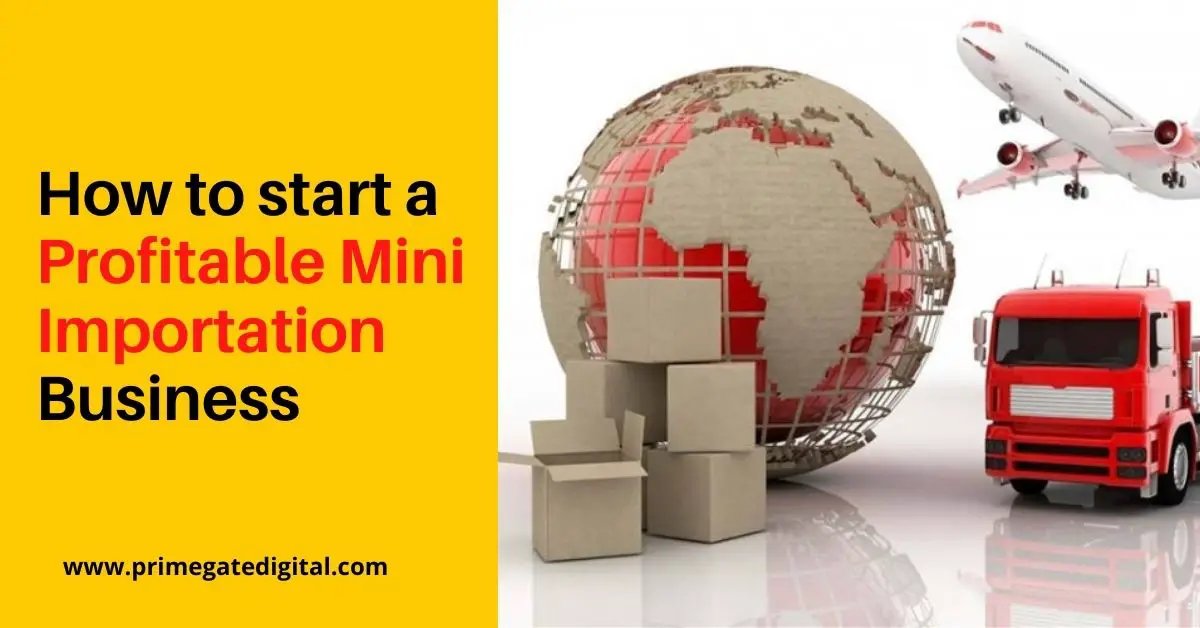 With the consistent rise in the number of smartphone users and internet penetration in Nigeria, the ecommerce industry has witnessed enormous growth since 2010.
Even more, data have shown that the e-commerce and m-commerce industries are set to record higher growth in the coming years.
You can start an ecommerce as a side business while working full time in Nigeria.
Top online shopping sites in Nigeria like Jumia, Konga, Yudala and Payporte, have shown opportunities in the e-commerce industry.
As the economy becomes more and more stable and the availability of efficient tools to start and grow an online business, now is the best time for small business owners to tap into the online retail industry opportunities.
See Also: How to Start a Lucrative Mini Importation Business in Nigeria
What is Ecommerce Business or E-business
Most times, E-commerce business or E-business are interchangeable but by definition, they are both the same.
E-commerce business or E-business basically means electronic commerce which involves the buying and selling of goods and services through the internet. These online business transactions can either occur as B2B, B2C etc.
Before venturing into e-commerce business in Nigeria, you must brainstorm hot products to sell and what people really need to survive so that you will always be in business.
This will involve you doing marketing research and testing out some products to find out what people always want to buy online. The more products you sell, the more profit you will make.
Recent research published by Statista shows that 46.6 percent of the Nigerian population were internet users.
This has been projected to grow to 65.3 percent in 2025. This again goes to show the opportunities in the ecommerce business in Nigeria.
See Also: How To Start Shopify Dropshipping With No Money
List of Businesses for E-commerce Business in Nigeria
Here are the lists of businesses that you can start as an ecommerce business in Nigeria today.
Sales of shoes, bags and hair products

Course Development/Training

Freelancing (Graphic designing, Content writing, CV writing, etc)

Social Media Manager

Sales of Gift Items

Catering

Beauty/Skincare Business

Fashion Designing/Clothing line

Business Consulting

Event Planning

Food Business

Pet Food

Home Canvas

Makeup Artistry

eBook Publishing

Public Speaking/Life Coaching

Software Development/Sales of Software Applications

Mobile Accessories Online Store

Travel Accessories

Financial Coaching

Human Resource Services

Health care products/services

Ticketing

Domain Name Brokerage
How to Start a Profitable Ecommerce Business in Nigeria
In this article, we have detailed the different steps you need to start a profitable e-commerce business in Nigeria. Also, you will gain insights into e-commerce business ideas in Nigeria.
1. Identify a High-Potential Product
The first step to building an e-commerce business is knowing what product you want to sell. There are several things that come to mind when deciding what your product offering will be.
You might want to know the global market demand, high margins and easily it can be warehoused and fulfilled.
There are numerous free tools to help identify hot products; they include Google Trends, Amazon Best Sellers and eBay Top Products.
With these tools, you have the resources to find out the current hottest products. Smart ecommerce experts know how to spot a trend earlier.
The earlier you can spot a trend in product opportunities, the higher your chance of turning it into a thriving ecommerce business.
The general rule of thumb is to pick a niche and product you will be interested in because you will be investing a lot of time, energy and resources to set your ecommerce website.
The more passionate you are, the easier it will be to succeed in online business.
See Also: How to Grow a Business with Social Media in Nigeria
2. Lockdown a Supplier
You might have a great business idea and tons of website traffic, but if your supplier cannot keep up with your demand, your business strategies are dead on arrival.
Great communication is a key success factor, especially if you are contracting an international supplier that you identify through a resource like Aliexpress.
The first thing to do is to have a list of potential suppliers you wish to partner with. Then go ahead to ask them precise questions to unveil their capacity to supply. Anyone that is unable to answer those questions should not remain in the list.
In the end, you should have half a dozen suppliers to engage with in more detail. Cost shouldn't be the determinant alone, communication should fill a greater part of that process.
This will result in a 100 per cent confidence in the suppliers that you will eventually sign in.
See Also: How To Target Wealthy Individuals With Facebook Ads
3. Decide a Business Name and Secure Your Online Presence
Besides figuring out what to sell and who the supplier should be, another challenging decision is deciding your business or brand name and choosing a suitable and available web domain name. 
Your business name needs to be not only easily remembered and appealing to your customers, but it also needs to have domain name availability and social media handles.
It is best to go for the dot-com version always, even if it requires you paying for a premium fee from a domain flipper.
It is important to have the dot-com available and also available on all the social media platforms you wish to use to promote the brand online.
As soon as this is confirmed, then the brand name is finalized. You are likely to run into challenges deciding your business name, in such a situation, you can try Shopify's business name generator tool.
See Also: 12 Biggest Facebook Ads Mistakes To Avoid in 2020
4. Build Your Ecommerce Business Website
It is time to build your online store.
If you have been following closely, you must have realized that an online store is a major requirement to start an e-commerce business in Nigeria and anywhere in the world.
Because you need an online presence where customers can do business with you. Perhaps you cannot afford to hire a web developer, you can begin with a free WordPress site, then upgrade to a pro version as the business grows.
Also, there are numerous platforms like Shopify, Bigcommerce and WooCommerce that helps you set up an online store from the scratch without you having web designing skill. So, you can start with that as well.
In Nigeria, established e-commerce marketplaces like Jumia, Konga and Kara offer you the platform to start your online store. With these platforms, you have access to marketing and other logistics.
See Also: 35 Benefits of SEO & Why Every Nigerian Business Needs SEO
5. Set Up Your Fulfilment and Shipping Method
One benefit of the e-commerce business is that you can sell your products to people in different locations at the same time. However, this depends on having a good delivery system.
Your delivery system can determine the credibility of your business in the marketplace. On-time delivery encourages customers to score good reviews for the brand and in turn convinces more customers to do business with you.
Hence, it's vital to partner with reliable and established logistics companies. One of the smartest options is to acquire your own delivery bikes and hire people that will ride them. 
This method is more cost-effective especially when you are running a payment on a delivery model for the business. In such a situation, you do not need to bother about how to get the payment at the point of delivery.
Popular Logistics Companies for Nigerian Businesses
FedEx Nigeria

GIG Logistics

Ocenj Logistics

Courier Plus Services Limited

DHL

Creseada International Limited

AGS Movers Lagos
See Also: How To Make N250,000 Monthly In Nigeria Working From Home
6. Setup Revenue Goals
You can't launch into ecommerce business without establishing desired revenue. What is the cost of your product, per unit, doorstep delivery?
What are your shipping costs for different locations, as well as all fulfilment components, such as employees, software, packaging, etc.? 
It is extremely important to have specific revenue goals, down to daily goals. If you sell products with an expiration date, so achieving those goals helps to ensure you don't get stuck with unsellable inventory. 
In addition, find ways to cut costs. It can be a way to skyrocket your revenue as your sales volume increases. "If you are doing a lot of volume in transactions, don't be afraid to negotiate a better rate with your processing company," says Benjamin Velner, CEO of Merchant Scout.
See Also: 10 Common and Costly Google Ads Mistakes To Avoid in 2020
7. Design a Marketing Plan
At this stage, you have a product and a website, the next step is to figure out to reach your target audience with your offering.
To start generating sales immediately, create a Facebook ads campaign that also includes Instagram. Influencer marketing is an effective way to drive online conversion.
It is good to have your marketing plan include long-term elements of digital marketing such as search engine optimization, but you need to direct your focus towards generating sales right now for you to scale quickly and generate revenue.
Ensure you track and measure everything — this involves setting up your conversion pixels and events to know the channels that drive the most conversion.
The more data you are able to track, the easier it is to optimize your campaign, create targeted ads and also make an informed decision.
See Also: 10 Sure Ways to Make Money Online in Nigeria 2020
8. Launch Your Online Store
Here is the best advice you can get when it comes to starting your ecommerce business: do not wait for the perfect time to launch. As the business grows, you are going to need to constantly test, learn and make changes — it's never going to hit perfection.
Be eager to split-test different aspects of the business; from the product page to your campaigns. Never let excuses or fear hinder you — you can only tell how viable the business is when you launch.
Successful ecommerce businesses have their various failure stories that eventually led to success. Be ready to fail but don't give up – try again and again.
See Also: Top 15 Essential Digital Marketing Skills to Acquire as an Entrepreneur
Challenges of Ecommerce Businesses in Nigeria
There is no business without drawbacks. However, it is paramount for business owners to know the pros and cons that come with a business before venturing into it.
Here are some of the challenges an e-commerce business owner is likely to encounter.
See Also: How to Boost Business Revenue with Social Media
1. Physical Stores Preference Over Online Store
Besides the fact that the world has gone online, some people still prefer the brick and mortar shop, business model. Hence, if you encounter such people online, they always decline to make payments online. Obviously, this can be attributed to the rise in internet fraud and scams.
For such individuals, having a flexible payment plan as an ecommerce business owner is key. This might involve having pay on delivery system in place.
See Also: How Businesses Can Measure And Improve Digital Marketing ROI
2. High competition in E-commerce Business 
With over $1.935 trillion in ecommerce sales, many people are investing in e-commerce and this has made the business highly competitive. Hence, as an aspiring e-commerce business owner, you should do your market research and venture into the best niche.
Another side to it is that the more competitive a niche is, the higher the ad cost in such a niche. So, when starting out, do your homework and come up with a smart marketing strategy to get your products in front of your target audiences.
If you discover that the ads are becoming more expensive, you can deploy other marketing strategies such as content marketing through your blog. 
See Also: Top 15 Essential Digital Marketing Skills to Acquire as a Business Owner
3. Logistics Issues
In Nigeria today, a good road network is still a major challenge and this affects the logistic and delivery companies. There are certain areas in Nigeria that are not accessible which makes it challenging for products to be delivered to those areas.
Hence, logistic companies tend to charge more for those areas that have bad road networks.
See Also: Top Social Media Marketing Tools for Online Marketers
FAQs on How to Start an Ecommerce Business in Nigeria
How

 can I 

start

a dropshipping and ecommerce

business

 in 

Nigeria

?
The step by step recommendations in this blog post is a viable means to start a dropshipping business in Nigeria. If followed as highlighted, you are a step closer to running a profitable dropshipping business.
How much does it cost to start an ecommerce business in Nigeria?
The cost of starting an ecommerce business is not fixed, it depends on the niche. Most times it just requires the cost of building your ecommerce website and marketing cost.
How profitable is ecommerce in Nigeria?
Undeniably, the ecommerce business has risen to become the most popular and trending business of this century. It has been predicted that by the year 2040, over 95% of shopping will be facilitated by ecommerce. Ecommerce business in Nigeria is highly profitable.
How much does it cost to build an ecommerce website?
The cost of building an ecommerce website crystallized into three categories:
What are the fast selling products online in Nigeria?
Fast-selling products at every point vary. However, there are tools that can help spot trending products like Google Trends, Amazon Best Sellers and eBay Top Products.
Highly successful ecommerce business owners in Nigeria know how to spot a trend earlier.
Final Thoughts
Building your own ecommerce business can be exciting and at the same time exhausting. It has a lot of learning paths that cuts across finding hot-selling products, evaluating product viability, building an online store, and figuring out how to market and sell to new customers.
The process can feel like solving a puzzle but rewarding all the same.
By following these steps we hope you gain insights that will you get started in building your ecommerce business. As always, the best advice anyone can offer you is to just get started, explore the learnings and have fun all the way.