Are you experiencing sudden but abysmally low engagement on your TikTok account?
You usually enjoy a high number of views, shares and likes, but it seems your followers have suddenly lost interest and stopped interacting with your content.
TikTok was launched in 2016. Although it made a late entry into the world of social media, it experienced an incredible popularity surge from 2018-2020, amassing billions of downloads around the world.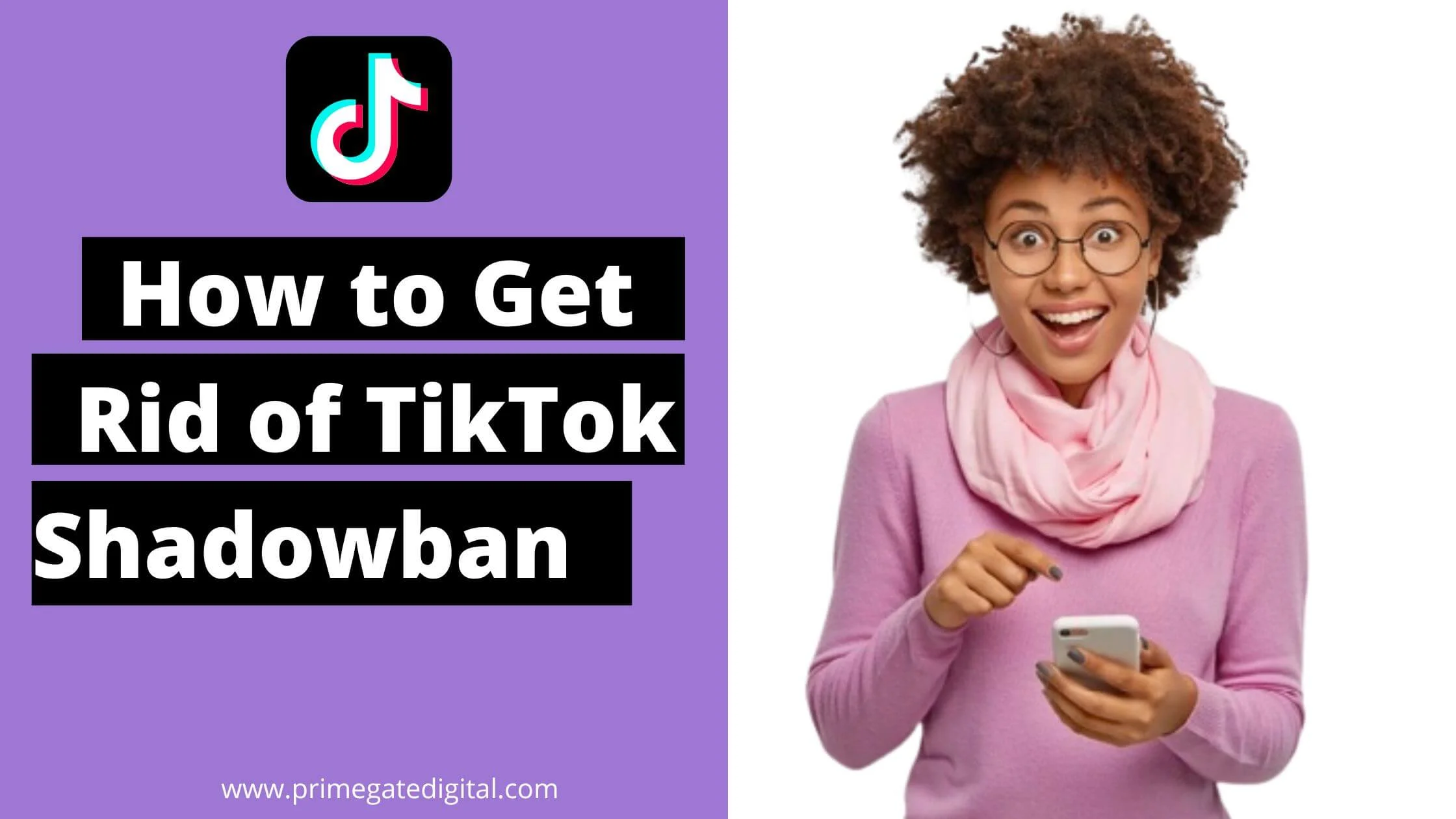 TikTok is a go-to source for entertainment, especially among Gen Z. In recent times, it has been utilized by brands and businesses for viral marketing campaigns and user engagement.
Its unique features make it easy for anyone with creativity to go viral and improve their visibility on the platform. 
What Does Shadowbanning on TikTok Mean?
Shadowbanning on TikTok occurs when their algorithm restricts, hides or makes your post less visible to other users for some reason.
Shadowbanning is not exclusive to TikTok alone. Facebook, Reddit, LinkedIn, Instagram, Snapchat and even YouTube are known to shadowban users.
If your account is shadowbanned on any social media platform, your posts can't be accessed by your target audience.
The interesting thing about shadowbanning is that you won't be notified that this has happened to your account.
It won't affect your ability to post, like, share or send replies to other users. However, the visibility of your post will be restricted to you alone.  
When an account is shadowbanned on TikTok, the owner won't get any form of engagement (likes, traffic and views), even on the "For You" page.
Since the post won't show up on the For You page, the user engagement metrics and view count will drastically tank. 
While many social media platforms have denied "officially" shadowbanning their users, plenty of markers have shown that algorithms boost the visibility of certain types of content while shadowing or restricting others. 
While it is not easy to know if you are currently experiencing a TikTok shadow ban, sadly, you might detect an organic drop in your engagement metrics.
But if that happens, you need to figure out strategies to tell if you are shadowbanned on TikTok and how to get rid of TikTok shadowban.
How to Find Out if You Have Been Shadowbanned on TikTok
While there are no sufficient details offered by TikTok in relation to its shadowbanning policies, the most logical reason why users get shadowbanned on TikTok is when they create videos that contravene the platform's community guidelines. 
Users who share or create videos with hateful or inappropriate content that can upset or annoy other users or be viewed by others as "objectionable" may get shadow banned by TikTok.
When an account acts maliciously by spamming or posting harmful content, the platform may hide or restrict its visibility, which is known as shadowbanning on TikTok.
Find out if you have been shadowbanned on TikTok, ensure you review your engagement metrics and investigate any unexpected declines.
Next, check what you have posted and see if they contain the following:
Spam
One of the most popular reasons why TikTok shadowban a user is because of spamming activities.
Although it may not be intentional, some new users, after signing up, may go ahead and follow and like as much content and users as possible within the shortest possible time, trying to secure as many likes and follow backs in return.
The TikTok algorithm may perceive this behavior as spam and mistake you for a robot. 
Although it is easy for your content to go viral on TikTok, there is a likelihood that that popularity will vanish in the twinkling of an eye if you do not pay attention to the TikTok shadow ban.
Thus, if you think you have been shadowbanned by TikTok or want to avoid that scenario, this article is all you need.
We will explain everything about TikTok shadowban, signs that you have been shadowbanned and ways you can get rid of shadowban on TikTok. 
If you have a habit of liking over 200 posts on a daily basis, do take things slowly.
If you usually tap the follow button on accounts haphazardly and like multiple posts daily, then we have some tips on how to prevent TikTok shadowbans. 
Offensive or Inappropriate Content
If your post contravenes TikTok's policies and community guidelines, TikTok may shadowban or permanently revoke access to your account.
This also occurs on other social media sites. Always be sure to review TikTok community guidelines for a better explanation of their policies.
This will help you stay away from activities that will lead to shadowbanning: 
Cyberbullying and abusive behavior

Terrorism and fanaticism. 

Adult content

Disturbing, gruesome and violent content

Self-injury, suicidal or unsafe promotion

Harm to a minor
TikTok strives to create a respectful and pleasant environment for everyone. If you observe a sudden drop in engagement or audience, review your most recent content.
6 Ways to Get Rid of TikTok Shadowban
Don't be scared when you notice you have been shadowbanned by TikTok. There are many ways to fix the shadowban.
Here are six strategies you can use to lift the TikTok shadowban. 
Install and Reinstall TikTok
First, ensure that your most recent content on TikTok has been deleted.
If you believe the shadowban still persists after removing the video. Try to uninstall the app and then install it once more.
At times all that is required to return the app to its optimal state is a bit of an update. 
Use a Business Account
A common way to fix the TikTok shadowban is by using a business account. You will likely get this advice whenever you search online on this topic. 
After changing your account to business, you will have access to metrics for your TikTok engagement.
Then you will know for sure if your engagement rate has gone up or dropped. 
Remove Videos that Contravene TikTok's Policies and Community Guidelines
Most of us rarely review the community guidelines and user policies of social media sites as they are voluminous and complex to read.
However, users are advised to pay attention to these policies as they are put in place to create a more welcoming and secure environment for all users. 
After going through TikTok's user and community policies, take away videos that infringe on these guidelines.
Next, we recommend that you wait patiently for a minimum of 14 days after deleting offensive content before your TikTok shadowban is removed. 
Temporary Stay Away from TikTok
If you suspect that TikTok has shadowbanned your account, a very easy technique to rectify this is to temporarily suspend using the platform for a while.
So before you stay away from the platform, ensure you remove the video that has infringed upon the community guidelines and ensure your cache is cleared, update the app to the latest version and then step away. 
Ensure Your Content is Unique and Interesting
Once you have temporarily stayed away from the platform and resumed posting new content, you won't wish to encounter another shadowban on TikTok.
Since you have been shadowbanned once, you may want to proceed with caution, particularly with regard to your activities and content. 
Thus, ensure you carefully craft your content. Come up with unique content with creative and original ideas.
This way, you will also steer clear of getting into issues bordering on copyright infringements. 
Pay Attention to TikTok's Audience
TikTok is growing at an astronomical rate. The app has particularly met high acceptance and usage among the Gen Z demography.
It is unsurprising to see lots of teenagers and kids on TikTok. Thus, users are encouraged to keep the platform child-friendly and healthy for youngsters. 
If your activities and content go against TikTok's guidelines in terms of creating a safe space for minors, it is certain you may get shadowbanned or permanent suspension.
How Long Does Shadowban on TikTok Last?
Years ago, TikTok shadowbans are usually lifted after 24 hours. But with the latest changes to their algorithm, it seems the time frame is increasing.
There have been occasions where users are shadowbanned for more than a week. 
In the first stage of the shadowban, you may notice a decline in your audience and engagement.
Next, the algorithm will restrict you from using tags and creating new content from your account.
How to Remove TikTok Shadowban FAQs
What is the cause of TikTok shadowban?
The major cause of shadowban on TikTok is spamming.
Whenever you share spammy content or engage in any other spammy behavior to boost your engagement or audience, it increases your risk of a shadowban. This will limit the visibility of your content.
Why do I see zero views on my TikTok videos?
TikTok strives to create a secure environment for all users. Thus, ensure your content is relevant to the target country.
The reason for the lack of views for your TikTok video is the use of a bad VPN tool.
How do I boost TikTok's video views?
Stay away from posting offensive content.

 Be creative

Exercise patience

Develop longer TikTok content.
Conclusion
Being shadowbanned on TikTok can have a negative effect on the engagement and view count of any account.
To worsen matters, users won't be notified about the shadowban.
But in this article, we explained ways you can figure out whether you have been shadowbanned on TikTok and how to get rid of it.
Also Read: