Facebook launched Marketplace in 2016 as a platform for buyers and sellers within the same geographical location to discover each other easily.
But the Facebook Marketplace service was not available in Nigeria, until February 2021.
With the Facebook Marketplace, businesses do not have to create a Facebook group or leverage the existing Facebook group to be able to buy and sell.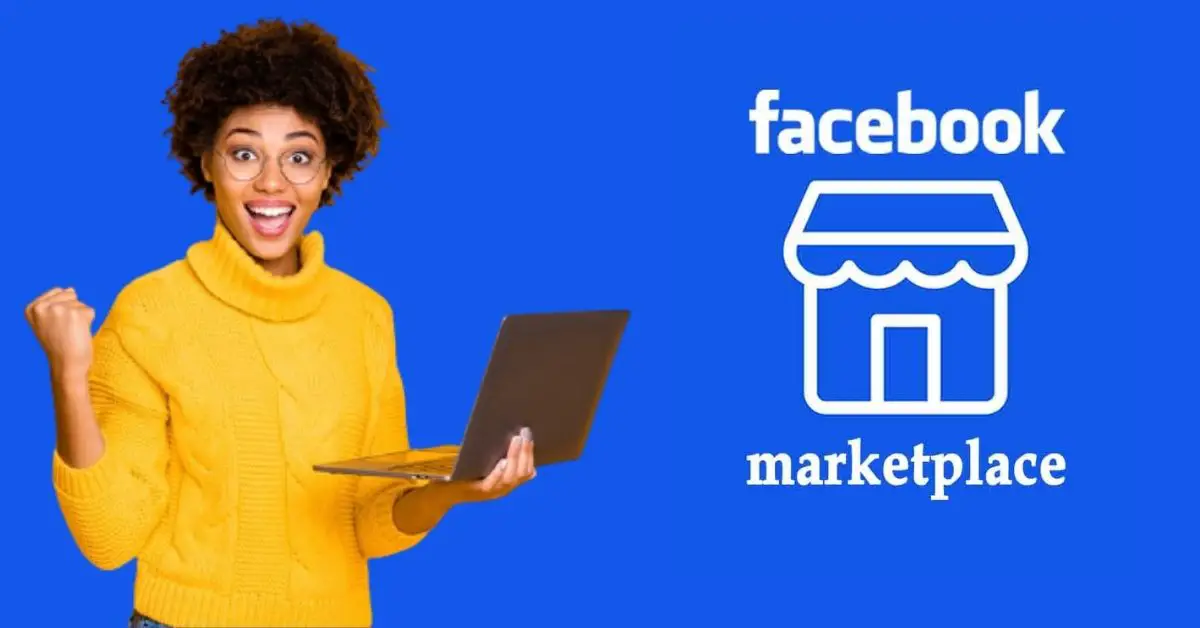 Instead, you can list a product on the Marketplace and connect directly with potential buyers in your area.
Also, you do not need to spend money on Facebook Ads to use the Facebook Marketplace.

Over the past few years, over 800 million people from over 2.7 billion monthly users on Facebook visit the Facebook Marketplace.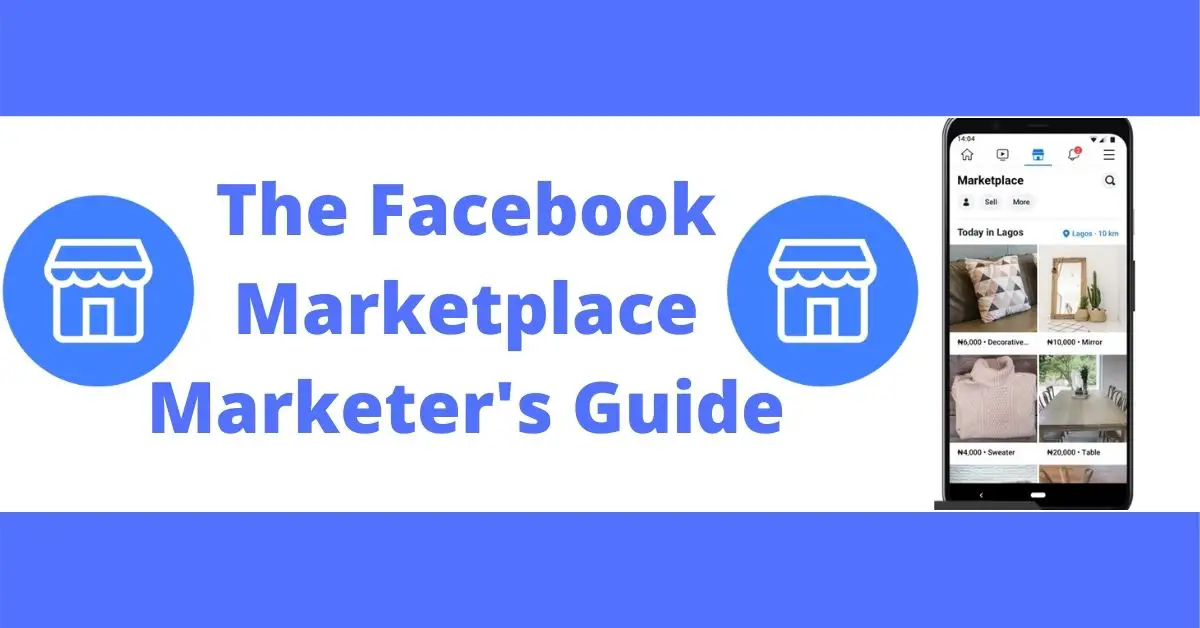 The Facebook Marketplace is gaining popularity as one big terminal sale point! And Facebook groups are not as popular as the platform.
With so many businesses in Nigeria already listing their products on the Facebook Marketplace, now is the best time for any business to get involved before it gets saturated.
Perhaps, Facebook Marketplace offers a unique experience to sellers than just about any other sales platform
With  66% of Facebook users socializing with their accounts daily, it is almost impossible to find another channel where it's so easy for potential customers to discover your products in Nigeria and beyond.
Facebook Marketplace is a fast-growing community of high-intent buyers who are craving to make a purchase decision.
Consolidate that with high artificial intelligence built-in targeting and easy-to-navigate product categorization, and you have a tool that's effective for boosting business sales.
So what is holding you back?
See Also: Can You Use Facebook Marketplace Without a Facebook Account
What Really is Facebook Marketplace?
The name defines it! Facebook Marketplace is an open exchange platform on Facebook where users can buy and sell both new and used items to other users.
Facebook Marketplace is now available to anyone in Nigeria. Users have access to list products or services for sale and reach ready-to-buy a local audience.
Users on the platform can scan the entire Marketplace, check in on groups, pick categories, or go directly to stores they like.
Importantly, each option showcases personalized products and services to the user's likes and interests on Facebook. 
Built as a user-user-based platform, whenever someone wants to order a product on Facebook Marketplace, the transaction is completed on messenger. 
Hence, that offers you a great opportunity to start a conversation with potential customers on a 1:1 basis and encourage long-term business relationships.
Facebook Marketplace continues to welcome improvements and innovations with functionalities being added to ease payment processes.
Some of these include sellers access to connect their Facebook Marketplace with payment processors like Shopify and BigCommerce.
The best part of it is that while you'll still begin the conversation with customers through Messenger, any products bought via your Facebook Shop are by default processed through whatever payment processor you have linked to your account.
See Also: How To Target Wealthy Individuals With Facebook Ads in Nigeria
Next up! Let's set up your Facebook Marketplace account.
Selling on Facebook Marketplace
Anyone in Nigeria can list an item on Facebook Marketplace as far as the product is in compliance with the Facebook Commerce Policies.
You don't need to create a separate Marketplace account to begin—you're able to acquire your first customer with your personal or business account.
To create your first product listing, tap on the Marketplace icon.

Then, select Create New Listing from the left-hand menu.

You can then select the type of product being listed from four options.
We're using Items for Sale as a case study.

Once you've selected the listing type, you'll be prompted to create the actual listing for this product.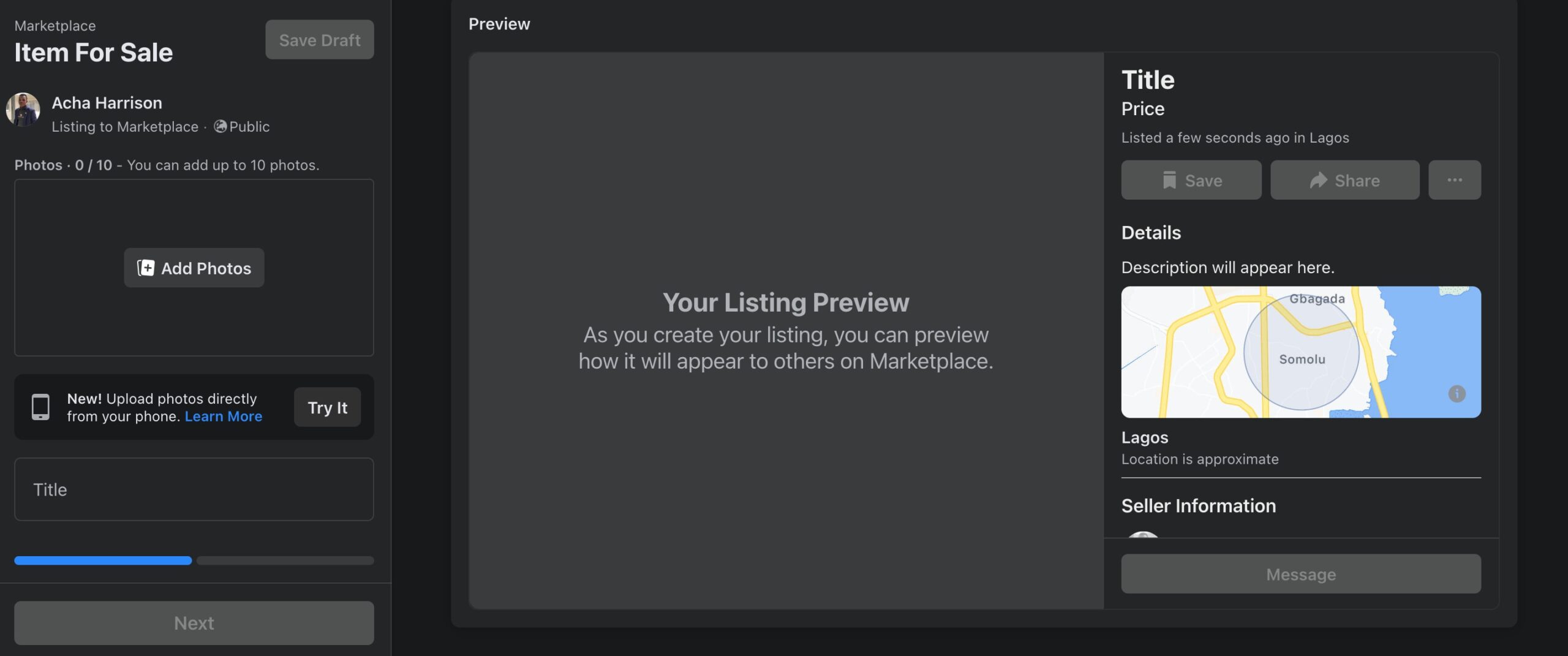 Facebook need the following to create a listing
Title

Price

Category

Condition

A description

Location

Product tag

Up to 10 images of the product
Once you've input this information, the preview of the listing will look like this: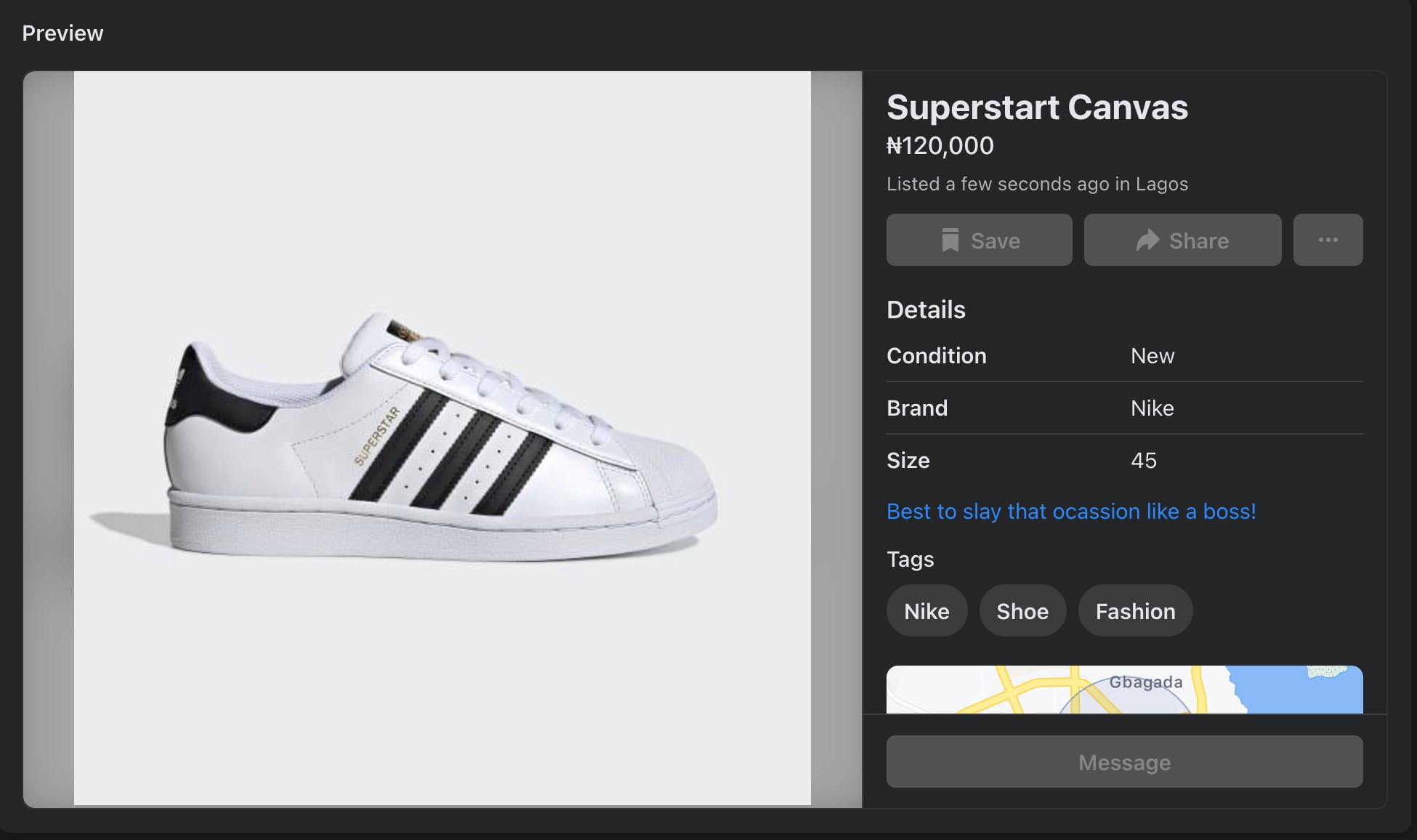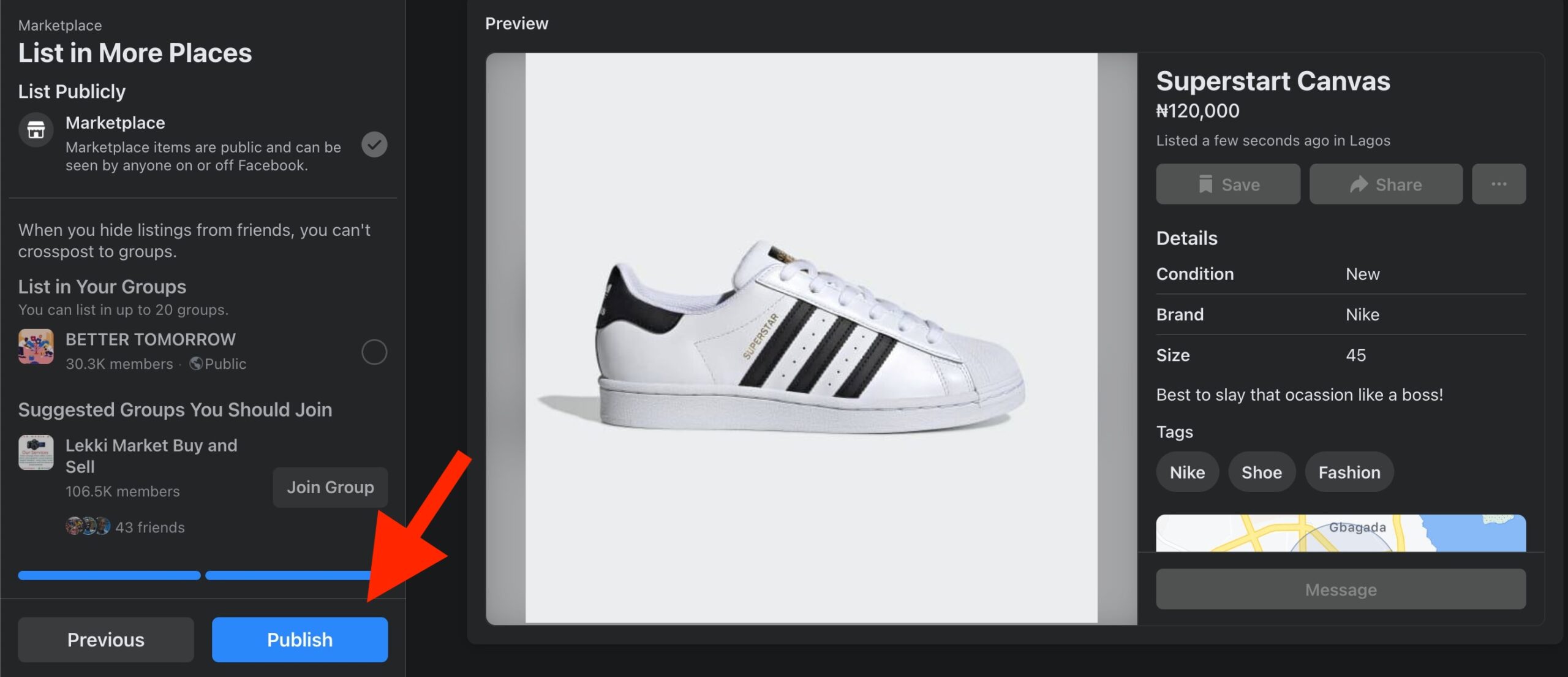 The last step is to click Publish.
Congratulations! You've successfully listed your first product on Facebook Marketplace. Here is where the real work begins.
Moving forward, Facebook automatically adds Marketplace as the audience for your product listing, which implies that users browsing the platform can view your listing.
See Also: 101 Sure Ways to Make Money Online in Nigeria
The platform is designed to create a Marketplace profile by default when you list your first item.
Also, when you sell a product via Facebook Marketplace, it will simply appear as a part of your Store.
You can find "store"  on the "shop" tab of your business's Facebook page.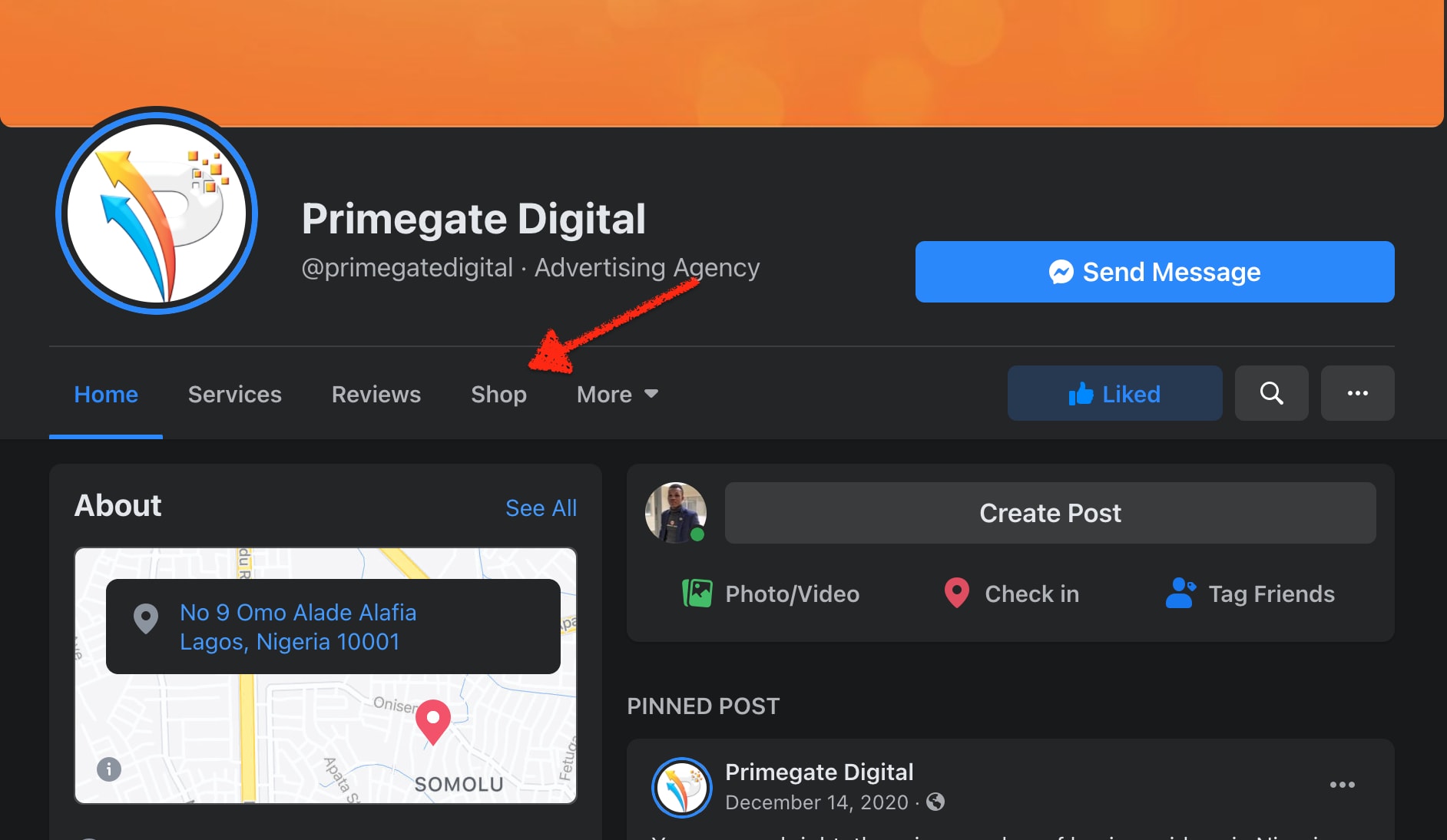 Perhaps, after you've successfully listed and made a few sales on Facebook, you can begin to think about how to strategically optimize your store to attract a strong seller record.
Facebook Badges
Facebook offers two different badges for how fast you interact with customers.
Very Responsive Badge:

Awarded to sellers who reply quickly to all potential customers.

Community Recommended Badge:

Awarded to sellers who have acquired high ratings on Facebook Marketplace.
Both of these badges can increase your reputation on the Facebook Marketplace, which drives more trust in your brand and potentially attract more customers.
See Also: How to Fix Disabled Facebook Ad Account Really Fast
How to Use Facebook Marketplace as a Business in Nigeria
Facebook is a primarily social platform, hence Marketplace avails itself as a personal connection with potential customers.
Therefore, the platform is a perfect spot for attracting new customers and establishing long term relationships with them.
With Facebook Market place, your competition goes beyond similar businesses; but individual users on the platform as well.
We listed 5 ways how to use the Facebook Marketplace as a business in Nigeria today.
1. Drive Brand Awareness And Discoverability
Boosting brand awareness is one of the fastest, easiest and most cost-effective ways to increase your sales.
The best part of it, Facebook users already know the platform to be a social media tool, hence discovering brands on Marketplace isn't a herculean task.
Also, audiences who interact with your listed products are further down the marketing funnel than most of the leads you're reaching via your Facebook ads.
They are high-intent buyers as they are already looking for products to purchase.
To increase the visibility of your products, you must understand how Facebook Marketplace works.
There are 18 top-level categories, each of which is segmented into more specific subcategories.
Having your product in the right category is the first step to getting your product relevant to your target audiences as they most like to find it when they are looking for it.
But that is the only tactic to boost your product visibility.
Also, the more followers you have been able to build on your business profile, the higher your chances of having the product appear on their Facebook Newsfeed.
The best space to have this done is in the description of your product.
See Also: Our Top 25 Most Powerful Content Marketing Tips Ever!
Facebook Ads you setup will also appear on Facebook Marketplace.
Ensure that you're selecting the right Facebook objective.
Facebook Campaign Objective
Reach

Brand awareness

Traffic

Video views

Messages

Lead generation

Conversions

Catalog sales

Store traffic
To learn more about Facebook ads, check out how to create Facebook (Beginner's guide).
These strategies can help increase awareness of your brand and make it simple for users to find your products on Facebook Marketplace.
Once they discover your business, you can begin to build brand loyalty.
2. Establish Trust With Your Customers
Buying a product online requires a great deal of trust most especially in Nigeria.
To be able to overcome the fear that comes with online shopping in Nigeria, businesses must strive to inspire confidence in the minds of the audiences at every opportunity they got.
As a one-on-one platform, Facebook Marketplace offers a special characteristic that enables you to build this trust with audiences.
To start with, all transactions on Facebook Marketplace are initiated via Messenger—letting you connect with potential customers through a peer-to-peer conversation.
Also, with your store page, you have another unique opportunity to establish potential customers' trust in your business.
Through your business page, you can increase the credibility of your brand by providing information about your business and responding to shoppers' inquiries.
Once you've started to build your audience on Facebook Marketplace, you can leverage the platform to test product viability and market research. 
See Also: Top 30 Best Digital Marketing Certifications Worth Your Money
3. Monitor What Sells Best On Facebook
The best-selling products on Shopify and Amazon may not be the best-selling products on Facebook Marketplace.
Get the best out of your Facebook ad spend by learning which items are hot items on the platform.
Do you want to discover what kind of products are best-selling on Facebook Marketplace?
Utilize the categories feature to find out which of the products are the best-selling.
This could offer valuable information that you can use to create high-converting Facebook ads that feature these kinds of products, or similar products, that you are confident that the Facebook Marketplace audience is ready to buy.
In addition, you are able to monitor popular products by browsing various business pages. Whenever you visit a store, you will see the top-performing products.
With product research, you can easily discover what kinds of products are best-selling. Besides, this information also helps you create successful Facebook ads.
In your campaigns, feature products that Facebook buyers regularly buy, and your ads will always result in sales conversion.
See Also: 15 Best Social Media Marketing Tools for Online Marketers
4. Use Facebook's Personalization
Along with promoting hot-selling products, leverage ads to reach people who have purchased from your online store or are following your page.
Since these individuals have already shown interest in your products and services, they're more likely to purchase from you again and again.
Also, the best way to do this is by creating a lookalike audience or interest-targeted audience to target in Marketplace placement.
Another way to connect with your users who have shown interest in your business is the Chatbots.
Also, this allows you to automatically follow up with anyone who has reached out to you on messenger, either before or after a purchase has been made.
It's necessary to always keep interacting with your customers to ensure that they are not going cold. 

While you are engaging with these customers, Facebook Marketplace also helps you to find out the best-selling products; you can use this information to design irresistible offers or products of your own. 
See Also: 10 Sure Ways to Make Money on YouTube in Nigeria
5. Test Out New Products
Are you thinking of launching a new product or test out an idea?
The Facebook Marketplace is a fast and easy way to get this achieved.
With this, Facebook will do the audience targeting for you while you track the product or service viability as it resonates with your core audience.
All that is required from you is to create a listing, and you're ready to hit the ground running! There's no cost involved whatsoever.
Also, having a store through Marketplace makes it effortless to advertise these products as well.
You can use description to let customers understand that you are testing a new idea or product.
While test your ideas and new product, you can also run an experiment with product pricing on Facebook Marketplace to see your audience response to offers, discount and price increase. 
As a smart marketer, consider providing exclusive access to a product or discount on Facebook Marketplace.
These tactics exude the feeling that you are offering something exclusive and also help to build loyal brand advocates.
See Also: 25 Smart Instagram Marketing Strategy that Actually Works
Conclusion
Consequently, Facebook Marketplace in Nigeria has offered a fast and easy, cost-effective, and informative with a core audience targeting businesses. 
Also, it has made it easier for buyers to quickly find the product they are seeking.
You can attract new customers, test out new products, and establish business relationships with your customers without breaking the bank.
All of these Facebook Marketplace activities highlighted above can help birth a new business that drives traffic, attracts customers to your store and discovers how to sell a product on Facebook Marketplace
Lastly, these offers allow you to create irresistible offers that your potential customers cannot ignore.
Also Read: