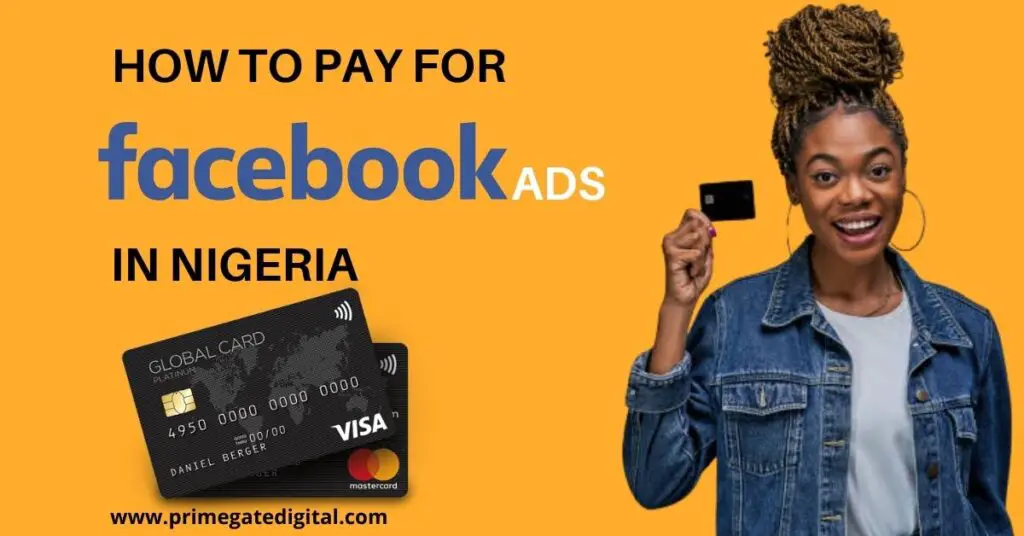 26 Dec

How To Pay For Facebook Ads In Nigeria: A Step-by-Step Guide






Running Facebook Ads in Nigeria can be quite challenging when you want to pay for your Facebook ads campaign. Majority of the banks in Nigeria do not allow you to pay for your Facebook ads with your debit or credit card. And with the recent spend limit on international transaction as directed by the CBN, this makes Facebook ads payment in Nigeria a difficult task. Hence, you cannot pay for Facebook ads in Nigeria with your Naira Mastercard, Visa card and Verve card.

Today, most advertisers in Nigeria incur a huge cost when they pay for their ads in the dollar due to exchange rates. This makes the return on investment from Facebook ads very low. 

This article is for you if you are looking for:
how to pay for Facebook ads with you Naira Master/Visa card in Nigeria

ways on how to set up your Facebook Ads account as prepaid

how to fund your ads account with PayU in Nigeria

ways on how to set up your Facebook ads payment method in Nigeria
See Also: How To Create Facebook Ads With Almost Zero Training (Step by Step Guide)
Who can benefit from this:
Media buyers

Business owners

Digital Marketers
Types of Facebook Ads Account
There are two types of Facebook ads account available to Facebook advertisers:
Prepaid Facebook ads account; this only allows advertisers to run ads when they have their ad account funded 

Postpaid Facebook ads account; this allows advertisers to runs Facebook ads and pay later once they hit their billing threshold or at the end of the month.
How to Easily Pay for Facebook Ads in Nigeria with Naira Debit Card
If you are an advertiser in Nigeria running Facebook Ads, you might have suffered this problem at one point in time. We have had a lot of complaints from clients we consult for when it comes to making payment for their Facebook ads in Nigeria. They run into debts with after running Facebook ads as they are unable to pay the accrued balance due to card decline or they have exceeded the $100 monthly international spending limit on most Nigerian debit card. To be able to pay for your Facebook ads in Nigeria, we will be sharing with you ways to set up you ad account and also how to have a naira account that allows you to use local card payment option. 
You will learn how to set up your Facebook naira ads account and pay for your ads using your naira card. However, this might not work for you if you already have a dollar ads account active for Facebook ads. Hence, you will need to create a new ads account.
The best practice is to run your ads in the currency of the currency that you reside. Creating your Facebook ads in naira is super amazing if you are in Nigeria as are charged the exact amount you spend on running your Facebook ads campaign without any additional cost from the exchange rate. This allows you to properly document your media spend on Facebook ads. 
See Also: How To Target Rich Individuals With Facebook Ads
Disadvantages of Dollar Facebook Ads Account to Nigerian Advertisers
Most naira cards have restrictions placed on them by banks

It is difficult to account for the ads budget spent on Facebook Ads

The differences in the dollar to naira exchange rate attract certain unexpected expenses

Unable to run ads more than the international spend limit placed by banks in Nigeria as directed by CBN
These disadvantages have made lots of businesses unable to run ads for their businesses in Nigeria. Hence they outsource their Facebook ads campaign to digital marketing agencies in Nigeria to help create and manage their adverts. 
See Also: 12 Biggest Facebook Ads Mistakes To Avoid in 2021
How To Create and Pay for Facebook Ads in Nigeria With any Debit Card
Firstly, you need to set your Facebook ads account billing currency to naira before implementing this method. Facebook has integrated PayU Nigeria payment gateway with the Facebook ads billing system, hence making it very easy to pay for Facebook ads with your naira card in Nigeria.
Sign in to your Facebook personal account.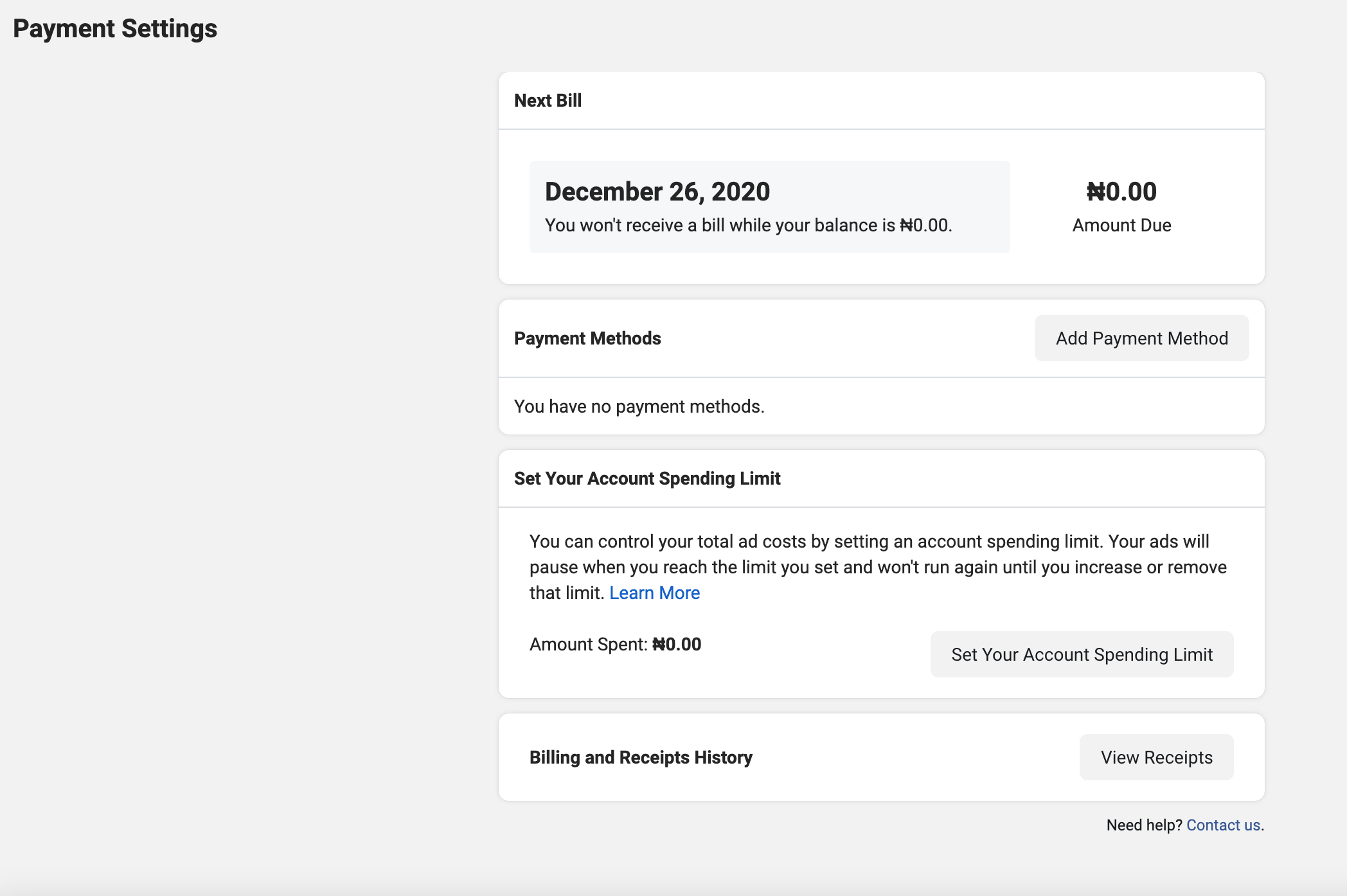 Next, tap "Add Payment Method"

Then select local card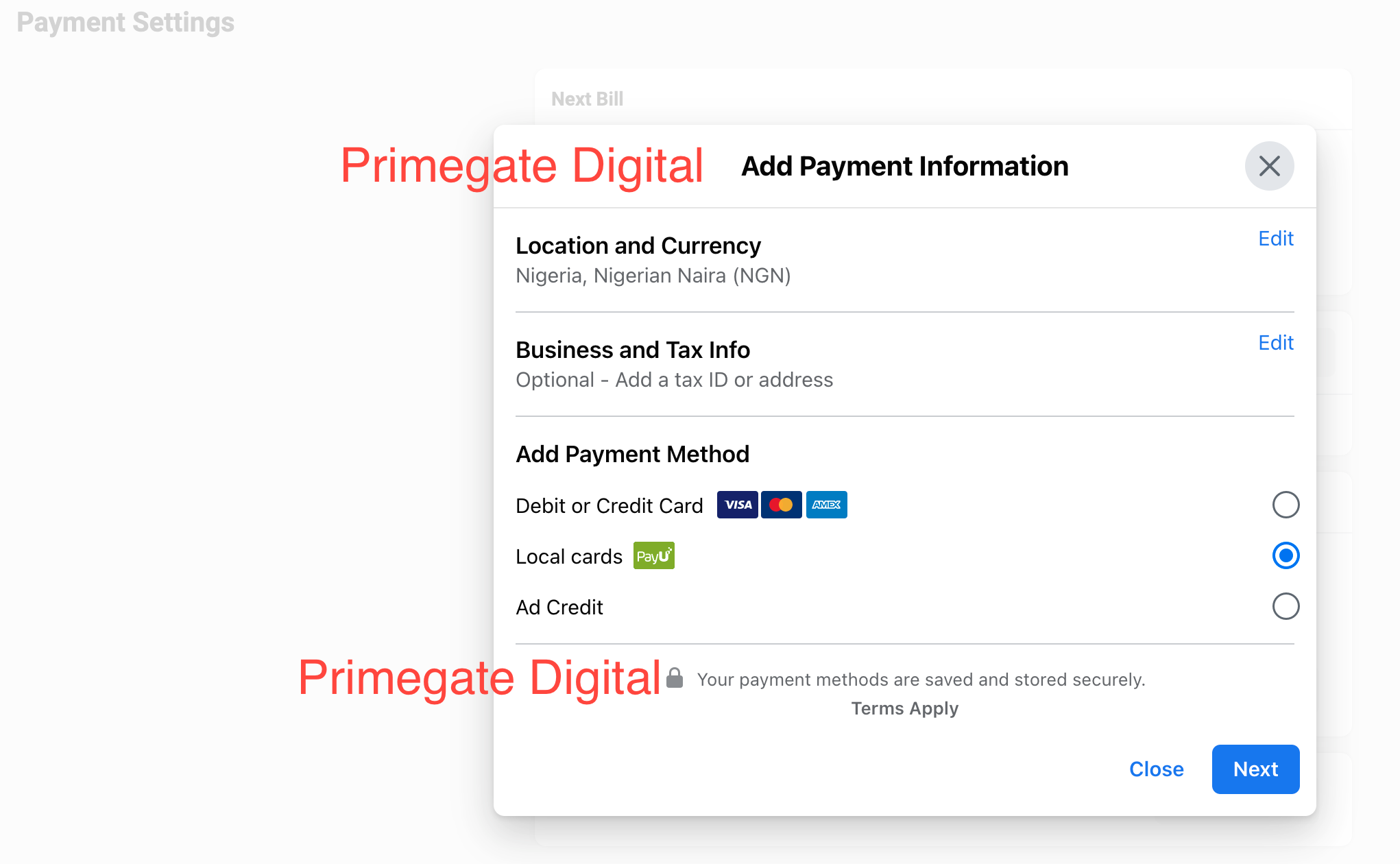 Tap on "Next"

Put in the amount you want to fund your Facebook ads account with and click on "Next"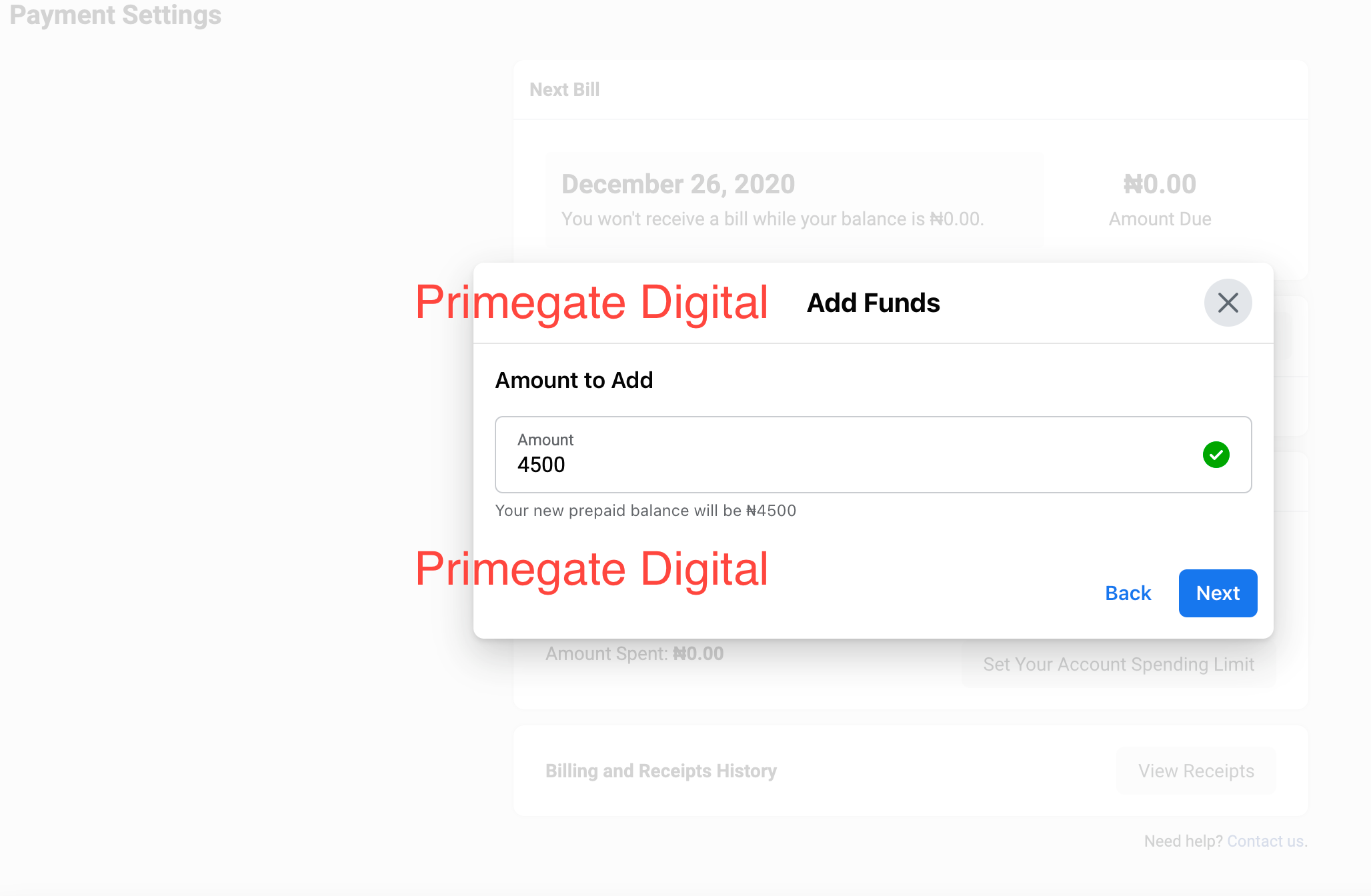 This will take you to the PayU interface.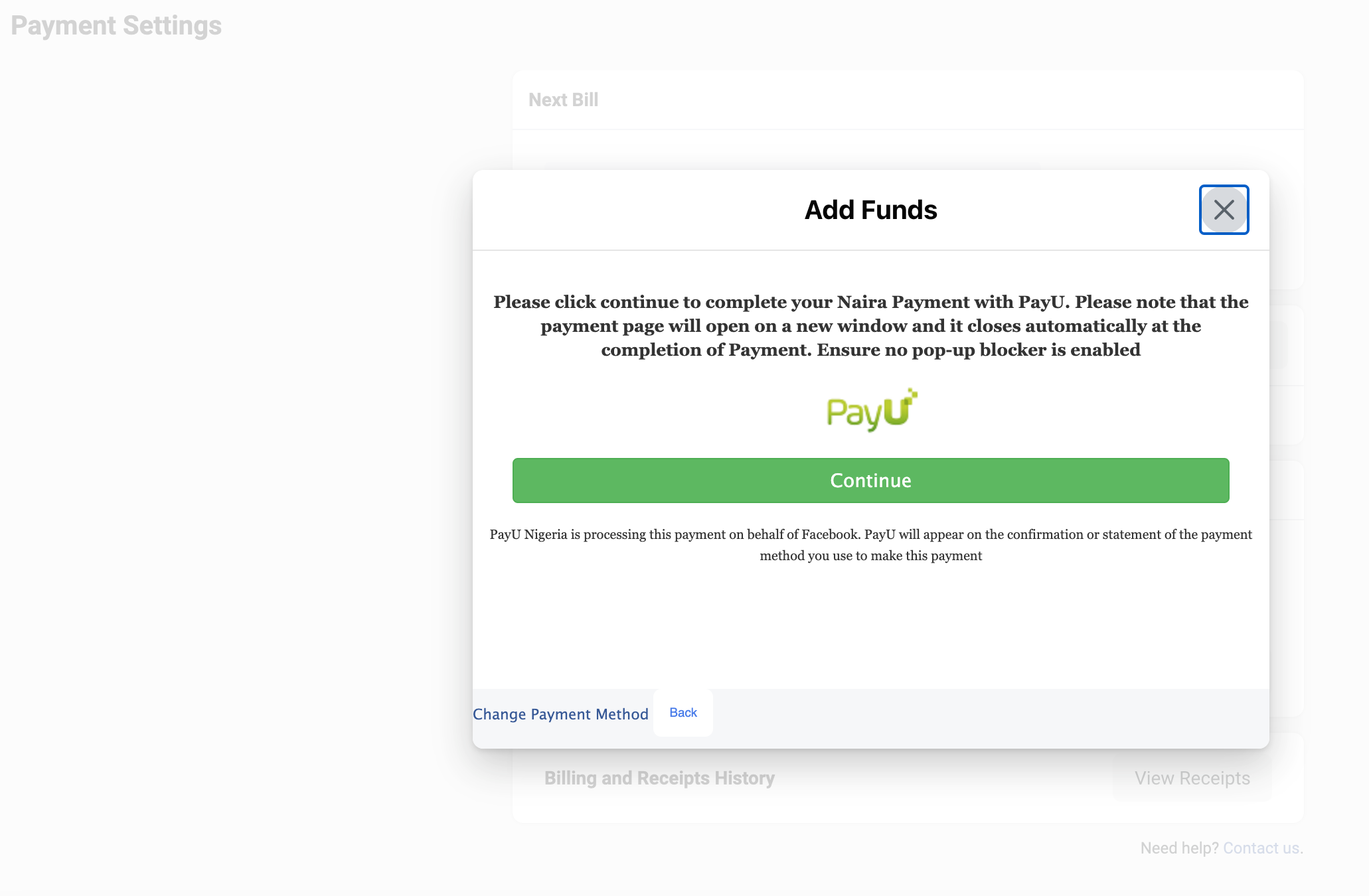 This will redirect you to a different interface where you will be asked to put in your card details. Once done, click on "Pay N4500.00 (the amount you want to fund with)"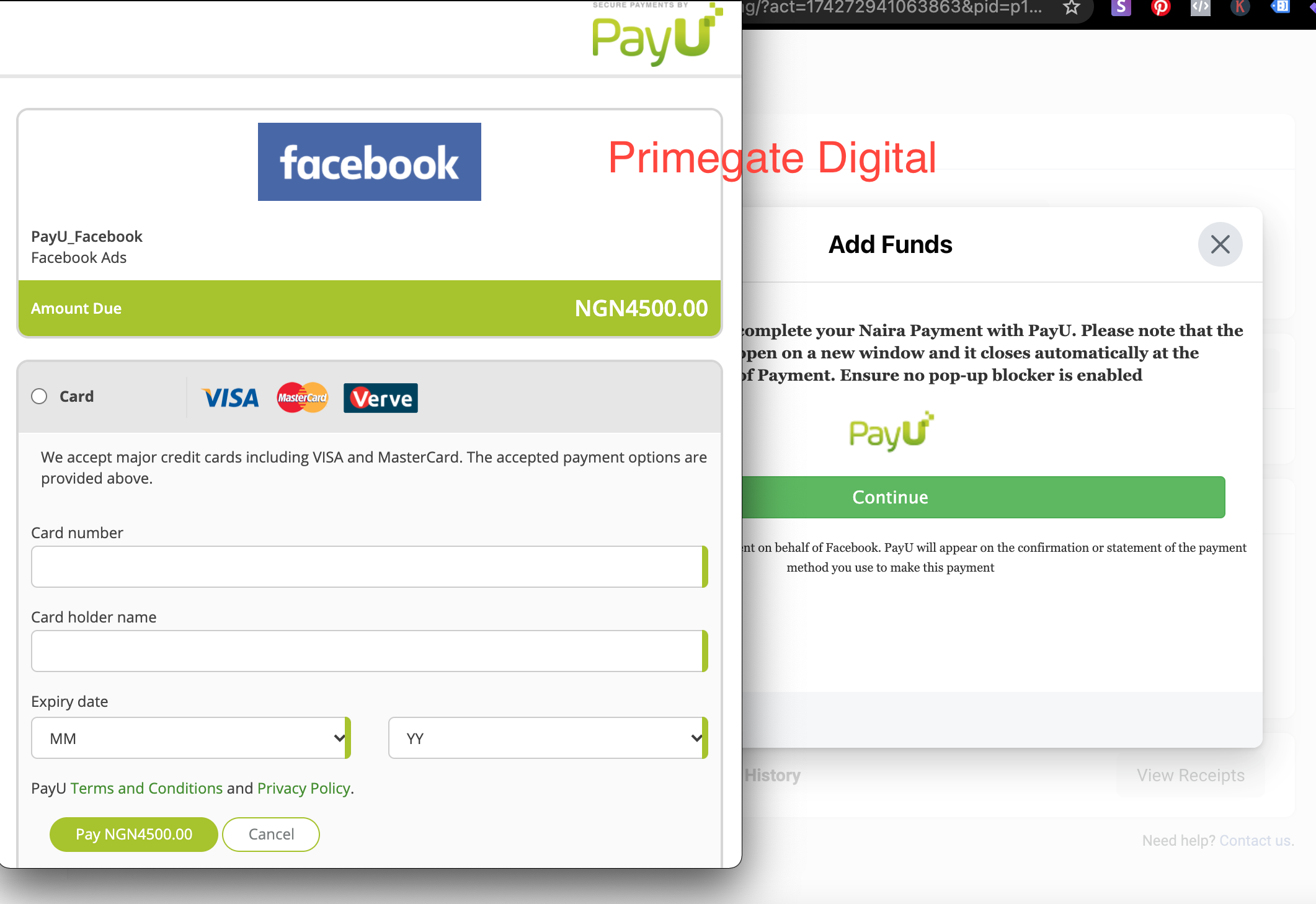 Select the method you wish to receive your One Time Password (OTP); in which a code will be sent to the phone number linked to your bank. Alternatively, you can use the hard token option if you have that.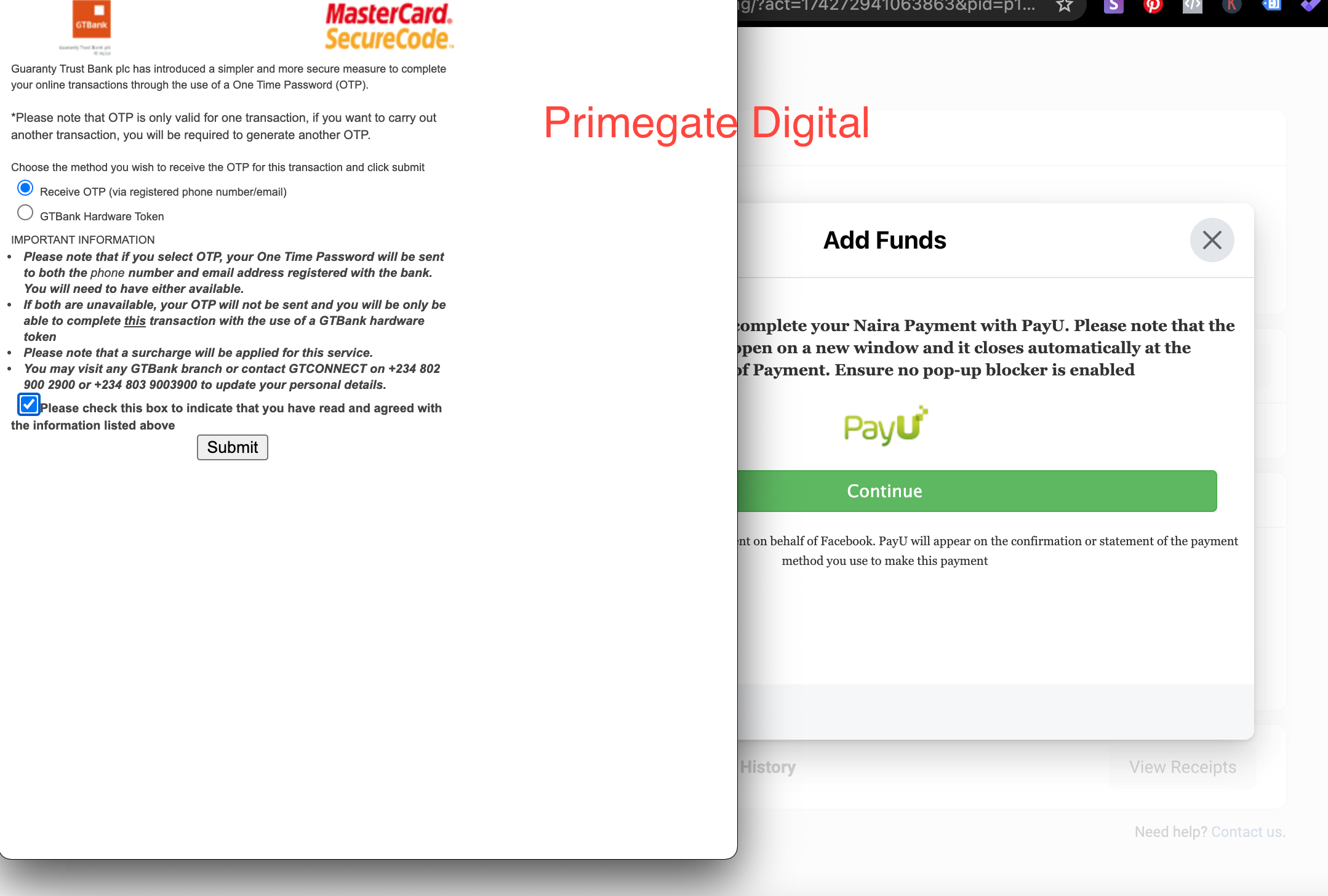 Next, check the box to agree with the information you have provided and click "Submit". Enter your OTP sent to your mobile phone and click "Submit".
If successful, you get a prompt "Success" showing the amount you have added and the new balance.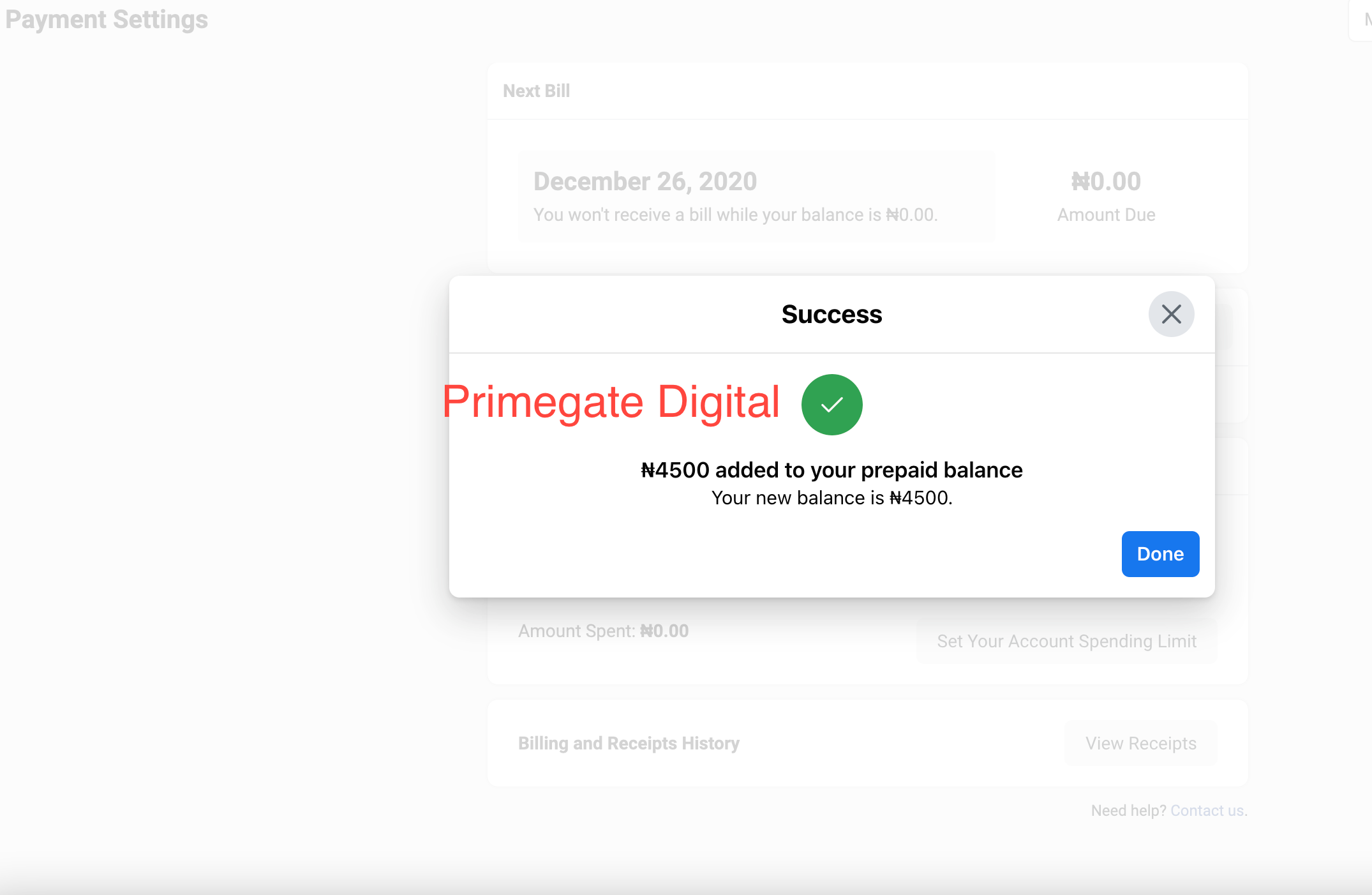 With this, you are sure to have a hassle-free way to pay for your Facebook ads and run a profitable business in Nigeria.
Read Also: 10 Sure Ways to Make Money Online in Nigeria 2021
Read Also: 25 Smart Instagram Marketing Strategy that Actually Works
FAQs
How can I pay for my Instagram Ads in Nigeria?
You can also pay for your ads on Instagram following the steps above if you are running the Instagram ads from Facebook ads manager. 
How can I pay for Facebook ads with PayU?
With the steps above you are good to go with settling your Facebook ads in Nigeria with PayU
Why is Facebook not accepting my debit card?
Your Facebook ads payment is most likely to fail if you are using the local card payment option in Nigeria. This is due to the restriction placed on cards for international transaction. Create a naira ads account with the step above and you are ready to start your Facebook ads with no more card decline on spend limit on the card.
What are the list of recommended banks cards for Facebook ads?
Based on experience and the banks we have used over time, we recommend, Zenith bank MasterCard, GTB Naira MasterCard, Access Bank Visa card, UBA debit MasterCard and FCMB card for your Facebook ads payment in Nigeria.
See Also: A Beginners Guide to Facebook Marketplace in Nigeria
Conclusion:
With the step by step guide above on how to pay for your Facebook ads in Nigeria, we are confident that you are able to start running your campaigns again without challenges on spend limit by banks or card decline. You can also contact the best Facebook ads agency in Nigeria if you are looking to partner with a Digital Marketing agency in Nigeria to manage your Facebook ads while you focus on other business processes. We hope you got value here! Don't hold back, kindly share this article with your network. 
Harrison is a Seasoned Digital Marketing Consultant, Tech Enthusiast and Entrepreneur. He has great passion for helping businesses of all sizes to leverage on contemporary digital marketing strategies. He is the digital marketing and growth hack consultant at Primegate Digital, a solution and growth driven digital marketing agency in Lagos, Nigeria that is accelerating digital transformation in Africa.