Mastering how to create Facebook Ads isn't a magic bullet, but when strategically used, they can be a valuable addition to your business marketing tools.
In today's attention-seeking online space, Facebook Ads will get your brand in front of more potential customers, inspire trust, and also, generate more quality leads and sales.
As an entrepreneur, you almost definitely use Facebook as a channel for reaching your target audiences.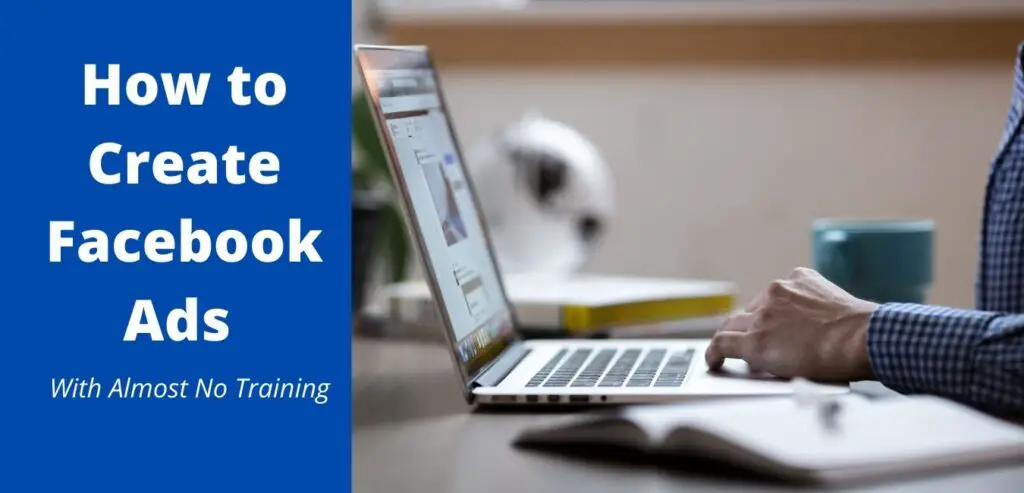 According to recent statistics on Facebook, 1 out of every 5 minutes spent on a mobile device in the U.S. is either on Facebook or Instagram.
With 2.7 billion active monthly Facebook users globally, the platform won our attention, so when it launched its advertising channel, it was only natural to become a giant in the advertising industry.

Facebook advertising has flexibility when it comes to an advertising budget, unlike transitional advertising which requires a huge budget and also an investment in a creative team. 
For instance, even a brand with an advertising budget of $100 can set up an effective Facebook campaign to acquire customers. 
In addition, the platform is user-friendly and welcomes advertisers of all skill levels to control their Facebook adverting strategy. 
Why Facebook Advertising is Key to Business Success  
Advertising on Facebook offers businesses of all levels the unique opportunity to reach, engage and convert with their ideal audience for several reasons:
Attract relevant audience: The Facebook Algorithm works in such a manner to show content that is most relevant to the audience. With the news feed adjustment by Facebook as announced in 2016, to ensure utmost relevance, if you are not sponsoring content, your content will most likely be short-lived. By utilizing Facebook advertising, you increase your possibilities of getting your products and services in front of your target audiences.

Unimaginable reach: With over 2.5 billion active monthly Facebook users, Facebook has global-leading targeting options. Advertisers can now define and target unique audiences based on specific buyers' persona such as demographics, interests, location, online behaviour, and more.

Analytics and Optimization: Facebook's Ads Manager provides complete transparency into vital metrics, allowing you to track ads and optimize your advertising strategy in real time. This helps advertisers to monitor and learn from results.
Here is the BIGGEST misconception:
Facebook Ads = Complexity
Who Should Advertise on Facebook?
Due to the diversity, behaviour and number of people on Facebook, companies and businesses across industries can grab the opportunities that advertising on Facebook presents. Whether you are a lingering online shop or a renowned Fortune 500, Facebook advertising can be a powerful tool:

1. Driving awareness
Increasing brand awareness or reaching potential prospective customers
2. Enhance consideration
Driving traffic, messages, engagement, lead generation, app installs and video views
3. Driving conversions
Increasing conversions, store traffic and product catalog sales
While an increased advertising budget (the amount spent on each ad) often enhances performance, you can also set a small budget of $5/ day for ads within your capacity.
The user-friendliness of the platform is just one reason why there are over  90 million businesses using Facebook to advertise today.
There are, however, slight differences in how diverse businesses either B2B or B2C use Facebook Advertising.

Traditionally, B2C companies have used Facebook advertising to educate and entertain target audiences in such a way that connects with them at an emotional level.
This translate to a more personal, friendly interaction in order to drive brand awareness and inspire action (i.e. purchase a product, sign up for training, learn more on a landing page).
With its diverse features, Facebook Advertising is an effective strategy for B2C companies to connect and engage with prospective customers naturally where they currently hang out.
Similarly, B2B companies can also use Facebook advertising to acquire (or retarget) audiences about new course launch, upcoming webinars, or event registration.
With the refined Facebook targeting option, B2B businesses can take advantage of these functionalities to reach specific job titles, age groups, behaviour, interests, and more.
For example, you can position your ad against your competitors by targeting their business pages. The Facebook Audience Insight is a great tool for this.
See Also: How To Pay For Facebook Ads In Nigeria: A Step-by-Step Guide
What is Facebook Ads Manager?
Ads Manager is a free Facebook tool that allows advertisers to create, manage and optimize multiple Facebook ads at once. You can view the campaign performance, make critical changes and have visibility for all your Facebook ads.
Facebook Campaign Structure
The anatomy of a Facebook advertising campaign comprises of three levels: campaign, ad set, and an ad.
The first level, the campaign, is the foundation of your ad, the ad set is where you specify your targeting while the ad is for creative format.
Also, understanding this structure enables you to create effective Facebook ads as a beginner. 

How To Create & Use The Facebook Ads Manager
Consistently, Facebook rolls out new features that make their advertising platform more user-friendly, but the goal of this article is to give basically all you need to hit the ground running.
While the step-by-step guide below outlines how to create a Single Image ad format, we strongly encourage you to explore and test different ad formats in order to fully maximize the Facebook Ads solution.
Step 1: Create a Business Manager Account
To start advertising on Facebook, you need to set up your Business Manager account.
The business manager is a free Facebook tool that allows you to access your pages, ads account, pixel, as well as grant different access levels across your assets on Facebook. 

Setting up a Business Manager account for the first time is easy:
Go to

 business.facebook.com

Tap "Create Account"

Enter your business name, select the primary Facebook Page for your business manager account, and provide your name as well as work email address
Next, set up advertising access to your assets through the Business Manager:
Click on

  Business Manager Settings

Under Account and Pages, click on "Ad Accounts"

Tap dropdown with "Add" and then click "Create a New Ad Account"
Once you have successfully, set up your payment method and billing information, then you're set to navigate to Facebook Ads Manager.
Facebook Ads Manager is your advertising "powerhouse" This is the interface that allows you to create your Facebook Ads.
It includes functionalities and features that enable you to:

Create Facebook ad campaigns, ad sets, & ads

Manage and optimize media spend

Target specific audiences by personas

Track campaign performance metrics on the dashboard

After you create and set up your Business Manager account, then you can have unrestricted access to Facebook Ads Manager by tapping ads manager on the left menu of your profile (for the new interface) or simply type into your web browser, facebook.com/ads/manager
The Ads Manager dashboard looks like this: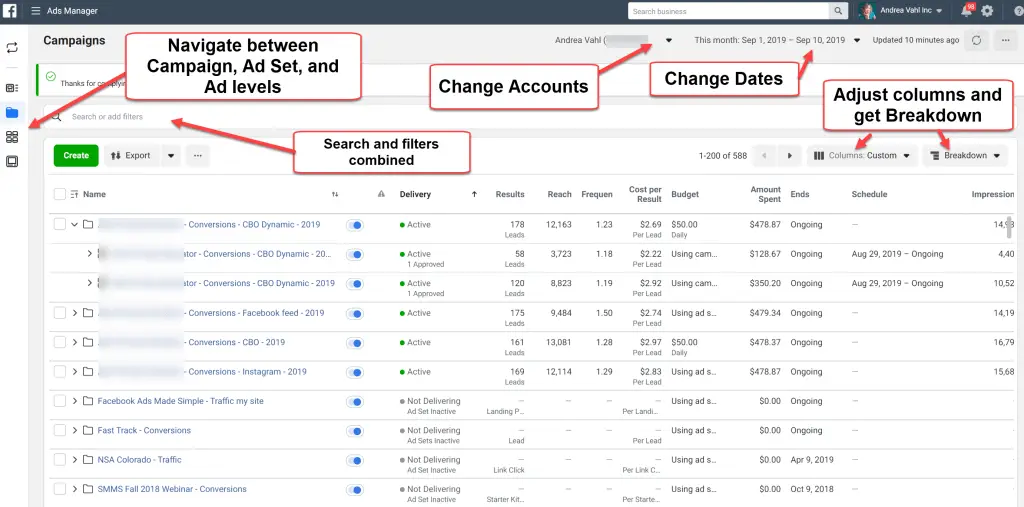 Step 3: Select a Campaign Objective
Once you get to the Facebook Ads Manager, click the green "Create Ad" button in the top-left corner of the ads manager dashboard.
You'll be asked what's your marketing objective. In other words, what do you want to achieve with your campaign: awareness, consideration, or conversion
Awareness campaigns: this is the top of the funnel geared at educating and creating interest in your product or service.
Consideration campaigns: allow the target audience to engage with your brand, click on links to get more info, and have top-of-mind awareness.
Conversion campaigns: inspires audiences towards a specific call-to-action (i.e. click to shop now, sign up for a webinar).
See Also: How to use Facebook Marketplace to Increase Business Revenue
Below is the full list of the Facebook Campaign objectives: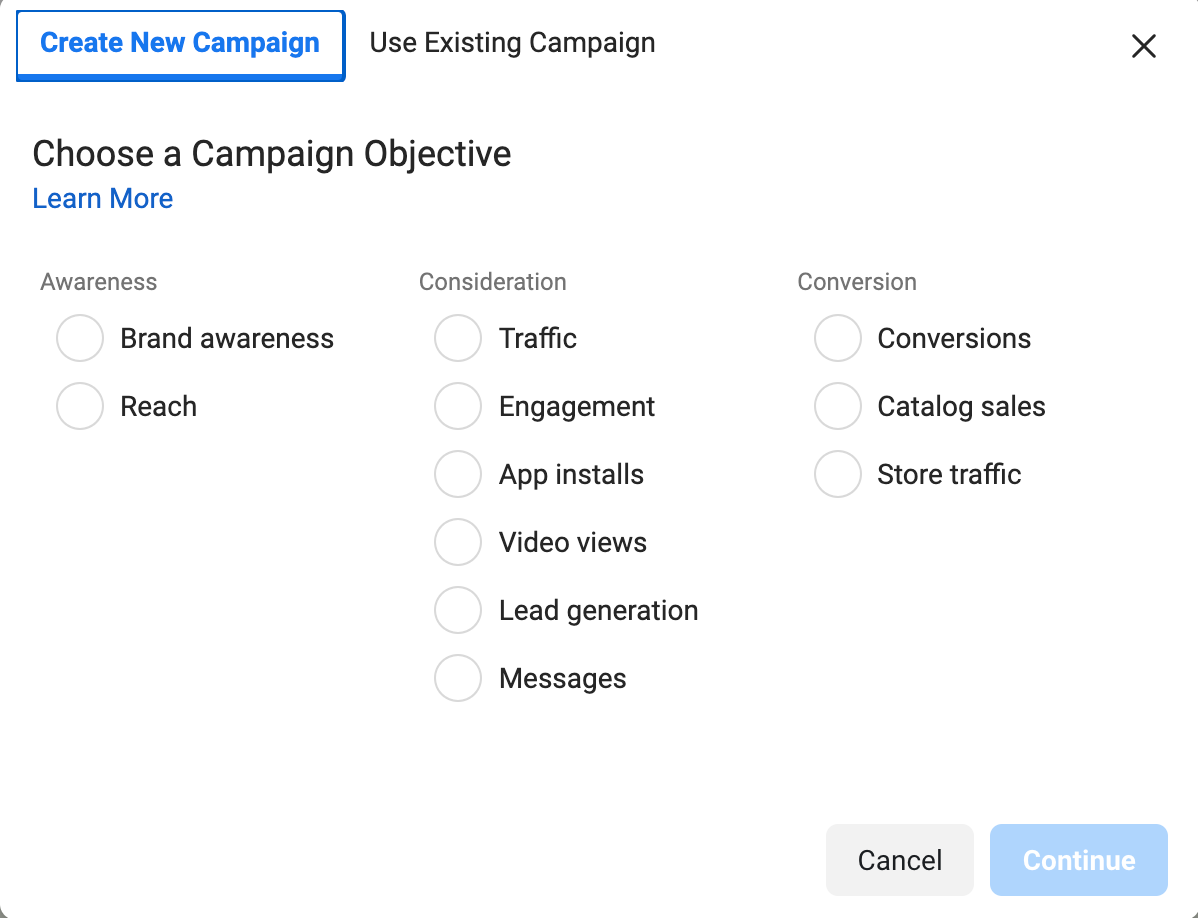 Once you've made your choose your campaign objective, name the campaign–congrats, your Facebook campaign is officially created!
See Also: 12 Biggest Facebook Ads Mistakes Every Advertiser Should Avoid
Step 4: Select Your Audience
Facebook's audience targeting capabilities are endless. With extensive demographic information of users captured globally, it's possible to get extremely granular in who sees your ad.
At the ad set level, you are able to filter people in the following ways:

Location: country, state, city, zip code, or even a mile radius

Age

Gender

Language

Education: schools, the field of study

Interests: pages they follow, areas of interest (i.e. Marketing, Health and Wellness, Food and Drink)

Behaviors: purchase behavior, digital activities, charitable donations

Net Worth
Perhaps one of the amazing features offered in the  Facebook Ads Manager is the ability to create Lookalike Audiences (Similar Audiences).
Lookalike audiences are Facebook users who share a similar interest to other known groups that you care about (i.e. your existing customers, your Facebook leads, or page followers.)
There is a lot of flexibility in creating a Lookalike Audience.
You have the ability to specify the initial criteria on your own or better still you can upload a custom audience list.
Based on your initial criteria, Facebook will identify similar qualities to your seed audience (i.e. demographic information, geographical location, or persona interests) and search for people who are like (or lookalike) them.
Essentially, this feature is a smart social media strategy that allows you to leverage your existing customers and boost your campaign reach.
To increase the quality of lookalikes, Facebook recommends that your seed audience (source) is between 1,000-50,000 people.
See Also: Top 25 Instagram Marketing Strategy that Actually Works
Step 5: Set Your Budget
Facebook allows advertisers to control how much they want to spend on each ad.
Currently, there are  two main ways advertisers can allocate media ad spend:
daily budget (the average amount you want to spend every day on an ad set) 

lifetime budget (the maximum amount you will spend over a set duration of time on an ad set).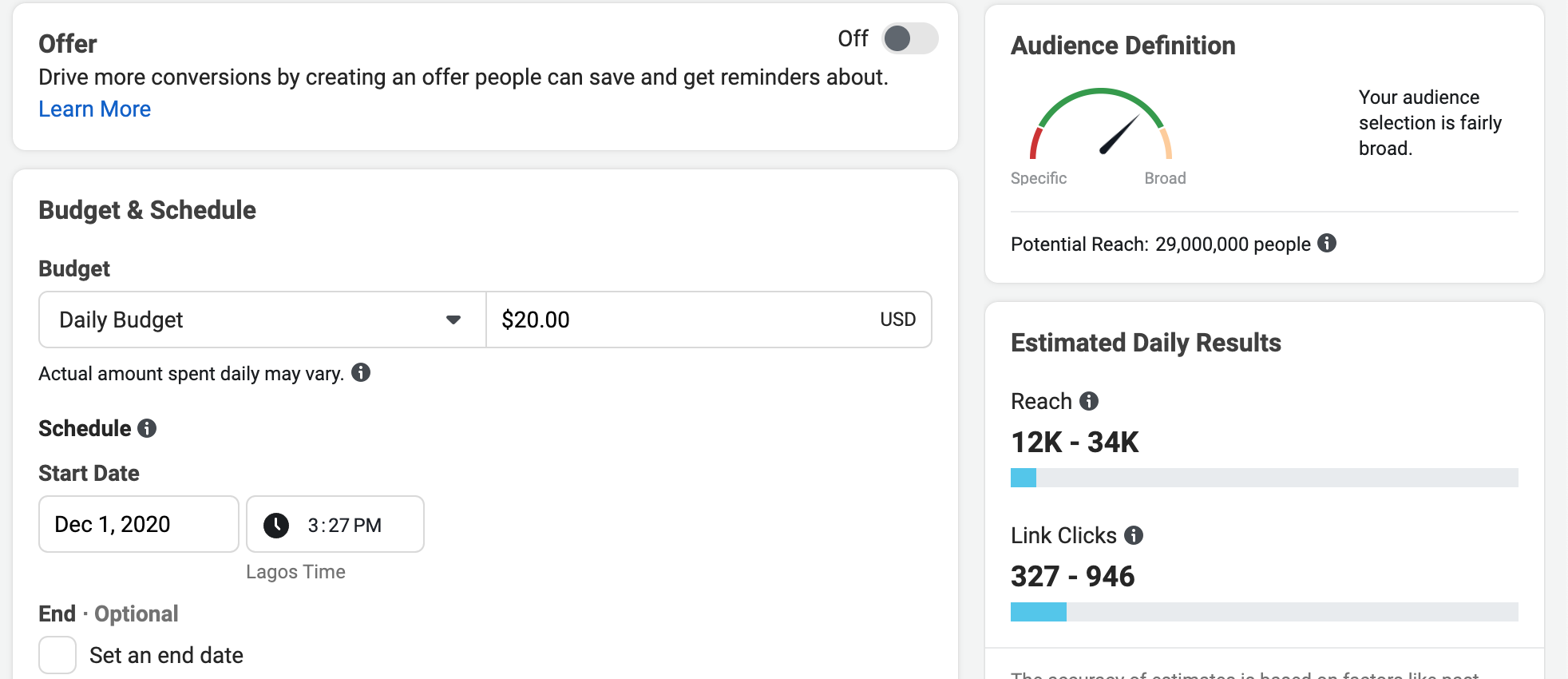 By default, Facebook suggests a $20.00 daily budget, however, you can either increase it or decrease the daily budget depending on your campaign goal.
As a rule of thumb, we recommend you invest at least $5 per day on an ad.
In addition, experience and research have shown that it is best practice to keep your ads running for at least 7 days so that you can understand behavior across the week as people tend to react differently to ads depending on the day of the week.
Also, you might choose to start with a $100 ad budget to test a 2-weeks campaign.
Facebook Campaign Bid Strategies
Bid strategies are how your advertising budget is spent on getting results. The choice of your bid strategy tells Facebook how to bid for you in ad auctions. 
Note: Some Facebook campaign bid strategies require cost, bid or ROAS controls.

Here are the different Facebook bid strategies:
Lowest Cost: to get the maximum result for your spend

Cost Cap: help to control your cost while getting you the most result for your advertising budget

Bid Cap: to control your bid in each ad auction

Minimum ROAS: helps control ROAS while getting the most purchase for your set advertising budget
When setting up your campaign, Facebook has the bidding strategy at the lowest cost, which is how Facebook gets you the most result for your budget. 
(Note: You can use a manual bidding strategy where you set the maximum amount you're willing to pay per link click.)
Facebook Campaign Metrics to Lookout For
There are key metrics to take note of when setting your media spend; CPM and CPC.
CPM means Cost Per Mile. It is the cost per 1,000 impressions (or the amount media buyers pay for every 1000 times their ad is displayed)
CPC means Cost Per Click. It is the amount you pay each time someone clicks on part of your ad that takes them to your landing page or app.
While optimizing for impressions ("CPM") might be the best choice if your business goal is to drive brand awareness, optimizing for link clicks ("CPC") encourages the target audience to click through to your website or business app."
Therefore, the latter may be the best fit if your goal is to generate leads or drive traffic to a landing page.
Remember, Facebook always want to maximize its earnings on advertising, hence it will deliver your ad to people most likely to take that action you care most about.
The result is a win-win situation.
If you are more action-specific on the website, optimizing for conversions is an effective Facebook strategy to achieve campaign goals and maximize your ad budget.
Lastly, keep in mind that you have complete control over all aspects of Facebook Ads Manager.
So explore to see how your media spend impacts overall campaign performance–the more experimental you are, the more insights you gain to implement on future campaigns. 
See Also: How to Fix Disabled Facebook Ad Account Really Fast
Step 6: Choose Where to Run Your Ad
As you use Facebook daily, you will notice ads pop up on different sections;  your mobile news feed, a desktop news feed, messenger, stories and on the right column.
Also, with Facebook's acquisition of Instagram in 2012, advertisers can create Instagram ads directly from the Facebook ads manager.

There are two significant placements available on Facebook:
Automatic Placements: ads shows multiple placements based on where they are most likely to perform the best
Manual Placements: you choose where your ad will show.
Note: the more placements you select, the more opportunities you have to reach your target audience.
The visual below shows where Facebook ads are placed.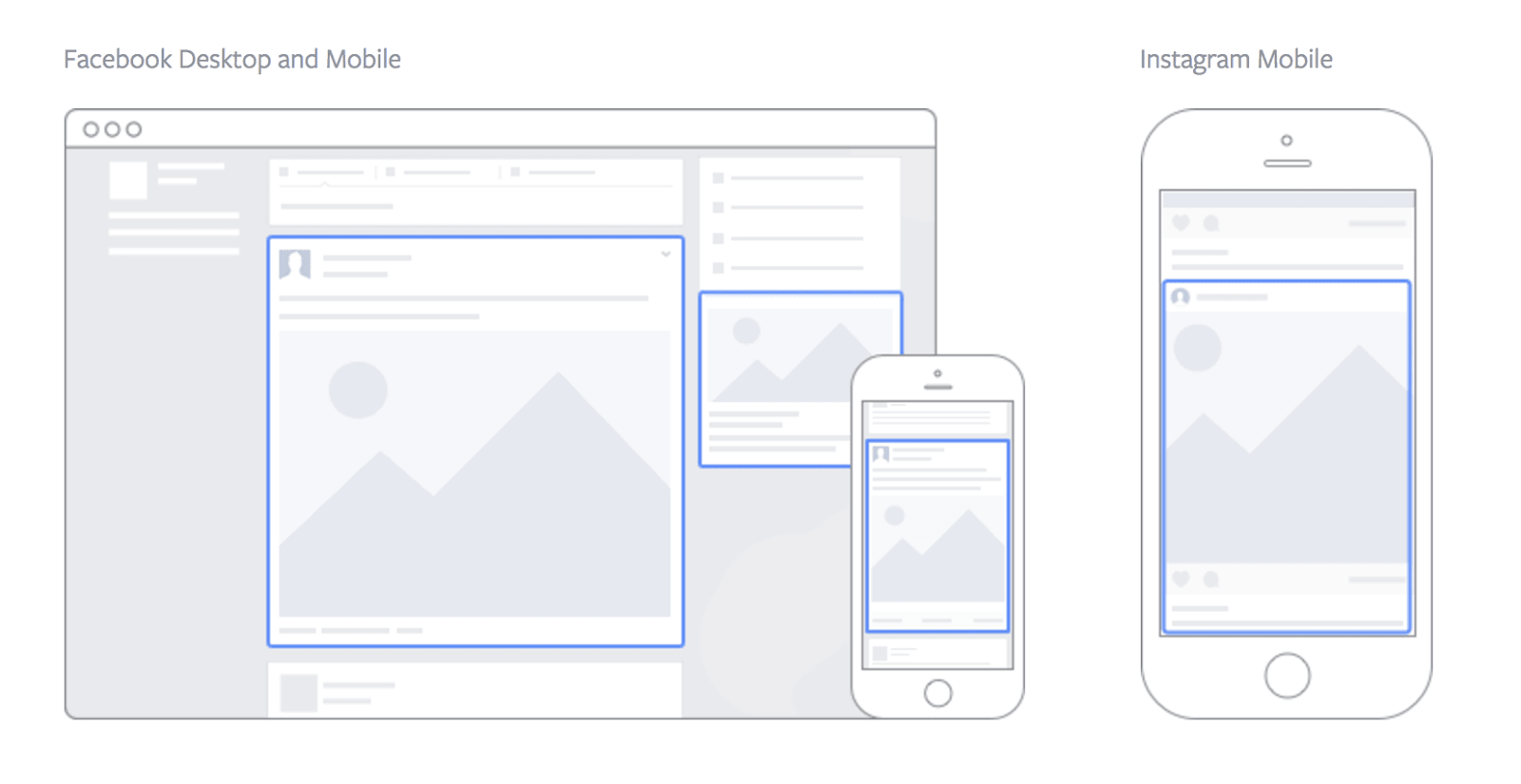 Facebook Available Ad Placements
Below are the different Facebook available ad placement options:
Desktop/ Mobile News Feed
These ads will appear in the news feed of a user alongside other content from pages they follow and post from family and friends.
This is a smart placement option for brands that want to increase brand awareness and drive post engagement.  This placement is both for Facebook and Instagram newsfeeds.
Note: it is best practice to ensure that your landing page is optimized for mobile when you are driving traffic from Facebook to your website as well as having great ad scent (congruency between the ad and the landing page) for better ad relevancy.
Right-hand Column
Just as the name suggests, this ad placement option is on the right column of the Facebook feed.
This placement type is only available on desktops and is the best option for ads with the objective of driving purchase intent or learning more about a product.
Facebook Audience Network
This is a network of mobile apps and publishers in partnership with Facebook to have ads shown on their platform.
This is placement type is great for maximum brand exposure. Also, it is a great marketing strategy to optimize for video views.
Messenger
Facebook ads shown on messenger are great to drive customer engagement and initiate interaction. It is a great option for retargeting ads.
Facebook/Instagram Stories
This is best for maximizing brand visibility. It helps you reach your target audience in real-time as they view their stories.
See Also: How to Start and Scale a Profitable Ecommerce Business
Step 7: Create Your Ad
You're almost ready to go live! At this stage, you have selected your campaign objective, set up your audience, and placement, now it's time to input the ad creative and copy.
First, select your creative ad format (which is how you want your ad to be displayed).
Facebook Ads Format
Below are the different Facebook ads format available.
Carousel
This is an ad that contains two to ten scrollable images or videos. This is a great way to create Facebook ads that engage the audiences as they have to interact with the ad.
Single Image/Video
This is one image or a video of your ad displaying at a time. The Single Image ad is one of the most popular ad formats on Facebook. Perhaps, it is a great place for beginners. 
Slideshow
This is a looping video ad created with up to 10 images. This ad format enables advertisers to create an attractive visual story. 
Collection
This is an Ad format that combines both images and video displayed in a full-screen mobile experience. This is a great option for striking interaction with the target audiences.
The next step, choose your image or video and build out the ad copy.
The goal of an image should be to grab the attention of your target audience.
Remember that you are going to be competing in the ad auction with ads from competitors targeting the same audience. Ensure that you make your Facebook ad stand out.
It is recommended that you deploy multiple variations of your creatives to experiment with which is the best performing. 
As you upload your creative and primary text (caption), you will have insight into the preview as shown below: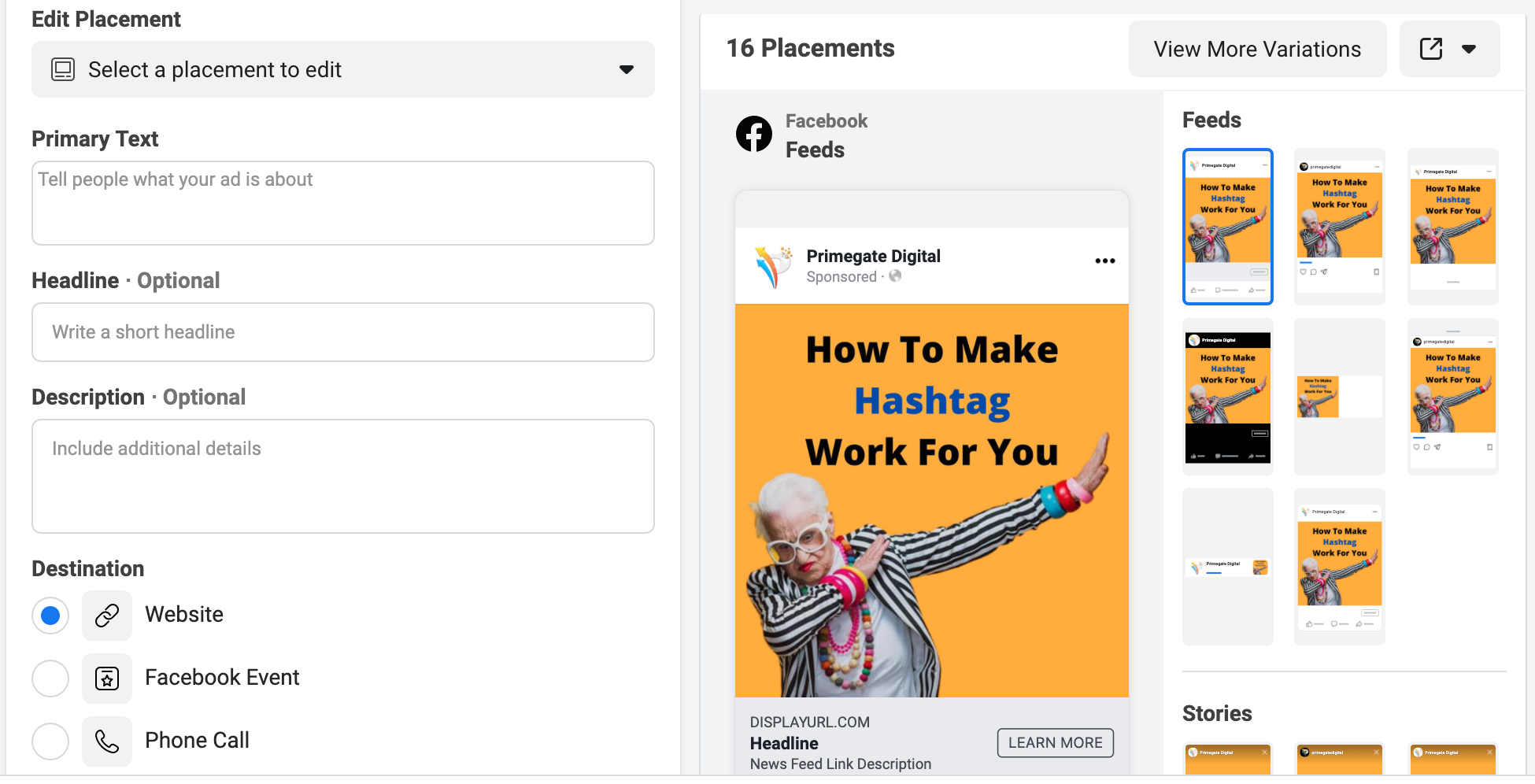 Here are the ad specifications to keep in  mind:

Primary text: up to 125 characters

Headline: over 40 characters may be cut off from the display

Link description: can accommodate up to 90 character
As a best practice, it is important to have what is most important first. This is because the attention span on the internet is short. Hence, it is great to grab their attention at all costs.
Also, use the right call to action for each campaign. It should be kept simple and short.
Step 8: Publish Your Facebook Ad
Once you have set up your Facebook ad, tap the green "Publish" button below the left. Then your ad will go into the review stage to ensure that it meets Facebook's Advertising Policies.
Once it is approved, it will go live and start delivering. 
Step 9: Monitor Campaign Performance 
As stated above, Facebook allows advertisers to have transparency of campaign performance in Ads Manager. With this, you can see  ROAS (return on ad spend) of your campaign.
Here are some important metrics to monitor:
Clicks: the number of clicks on your ad that took audiences to a specified landing page

Impressions: this is the number of times your ad was displayed on the screen

Conversion Rate: the percentage of people that clicked on your ad and took the desired action

Don't just create your ad and go to sleep.
It is your responsibility to monitor and optimize your campaign to drive maximum performance.
If you're not getting the desired result, consider optimizing your creative, ad copy, targeting option, or advertising budget.
See Also: Top Social Media Marketing Tools for Online Marketers
Key Takeaway
With the increasing number of Facebook users today, there are a few platforms this enables advertisers to reach and engage with their target audiences in the same way.
Most importantly, Facebook has empowered advertisers to be able to have full control of their advertising on the platform through a better user-friendly interface.
Hence, it is a great platform to drive any lucrative business and achieve a great return on investment. 
Advertising on Facebook puts you a step ahead of your competitors as you have a higher chance of reaching your target audiences when they need your product the most.
There is no better time to create your first Facebook ads than now.
Also Read: