An SEO audit helps you assess if your content caters to the search intents of your site visitors.
It also assists you in checking if your web pages are ranking for keywords in your niche.
An SEO audit is effective in reviewing whether your visitors can easily navigate your pages and find the information they seek.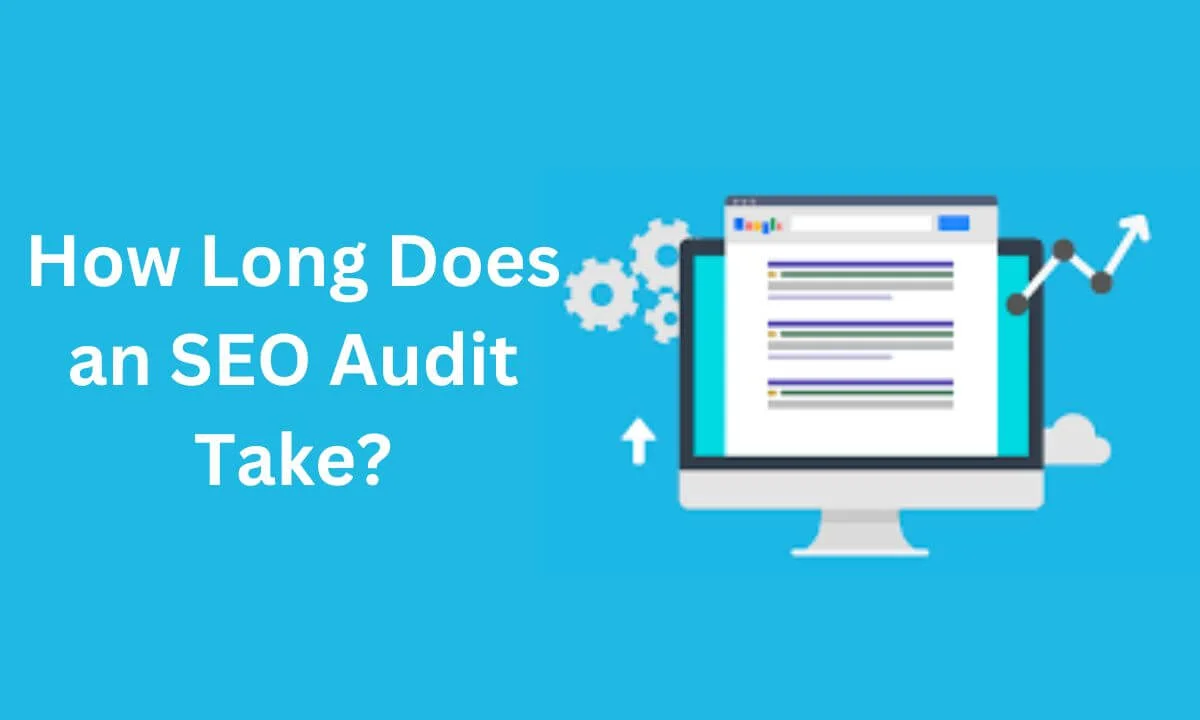 These are some of the reasons SEO audits are highly important.
Experts recommend that SEO audits should be carried out periodically to give you a clear insight into how your visitors engage with your site and update where necessary.
How Long Does an SEO Audit Take
Businesses today have realized the numerous benefits of a fully optimized website. This is why they seek to SEO audit their website and fix issues where necessary.
But they get increasingly curious about the duration of the whole process and ask, "How long does an SEO audit take?".
This question is pertinent because a lot of SEO freelancers and agencies claim to offer results in a short span of time. Others promise results in months.
There are also tools that generate unreliable audits in a few minutes. Even though they may have a credible appearance, audits of such nature are always hard to understand and incorrect.
Generally, if an SEO audit is done manually, it takes a week to deliver a comprehensive, simple-to-understand report that aligns with your business objective.
For small-sized sites with 7 to 10 pages looking to have a successful start, an audit can be completed in a few days.
What Does an SEO Audit Entail?
Before we do an in-depth analysis of how long it takes to complete an SEO audit, let us do a brief overview of what it entails.
On-page SEO is mainly about updating and optimizing the elements and content of your page. It is concerned with improving the visibility and ranking of your page in search engine results pages.
It doesn't just revolve around filling your content with keywords excessively and expecting results — your page has to satisfy the search queries of users without keyword stuffing.
An SEO audit will review this and check if your internal link structure makes navigating your pages easy for both search engine crawlers and users.
On the other hand, off-page SEO analyzes optimization activities away from your website used to positively impact your rankings. A key off-page SEO element is link building.
Through an SEO audit, you can find out if websites linking to yours are authoritative and of good quality. You can also gain insight into your competitor's backlinks.
Technical SEO audit looks at the technical elements and configuration of your website to improve its performance.
It analyzes the page speed, HTTPS status code, site map, core web vitals, URL structure, mobile responsiveness, structured data and many more.
Can You Expedite the SEO Audit Process?
If your website is a lot smaller and in a less competitive niche, then your SEO audit can be finished in a short time.
While you might have the urge to go with the fastest available solution, a bit of patience and thoroughness with the audit will yield quality results.
If your website is bigger, it won't be unnecessary to sit it out for a week, particularly when you are getting the most bang for your buck.
If you wish for fast results, you can opt for a technical or keyword audit instead of a comprehensive one.
Technical SEO Audit Checklist
 Crawl Your Site
You have to start the SEO audit with a website crawling. You can utilize tools such as Sitebulb and Screaming Frog to do the job.
They will assist you in discovering any duplicate content, broken links, errors, missing tags, and other issues that can negatively impact your SEO strategy and user experience.
Ensure you place your crawl result side by side with your Google Search Console coverage report as well as your XML sitemap to uncover gaps and disparities in your indexation.
Assess Your Site Speed
Site speed is an important factor as it adds value to your SEO and user experience.
A slow-loading site can contribute to higher bounce rates, poor conversions, and low ranks on SERP.
Fortunately, there are effective and affordable ways of analyzing your site speed. Tools like Lighthouse, Google PageSpeed Insight and GTmetrix can provide you with reliable data about your site speed as well as recommendations on carrying out image optimization, utilizing a content delivery network, and minifying JS, HTML, and CSS files.
Assess Your Site's Mobile-Friendliness
Another important factor of technical SEO is mobile friendliness, particularly now that Google is prioritizing the mobile version of web pages for indexing and crawling.
This implies that Google will determine the quality and relevance of search queries with your site's mobile version.
To assess how mobile-friendly your site is, visit Google's Mobile-Friendly Test, as it will evaluate your site's mobile responsiveness and notify you about problems.
Also, you can visit the Google Search Console and generate a Mobile Usability report that will identify any issues that impact your mobile visitors, like tiny text, viewport configuration and clickable elements.
Audit Your On-Page SEO
On-page SEO is concerned with the optimization of your page's content for the keywords you want to rank for. It consists of elements like meta description, blog content, images, headings, internal links and images.
You can audit your on-page SEO with Ahrefs, Moz or SemRush. These tools are helpful in evaluating your content gap, keyword usage, relevance, and organic competition.
Another tool worth using is Google Search Console, where you can access your Performance report, which will highlight your page performance for metrics like clicks, clickthrough rate, rank positions and impressions.
Off-Page SEO Audit
This revolves around optimizing your site's external factors to positively impact its ranking and traffic.
It focuses primarily on link building, which is made up of links from other authority and relevant sites to your website.
Good tools for auditing off-page SEO include SEMrush and Majestic, which will assist you in assessing your backlink profile and anchor text strategy.
A free alternative is the Links report at the Google Search Console, which reveals how effective your link-building strategy is by displaying your pages, text, and top linking sites.
Test Your Structured Data
Structured data helps to provide extra information to your web pages that assists search engines to know more about your content and its relevance.
It can improve the way your page is displayed in the search results using rich snippets like FAQs, reviews, ratings and even prices.
A good way to test your structured data is by utilizing Google's Rich Results Tests, a free tool that highlights the way your pages show up in the search results using rich snippets.
Ensure you visit the Google Search Console and check the Enhancements report to see warnings or issues regarding how you have implemented your structured data.
How Long Does an SEO Audit Take FAQs
What should I expect from an SEO audit?
An SEO audit will reveal issues and recommend optimization in 4 critical areas: Off-page, On-page, Technical and backlink.
What are the most effective SEO audit tools?
SpyFU, Screaming Frog, Ahrefs, SE Ranking, SEO Powersuite, Google Search Console, GTmetrix and Moz.
How do I boost my site visibility on Google SERP?
Create quality content.
Collaborate with influencers.
Join online directories.
Use attractive page titles.
Set up many pages.
Get your website verified on Google Business Pages.
Optimize your web pages for keywords.
How can I determine if my SEO strategy is working?
A boost in organic traffic.
Better keyword rankings.
Natural backlinks.
Reduced bounce rate and quality time on your website.
Higher conversion rates.
How do I increase my site traffic?
Ensure your content is of high quality.
Set up a landing page with targeted keywords.
Improve your brand awareness with online ads.
Increase your reputation for local SEO.
Improve your backlink profile from authority sites.
Grow your audience engagement on social media.
How can I achieve a high SEO score?
Have a solid understanding of your target audience.
Add keywords to your website.
Update your page content with new info.
Add meta tags to your page content.
Stay abreast of the most recent SEO techniques.
What is all SEO about?
SEO (full name: Search Engine Optimization) is an online marketing technique for improving organic traffic and site visibility on SERPs.
What are the three kinds of SEO?
On-page SEO: Optimizes your page content – Blogs, product copy, etc.
Off-page SEO: Activities that take place outside your website to improve your site traffic. e.g. backlinks.
Technical SEO: The configurations that are essential for improving your search rankings. This includes code modification and page speed optimization.
What kind of website enjoys the most traffic?
If your website has plenty of engaging content or helpful information, it can get a lot of traffic. Good examples are news websites, streaming platforms, forums, etc.
Do you have to pay to get verified on Google?
No. Getting your business verified on the "Google My Business" platform is free of charge.
Can you hire someone to carry out SEO?
Yes, SEO agencies, consultants and freelancers can help with growing your site traffic and improving conversion.
Conclusion
Site owners who wish to improve their web presence have to carry out SEO audits on a regular basis.
This will help to fix performance issues and help your site remain competitive.
In this article, we explained how long an SEO audit takes. Always remember that an SEO audit can be likened to a health checkup for your website. It is important for every online marketing strategy.