WhatsApp is among the most popular instant messaging platforms in the world. It is run by Meta, a social media conglomerate that owns Facebook, Instagram and Messenger.
WhatsApp enables anyone to send and receive chats, make video and audio calls and share pictures and other multimedia files. 
It is widely used by people across the world as its user base crossed 2 billion monthly users in 2021.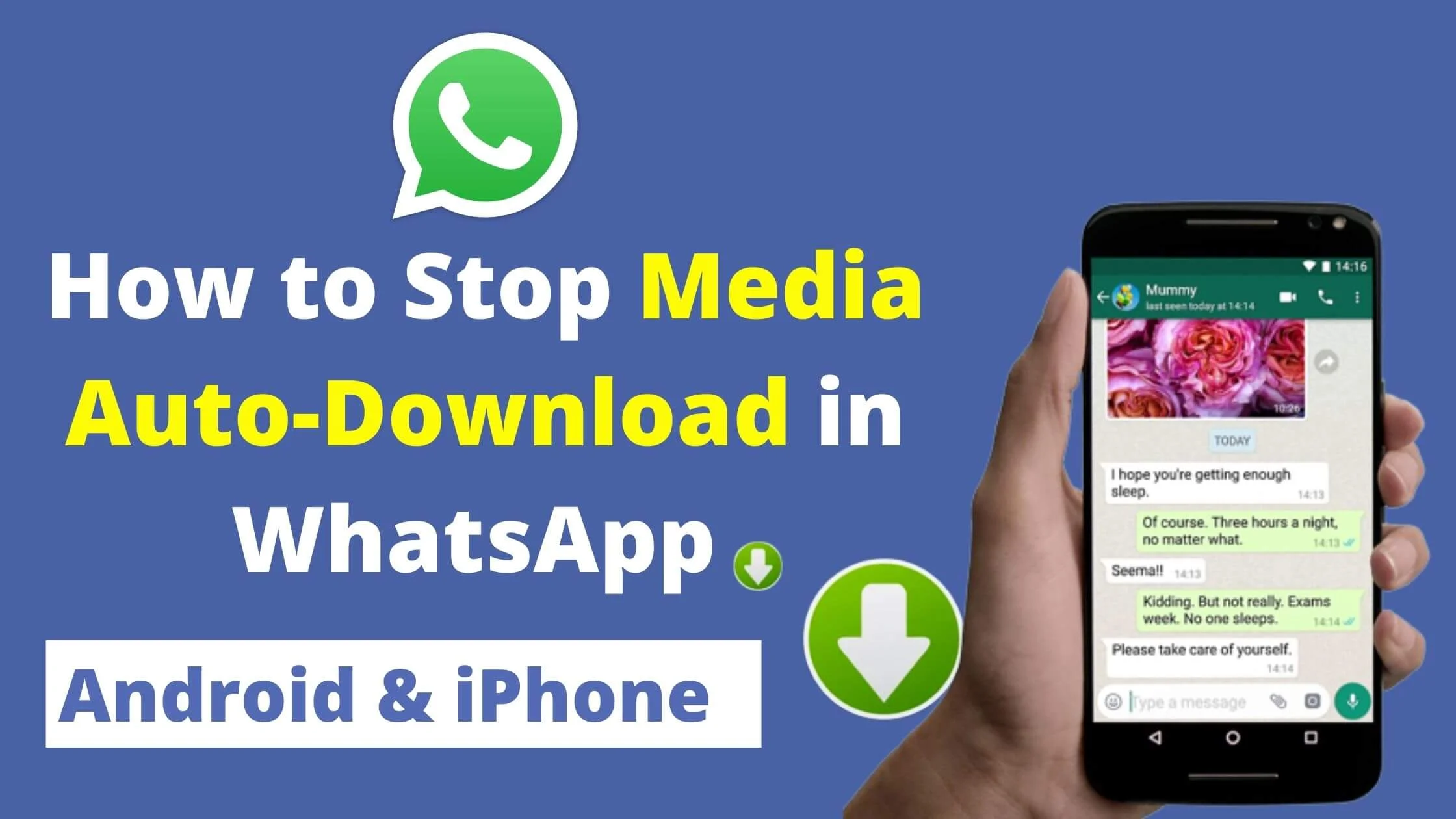 For most smartphone users, WhatsApp is their go-to interaction platform because it is used to facilitate over 45 billion daily messages. 
Even though many WhatsApp users can utilise the app to send hundreds of multimedia messages to other users across the world without paying, an underlying issue for many is its media auto-download feature.
This causes an instant download and storage of media files (pictures, videos and GIFS) into your device. 
A lot of users are frustrated by this situation, especially those with low device storage. It can be disheartening to see a total of 380 new messages, 299 of which are videos, from a single group chat. 
The good news is that you can disable WhatsApp auto media downloads from your smartphone, whether it is an Android or Apple device. It is not difficult at all. 
This article explores the ways you can use to stop media auto-download in WhatsApp. 
See Also: How to Hide WhatsApp Status Updates From Specific Contacts
Why is WhatsApp Immensely Popular?
Firstly, WhatsApp has a simple UI that allows users to navigate around easily. Next, WhatsApp is basically free-to-use, and users incur zero charges with it.
Also, the app has an end-to-end encryption feature. This implies that your messages won't be seen by any third party, including the app developers.
This makes WhatsApp a highly secure channel for communication because it can protect your sensitive data. 
How to Stop WhatsApp Media Auto-Download on Android Phones
To stop automatical media download on WhatsApp using an Android device, simply follow the steps below:
Launch the WhatsApp app on your Android phone. 

Navigate to the Settings menu. You will find it on the upper right panel of the start screen. 
Once you have accessed the settings page, tap on the "Storage and Data" option.
At this point, you'll find three distinct selections in the Media Auto-Download area, namely: Wifi, Roaming and Mobile Data.

Tap on pictures, sound clips, documents and videos to deselect them. 

Tap "okay". Ensure you have unchecked these options to prevent media from auto-download successfully.
This strategy will help prevent the auto-download of media files on WhatsApp and even stop the storage of statuses on WhatsApp into your memory card and gallery on your smartphone. 
But what if you later have a change of mind and want to reactivate the media auto-download option? Well, to enable your media files to be stored on your WhatsApp, here are the steps to take:
How to Reactivate WhatsApp Media Auto-Download on Your Android Device
To enable WhatsApp media automatic download on Android device, simply follow the steps below:
Access the upper right button on the home screen. Tap on the menu option. 

Tap settings. 

Tap Chat from the settings menu.

Toggle the check button near media visibility. 
Media downloads will be automatically stored in your phone's memory. 
We have successfully explored the process of activating and deactivating WhatsApp auto media downloads on Android smartphones.
Let's analyse that of iOS devices. 
See Also: How To Recover A Permanently Banned WhatsApp Account
How to Stop WhatsApp Media Auto-Download on iOS Devices
One of the best WhatsApp features is its end-to-end encryption, which is the reason for the platform's widespread use.
There's so much ease in sharing WhatsApp media files that some users enjoy engaging and interactive content, particularly those with mobile data. 
However, many users are not aware of how to prevent WhatsApp auto download on their iPhones or iPads.
This can be very frustrating as these large amounts of files are instantly stored in the media library, occupying an awful lot of useful space.
The amazing thing is that you can change this configuration with your iPhone. Read more below:
Launch the WhatsApp app on your iOS device.

On the lower left part of your home screen, tap the settings button. 

Pick Chat Option

Toggle off the store incoming media file button. 
Kudos! You have deactivated the WhatsApp auto-download media option on your iOS device. This will prevent the instant storage of media files (videos, pictures, GIFs) in your device's internal memory. 
To fully halt WhatsApp from saving media files without authorisation, simply follow the steps below:
Launch the WhatsApp app on your iOS device. 

Select the settings menu from the start screen. 

Tap the Data and Storage Usage option. 

You'll see an option for a video. Tap never.
Use the same steps for pictures and other media files.
Once you have used the above strategy, no media files from WhatsApp will be instantly saved or stored on your iOS device.
If you later change your mind and want to download or store pictures, video clips or other media files, the steps below will help:
Tap save on any media file you want to store.

Select save after swiping up your screen from the lower end.
You can also download media files to your phone's storage by clicking on the file. Tap the share button on the lower-left panel of your screen.
How to Stop Auto-Download of Stickers on WhatsApp
Even though WhatsApp has witnessed a lot of major improvements in the last ten years, it hasn't been able to curb some of the nuisances that emanate from WhatsApp groups.
Users become frustrated because there's no feature that limits the number of content group members can upload at a particular time.  
For most users, it has become too much of a strenuous undertaking to limit WhatsApp media auto-download. 
Sometimes, this can be frustrating. Besides group chat, some users may send loads of WhatsApp stickers that can occupy precious storage capacity on your phone or SD card. 
Similar to pictures and video clips, WhatsApp instantly stores any sticker or GIF sent to you.
Many are usually bemused when they access their media library and find plenty of stickers they never saved. 
So what do you do to stop stickers from taking up your phone's storage capacity?
It's easy for iOS device users, here are the steps: 
Access your device's settings options. 

Tap on General. 

Tap Keyboard. 
Disable the option beside the Emoji Sticker at the lower part of the screen. 
If you are an Android device, you can deactivate your auto-save option with similar steps. This will stop your WhatsApp stickers from auto-downloading to your phone's storage. 
However, if you store the sticker manually, it will be saved in the WhatsApp folder. This strategy will help you manage whatever files show up in your device storage.
Stop Media Auto-Download in WhatsApp FAQs
How Do I Update My WhatsApp Image?
WhatsApp enables users to update their wallpaper easily. You can customise your wallpaper to any image you want. You can set it to dark or light-themed images. Here's how to do that:
Click More Options

Access the settings menu

Tap Chats

Tap Wallpaper

For dark mode users, you can adjust the slider to reduce the brightness of your wallpaper.

Select Change. 

Tap wallpaper 
You can freely switch the images you like and utilise them as your chat background. 
To switch back to WhatsApp's default wallpaper, select Default Wallpaper. 
Why Can't I Retrieve or Set up a Google Drive Backup on WhatsApp?
Here are some good reasons why you can't retrieve your WhatsApp:
You have changed your Google account. 

The phone number you used to set up the Google backup differs from the one you are currently using.

Your memory card or chat records have been damaged.

No backup data has been linked to your Google account or phone storage.
How Does WhatsApp Work?
In summary, data. WhatsApp users exchange chat messages with each other via a data connection.
For messages to be sent and received seamlessly, users have to install WhatsApp on their devices, irrespective of wherever they may be. 
If you have no internet connection on your device, you may find it difficult to send and receive messages. 
How do I Install WhatsApp?
You can install WhatsApp on your smartphone. For instance, brands like Blackberry, Samsung, iPhone, Techno and Infinix can easily support the app. 
You can install WhatsApp on your mobile app store. Users of Blackberry can install the app from App World, and users of iOS devices can install WhatsApp from the App Store.
For Android users, you can download WhatsApp via the Google Play Store. 
Generally, you can access WhatsApp from the official WhatsApp site.
Where are WhatsApp Pictures Saved on Android Devices?
Anybody can freely exchange pictures and video clips via WhatsApp. But there's a big issue. Your media files are stored in your phone's internal memory.
If anything happens to those files, those images can't be retrieved. 
Finding out where WhatsApp saves your pictures will help you back up and retrieve your files on iCloud, Google Drive, Adobe Cloud, Dropbox or other internet storage platforms. 
You can find your images in the "com.WhatsApp" folder if you are using an Android device. 
What is WhatsApp?
WhatsApp is an instant messaging platform run by Facebook. It enables users to exchange messages with each other via Internet access. 
Conclusion
This article explores the process to stop WhatsApp from downloading and saving photos, videos automatically. This will save your phone's memory and improve your experience. 
Following the steps above, you can now stop media auto-download on WhatsApp.
Also Read: