Here in this article, we are going to discuss how to start a profitable logistics business in Nigeria. We hope you find answers to all your questions and launch your business ideas.
The logistics business or transportation business offers various means and methods to move people, goods, and services from one place to another.
No business can reach its full potential without utilizing these offers which makes it a profitable business venture.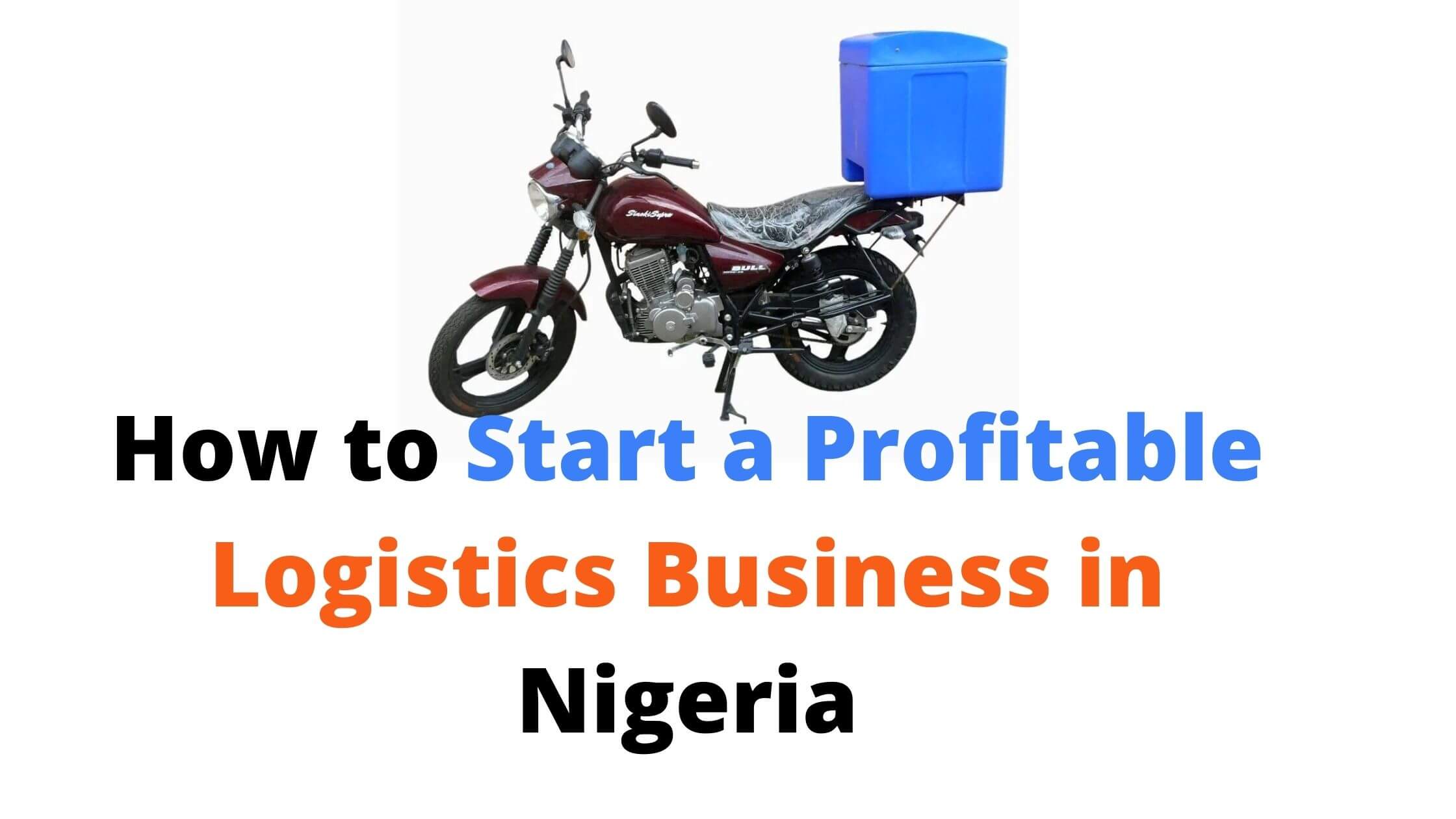 There are numerous logistics business opportunities in Nigeria today. Without further ado, let's have an overview of how you can start your own successful logistics business in Nigeria.
What is Logistics?
Logistics is a business venture or a commercial activity that transports goods to customers. It involves packaging and organizing equipment or goods and transporting them to different destinations.
See Also: 101 Sure Ways to Make Money Online in Nigeria
What are the Different Types of Logistics Businesses?
There are different types of logistics businesses or niches in the logistics business sector. The most popular ones are:
Warehouse services
Third-party Logistics Services (3PL)
Freight Shipping
Courier Shipping
In-House Logistics Services
TMS Logistics Software
Warehouse Services
Warehouse services offer the storage of goods pending transport in different warehouses. This kind of service can make the transportation of cargo more efficient.
Third-Party Logistics Services
Third-party logistics services run the movement of goods between manufacturers and consumers ensuring they maintain the quality of the product during its transport.
Freight Shipping
Freight shipping involves the shipping of goods and cargo using different means of transportation like ships, trains, and trucks. This kind of logistics service is employed when bulk goods need to be transported.
Courier Shipping
Courier shipping is the opposite of freight shipping. It is the movement of small order goods or fragile cargo that require a lot of care when they are being transported.
In-House Logistics Services
In-house logistics involves creating a department in a company solely concerned with matters of logistics. It will involve the movement of products produced by that company to its target customers.
This can help improve the efficiency with which a company meets the demands of its customers and can also reduce the cost of distribution if properly managed.
TMS Logistics Software
TMS stands for Transport Management Software. It is an example of a functional system that makes logistics work easier. This helps companies to properly plan, optimize and execute all the activities involved in the transportation of goods.
It is easier to generate and communicate vital information between users of this software.
See Also: How to Start a Profitable Ecommerce Business in Nigeria
How Profitable is Logistic Business in Nigeria
Logistics businesses work side by side with ecommerce services which are coming into the light now more than ever due to the effects of COVID.
So as long as there are e-commerce services, there will always be a need for a logistics business. So, with demand comes sales and with sales comes profits.
According to statistics from the International Trade Administration, the current spending through e-commerce in Nigeria is about $12 billion.
These numbers are huge and these sales via ecommerce platforms will need logistics services to deliver goods to target customers.
Though the success of a business is determined by how many customers that business can amass and delivery strategy, as long as you have a solid strategy to get to your target customers and keep them using your services your business is sure to bloom.
Requirements to Start a Logistics Business in Nigeria
There are some vital types of equipment you will need before starting up your logistics business, some of which are:
i. Truck/Bus/Cargo Bike
These are the different transportation means essential for the movement of the cargo from the manufacturer to the consumer.
Without these transport means there is no logistics business.
ii. Computer System
Computer systems help to digitalize the processes involved in logistics. They can help to track the movement of different packages, keep stock of goods, and also receive orders from manufacturing companies.
They are another vitally essential equipment for the running of a logistics business.
iii. Mobile Phone
Logistics apps on mobile phones can also simplify the processes involved in the everyday logistics business. They can also facilitate easy communication between riders and the main office since they are so portable.
iv. Accounting and Information Software
This software helps to keep track of goods and take records of sales and deliveries. This information will be vital to the growth of the logistics business.
v. Stationery
These include basic items like Books, Pens, Clipboards, and the likes to help facilitate the proper running of the internals in a logistics business enterprise.
vi. Dispatch Box
A dispatch box is used on bikes to transport large goods that a bike cannot normally carry. It could be used when a relatively bulky good needs to be transported fast.
This helps the logistics company saves time and resources.
See Also: 25 Smart Instagram Marketing Strategy that Actually Works
How to Start a Profitable Logistics Business in Nigeria?
Now, after getting the basics about logistics business down and you want to start up your own business, here's how to start a profitable logistics business in Nigeria:
1. Choose a Specific Transport Niche
The first step to starting your logistics business is to pick a niche you are comfortable or familiar with and learn all you can about that niche the build up your business.
There are endless possibilities because goods always need to be transported.
If you can't decide, you can look into the goods constantly demanded in your local area and build your logistics company for the delivery of those kinds of goods.
2. Map Out Possible Costs
Create detailed info on business finances before you set up your business. You need to get an idea of the costs you may incur and be sure you have enough money to cover those costs.
This will also help you project the start-up capital you will need for your business.
You need to ask yourself questions like:
How much will staff salaries cost?
Cost of maintenance of vehicles.
Cost of marketing and advertisements.
How much training your staff will cost
What expenses specific to the logistics industry will you have to pay, like tolls, fees, etc.
See Also: Top 15 Free Business Name Generator to Consider
3. Choose a Business Model
After choosing a business niche and mapping out costs, now you need to start up your business. You need to choose a specialized business model; you can make a choice between these options:
Sole proprietorship
In this model, you operate as an individual company. Any losses made by the company will be on a personal level.
Limited Liability Partnership
This model leaves room for partnership with other individuals or companies. The risks or actions assumed by partners may differ.
Limited Liability Company (LLC)
In this model, your status is entirely separate from your company information. This protects you from losses the company may amass.
See Also: How To Start Shopify Dropshipping With No Money
4. Register Your Business
You need to register your business under the Corporate Affairs Commission (CAC) which is the approved body for business registration in Nigeria.
Due to the complexity of this process, it is advisable to hire a lawyer to help with this process. To better understand the process of registration, click here.
5. Apply for Licenses and Permits
You need the right licenses to run a logistics business. There are different licenses and permit you will need, some of these include:
Commercial driver's license
Heavy load or cargo permits
Insurance for drivers and cargo.
If you are running a freight shipping business or creating your logistic business plan, here are some extra permits you need to run your business.
6. Set Up a Website
You need to create a website that will serve as a bridge between you and your customers. You need to upload a list of the services you offer and your contact information on your site.
If your customers want to know more about your business, they can easily get in touch with you and get the information they need.
You can use platforms like WordPress to set up a cost-effective website.
7. Purchase Vehicles
You need to consider carefully before purchasing vehicles for your logistics business. The type of logistics business you run will determine the kind of vehicle you will need to purchase.
You need to also consider the following before building your fleet:
The weight of the cargo you will most likely be transporting
The kind of terrain in your state or country in which you operate
The cost-effective options to choose from.
Take time to do proper research and come up with a suitable option to purchase for your company.
See Also: 12 Best Mobile Marketing Strategies to Boost Sales Conversion
8. Hire Staff
You need to set up standard hiring procedures, hire and train staff members for your logistics company. Drivers are definitely vital to a logistics company but you will need to hire staff in other positions like:
Administrative and office staff
Maintenance technicians
Marketing professionals
Human resources staff
As your company grows you will need to make changes to the hiring procedure and keep training and retraining your staff.
9. Market Your Business
In order for you to get customers, you need to market your business out to the world. Connect with different ecommerce platforms since these businesses need logistics services the most.
You can utilize word of mouth, the internet/your website, social media platforms, local radio and television stations to make the public aware of your business.
Conclusion
As your business grows, you need to keep the future in mind and always be sure to maintain your equipment to prevent failures in times of need.
Be sure to stick to the rules of running a logistics business in your community and always inspect every part of your business including cargo and drivers to ensure the smooth running of your business.
We hope that you have found information and value on how to start a profitable logistic business in Nigeria today.