Work-life balance is a challenge that so many people yearn to overcome, and with the recent COVID-19 lockdown restrictions, many got to experience what working from home feels like.
With the slow return to normality, there is the need to try something different to earn some money while still having time to do your favorite hobbies and that's where the idea of an eCommerce venture like dropshipping comes to mind.
In this post, we would learn how to start a Shopify dropshipping business with no money.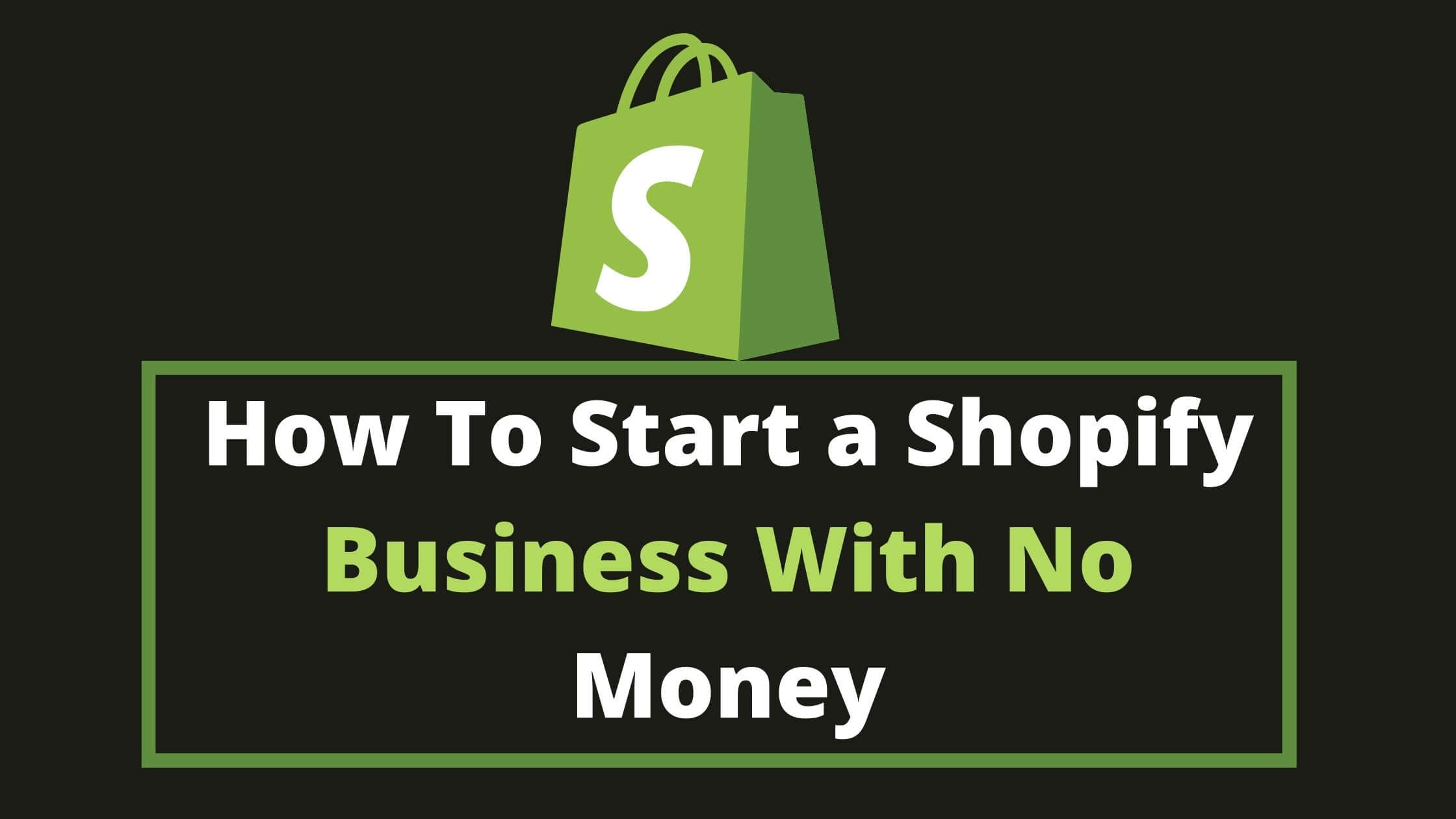 Before we get into the entire process of getting a dropshipping business going on Shopify, you should understand more about what the platform is and its trade:
See Also: 9 Best Ecommerce Platforms (Top Rated & Reviewed)
What is Shopify
Shopify is an eCommerce platform that lets anyone set up an online shop and sell a product or group of products of their choice and get paid in return.
Illustratively, Shopify is like a very large mall with its users having little shops all over it, just online.
Shopify was created in 2017 when the founder Tobi found it was incredibly hard to sell products online so he created the platform himself.
Shopify is now the leading eCommerce platform that supports businesses of all sizes regardless of where you set up shop physically. It is pretty easy to use Shopify and understand how it works.
The platform also provides adequate support so you can get out of any sticky situation easily if need be.
What is Dropshipping
Dropshipping is a fulfilment system in which a store or shop purchases a product ordered by a customer from a third party (which can be a wholesaler or the manufacturer of the product) and ships directly to the customer.
Through this method, the seller doesn't need to have the product in stock or handle the product directly.
Dropshipping doesn't need much capital upfront as you don't have to purchase the products, just collect orders from customers, pass them on to the supplier and ship the product back to the customer.
You never have to worry about buying too many products or not getting enough since you only need to order the quantity the customer requested for.
See Also: Dropshipping Business: 10 Profitable Hacks for Beginners
Why Use Shopify For Dropshipping?
1. Easy to Use
You don't need to install additional software or hosts to run Shopify and its tutorials are easy to understand and follow. It greatly explains the usage and applications of different features on the platform.
2. User Friendly
Shopify provides you with all the tools you would need to start up your dropshipping business on the platform. It supports various payment variants so you can choose whichever best suits your business.
Shopify also partnered with UPS and DHL to ensure shipping is affordable for its customers.
3. App Catalogue
Shopify has an App Store which hosts over 4000 apps, from which there are about 150 dropshipping apps that you can use to set up your store.
See Also: Top 20 Ecommerce Marketing Strategies to Boost Sales
How Does Dropshipping Work on Shopify?
To start dropshipping on Shopify you must first have to seek out a supplier closest to you from the supplier database or find and use any Shopify app that connects you to a load of suppliers.
Your ability to find a great product and efficient supplier on Shopify is very important.
When a customer orders a product, Shopify automatically fulfils this order, all you have to do is ensure all details are accurate and touch the "order" button.
If you decide to connect Shopify to Aliexpress and an order is made on Shopify, the product is then supplied to the customer directly from the AliExpress dropshipping supplier.
How to Start Shopify Dropshipping With No Money 
Below is how to start a Shopify dropshipping business with no money:
1. Research Your Niche
The first thing you need to do before going into the dropshipping business is in-depth research into your niche and how profitable it can be, the customer base and its response to other marketers, and also the ranking or trend of your niche compared to other marketing options.
Shopify can help you pick a popular niche with high demand with its "trending products" feature. This can help you reach a large audience base and will make marketing and advertisement easier for you because you already have an established audience base to work with.
See Also: How To Target Wealthy Individuals With Facebook Ads
2. Research Your Competitors
After researching your niche, next, you have to see what the competition is like in your niche and understand how your competitors work in other for their business to thrive.
Your competitors may have clues for you that you can exploit but be sure to stick with the big and established brands and limit the number to about 3 or 4 so you know what you are working with.
Be sure to use Google to check out your competitors and know things like their prices and product descriptions and the possible tactics they employ. This can go a long way to make your work easier and you can start up your own business quicker.
3. Set Up Your Business on Shopify 
After doing research on your niche and top competitors, you are set to start your business. The first thing you need to do is to create an account on Shopify and then proceed to choose a suitable supplier.
Without a supplier, there is no dropshipping business so you have to be very careful when picking one. By now you should know the product you want to sell so you need to find potential suppliers that offer high-quality services.
You can connect to AliExpress which is one of the leading online shops in the world right now and you can easily find products from your niche and add them to your store.
See Also: The 15 Best Online Marketing Strategies to Increase Sales Revenue
4. Choose a Business Structure 
Now you will need to decide on a business structure for your store, you will need a lawyer for this. Most small-scale entrepreneurs go for sole proprietorship (which is the simplest business structure but offers no personal liability protection).
Hence, if you get sued you may lose your personal properties in the process) or a limited liability company (which offers protection of your personal assets by establishing your business as a separate legal entity).
If you are based in the United States, you would need an Employer Identification Number (EIN)which is a social security number for your business.
You will need to get this number in order to open a bank account apply for wholesale dropshipping accounts and pay your taxes. You can easily get an EIN here.
5. Organize Your Finances
Blending your business finances with your personal finances is not recommended at all. If for any reason you are audited by the IRS, this can stand out as a red flag.
You should create a new business checking account, credit card for your business, and local business licenses.
See Also: How To Make Money Online Without Investment – The Fast Way
6. Start Marketing Your Business 
Now that you have all you need to start up your business, you need to start marketing your business to the world. You will need to do something different from your competitors to stand out to your audience.
If you don't want to use any money advertising you can easily use social media platforms to promote your business.
But if you do have a little cash to spare, you can use paid ads through Facebook, Google, and other popular sites with high online traffic.
You can employ the services of trusted influencers to help market your business on whatever platform they run, you can create a website or blog for your business and market through that means.
Perhaps, you can choose to relate with people who are passionate about the products in your niche and start conversations or open forums and aim to build a good relationship with them.
Be sure to keep an eye out and notice which advertising channel is actually yielding results and which isn't so you don't keep wasting money on the wrong channel.
7. Improve and Make Changes 
After monitoring your business for some time you can now try to improve the overall traffic to your site.
You can use tools like Google Analytics or Google search console to calculate your search traffic and use the data to improve the search engine optimization ranking of your site.
NOTE: Shopify gives a free 14days trial. With this, you are open to seeing the possibility of knowing how well your shop is doing, and can furthermore help you to know what direction to tread in going forward.
Conclusion
Dropshipping is a relatively low-risk business you can delve into and make considerable profits from. It is a low-cost business you can start with very little capital.
With the rise of automatic marketing tools, it's now even easier to run businesses online without any hassle. Do well to make good use of this business idea.
We hope that this helps answer your questions on how to start a Shopify dropshipping business with no money.
Also Read: