With the knowledge of what copyrighted materials can do to a YouTube channel, a user of a YouTube account needs to check and know if a material is copyrighted before making use of it.
Failure to do this can greatly reduce the monetization of an account. Copyrighted materials can include songs, videos etc.
For a YouTube channel, songs are most likely to give a copyright problem since a song is the most used of all materials that can pose copyright issues.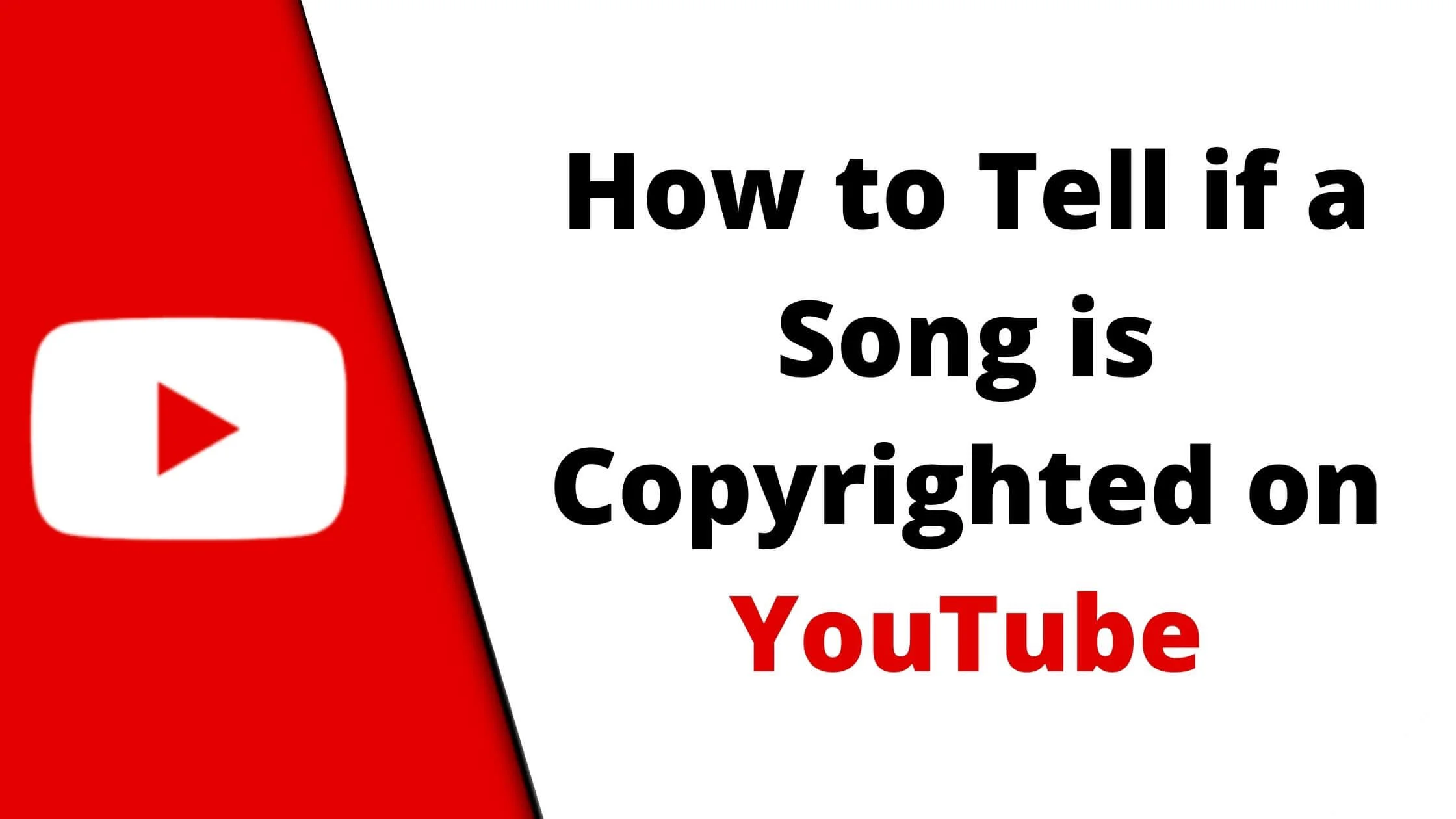 How then can a user check for copyrighted songs? This question is going to be answered in this article.
Let's begin with the definition of copyright and how copyright can be a problem.
See Also: How to Remove Copyright Claim on YouTube
Definition of Copyright
Copyright is the right to a material produced whether it's a song, a poem, a video etc. This right is all exclusive. This means only the owner of a work can republish, dub or make use of the work directly for any purpose.
The Problem of Copyright on YouTube
Copyright makes it difficult for anyone to monetize or make use of a material not owned for anything at all including the publication of research papers.
Uploading a copyrighted song will lead to a copyright claim.
This claim means that the original owner of the song gets to be monetized for the content created using the song instead of the owner of the YouTube channel.
How to Tell if a Song is Copyrighted on YouTube
To prevent issues of copyright on YouTube, here are several ways to find out the copyright status of a song.
Make an Initial Upload to Check
One way to find out if a song you intend on using to create video content is copyrighted is to make video content with the song and have it uploaded as a private or unlisted video.
After a while, YouTube will notify you if the song has a copyright claim. If such a notification does not come, then, you can go ahead with the usage of the song publicly.
You can change the private or unlisted status of the video content and make it public.
Search Description Details on YouTube
Another means to know the copyright status of a song is to check the description details for the song on YouTube.
To be able to do this, you have to know the title of the song or at least the artist of the song.
To search for the description details of a song, follow the simple guide below:
Type in the details of the song in the search column of your YouTube account. The song will be displayed.
Once the song is displayed, click on it as though you wish to view it.
Tap on the description section and scroll down to see the rights owner of the song. If there is a copyright for the song, it will be reflected.
See Also: How to Tell if a YouTube Video is Monetized
Check the Internet
Sometimes, not all songs are added to the Content Identification system of YouTube by the copyright of the song.
It is then possible for the copyright status of a song to evolve in the content ID base of YouTube. Therefore, a copyright claim for a song can come much later than initially.
To make sure you get the right copyright status of a song, you can check for the song directly on the internet using your web browser and look out for its copyright status.
A simple way to do this is to look out for the copyright symbol © in the file name of the song or the About section of the song.
How to Avoid Copyright to songs on YouTube
It is quite daunting to have your plan to increase the value of your video by adding music to it ruined due to copyright issues.
However, there is a solution! There are a few tips to have what you want without standing the risk of losing monetary value.
Make Use of Older Songs
To beat copyright issues, making use of older songs is an option. After a while, a song can lose its copyright license.
For instance, in Canada after about 50 years following the death of a copyright owner, the songs of the deceased musician lose their copyright license.
If the kind of content you wish to produce can accommodate older songs, you can leverage this option.
You can have an older song specially modified to suit your taste and used without running the risk of monetary loss when adding music to your content.
On platforms such as Public Domain, you can have access to older songs that are copyright free.
Make Use of Royalty-Free Music
Some songs can be used without their creators having rights to a copyright claim.
Royalty-Free songs are songs that are free of Royalties ie cannot be sanctioned for copyright infringement. It is necessary to note that Royalty Free songs are not entirely free.
Some platforms pay for copyright licenses of different songs as a contract between them and the creators of the song to allow the songs to be used by others.
Afterwards, people who wish to make use of these songs, register with these platforms and pay a stipulated amount. With these, they can make use of the songs available in the Royalty Free catalogue of the platform.
See Also: How to Unlock the Community Tab on YouTube
Make Use of Public License Platforms
Public Licence Platforms are a bit similar to that of Royalty-Free music platforms.
These platforms sign a Public Licence Agreement contract with copyright owners of different songs to allow the public to make use of their songs under different conditions.
Some of the conditions can be as simple and flexible as giving copyright credit to the owner of the song. One of the most popular Public Licence platforms is Creative Commons.
You can register with the platform, and then, get to make use of the songs available on the platform. There are different levels of license.
When making use of any of the songs, it has to be used under the condition provided by the level of the license of that particular song.
Note, that there are some songs whose licence level does not permit them to be used for commercial purposes.
Pay For Copyright Licence
Paying for the copyright licence of a song directly from the creator and copyright owner of the song is the most guaranteed way to make use of copyrighted material without the fear of losing money to copyright claims.
This might be a tasking process except in a situation where the right connections to the copyright owner are in place.
However, if such access exists, then, this can be the best way to go about using copyrighted songs.
See Also: How to Monetize TikTok Videos on YouTube
How to Tell if a Song is Copyrighted on YouTube FAQs
How accurate is YouTube Content Identification?
The YouTube Content Identification system is accurate.
However, it evolves. Certain songs might not be uploaded by copyright owners initially, but later on.
This means a song that was initially copyright free can have a copyright claim with time.
How can I make use of royalty-free songs?
To make use of royalty-free songs, you have to sign up with a platform that gives you access to these songs.
Can I use recent and popular songs?
Recent and popular songs can be used, but, this is risky. Except in a situation where you get a copyright licence directly from the copyright owner, it is better not to use songs that are popular and recent.
Conclusion
Copyright violations can be a serious offence beyond YouTube. Hence, it is important to follow the best practices when it comes to content creation and avoid copyright claims.
Following these steps in the article, you should be able to tell if a song is copyrighted on YouTube and how to avoid copyright claims.
Also Read: