A highly important question we get asked by YouTubers is "how to see who watched your YouTube video". The issue is pertinent for YouTube viewers as well as they'd want to know if their privacy and data are safeguarded on the platform.
There's a widespread belief that YouTube creators can analyse vast audience data. This is true because YouTube grants creators access to relevant info about audiences viewing their content.
In this article, you will find ways to see who watched your YouTube video and access relevant demographics and metrics.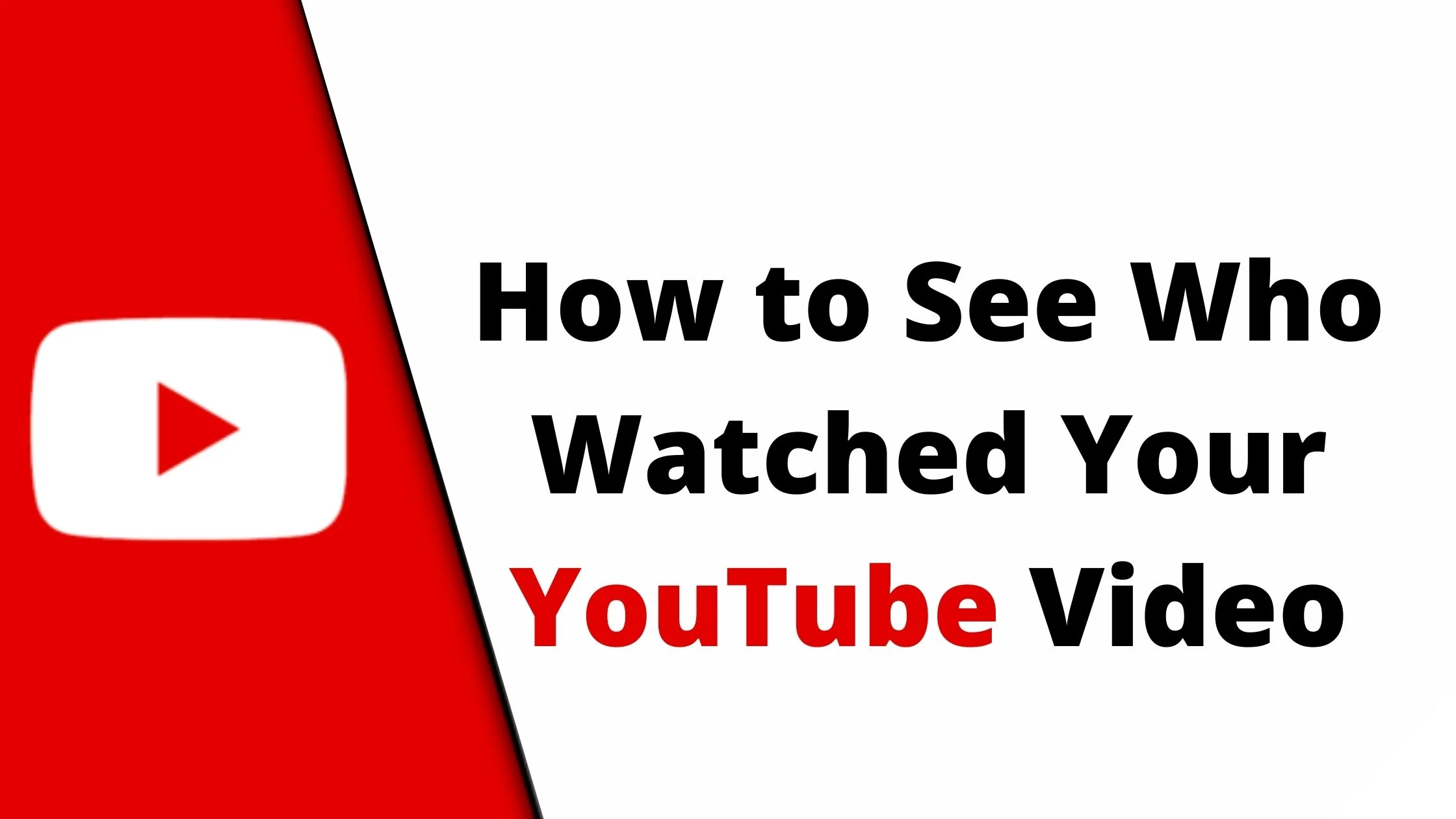 YouTube has integrated analytics which offers all creators cumulative data about their audiences. 
See Also: How to Unlock the Community Tab on YouTube
How to See Who Watched Your YouTube Video
A section on YouTube Analytics offers valuable insight into who's viewing your content on YouTube and their demographic data.
It is called the YouTube channel analytics and it can be found in the audience tab.
This panel showcases important data like regular and fresh viewers, subscribers, members, and unique audiences. 
Let's explore how to access analytics for your YouTube video without exiting your channel: 
How to Access YouTube Channel Analytics on Desktop
Sign in to your YouTube account

. Click on your profile picture or symbol in the upper area of the screen. 

Click

YouTube Studio

. 

Navigate to the panel on the left and click on Analytics to access the menu listings for data about your YouTube audience. 
How to Access YouTube Channel Analytics on Android
YouTube Android Application
Access the YouTube mobile app on your smartphone. 

Navigate to your YouTube channel. 

Next, select your profile pics. 

Select Analytics from the menu at the centre to access an overview of your channel's data. 
YouTube Studio app for Android
Access the YouTube Studio mobile app on your smartphone. 

Select Analytics from the menu in the lower area. 

 Select Audience from the upper menu listing.
See Also: How to Tell if a YouTube Video is Monetized
How to Access YouTube Channel Analytics iPad and iPhone
YouTube iPhone and iPad app
Access the YouTube mobile application on your apple device. 

Select your profile pics. 

Navigate to your channel and select Analytics from the menu at the centre to see an overview of your channel's relevant data. 
YouTube Studio app for iPhone and iPad
Access the YouTube Studio app. 

Select Analytics from the menu at the lower end. 

Select Audience from the menu on the upper side of the display
Identify the Most Popular YouTube Videos 
You can identify videos responsible for your channel's popularity within a specific time frame with analytics.
This will give you insight into the factors that are enhancing your channel growth.
See if Your YouTube Viewers are Online
You can also check when your viewers are active on YouTube platforms within 20 days or more.
This will assist in improving your relationship with your subscribers and deciding when is the best time to premiere or arrange your next live video stream. 
Check for Other Videos your Audience has Viewed
You can analyse some of your audience's videos within a specific timeframe besides your channel. This insight can help you discover new clips and titles. 
This analytics is also important for creating thumbnail ideas and collaborative engagements. 
Check for Channels Your Audience Watches 
You can also access your audience's channels besides yours within a specific time frame.
This is key to finding inspiration for new videos and discovering collaboration, new ways of engagement and partnership. 
See Also: Top 21 YouTube Shorts Ideas to get More Views & Subscribers
Other YouTube Channel Analytics Features
Geographical areas
This analytics displays the specific country or region that has the most audience viewing your content. 
Age and gender
Through this section, you can identify the demographic groups that make up your total viewership and the way your audience is distributed by gender.
Languages and Subtitles 
Access the way your channel's audience uses subtitled language. 
Categories of Analytics Data on YouTube 
You can access numerous categories of audience data via analytics filters. This includes: 
The time your audience has watched your video. 

User retention

Audience demographics

Geography or region 

Timespan 

Video content

User devices

Source of view counts

Dislikes and Likes

Comments

Social media shares
See Also: How to Enable YouTube Shorts on iPhone | Android | PC
How to Use YouTube Analytics Data
With YouTube Analytics data, you can view data changes via line charts. However, this depends on the category of data you are reviewing. 
The Analytics data category also lets you review your video performance using multi-chart lines. 
To store the reports on your PC or smartphone, tap Export Current View (using the arrow button) at the upper part of the display. 
Overview Summary
You can use Analytics to find out more about the performance of your content. You can access it in the report lab. 
You can use this feature to get performance data like view time, hits and relevant earning information.
Some metrics showcase audience engagements like social media shares, favourites, dislikes, comments and likes. 
You can also find data that covers your most viewed video content, audience demographics, and key traffic sources.
Review activities in real-time
You can find real-time audience data in the real-time activity tab below the overview panel. You can also access newly updated statistics with a few seconds of time delay. 
Reach
Want to discover your YouTube channel's view counts, impressions and similar data? Then navigate to the Reach section.
Find your audience's source of traffic (see if your audience discovers your channel using social media, YouTube search and the rest).
You will also see how often users have interacted with your video thumbnail and if that ended in views.
There are two types of traffic sources for YouTube:
Internal: This is made up of recommended videos, YouTube ads, saved playlists, collections and many more. 
External: This includes social media, mobile apps and websites embedded in your video or featured in the description, etc. 
Engagement
Engagement The engagement section also gives you details about the length of time users view your video content.
You can also find your most popular videos and popular playlist sorted by view time.
Audience
The audience category reveals your audience's demographic information. It provides details about their gender, age, and region. 
You will also find the device type section that showcases the OS and device format that your audience utilises when watching your content.
These devices consist of PCs, video game systems, mobile phones and television. 
See Also: How to Turn off Comments on YouTube
See Who Watched Your Youtube Video FAQs
What Other Data does YouTube reveal about Users?
Google loves stats and is working on ways to simplify things for creators on YouTube. Foremost among them is helping YouTubers understand their viewers.
As we have stated above, you can use user analytics to discover your audience demographics (age, gender and region), time of view, location, device type, etc. They can explore various categories of data. 
Will accessing my YouTube viewers' names help in any way?
No, it won't. What will a YouTube creator possibly achieve with a viewer's actual name? It can be harmful to the users.
There are no extra benefits that come with revealing the names and account names of your users. The analytical data provided by YouTube is adequate enough for your channel development and strategy.
I encountered a "limited data" issue in my YouTube Analytics. What does it mean?
While YouTube desires creators to access helpful data to grow their channels and improve their video content, you'll, however, find limited data in some YouTube Analytics categories. 
Please note that you will have limited data if your channel or content does not generate adequate traffic during a specific time frame.
You may find it difficult to access data in certain categories, such as engagement or audience. 
You might see an error notification in YouTube analytics that indicates you can't see the complete reports, for example, "inadequate demographic data".
What's the method for checking YouTube's most popular videos?
YouTube does not in any way compile an official list for its "highest videos."
You will have to check this Wikipedia article or other verified sources on the internet for such information. However, you can find many user-generated YouTube playlists for the highest viewed music videos of all time. 
What is the percentage of users that access YouTube via their smartphone?
A report on Statista revealed over 60% of YouTube users utilised mobile devices to access the platform.
This is understandable because people use smartphones more than computers across the world. 
Which YouTube video was the first to be viewed a billion times
The first video on YouTube to be viewed a billion times was by South Korean pop singer PSY video for the song "Gangnam Style". He achieved this feat in 2012. 
We have to state that YouTube does not offer this type of data to its creators.
Although you can use Analytics to access demographic data related to your user engagement, you can't find the user's actual name or profile. 
A YouTube creator can raise their channel engagement by organising contests and promos for their subscribers in exchange for "liking or sharing" a video. 
See Also: How to Remove Copyright Claim on YouTube
What defines a YouTube view?
A view occurs on YouTube when a user streams a video without YouTube's algorithm marking it as spam.
Simply put, a view counts when it is carried out by a user on a device and is authenticated by YouTube. 
Why am I losing YouTube views?
A rapid reduction in your view count may indicate that your viewers are no longer interested in your content.
You might notice this if your video content revolves around news coverage, trendy and viral topics. As soon as your video's CTR declines, YouTube won't boost its visibility.
We suggest you create videos with timeless appeal.
Conclusion
We addressed the question of how to see who watched your youtube video" in this article. The perfect tool to better understand your audience is YouTube analytics.
It offers you vital data about your audience. This is valuable for video creation and engagement strategy. 
Also Read: