Instagram is known for its consistently introducing new features to improve the user experience.
One of the most recent features added to the platform is Vanish Mode. Instagram's Vanish Mode brings an improved level of privacy to chats.
Vanish Mode allows users to send disappearing messages through the app. These disappearing messages are not stored anywhere, making them impossible for anyone to view or find.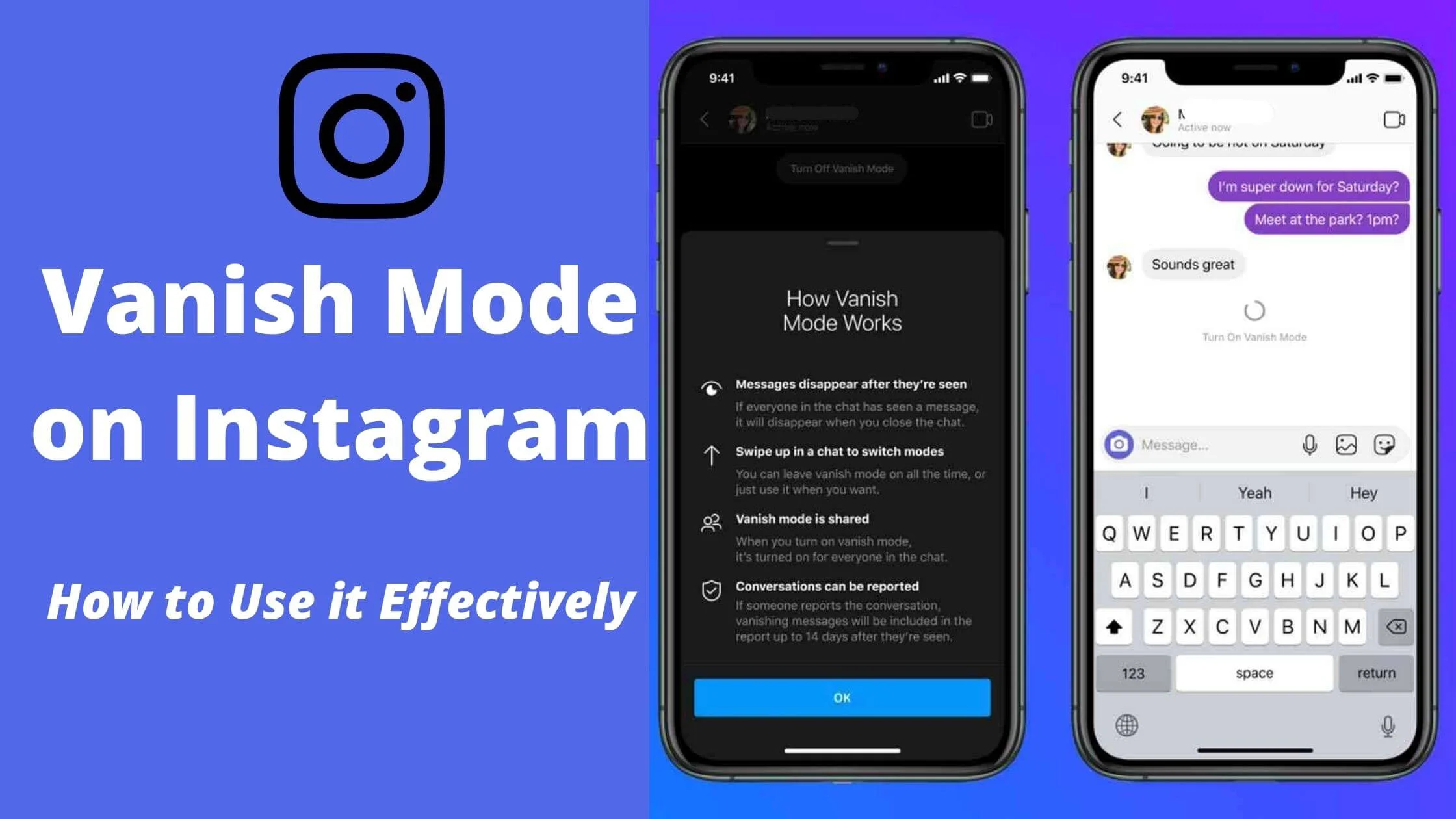 In this article, we will discuss what Vanish Mode is on Instagram and how to use Instagram Vanish Mode following best practises.
So, without any further ado, let's get started.
What is Instagram Vanish Mode?
Vanish Mode was first launched on Facebook Messenger in 2020. Later on, it was added to the Instagram messaging feature.
Facebook stated that the Vanish Mode feature enables users to create and be part of a temporary chat thread that gets deleted automatically at the end of the chat.
This is comparable to Snapchat's self-deleted feature. However, this only works when you activate the feature manually.
In addition, Vanish Mode only works for chats between two users. It doesn't function as a group chat.
Ready to try it out? Let's see how Vanish Mode works on Instagram.
See Also: How to Hide Instagram Posts from Someone
How to Turn on Instagram Vanish Mode
To use Instagram Vanish Mode, you have to follow a few steps.
Launch your Instagram app and tap on the chat icon.
Choose an existing message or create a new thread, then navigate to the bottom of your chat.
Next, Swipe up from the bottom of your screen and release your fingers to turn on Vanish Mode.
Upon activation, Instagram's dark mode will set in, and 'Smush' emojis will drop from the upper section of your screen to notify you that you're in Vanish Mode. Also, the other party you're on chat with will get notified with a message that you're engaging in Vanish Mode. Proceed to send your Instagram direct messages as always.
How to Turn Off Vanish Mode on Instagram
To deactivate Vanish Mode on Instagram, follow the steps below:
Launch your Instagram chat box where you activated the Vanish Mode.
Next, swipe up from the bottom section of your phone screen again and hold your screen until "Release to turn off Vanish Mode" appears.
To disable Vanish Mode, swipe all the way up.
Note: Immediately after you close your chat window, all the seen chats will disappear.
See Also: How to Fix Instagram Not Loading Pictures
Why Can't I Use Vanish Mode on Instagram?
If Vanish Mode is not working on your Instagram, check for updates on the app. Perhaps you're using the outdated Instagram app.
You may be able to fix it by installing the latest version of Instagram.
If you have updated your Instagram to the latest version and can still not access Vanish Mode, it could be that the feature is unavailable in your region.
You can also contact Instagram Support to help you look into the issue you're experiencing.
Things to Know About Instagram Vanish Mode
It is important to be aware of a few things about Instagram Vanish Mode before you start using it.
Vanish Mode only works with users who follow each other on Instagram. This safety measure ensures you don't have to worry about unwelcome messages from people you don't know on Instagram.
You have the option to accept or decline this feature from someone. This gives you 100% control of your Instagram Direct message experience.
When you're in Vanish Mode and your buddy takes a screenshot of your conversation, you get notified automatically and verse versa.
Your chat will remain visible if you don't activate Vanish Mode before sharing the message.
Messages sent by mistake without the Vanish Mode feature will appear as normal messages. Vanish Mode is not designed to hide messages sent by mistake automatically.
Should I Use Instagram Vanish Mode?
Vanish Mode is a great way to keep yourself safe from snoops who might be looking at your online activity.
This is an extra step you can add to your online experience that lets you chat in a safe environment.
Vanish Mode will help you keep the details of your plans confidential. It's perfect for a surprise party and for sharing sensitive information with family members.
Instagram vanish mode not working.
Vanish mode is a popular feature found on lots of social media sites like Instagram and Messenger, which enables users to "vanish" while using the platform but still stay online and available for a convo with their contacts.
However, many users have reported that the Instagram vanish mode is not working.
One of the most popular reasons is that only users who have installed the most recent version of the Instagram app can access the feature.
If you are using an outdated version of Instagram, the feature won't be available to you.
Another cause of the "vanish mode not working" issue is that the feature is not yet accessible to specific countries or regions.
This may be due to limitations set by the government and other entities.
Lastly, some users may be stopped from using the vanish mode because of their age.
For instance, platforms like Snapchat limit users from using the vanish mode feature.
If you are not yet up to the age limit, you may not be able to utilize the feature.
Lastly, vanish mode accessibility varies from one mobile device or brand to another.
It also varies from one location to another.
Thus, it is vital for users to review the guidelines of the website to check if they can access the feature.
Can you screenshot in Instagram vanish mode?
Instagram Vanish is a highly distinctive feature launched by Instagram that lets users send temporary messages and pictures that "vanishes" once a user exits the conversation or after they have accessed the chat.
The sad thing is that while you can screenshot regular messages and pictures, you cannot directly screenshot messages in vanish mode.
If you try screenshotting a chat or picture while in vanish mode, the recipient will be notified that you have sent a screenshot.
However, this won't show up on the conversation thread.
This way, the whole point of sending messages through vanish mode is not defeated.
This will also safeguard both you and the recipient from possible repercussions from screenshots taken.
Can you track Instagram vanish mode?
No. Developers at Instagram have carried out the necessary measures to protect messages from being monitored or tracked.
The vanish mode is backed by end-to-end encryption for extra security.
This means that messages can't be read by third parties, even Instagram themselves.
When the message is delivered through vanish mode, the sender gets a confirmation notification that the recipient has accessed the message.
However, this doesn't reveal any traceable info. Instagram even reveals chat exchanged through vanish mode is encrypted and vanishes from the devices of both recipients and senders.
Besides this, Facebook has asserted that it doesn't record messages through vanish mode.
This implies that messages exchanged via this mode can't be tracked or monitored and are fully secured.
Does Messenger send notifications to recipients in vanish mode?
Messenger's vanish mode is a functionality that lets users cause their message to "vanish" after sending it to someone for a short while, implying that the recipient won't access the messages anymore.
Vanish Mode was created with the goal of removing any evidence of a conversation between the sender and recipients happening.
Thus, the other party does not receive a notification when using this feature.
As for the sender, you are the only person who knows that the chat is in vanish mode.
Is there a way to restore vanish mode messages?
Sadly, no, there isn't a method you can use to retrieve or restore vanish mode messages.
Vanish mode is a feature that lets users exchange temporary messages and enables them to "disappear" or "vanish" within a definite time.
After a message "disappears," it can't be retrieved in any way or method. The only possible means to trace or record a message is by taking a screenshot before it vanishes.
Why would a user enable Instagram's vanish mode?
Vanish Mode is best for you if you are wary of people going through your conversation thread on social media.
If your priority is privacy and security, you must use this feature. Also, the vanish mode is great for anyone who wishes to have a secret chat.
Conclusion
All seen photos, text, stickers, memes, or GIFs shared in Vanish Mode are gone forever once the chat ends.
While you can block anyone, you also have the option to report conversations if you do not feel safe.
I hope this article on Instagram Vanish Mode helps you get a better experience on the platform.
Also Read: