The majority of Facebook users have acknowledged the dating feature's use and have taken full advantage of it.
But with its usefulness, some challenges come with Facebook dating notifications. This issue occurs seldom, and it is usually caused by a person's Facebook account being idle.
So, anticipate learning how to fix your Facebook dating notifications as well as other useful information in this article.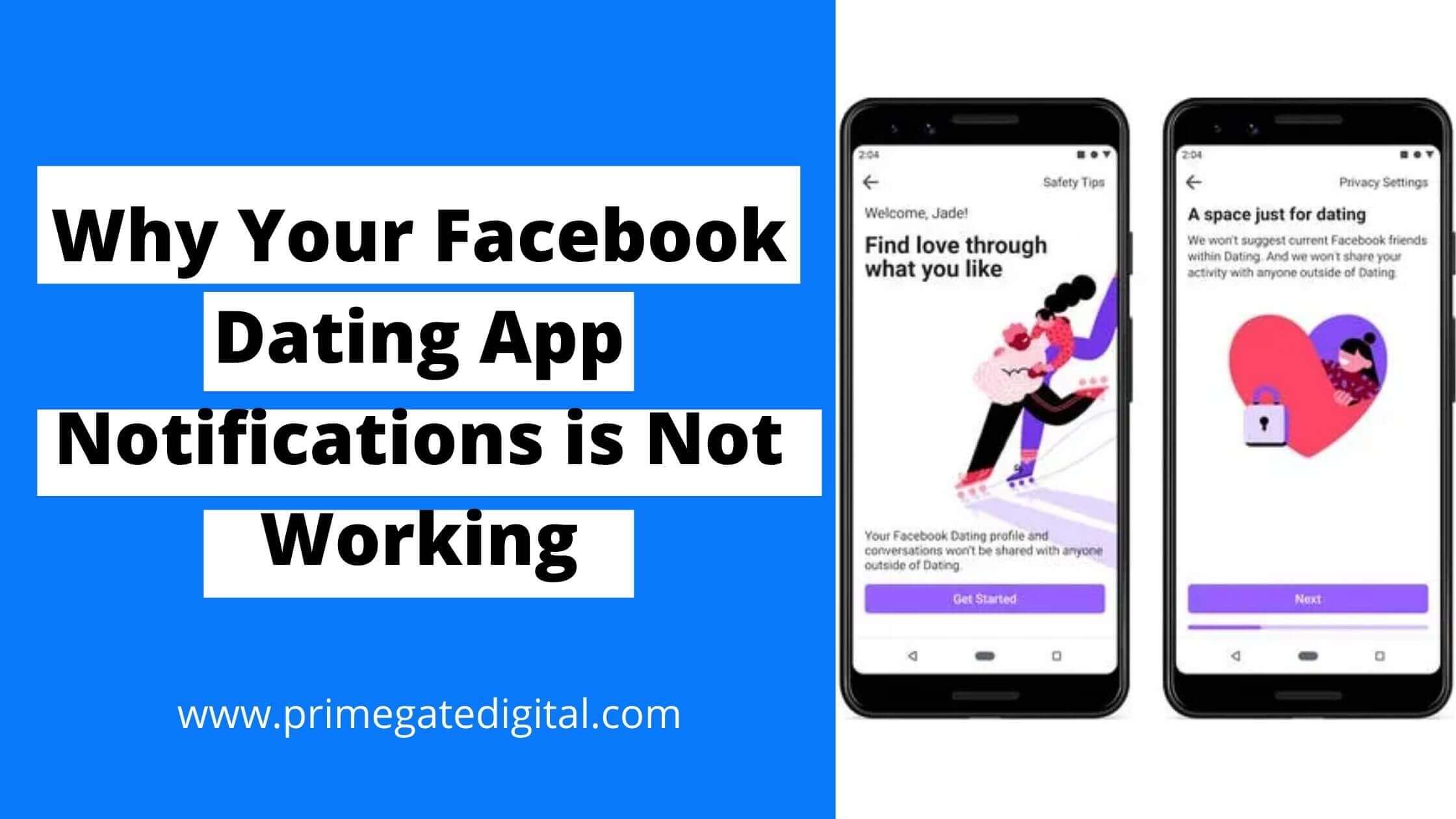 Facebook dating is about more than simply being a dating site. Using the dating platform, Facebook has significantly improved dating.
It came to the point that people and reviews began to regard Facebook dating as a competitor to today's leading dating platforms.
So, if you're using the Facebook dating app and you're having issues with Facebook dating notifications not working, don't worry; this article will show you how to fix the problem.
You may also want to checkout Why the Facebook Dating App Is Not Working
Is Facebook Dating Notification Useful?
If you use Facebook, you should be aware of how valuable notifications can be. Your Facebook notification keeps you up to date on all of your Facebook account's actions.
This is how valuable a Facebook dating notification can be to users. Facebook dating notifications will increase your delight on the platform.
If you're acquainted with the goings-on in Facebook dating, you should be aware of what a Facebook dating notification means. But, just in case you don't know, here's all you need to know:
Once you have a new match, the platform will notify you.
You will be notified when you get likes or have any issues with your Facebook dating profile.
Once one of your matches sends you a message, you'll be notified.
It keeps you up to speed with the latest information on the Facebook dating space
You can miss out on a chance to communicate with your sweetheart if you don't see these notifications or if Facebook dating doesn't notify you.
You might not even know that someone has been matched with you on the site until you check.
This should give you a good idea of how useful Facebook notifications may be.
See Also: How to Search for Someone on Facebook Using Phone Number
Why Your Facebook Dating App Notifications are Not Working
Now it's time to ask the big question: why isn't your Facebook dating notification working or disappearing?
Then carry on reading. The majority of Facebook users who use the platform rarely express their dissatisfaction with this issue.
Most users who experience this problem do so because their Facebook dating notification is turned off.
They normally switch it off to keep it from being discovered by a friend or family member.
If your Facebook dating notification isn't working, navigate to the settings and turn it on.
Perhaps you're not sure how to enable Facebook dating notifications. Follow the instructions below:
Launch the Facebook app on your device
Click on "Menu"
Navigate to Newsfeed
Click on the notification bar right beside the dating notification
You'll be able to tell if it's on or off from there. You can select the option that best fits.
See Also: How to Recover a Hacked Facebook Account Really Fast
How to Fix Facebook Dating App Notification is Not Working
Check your Network Connection
While this is highly important, it is a pity that users still underestimate the value of reliable and fast internet access.
You can check this by using speed test platforms like Ookla. If you cannot browse the internet, fix your WiFi network or get in touch with your internet service provider.
If you are using an active mobile network, the next course of action is to restart your mobile device.
Update your Facebook app
Another way to fix the "Facebook Dating App Notifications Not Working" issue is to update your Facebook app.
This will help you access the latest and most advanced features. An important benefit of updating your app is that it rectifies bugs that lead to malfunctioning.
It also resolves security problems that limit the app's functionality and create hassles for users. Thus, using the latest version of the Facebook app will improve your experience.
Here's how to find out if you are using the latest Facebook app on Android:
Access the Google Play Store app on your smartphone.
Select the menu option or the 3 vertical-line icons, particularly in the upper left corner.
Tap on "My apps & games."
Navigate to the "Update" tab.
Next, select the "update" button beside the Facebook app or better still, select the "update all" option to install the latest version of all your apps.
Here's how to update the Facebook app on your iOS device:
Access the default Apple app store.
Next, select the "Updates" tab found in the lower section.
After you have accessed the updates section, select the "Update" option to update the Facebook app to the most recent version.
Restart Your Device
Restarting your phone is an easy fix to the "Facebook Dating App Notification is Not Working" issue.
It is highly effective as it resets all background activities that may be causing the Facebook Dating platform to malfunction.
Facebook Dating can't be accessed in your geographical region
If your Facebook Dating App Notification is Not Working, the reason may be that the Facebook Dating platform is not currently accessible in your country of residence.
Since it was introduced in late 2018 in Colombia, the platform was launched in places like Europe, Laos, Malaysia, Mexico, Paraguay, Peru, the Philippines, Singapore, Suriname, Thailand, the United States, Uruguay, and Vietnam.
If you aren't currently in any of these accessible locations, you may experience the "Facebook Dating App Notification is Not Working" issue.
You are ineligible to use the Facebook Dating platform
Only users over eighteen are eligible to use the Facebook Dating platform. For minors or teenagers, Facebook dating notifications won't show up until you turn eighteen.
Clear Facebook App Cache
The next method you can use to fix the "Facebook notification not working issue" is clearing the Facebook app cache.
Caches are private files saved on your smartphone to lower load times as you access the app. They help to enhance the user experience and improve the app's functionality.
However, when they are bloated, they can cause glitches and hinder the smooth workings of the app.
This particularly happens when the cache files have accumulated to a high proportion or become corrupt.
Clearing your cache can help improve the app's operation and loading time and declutter your device's space.
Here's how to clear the Facebook app cache on your Android smartphone:
Access the settings app on your smartphone.
Select "Apps and Notifications" in the settings option.
You will access a list of apps installed on your smartphone. Review the list to locate Facebook.
Tap Facebook to enter its app info screen. Select the "Storage" option to access the space it has taken up.
Select the option labeled "Clear Cache." Next, see if the cache size is shown as 0B.
How to clear the cache of your Facebook app on your iOS device:
Select the Settings menu on your iOS device.
You will access a list of your installed apps, locate Facebook and select it.
Enable the "Reset Cached Content" option in the app settings.
Check if Facebook Server is offline
If the Facebook Dating App notification is not working, it is likely that its server has crashed and is currently offline. Currently, it is not unusual to experience server crashes.
This causes the service to be inaccessible to everyone.
Using a downtime monitoring platform is the easiest way to tell if Facebook is down. If the reports about the app's inaccessibility are high, it means the server is down.
Whenever this happens, you will have to patiently wait until the server is back online.
Alternatively, you can check Twitter to see if other users are encountering downtimes. Ensure that you search for hashtags like #facebookdown, as it is used to create awareness about outages on the platform.
Reinstall the Facebook app
This might sound extreme, but it is an effective fix. At times, the app file may be corrupt. Thus, reinstallation is a good way to give the app a new lease on life.
You can uninstall the Facebook app by pressing and holding the app icon on the app's home screen.
A menu will popup, select "Uninstall" from the list of options. Another method is to access the Settings menu and uninstall the app
Conclusion
We hope this article has helped you discover why your Facebook dating app notification is not working. You can share this content with your community to help others as well.
Also Read: