Software development is a hot gem in the tech ecosystem. Professionals in this aspect are always hired day-in-day-out. Thus making it a lucrative niche. 
Although this niche looks more attractive in terms of payment and recognition, there are still some software developers who don't know how to monetize their talents. 
There are one thousand and one ways to make insane money in software development, and that would be the responsibility of this piece.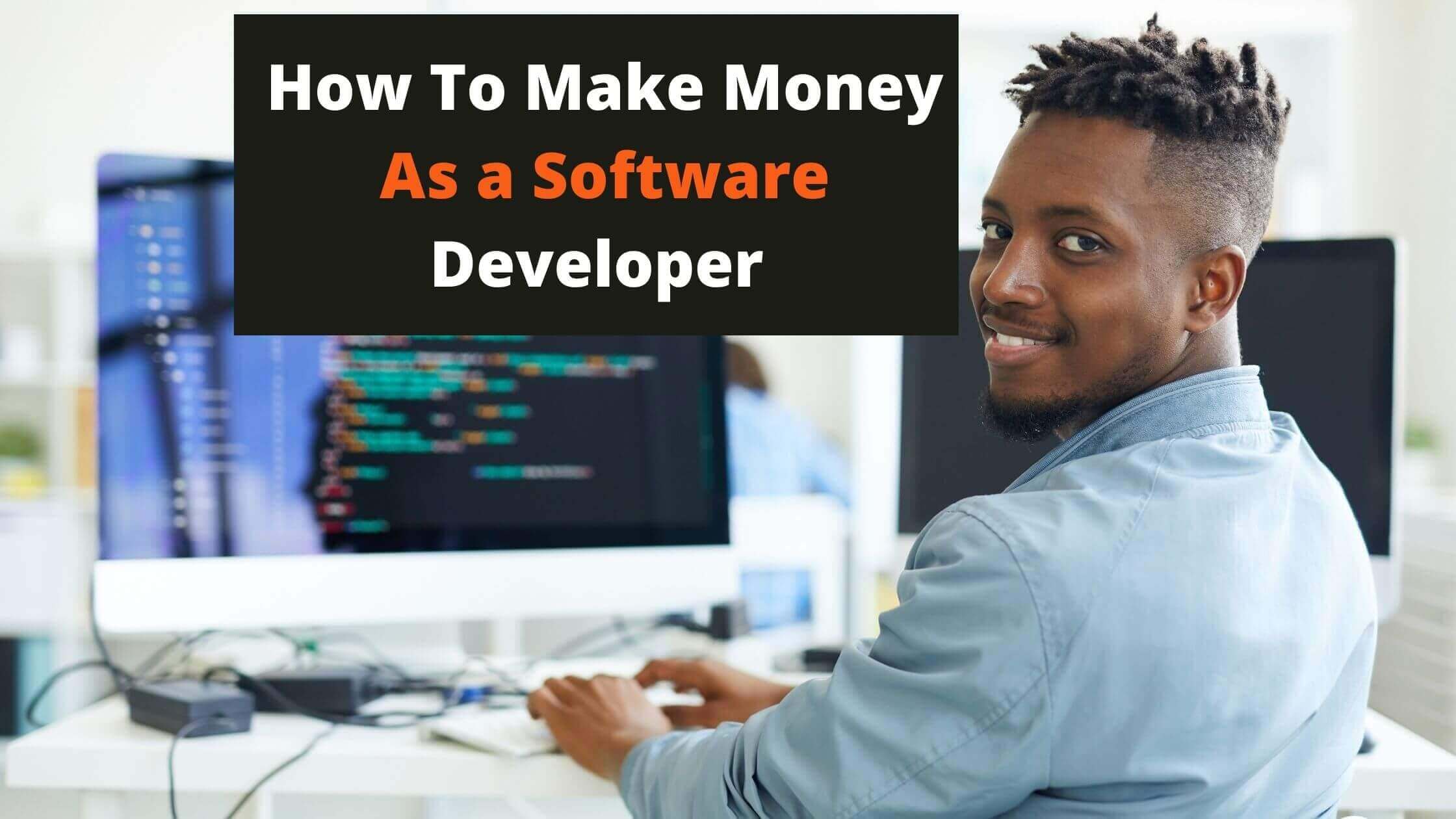 If you are a software developer who would want to maximize his or her potential or looking for software business ideas, then this is for you.
See Also: How To Make Money Daily With Cryptocurrency
Software Developer vs Software Engineers 
Two of the professionals working in the ICT sector have been constantly confused for each other most times by people who know little about the tech industry.
Software developers and software engineers have had their terms used interchangeably. 
The professionals in these fields understand the distinction in roles and the job description, although the distinction in these roles are sometimes compromised even by the employers of labor themselves as these roles are most times interwoven. 
Due to the close competition between the two fields, the distinction in these roles has been narrowed down significantly.
In practice, software engineers can sometimes perform the work of software developers but software developers do not perform the functions of software engineers. 
This is because a software engineer ideally has similar skills as a software developer but a software developer need not acquire the skills of a software engineer.
A software developer carries out the task of creating software using the eight steps of the Software Development Life Cycle (SDLC). They are Planning, Requirements, Design, Build, Document, Test, Deploy, and Maintain.
See Also: How To Start a Side Business While Working Full-Time
Facts And Factors Affecting Software Development
'Money.usnews.com' gave the average annual income of a software developer in 2019 to be $107,510 with the most paid 25% making $131,320 that year while the least paid 25% grossed an annual salary of $82,430
Software development is one of the most paid professions in the world, and it has a good growth rate index. 
The US Bureau of Labor and Statistics predicted that this profession will by about 22% come 2029 with about 316,000 job increments by that time. 
It is safe to agree that software development is a profession that won't become redundant in the near future. 
With the improvement of technological innovations and the emergence of new ones. This field will guarantee developers even better income in the future than what it's seen today.
How much software developers get as an annual salary is a function of several factors.
This could be their chosen specialty, their qualifications or degrees, the versatility of knowledge in several programming languages, the kind of tech skills they have, the type of work they do and how relevant they are to where they work. 
Another point that also matters is the location of work, a software developer working in tech hubs located in urban places might be paid more.
The growth rate of the tech company they work for is another factor, big tech giants tend to pay developers more than Start-up firms.
See Also: How To Get Jobs On Upwork With No Experience
How To Make Money As A Software Developer
We live in a world of means, and as such any good profession must be able to guarantee the professionals practicing it. Not just employment opportunities—but also opportunities to make big bucks. 
Some of the ways by which a software developer can make good money are discussed below:
1. By Working as a Professional in a Tech Firm
A good way to make money as a software developer is by rising through the ranks while working in a tech firm. 
Working with giant multinational corporations (MNCs) such as Amazon and Facebook is a good way to make good money.
But before that can happen a software developer must choose a specialty. There are many specialization options that exist in the field of software development.
Generally, developers have skills that they share in common. This includes problem-solving skills, creativity, basic knowledge of programming language and mathematical aptitude.
Each of these common types of developers have some skills that make them unique from the others and must be well versed with the technologies that are mostly used in their specialty.
These developers can be:
a. Website Developers
These types of software developers can be generally grouped into three categories. They are: Front end, back end and full-stack developers.
The choice of what type of developer you want to become may be influenced by job availability, the degree of passion and the average annual income of such a specialty.
Working as a front end developer is a rewarding career monetarily. Their job description requires them to have a big flair for design as they design the user interface of the software. 
They prioritize the beauty and smooth functioning of their work above everything else.
These days, they may also be saddled with the responsibility of carrying out website optimization as their job description is changing with the advancement in technology.
Front end developers work collaboratively with back end developers and user experience engineers to spell out well-structured software or apps with cool layouts and amazing features.
Front end developers make use of HTML, CSS, and Javascript, which are the building block languages of web development.
These developers carry out the design, implementation, functional core logic and performance of the software.
Backend developers make use of Java, C, C++, Ruby, Pearl, Python, Scala, Go and others.
They make sure that the data resources wanted by the end-users are rightly delivered. The backend is made up of two basic components: The server and the database.
A full-stack developer knows and does both the job of front end and backend developers.
They have a versatile knowledge of the programming languages so they can carry out both tasks efficiently. 
See Also: 21 Best High Paying Remote Jobs ($100k+)
b. Mobile Developers
These developers write codes for apps that run on mobile devices. They build applications specially for mobile platforms like Android and iOS.
Adept knowledge in swift, C#Java for mobile and objective-C is required.
c. Game Developers
They carry out the complicated task of writing codes for gaming applications. They make use of frameworks such as DirectX, OpenGL, Unity 3D, WebGL.
To be a good game developer, programming language skills such as C, and C++ are important.
d. Data Scientists
Their Job is to use mathematical and statistical approaches to write codes that can forecast future events.
They do not design or user interfaces per se, since they just write programs.
There are other high paying specialties of website development that a software developer can take up as a profession in order to make a good income.
Opportunities to make wealth always exist in this field for developers who are willing to take up jobs in other specialties such as:
Desktop developer

Embedded systems developer

Operating system developer

Language developer
See Also: How To Start an Amazon FBA Business As a Side Income
2. By Exploring Other Career Options
The career path of a software developer is unlimited, not everyone has the passion for working with tech firms, some other developers want to be their own boss.
It is expedient to note that some other software developers still do one or more of these for various reasons. 
It could be because they are looking for means of generating extra income, so they do those jobs as a side hustle. 
For some other developers, they have grown their interest in any of these to a point where it has become their main job.
With the right skills, hard work and patience, it's possible to make really cool cash from these alternatives to the point of self-sustenance.
It's even possible to make a bigger income through these alternatives.
Some of these alternatives are:
a. Freelancing
For a fact, some developers earn a lot more from working as a freelancer than they could ever make from working for an average tech firm.
This is not true for all cases though, and in reality, it only holds true for a few cases.
This path should not be mistaken for being easy because it's honestly not. It requires patience to be able to work full time as a freelance developer.
The online platforms where freelance software developers can get gigs and make money are:
Fiver

Upwork

Toptal

CondementorX

Pilot

Craigslist

PeoplePerHour

Upstack
See Also: Top 15 Small Business Ideas for Stay at Home Moms
b. Affiliate Marketing
Developers with huge social media followers or with a large online audience can easily set out to become affiliate marketers.
Affiliate marketing is an advertising model in which an affiliate is rewarded with a commission by a company or a business for every product he helps sell. 
An affiliate shares a unique link to a product on his blog, social media platforms, website or even podcast, this, in turn, generates referrals for the affiliate.
One of the most amazing things about affiliate marketing is that there is no limit to how much you can make, you get paid for every product that you generate sales for.
As a warning, affiliate marketing is not always rosy at first, so you should not rush to quit your job until you have started making good money from it. 
The good thing about affiliate programs is that they are free to join, so you don't have to spend any amount whatsoever to get on track. 
All that is needed for a developer that wishes to go into affiliate marketing is to find the right affiliate program that he's comfortable with. Most preferably those in the area of his field; which he is more familiar with.
Conclusion
Although it is generally believed that software development is a hot-cake field all across the globe. It does take time to grow and to build a consistent source of income. 
 But once you have acquired enough value and you are confident in yourself, then you can go ahead to implement this piece.
Recommended Books to Get You Started and Going
=> Get: The 4-Hour Workweek: Escape 9-5, Live Anywhere, and Join the New Rich
=> Get: The Software Engineer's Guide to Freelance Consulting