If you have a 9-5 job or an individual seeking a high paying side hustle to start in Nigeria, then this post will be a go-to guide for you.
There are quite a number of business ideas to launch in Nigeria that can earn you a fortune. These side hustle ideas can be a great passive income stream.
The interesting part of it is that most of these profitable side hustles require little or no capital investment to get started and you can turn these side hustle into a full-time job.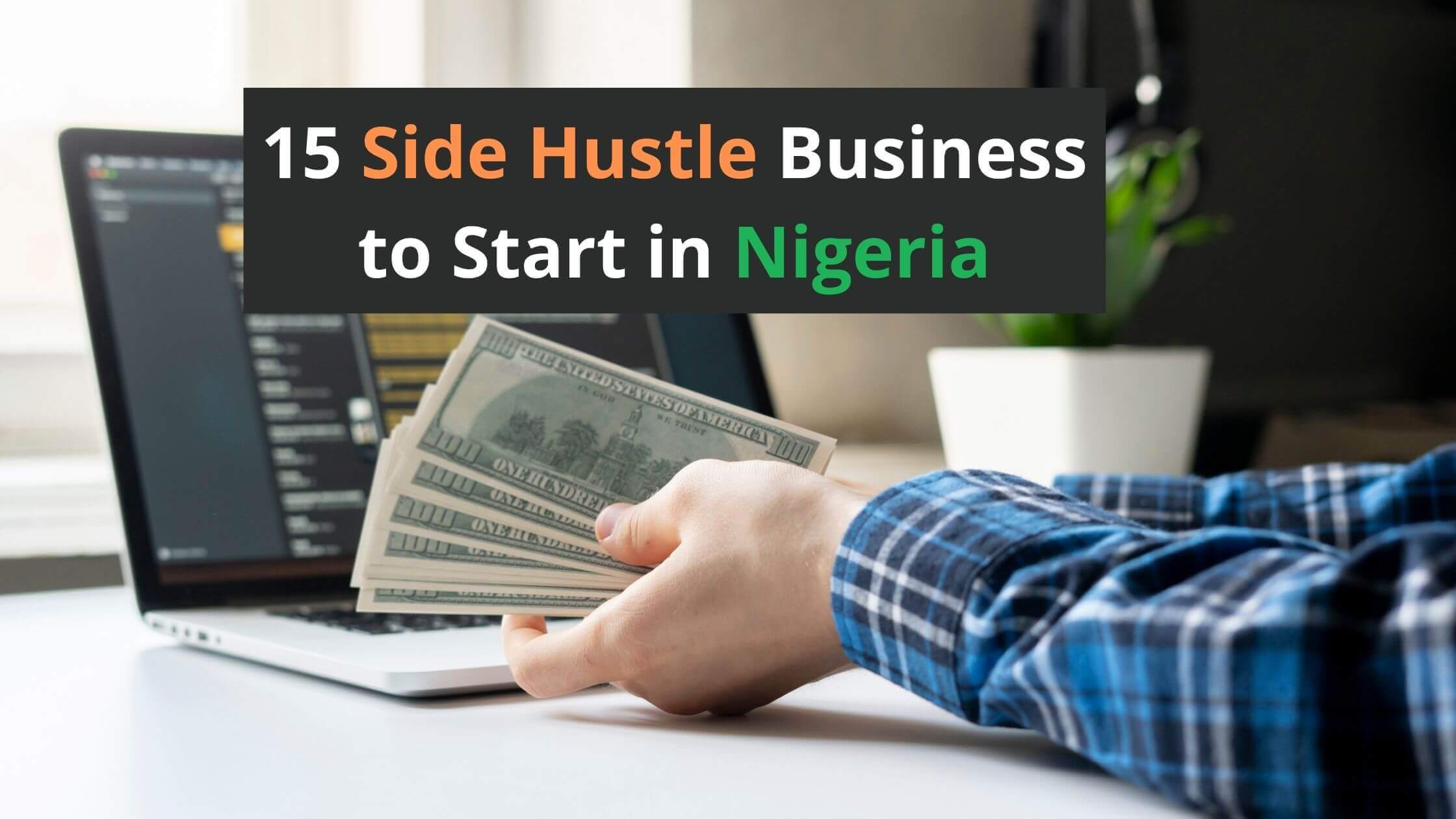 Having a side hustle can make you financially independent and grant you the opportunity to monetize your skill.
Without much delay, let's get started.
15 Highest Paying Side Hustle to Start in Nigeria
Here are the lists of the top 15 highest paying side hustle to start in Nigeria with little investment.
1. Open Your Own Online Store
Technology has made buying and selling way easier with ecommerce. You don't necessarily need to own a physical shop before you can nurse the idea of buying and selling.
You can do it from any location once you own an online store.
Easy right?
Owning your online store will give you an edge in selling on 3rd party ecommerce sites like Jumia and Konga, which open you up to competition amongst merchants.
Creating your own online store isn't that difficult. You can achieve this with platforms like Shopify and Woocommerce. However, platforms like Paystack and Flutterwave now provide ecommerce platforms for the African market and it is completely free.
I can guess you must be asking yourself what you can actually sell online.
The answer is the simplest thing after sliced bread.
You can sell absolutely anything.
However, it's advisable you go for products in high demand like health products, fashion items, skincare products, gadgets, food etc. Just go for a niche that interest you and is also profitable, so you can give your 100% commitment and time to it.
See Also: How to Start a Profitable Ecommerce Business in Nigeria
2. Gadget Repair
Gadget repair is a really lucrative side hustle in Nigeria. Specializing in phone and computers repair is the new thing. Although it requires some level of expertise to start the business.
Besides,  it is an amazing way to generate income in Nigeria.
Once you have acquired the skill, you'll be good to go.
Another way to go about this is to partner with someone or people that you know are experts at the repair of gadgets and have a friendly business agreement with them.
3. POS Agent
With the current state of the economy, a POS business in Nigeria is likened to a small and portable bank. And with the look of things, I honestly think that POS agents will definitely continue to thrive.
It saves the average Nigerian from the stress of going to the bank for withdrawals and every simple bank transaction.
The fact that there are lots of POS agents here and there really doesn't stop anyone from embracing it as a side hustle.
You mustn't necessarily be the one working as the POS agent, you can employ someone to do the job and then pay him or her. It'll be smart to create a system that monitors daily transactions.
As long as businesses are being done daily, people will always send and receive money on a regular basis. Most especially those that deal with a whole lot of cash.
This is an assurance that this business is a good side hustle in Nigeria, and it has come to stay.
4. Digital Marketing
The more businesses keep going digital, there will definitely be a need for people that can help manage them. These people are experts and are called digital marketers.
Digital marketers will help your business stand out online and at the same time reach out to more and more potential customers. 
You might think you're capable of doing the job of a digital marketer, but once you try it you'll know that they're trained and good at what they do.
The difference will be obvious.
This is why you can become a digital marketer. Yes, you can learn and acquire digital marketing skills.
Even if you just want to focus on running ads, creating digital strategies, tracking engagements and views etc you can do his from home and make some really good money.
It just might be difficult for you to have clients even as a beginner. Asides from that, digital marketing is a lucrative side hustle that you can never go wrong with.
See Also: Digital Marketing: 20 Things You Should Know as a Beginner
5. Event Planning
About 20 to 30 years ago, I really don't think anyone thought this would ever be such a lucrative side hustle to venture into in Nigeria.
Fast forward to today, event planning is one of the top-paying side hustles that is bringing food to the table of many.
We all know that Nigerians love parties, weddings and naming ceremonies inclusive. Events can't just stop happening in Nigeria. The challenge here might just be finding your first client.
Event planning is such a lucrative side hustle in Nigeria. You could do this conveniently alongside your full-time job.
6. Freelance Writing, Editing and Proofreading
Freelancing is now a top career choice in the world at large. Not just in Nigeria.
The fun thing about freelancing is that you can work from any location of your choice. You can be in Nigeria and be doing some work for someone in the UK.
That's how easy and amazing it is. You don't need to sit and wait for some company to employ you. Learn the necessary skills and get yourself employed.
As a copywriter, you can be making money by ghostwriting, proofreading, writing content for bloggers etc.
See Also: 20 Best Freelance Websites to Find Work in Nigeria
7. Start a YouTube Channel
Millions of people visit YouTube to learn, educate and entertain themselves. You can come up with a high quality and content video for a particular set of people.
You can monetize your YouTube video with AdSense and make money as a YouTuber in Nigeria.
Your task will be to create content that your target audiences are searching for and happy to consume.
There is really nothing people don't search for on YouTube. The most interesting part is that you'll get at least one or two results for every search.
I can remember the day I searched for a video on how to make crochet braids, and surprisingly lots of videos popped up.
Creating a YouTube channel is one of the best side hustles you can embrace in Nigeria. You'll need to be able to create videos with quality content.
This is a skill any determined person can easily learn.
See Also: How to Promote Your YouTube Channel for Free
8. Mobile Food Delivery
If you have amazing cooking skills, this is a very lucrative side hustle for you, especially as a Nigerian. So many people are always out hustling, and literally don't have the time to fix up meals for themselves.
Asides from the fact that there are so many people doing the business now, there is still room for new entrants. As far as your food tastes good, your brand will definitely stand out.
9. Gifting Service
People actually give out gifts every single day. And it is quite normal for people to get stuck on the choices of gifts.
This is where your services will be rendered. Helping people to give gifts to their loved ones is unarguably a very profitable side hustle in Nigeria.
Being able to come up with gift boxes that people will love and admire is no joke. That is why it'll be necessary to carry out research and make the entire process a memorable one for your customers.
You might make so much money that you might even decide to turn this amazing side hustle into a full-time business.
See Also: Top 20 Ecommerce Marketing Strategies to Boost Sales
10. Start a Resume and Business Writing Service
If you're so good at writing CVs, resume and cover letters. You can start making money from this skill and of course, make it your side hustle.
There are thousands of people applying for jobs daily, and not all of them are so good at writing compelling CVs and cover letters.
Use your social media platforms to advertise your business and watch the number of people that'll contact you. Don't underrate any skill. You can make money right under your roof.
You might just need a laptop, a mobile phone and the internet to get started.
11. Start a Tutoring Side Hustle
A whole lot of people are learning online, and they'll need help in their learning journey. They could either be secondary or tertiary students or even those preparing to write professional examinations.
Those that have successfully passed professional examinations can take up this side hustle. Being a tutor to others based on the knowledge you have is one of the easiest side hustle you can start in Nigeria at the moment.
All you might have to do is to find your customers the most convenient way of your choice. This could be done on social media or by meeting people face-to-face.
You could as well go ahead to create paid ads to let more people know about your services. Work towards giving yourself and your brand a name that boldly stands out amongst the others.
See Also: 21 Best Online Learning Platforms (Free & Paid)
12. Start an Uber Gig
Running an Uber Gig is such a lucrative side hustle in Nigeria that could get you so much money.
All you'll need is a car that meets Uber requirements with all the needed paperwork. The car could be yours or someone else's, either way, you could make money from it as a side hustle.
There are lots of 9 – 5 workers who do this after the day job and also weekend.
13. Online Fitness Training
Absolutely anyone can open a gym of their own. But setting up a home gym and creating top-quality workout content and posting them on social media is not a child's play.
You could even go ahead to create a YouTube channel and be posting the videos there. If you're a fitness lover, you should definitely think of this as a side hustle.
You might not necessarily need to own a gym. You can make recordings of your workouts at any gym of your choice(most preferably the gym you most frequent use). Just make sure you create very good videos.
Also, you can use social media platforms to consult for people that want to start their fitness journey. Then go ahead to make money right there in your house.
See Also: How to Register a Business Name in Nigeria (Explained)
14. Furniture Making
Furniture making is a very lucrative side hustle here in Nigeria. The market is huge and the demand is relatively high. People will definitely always use furniture.
Companies, homes, churches, schools, etc all need furniture. We are surrounded by furniture everywhere we go. It's a really essential commodity.
This means that you can start a carpentry shop where you make well furnished and polished furniture that suit diverse purposes. You might not be the one doing the work.
You can employ skilled carpenters and be a furniture supplier to companies, schools, showrooms, and even sell to people individually.
If you're not comfortable with the idea of a carpentry workshop, you can open a showroom. And get polished furniture from good carpenters around.
Display them In a very nice way and you'll definitely make sales. You'll make so much profit from this as a side hustle and even as a full-time job.
15. Fashion Business
There is absolutely no way fashion business will not be among the list of most lucrative side hustle businesses in Nigeria. There is absolutely no way.
Even during funerals, sometimes we still celebrate by throwing parties (mostly when it's a celebration of life). For events like this, a uniform is considered.
The fashion business is very much in demand and it's also a very lucrative side hustle anyone can venture into. People will always wear clothes. To go to school, work, parties, even to sleep, people need clothes.
The demand is extremely high.
As a fashion designer, you can make really amazing clothes. If you don't want to go into fashion designing, you could own a boutique and sell both imported and locally made fashion items.
You could even print on t-shirts and face caps.
See Also: Clubhouse Marketing: How Businesses Can Benefit From it
Conclusion
As a Nigerian, it is really necessary for you to buy the idea of embracing a side hustle. There are lots of businesses you can comfortably manage alongside your day to day job.
It's really amazing how these side hustles can relieve you of financial stress.
Let's teach ourselves and our youths about this. Start a side hustle in Nigeria today and you'll have no reason to regret tomorrow.