Want to know how to make money on LinkedIn? There are more ways than one.
The importance of LinkedIn to professionals cannot be overemphasized. With approximately 774+ million users, it's naturally a good social network to generate income online in diverse ways.
In order to gain value on a platform like this, you need to give value in exchange. For instance, when we refer to a complete profile, we definitely mean info on your background, education, and diverse areas of expertise that can help you achieve an All-Star status on LinkedIn.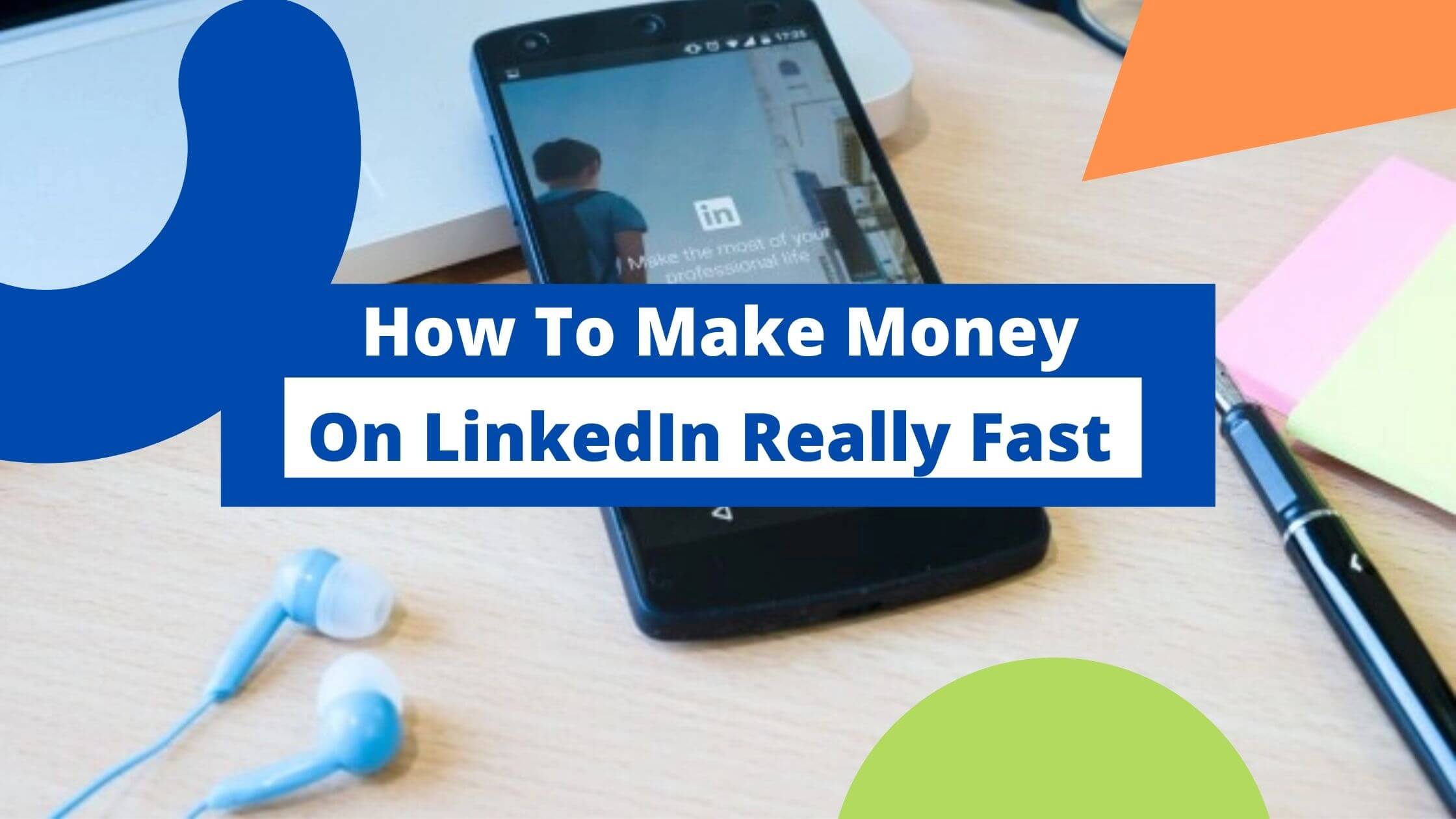 Research shows that LinkedIn users that list five or more skills, end up receiving as many as 17 times more profile views.
You shouldn't also forget that LinkedIn profiles rank very high in Google searches.
This social network has so many monetization opportunities. That's why is very important to steadily update your profile and start making connections to stay on top of opportunities.
Most people shy away from LinkedIn because they think it's a platform for professionals and that they really have no need to be there.
The moment you get to realize the actual purpose of being active on LinkedIn, you'll know that it is a professional networking site and not just a social networking site.
Without further ado, let's take a deeper dive into how to make money on LinkedIn.
How to Make Money on LinkedIn Really Fast
1. Build Your LinkedIn Profile
First of all, you need to endeavor to make your profile complete because this spells out authenticity.
Include a good-looking and very recent photo of you on your profile, and then fill out the all-important professional portfolio section.
Did you know that your resume tells people what you've done? And a portfolio simply proves it. Once you've been able to successfully do all of these, you can remain active on the platform by posting every day, at least.
You can use some apps to schedule your week's work in order to know your posts in advance and plan properly for them.
See Also: 9+ Best Influencer Marketing Software Tools
2. Tell Brand Stories
You have to be able to create amazing brand stories, this is a good mission for yourself or your business. You can also create a company page, it's totally free.
Storytelling is definitely an essential way to always stay connected with your target audience. You might be wondering why this is true. Well, most of our thinking actually takes place in the subconscious, where we reason logically.
It has been proven that the perception of your brand depends on how well you're able to tell your brand story.
And most fortunately for you, LinkedIn is the best platform to find professional audiences with decades of experience. LinkedIn is one channel where people really want to learn and be taught as well as also get inspiration.
Telling brand stories is a way to create an amazing association with your brand with hundreds, thousands and even millions of people. Create a content roadmap and make your LinkedIn page the destination. Represent your brand very well and build trust.
You should always remember that your LinkedIn page is one of the best ways to connect with potential and already existing customers.
Amplify your voice to build outstanding trust for your brand. In the words of Edelman and I quote "the quality of writing and visual is telling most important criteria for someone determining whether they trust a brand's social media content".
Whenever you're thinking about content to share, you have to ask yourself what value your audience will get from it.
See Also: 9 Creative Ways to Increase Brand Awareness (Ultimate Guide)
3. Establish Quality Relationships
It's a normal thing for you to ignore a whole lot of those"invitation to connect on LinkedIn" emails. This is the time to dig into your email archives and readily start responding.
The more connections you have, the more you're able to interact with those connections, and this will make your LinkedIn connections to become stronger.
It's also advisable to put up written recommendations that'll appear on your profile. You should always remember that no man is an island and you'll always need the help of others to move forward.
4. Attach Your Saleable Product or Service
One of the ways to make money on LinkedIn is to create a saleable product. Some people have chosen to monetize information products like motivational guides to success in their chosen career fields.
Information products generate so much money and they're most times always digital, which means that they do not cost so much money to manufacture.
Also, if you sell digital products, make it easy for people in such a way that they can buy your product by clicking on the link on your LinkedIn profile.
See Also: The 15 Best Online Marketing Strategies to Increase Sales Revenue
5. Offer Consulting Services
If you have a level of expertise in a particular area, you have to make it known to your  LinkedIn connections that you offer consulting services.
This is such an amazing and easy way of creating brand awareness. So many people make plenty of extra money just by talking to other business persons and entrepreneurs about what they know.
At the same time, you should not just go into it because of the extra cash but because you actually have a passion for consultation and being consulted.
6. LinkedIn SEO
One of the easiest ways for most recruiters to come across your profile in searches is to deliberately ensure that your profile is optimized.
You must be wondering how important Search Engine Optimization really is. It entails how Google and some other search engines determine how your site(s)  are ranked in search results.
Just like Google and every other search engine, LinkedIn also uses SEO technology. How this works is simple, when recruiter types in something like "content writer" when seeking to hire.
Hence, only profiles that have optimized with the keyword are more likely to be displayed first.
You can actually get your dream job from LinkedIn if you have a good knowledge of SEO. It is basically how you get "seen" mostly on search engines.
See Also: Best 15 Free SEO Tools to Boost Your Website Ranking
7. LinkedIn Advertising
With the little amount of money you have, you can invest in LinkedIn advertising to gain online visibility and make money on LinkedIn
You could also go ahead to create ad campaigns to promote the free giveaway by using some options to get the user's attention. Ads campaigns can be created, just to focus on the target demographics of your products.
This will make them even more curious to know even more about the free giveaways and every chance to grab them. Also, discount codes that can be used to reach your target should not be exempted.
See Also: 15 Effective LinkedIn Marketing Strategies to Grow Your Business
8. Affiliate Marketing
This is one of the sure bets to making money on LinkedIn. There are many advantages attached to promoting LinkedIn users to help you boost your affiliate sales.
Affiliate Marketing is a very stable way of generating money online. It mainly consists of advertising or promoting another company's brand or service as a result of your recommendation.
Promoting affiliate links to generate income online goes in hand with great reviews. You can always go ahead to share your Affiliate Marketing posts reviews as answers to some questions within the groups you belong to.
9. Get Hired
If you don't have a business yet, you could use LinkedIn to earn some bucks. LinkedIn can definitely help you secure your dream job and here's simply how to go about it.
If you're looking for a particular job, then publish your LinkedIn profile to the best of it, to impress employers looking to hire.
Focus more on the summary section by talking about your passion, experience and results you have for that position.
You could use media elements to add samples and other contents that are quite impressive.
If you really have dreams of working for a particular company, it'll be necessary that you follow their company page on LinkedIn and always comment on their updates.
Check out groups that belong to the company and feel free to join them and actively participate. Keep an eye on them and follow them back to back.
See Also: 21 Best High Paying Remote Jobs ($100k+)
10. Create or Join LinkedIn Groups
If you're a registered user on LinkedIn, you're totally free to create or join LinkedIn groups of your specific interests.
By joining a group, you have the chance to socialize with the group members and be open to various opportunities.
On a group, your profile actually appears at the right-hand sidebar with the profiles of the other group members.
All of these give you better exposure and this really helps you find a professional and relevant job. Once you're able to find a job, you have definitely started earning.
Conclusion
There's no doubt that there are so many answers to the question of how to make money on LinkedIn. LinkedIn is a whole package of opportunities.
LinkedIn is not just the best platform to easily showcase your professionalism to the world at large but a platform to also make money.
You can learn about the platform and maximize the opportunities that it presents.
Also Read: