Here is a practical approach explaining blogging for beginners, how to get started, scale, promote and maintain your new blog website.
Blogging for beginners can be a means of sharing your thoughts, and expertise or a way to generate passive income.
While it may appear like just creating a blog site in WordPress and publishing new content, there's even more to that.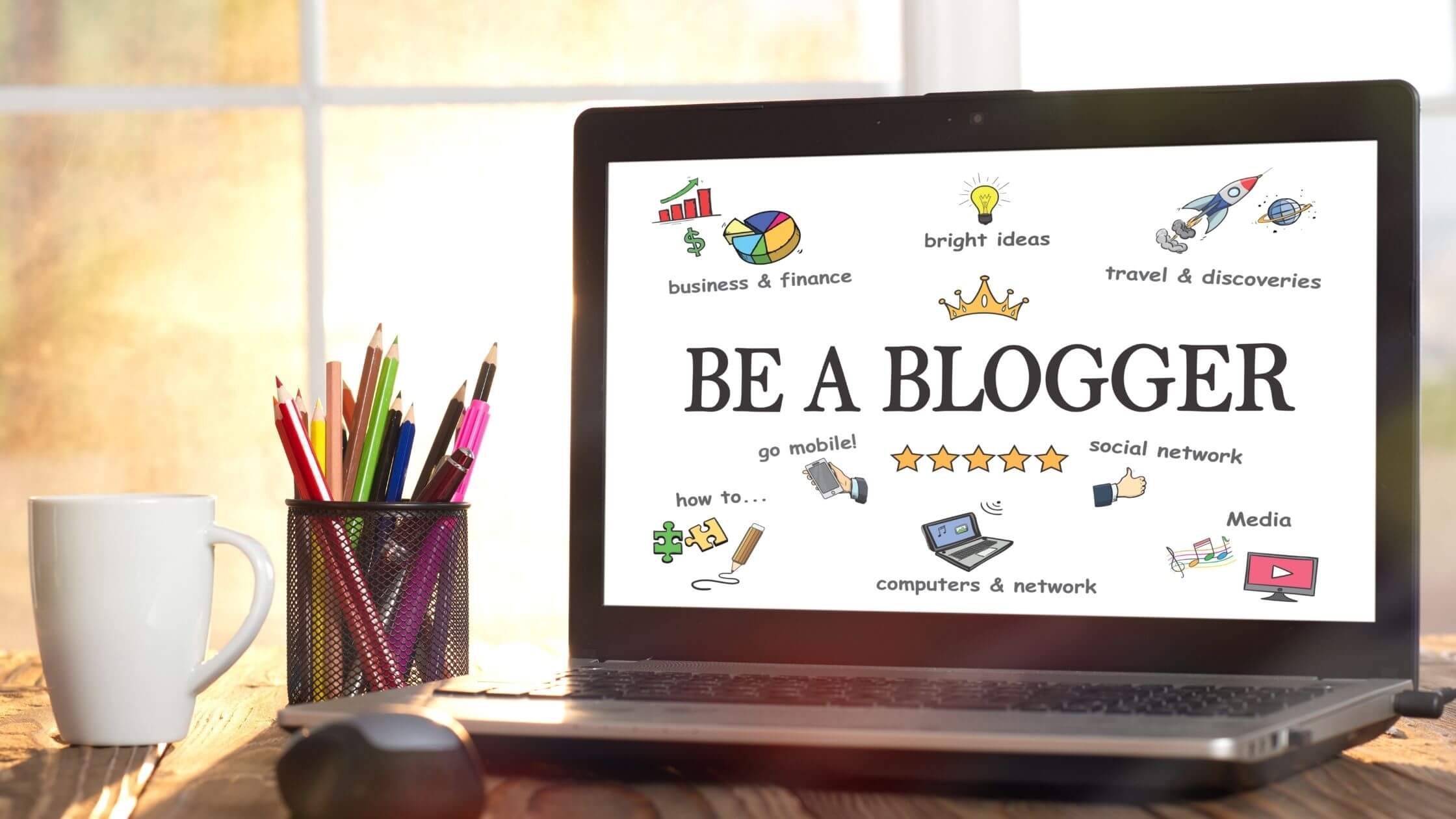 Perhaps, with the rise in competition on the internet, only a practical and planned strategy for blogging can bring you success.
So, if you are already investing time and resources by publishing high-quality content on your blog site, you might as well review this guide that thoroughly explains blogging for beginners.
See Also: Digital Marketing: 20 Things You Should Know as a Beginner
Blogging for Beginners: 21 Things You Should Know Before Starting
1. What Exactly is Blogging?
Blogging refers to writing, photography, and other forms of online media that are self-published.
A blog is a kind of website that focuses specifically on written content, universally known as blog posts.
We most often hear about celebrity, food and news blogs blog sites, but you can start a successful blog on just about any niche.
See Also: How to Start a Blog and Make Money Online
2. Is Making a Blog Free?
Blogging isn't free. You need time investment and money to start a blog.
If you desire to host your blog on your own server with your own domain name, you can achieve so for under $50 a year. Check out our list of the best web hosting providers to choose the right hosting plan for your blog as a beginner.
Also if you want to make money from your blog, you will have to spend time and money to succeed at it.
3. How do Bloggers Get Paid?
The two basic ways bloggers get paid. Ad networks pay publishers either per impression or per click.
Paid per impression – with these ads, the blogger receives payment when the users view ads on the site. So, advertisers pay publishers based on the number of people who have seen their ads.
Paid per click – bloggers get paid when a click action is made on the ad. Advertisers pay website owners based on how many people have clicked on the ads.
4. Which Blog Niches are Most profitable?
Starting a blog is a piece of cake. But finding the blog niche as a beginner can be a little bit of a head-scratcher.
These are all profitable, popular niches that can be great to start as a beginner

Below are the blog niches that make the most money.
Health and Fitness

Personal Finance

Business and Marketing

Technology and Gaming

Fashion

Lifestyle

Travel
5. On Which Topic Should I Start Blogging?
It is always recommended to write about a topic that you are passionate about or have expertise in.
Importantly, it is better to create a niche for your blogs to enable you to create content on topics of expertise. Another factor to consider when researching blog topics is the search volume and competitiveness of content on those topics.
You can do keyword research on the topics and create content on popular topics.
It will add no value to creating content that nobody is reading or searching for. Ensure that your content supply matches web demand.
6. How Much Does it Cost to Start a Blog?
Based on your goals and the type of niche website you want to start, your blog posts will average $34.50 to $65.40 to start a blog and cover your expenses for the first year.
Starting a blog does not cost that much. But you need to invest time and resources to become a successful blogger.
7. Can Anyone Become a Blogger?
The simple answer is YES!
Blogging for beginners is actually easy. Thousands of new blogs hit the internet every day. Anyone can start a blog in 5 minutes, but very few people will create a successful blog.
It is a smart way to start earning a living from blogging, podcasting, online courses, affiliate marketing memberships, SaaS and more. So whether you're 9 or 99, you can create your own blog today.
8. What is a Blog Post?
A blog post simply is an article written for a blog site –just like the one you are reading now. While a blog is different from a website, the frequency of updates is higher than a website.
Also, blog posts appear in date order with the latest at the top of the blog page.
9. How do I Write My First Blog Post?
Without a blog post, there is no blog. What makes a blog is having content in form of blog posts.
Here are some quick guides on how to write your first blog post:
Introduction: Start by Introducing Yourself.

Find Your Voice

Link Your Blog to Your All Social Pages.

Proofread, proofread, proofread!

Add Quality Images, Video, and Engaging Content.

Push for Comments and Feedback.

Don't be in a Rush – Your First Blog Post Only comes once!
10. How Can I Increase my Blog Traffic?
Blogging for beginners can be difficult especially when it comes to driving traffic to your blog. Especially quality traffic.
With over 7 million blog posts published daily, getting traffic doesn't start after you've published a blog post. But it starts right at the planning stage.
Below are some of the ways to increase your blog traffic
Create more content.

Promote with social media.

Incorporate internal links.

Write better titles.

Join forums and be active

Know your niche.

Include quality photos.

Incorporate keywords.

Build Backlinks

Add social sharing buttons
11. What is Blog Example?
A perfect example of a blog is the prime one you are currently reading. Primegate Digital's blog is a digital marketing blog sharing tips, strategies and marketing trends to help businesses of all sizes as well as individuals.
You can start a blog on any niche. However, it is always best to start a blog on what you are passionate about.

12. Is WordPress a Good Blog Site for Beginners?
WordPress is a great choice if you want flexibility, security and full control over your blog's future. Blogging for beginners has become a lot easier with WordPress.
WordPress.org offers you control over every aspect of your blog site. Also, you can expand your blog and include extra features like forums, paid membership, and an online store.
Hence, flexibility makes WordPress the best blogging platform to make money online.
See Also: The 11 Best WordPress Hosting To Consider
13. What Makes a Good Blog?
In the grand scheme of things, a good blog is one that offers its readers great and engaging content, regularly. Content that makes their lives easier, offers value and excites them to look forward to the next content.
A great blog is one that compels the reader to share the blog with their friends about what they're reading.
To create a good blog, you need to deliver great content consistently.
14. Why Does Most Blog Fail?
Content is still king. Hence one of the reasons why bloggers fail is that they are failing to produce engaging, unique and quality content.
With millions of content on the internet, great content is the minimum requirement for being up to speed. As a result, you can provide your audience with valuable information, tips, tools and strategy that they can't find anywhere on the web.
As a blogger who is starting out, it is vital to focus more on the quality of your content. This will not only keep your readers coming back but also help you to up your SEO game.
See Also: Our Top 25 Most Powerful Content Marketing Tips Ever!
15. How Can I Learn to Blog?
If you have an internet connection and a computer, you can learn how to blog. There are thousands of digital marketing agencies that provide blog training. You can register for this training. Also, you can source resources on YouTube from highly successful bloggers.
Blogging for beginners requires lots of practice and patience to be able to get a good result.
16. How Can I Monetize My Blog Fast?
Blogging for beginners stands on the motivation that one day, the blog will become a passive income stream. There are many ways to monetize a blog, especially with lots of monthly traffic to your blog.
Here are some of the ways to monetize your blog even as a beginner:
AdSense. You can make money on your blog by partnering with Google to display relevant ads on your blog.

Affiliate Marketing

Influencer Marketing

Sponsored Content

Create a Book

Offer Premium Content

Turn your blog into a membership site

Use a Blog to Sell Your Main Business

Get Paid for Writing Reviews.

Sell Ad Space Directly
See Also: 10 Hot High Paying Affiliate Marketing Programs to Register
17. Is Blogging a Good Career Today?
Blogging is not just a means to express your thoughts and make passive income but also a career path. It is a good career today and beyond for anyone that wants freedom from 9-5 and also earns from it.
You can start a blog full-time. There are lots of bloggers who are happy they made such a decision years back.

18. How Long Does it Take for Your Blog to Get Noticed?
If you've just started blogging, chances are that your blog domain is brand new. The age of your domain and the domain authority are important ranking factors.
Search algorithms like Google's usually place more priority on older domains with a good reputation. So as a general rule of thumb, it is good to allow around 6 months to really start seeing results from search engines.
While you are waiting to have your blog indexed on Search Engine Result Pages (SERP), is it important that you keep publishing quality content.
See Also: 15+ Newest Ways to Promote Your Affiliate Links and Get Paid
19. How Much Money Can You Make From a Blog?
It's very easy to make an extra passive income of $500 – $2,000 per month blogging as a beginner in your first year. And then in the subsequent year, you can significantly increase your monthly blog revenue.
Glassdoor reports that the average blogger's salary is over $50,893 per year, based on several anonymously submitted salaries.
As a full-time blogger, you can make over $100,000 per year and work about 10-30 hours per week.
There are also bloggers who earn millions of dollars from blogging every year and work less than 10 hours a week (wouldn't it be nice to be there!). That's an amazing ROI for your time investment.
20. What Makes a Successful Blogger?
All these successful bloggers have:
blogs with quality and unique content.

managed to build engaging communities around their blogs.

use multiple ways to make money. They have created their own products but they also make money from affiliate marketing and ad network like AdSense, Ezoic, Mediavine etc.

been consistent with blogging for years until they were able to fully monetize their blog.

the skill that drives traffic to their blog especially SEO.
21. How do I Optimize My Blog for SEO?
Search Engine Optimization (SEO) will help you to drive more organic traffic to your blog. If accurately implemented, it will enable your blog to rank higher in the Google search results pages (SERP). There are several tactics that you can use to optimize your blog for SEO.
Here are our top SEO blog post writing tips to increase your blog visibility, thereby driving more traffic to your blog.
Use keyword research to plan your content.

Write attention-grabbing blog post titles to increase click-through rate (CTR).

Maximize internal linking.

Make your blog easy to read.

Ensure you use the right title tags for your heading and subheading.

Create unique and quality content.

Use Search Console and Google analytics to Gain insight into your content results.
Conclusion
Congratulations! You've acquired the relevant information on how to start a blog. Next is to have your own domain name, hosting space, set up your blog and start posting content.
You need to be consistent and analyze every content you publish on your blog to know what content type resonates with your target audience. They are the ones you are creating the content for in the first place.
Also Read: