As a TikTok account user, video creation and uploading are big and necessary things to do to ensure your account stays active.
If having a lot of likes and growing your followership base is a thing for you, then, paying attention to the quality of the video content you create is of utmost importance.
This and many other reasons might make you need to create videos for your TikTok account without using the TikTok app.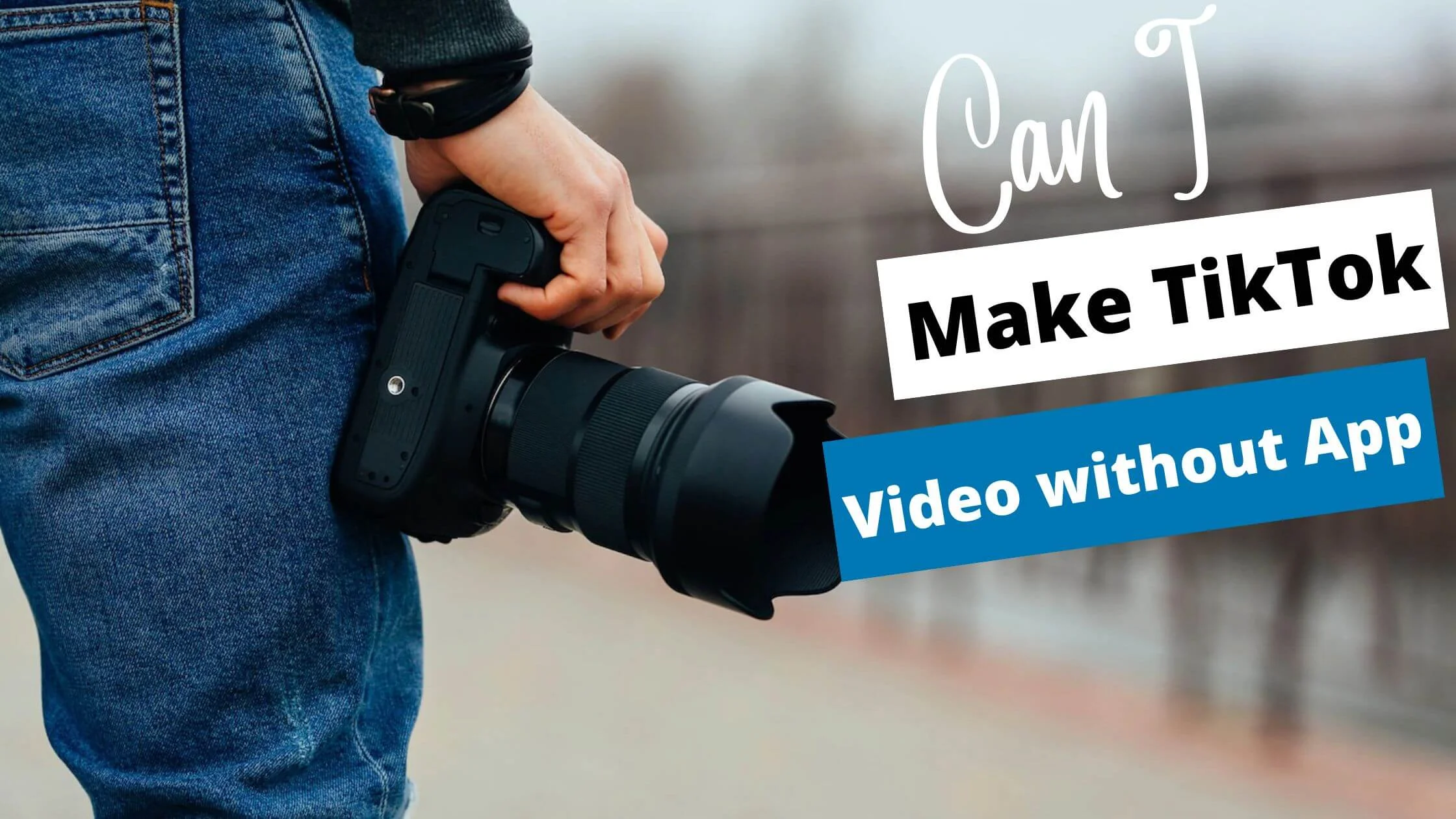 Have you questioned the feasibility of making TikTok videos without the app?
Well, there is good news for you; you can make awesome videos for your Tiktok account without using the TikTok app.
Learn the various ways to do this by reading this article.
How to Make TikTok Videos Without the App
Making and editing videos directly on the TikTok app can be a slow process and can equally produce a video of low quality if the camera quality of the mobile device being used for the video creation is low.
To beat this, several ways around this are going to be explained below.
Make Videos on Your Mobile Device and Upload them to TikTok
If you do not wish to make videos for your TikTok account for any reason, you can make videos on your mobile device and upload them directly to your TikTok account.
To do this, follow the simple steps provided below:
Go to your mobile device and launch the TikTok app.
When you are in your account, tap on the plus (+) icon located at the bottom of the page. This will lead you to the recording screen.
You will find the "Upload" button at the bottom right of the recording screen. Tap on it to go to your gallery.
In your gallery, choose the video or videos to be uploaded by tapping on the preferred video(s).
Afterwards, scroll down and press the "Select" button on the left.
Tap on "Next" when you are done.
You can now go on to edit the video and add the effect you desire.
Then, you can upload the video.
Make Videos with Your Camera or Computer and Upload them to TikTok Via Your PC
Making videos on your mobile device and uploading it directly to your TikTok handle was easy, right? Doing something similar with your PC is not hard either.
This way, you can use a good HR Camera or that of your PC to create a video and upload it to TikTok using your PC. Check out how to do this with the following steps.
Use your preferred web browser and enter https://tiktok.com/ to go to the TikTok website.
To have the TikTok web portal launched, locate "Watch Now" at the top of the screen and click on it.
If you are yet to log in to your account, do so. Click the Upload button.
Choose the video(s) you wish to upload.
Add video description, hashtags, etc. if you want to.
Choose a cover for the video and alter privacy settings if need be.
Click on "Upload" to have the video uploaded.
Make Videos on External Application and Upload them to TikTok Using Your Mobile Device
Another option is to make use of good video creation and editing software to make your TikTok videos.
This helps you bypass the editing process on the TikTok app that would have otherwise delayed the uploading process. This can enhance the quality of the video produced as well.
Just surf for a software or application that can work best for you and have it downloaded and installed.
Then, follow the procedure highlighted below to make and have a video uploaded.
Ensure that the video-making and editing app is installed. Then, sign in to the application. Every app will guide you through the process of signing in.
Then, make use of the app to make or/and edit videos. Save the video to the storage device of your phone.
Launch your TikTok application and go to your account.
Select the plus (+) icon and tap on "Upload" on the succeeding page.
Choose the video you have made with the external app and tap on "Select".
Then, tap on " Next".
Skip the editing except if the length is too long. Then, press the "Upload" button.
Make Videos with External App and Upload them Via PC using an Android Emulator
This particular procedure might seem cumbersome but in the long run, it makes it super easy to operate and manage your TikTok account on your PC as though you were using an Android device.
The following steps will serve as a guide throughout the procedure.
Step 1: Configure an Android Emulator on Your PC
Go to Bluestacks.com to get the Android emulator software. Install the app on your PC. Then, register with Playstore and sign into the Playstore account using an email.
When you complete this step, you can now have access to Playstore using your PC and can do normal downloading of apps like you would on a mobile device.
Step 2: Get the TikTok App and Sign up with it
Now that you can do a direct download from Playstore, download the TikTok app. Sign up with an email account to ensure the app is connected to your PC.
Step 3: Create a Folder for Your TikTok Videos
You have to set up a folder on Bluestacks so that you can forward created videos there. Thereafter, you can easily upload the videos from there to your TikTok account.
Go to the settings on the Bluestacks Android emulator app. Set up the TikTok desktop by marking the resolution and DPI. Select "Preferences".
Afterwards, create the folders to drop your videos. Then, drag the created and edited videos and drop them in the folder.
Step 4: Upload the Videos to TikTok
With everything in place, you can create and edit your videos, forward them to the folder and upload it on TikTok.
Since you have the Android emulator, you can upload the Video(s) in a similar way to doing it on your mobile.
Launch the TikTok app. Click on the plus (+) icon. You will be necessitated to permit certain apps. Select the TikTok video and upload the video.
This will make it easier for you to save time and upload video content of good quality as the configuration of the Android emulator and TikTok app is a one-time thing.
Send Video From PC to Mobile Device and Have it Uploaded to TikTok
If you do not wish to configure a mobile emulator to your PC, you can send the video you wish to upload to your mobile device through the normal connection and share method using Bluetooth, Xender, USB cable etc.
You can also do the sending via WhatsApp. After receiving or downloading the video on the mobile, you can then upload the video on TikTok.
See Also: Can I Make TikTok Video on my Computer?
How to Make TikTok Videos Without the App FAQs
What can I do to correct the choppy look of my video on the Android emulator?
If you notice that your video looks choppy, you do not have to be afraid that your files are corrupted, because it is not. That's how it usually looks.
The video when uploaded will not have any problem. Therefore, there is nothing for you to do.
How can I upload a video sent to my mobile from my PC that is having a resolution problem?
TikTok has its video resolution limit, so, to tackle this problem, it is important to create videos with apps or devices that can produce good quality at a lower resolution.
You can equally edit a video to fit TikTok standards before uploading it.
Conclusion
If making and uploading videos directly from your TikTok app is a problem, you can make use of external apps, your PC and your mobile to make videos and edit them outside the app.
Then, have it uploaded to your TikTok account.
Also Read: