Not until 2015, when WhatsApp web was introduced, WhatsApp mobile app was a great solution for users. There has been massive growth in WhatsApp in the past few years.
More WhatsApp users have come to love Web WhatsApp due to the convenience that it offers when connected to computers or laptops.
At one point in time, anyone who owns a computer or laptop must have connected their WhatsApp to the web.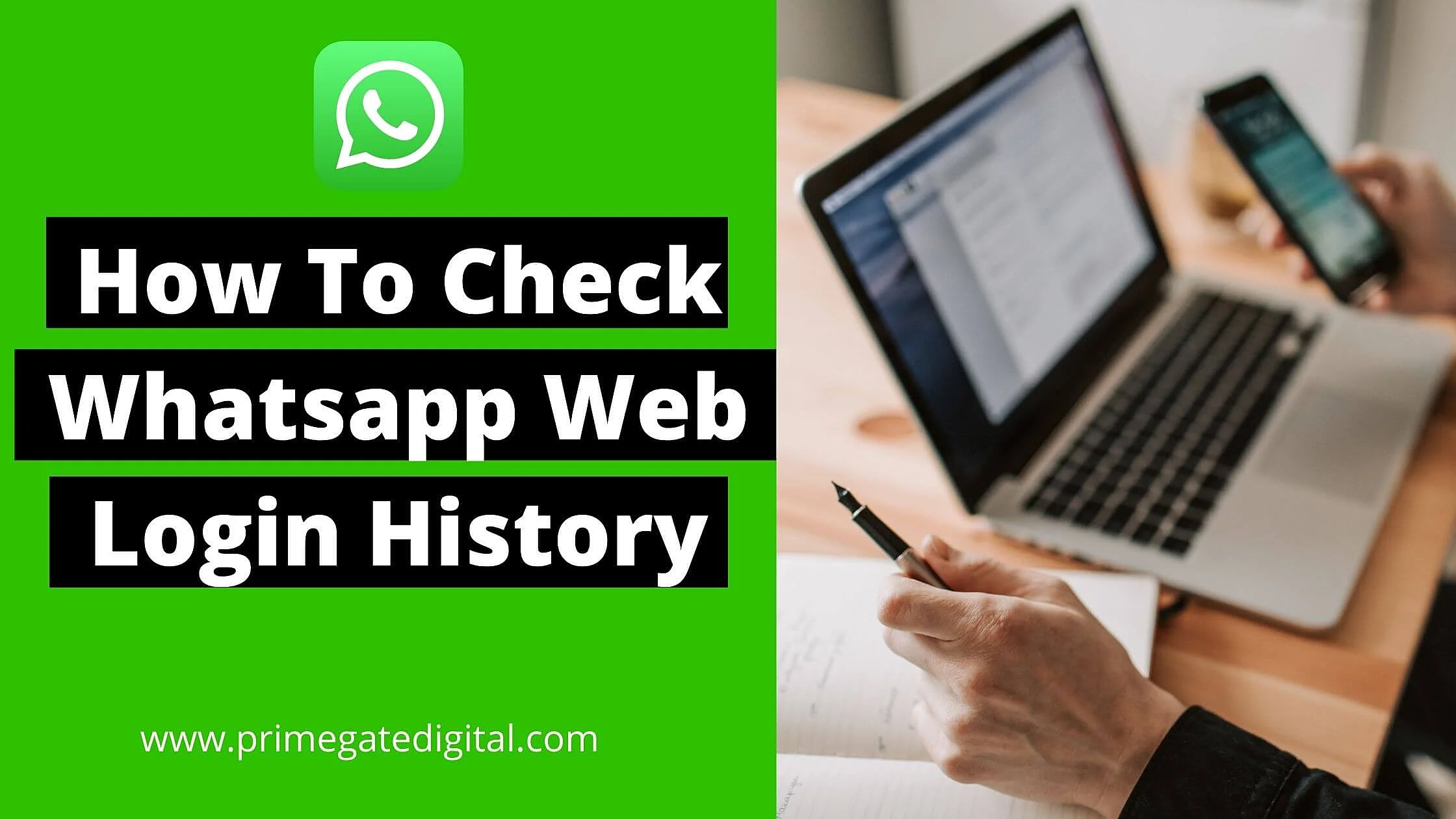 But if you're linking it for the first time, no need to panic. You can check out our guide on how to log in to WhatsApp web.
There's a lot of conversation that happens on WhatsApp, and privacy is key. Perhaps you logged into your WhatsApp web via a friend's laptop and didn't log out.
How do you ensure your WhatsApp account is secured? Is there an easy way to review your login history on WhatsApp web?
In this article, we will go through a step-by-step guide on how to check WhatsApp web login history.
Without further ado, let's get started.
How to Check WhatsApp Web Login History
The primary device for WhatsApp will always be your smartphone, irrespective of the number of web devices linked.
Hence, to check your WhatsApp web login history, you can always do so from your smartphone.
To check your WhatsApp web login history, follow the steps below:
Launch the WhatsApp application on your mobile device
Proceed to click on the three-dot in the top right corner of your chat screen
On the pop-up menu that shows up, find "Linked Devices" and click it open to access the linked devices
On that tab, you will see all the login history and activity status that has happened on all your devices that are linked to your WhatsApp web
Is Someone Else Using Your WhatsApp Web?
There are chances that you might have forgotten to log out from a friend's device using your WhatsApp. If you forgot to log out, here's how to find out.
When you log in to WhatsApp on your smartphone, you notice a notification saying, "WhatsApp Web is currently active."
This signals that your WhatsApp web is logged in to another device and that someone else is using your WhatsApp on their browser device.
See Also: How To Hide WhatsApp Chats (REVEALED)
How to Logout From WhatsApp
WhatsApp is among the most frequently used instant messaging apps. It has over a billion monthly users.
The app has shaped the way we communicate with each other, and we invest hours each day interacting with loved ones and friends through the platform.
However, we might have to log out of WhatsApp for numerous reasons.
The process of logging out of WhatsApp is the same whether you are using the WhatsApp web on your desktop browser or on your mobile device.
Here's how to do it:
Logout WhatsApp From your Mobile Device
Access the WhatsApp app from your smartphone, navigate the 3 horizontal dots in the upper right corner and select it.
A drop-down menu with five options will appear. Tap on the 3rd one – Linked devices.
On the next page, you will see all your WhatsApp-linked devices. If you are linked to numerous devices that are not actively utilized, tap beside them one after the other, and their browser name and location will be shown. Next to them is the "close" and "log out" button.
Tap the "Logout" button and repeat these steps for each linked device you don't have access to or are not actively using.
This will assist you in signing out of any WhatsApp web devices linked to your account.
Logout from WhatsApp from pc
Access the WhatsApp web platform or the web app on your PC browser.
Navigate to the upper section of the chat window, and you will find five icons, which comprise the profile photo, status bar, community tab, new chat and three-vertical dots or "menu" option. Select the three vertical dots.
A drop-down menu will appear with 5 options. One of them is "log out." Select Log out, and it will effectively sign you out of WhatsApp.
It is that easy and stress-free.
How Do I Hide WhatsApp Web Login Devices?
The reason WhatsApp created the "Login Devices" feature is to improve the account management activities of users.
Despite its tremendous benefits, it can be a source of annoyance, especially when many devices are linked to your WhatsApp account.
This is why many users hide this feature to prevent others from knowing the number of devices linked to their accounts.
So, below are the steps involved in the process of hiding your WhatsApp login devices:
Access your WhatsApp app, and navigate to Settings> Account.
Next, tap Privacy.
You will find a list of linked devices in the login section. These devices are connected to your account.
You can hide any device in that section by selecting the specific one you wish to hide. Next, toggle off the option.
Congrats! You have successfully hidden your web login device from your WhatsApp profile, and no one can see it! This feature is important because it safeguards your privacy.
However, it is still possible for someone to access the hidden login devices list if they are skilled in cyber hacking.
What are Secure Ways to Use WhatsApp Web?
WhatsApp Web is an amazing tool for using the instant messaging platform on your PC or laptop.
But it may increase your security vulnerability if you do not take precautions. Here are secure ways to use WhatsApp web:
Avoid using the web app if there is no need to
For users of iOS or Android devices that support WhatsApp, there is absolutely no need to use the web app. The mobile app versions have a more enhanced security feature because they are designed for your device and do not run on your PC's browser tab.
Ensure your PC or desktop is password-protected before running WhatsApp Web
This will prevent unauthorized access to the web app, as you will be the only one that can log into your computer.
Always be sure to log out each time you access WhatsApp web
This is a security precaution. However, it may seem like a waste of time because you will be required to scan the QR code each time you need to access the platform.
Make sure you always remember to log out of the platform by unchecking the "Keep me signed in" box, so your account is automatically signed out if it is inactive for several minutes.
How Can You Prevent Hackers From Accessing your WhatsApp?
Hackers are interested in your data and sensitive information. This is why they target messaging platforms like WhatsApp. There are lots of things to do to prevent hackers from accessing your WhatsApp. All they have to do is get hold of or hack your mobile device
Thus, you have to be wary of phone hacking. This is why lots of people are seeking strategies to safeguard their devices from hackers and cybercriminals. If you are a WhatsApp user, this is the best way to assist you in protecting your account.
Use encryption for private chats
WhatsApp enables users to make changes to the encryption style of their chat. This is especially important for anyone utilizing a weak encryption tool or when someone has unauthorized access to your smartphone without getting hold of it physically.
To set up this feature, navigate to Settings > Account. Next, select Privacy and then tap Security Notifications and activate the option by selecting "Confirm Encryption."
Activate Security Notifications
Furthermore, you can opt to get notified whenever you update your password (Tap Settings > Account. Next, select Privacy, and then tap Security Notifications.)
You can even set up notifications when anyone has access to a device that was recently connected to yours ( Select Settings > Account. Next, select Privacy and Linked Accounts).
Activate Two-Step Verifications
Another important security measure is to activate two-step verification on your account. This will help you prevent unauthorized access. Whenever someone attempts to sign into your account, they will be required to input the code sent to your mobile number.
Toggle off backups
You can toggle off the auto-backup option on WhatsApp and then store the data on your device so you can only have exclusive access. An alternative is manually storing the data using a cloud storage platform such as Dropbox.
Set Privacy Options Based on Your Needs
You can set up privacy options based on your needs by accessing Settings > Privacy and Security. Next, select Privacy Settings. Now you can manage who can access your profile photos or status updates and limit them from public viewing.
Conclusion
It can be frustrating to see your WhatsApp being used on another device you probably forgot to log out from. With this guide on how to check WhatsApp web login history, you should be able to have your WhatsApp issues fixed.
Also Read: