Are you looking for an easy way to bring a hidden Facebook post back to your timeline?
Firstly, you're not alone.
Facebook has made it super easy for users to unhide a post.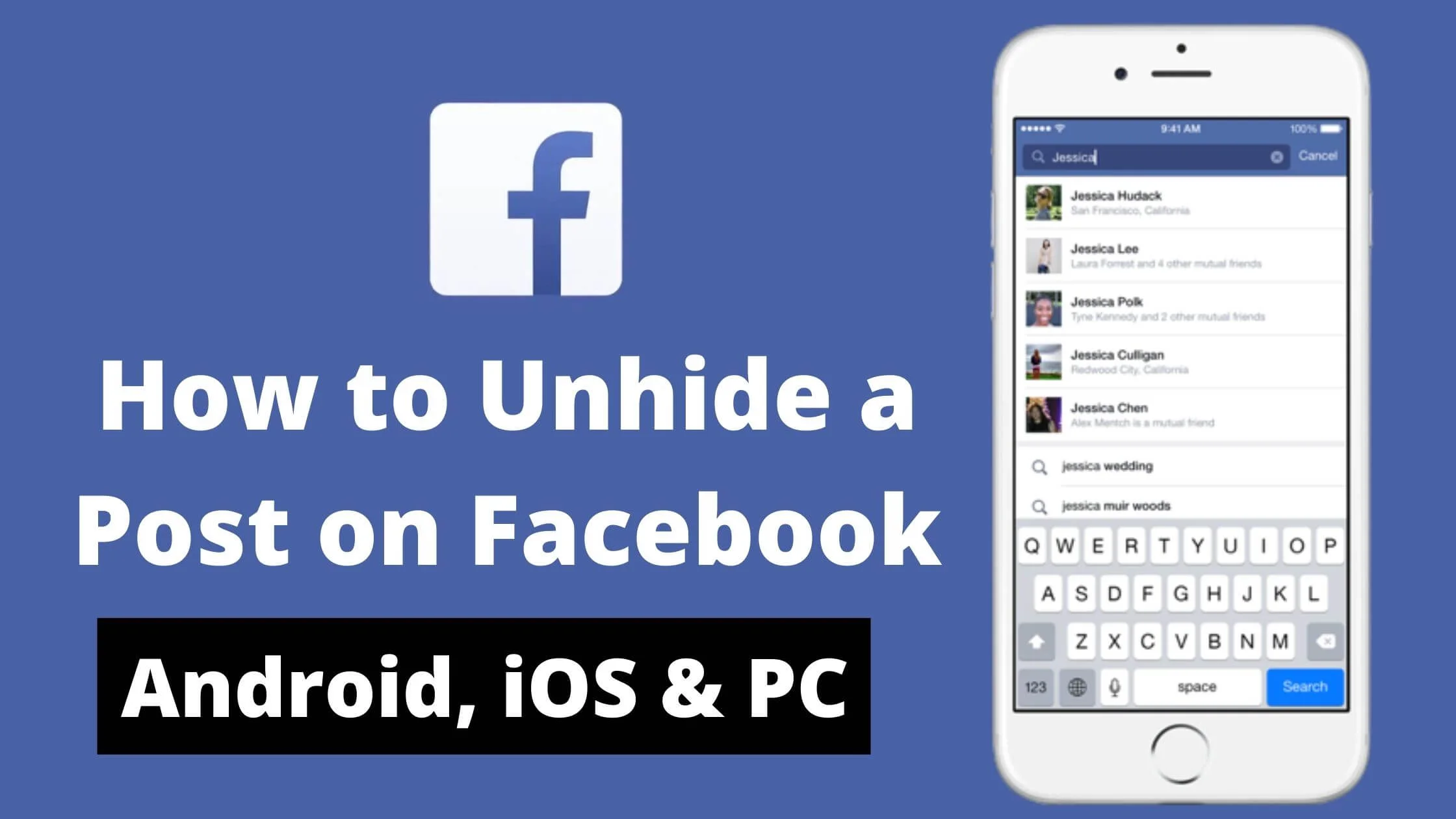 In this article, I will take you through how to unhide a post on Facebook for Android, iOS and PC.
Sounds great? Let's get started.
See Also: How To Create Facebook Account Without a Phone Number
What Happens When You Unhide a Facebook Post
When you unhide a post on Facebook, it becomes public to everyone on your timeline.
Perhaps if you change your mind, you can hide it again, and it will become invisible on your timeline.
With the hide and unhide Facebook post feature, you're able to control the visibility of your content on Facebook.
How to Unhide a Post on Facebook Desktop
You can unhide a post on Facebook from your desktop devices – whether it's Linux, Chromebook, Mac, or Windows.
To unhide a Facebook post on your desktop, follow the steps below:
Login to your Facebook account from the browser on your computer.
At the upper right corner of your profile, tap on the arrow-down button.
Next, tap on "Settings & Privacy" from the menu.
In that section, click on "Settings."  This will redirect you to Facebook's Settings page.
At the top left corner of your screen, tap on "Your Facebook Information" from the menu.
Proceed to click on "Activity Log" from that section.
At the "Activity Log" section, click on "Logged Actions and Other Activities." Then select "Hidden From Profile."
On this page, you will find all your hidden Facebook posts. To unhide a post, tap on the three dots beside the post and select "Add to Profile" from the option.
That's it. Facebook will automatically unhide the post and make it public on your timeline.
How to Unhide a Post on Facebook App
If you're using an Android, iPhone or iPad device, you can use the Facebook app to unhide your post.
To unhide your Facebook post using the mobile app, follow the steps below:
Open the Facebook app on your mobile phone and log in to your account.

In the lower right corner of the app, click on the three horizontal line bars.

From the menu that displays, navigate down on the page and click on "Settings & Privacy."
On the expanded menu, click on "Settings."
Next,  scroll down to the "Your Information" tab and click on the "Activity Log."
From the activity log page, click on "Logged Actions and Other Activity" and tap on the arrow-down icon.
Choose "Hidden From Profile" option. You will see all of your hidden Facebook posts in this section.

To unhide any of the posts from the list, click on the three dots beside the post.

Next, click on "Add to Profile."
That's it. Facebook will now unhide your post, and it will become visible on your timeline again.
See Also: How to Hide Instagram Posts from Someone
How to Hide Facebook Posts FAQs
Why Can't I Unhide a Post on Facebook?
If you have followed all the steps listed above and still cannot unhide a post on Facebook, it could be a technical glitch on the platform.
You may want to contact Facebook live chat support to help you resolve the issue.
If You Unhide a Post on Facebook, Can You Hide it Again?
Absolutely yes. You can hide the post after you have unhide it. You have to take similar steps as you did when you unhide it.
Is there a number of Posts I can Unhide Per Time?
There is no limit when it comes to the number of Facebook posts that you unhide. If you decide to unhide all the hidden posts, why not?
To retrieve a Facebook post, tap the Activity Log from the triple dot option beside your cover picture.
After you access your Activity Log, select the "Filter" option and tap the "Hidden from Timeline" link to unhide a Facebook post.
This is method effective on both web browsers and the Facebook mobile application.
No. However, the post will still be accessible to you and your friends.
But to the person you have hidden it from, it will be hard to find the post, thus, they won't even realize that your post has been restricted from them.
No. Hiding your Facebook post will prevent your post from being seen by a specific person or person(s).
There's no way they can tell that your post is hidden. So your secrets are safe.
Will I delete my Facebook post by hiding it?
No. While it is possible to hide some content from your wall (for instance: cover picture, profile picture, posts etc.) from others, it will not delete them.
Hiding will make your posts invisible to other users, but it will not remove them from your activity log.
After I hide a Facebook post from my timeline, what next?
After hiding your picture or post, users won't be able to view it whenever they access your timeline.
However, if they search for your pictures or posts, they can still access them in Search Results and other places like Feed.
Will someone see my post if I hide it?
No. Facebook will not send notifications to other users if you your posts.
Also, keep in mind that when you hide posts from your newsfeed, it won't completely delete the post.
Your hidden posts will still appear on your friend's timeline and newsfeed.
If I hide my friend's post on Facebook, what next?
If you choose to hide a Facebook post, it won't show up on your timeline, this implies that anyone who visits your Facebook profile won't view the post.
However, the post may show up in the newsfeed of people who are on your friend list and who uploaded the status.
My Facebook posts have reappeared. Why?
At times, a post that you have checked out before will show up at the top of your feed just because of its high engagement.
This means Facebook's algorithm will push it to the top because of the popularity and conversation it has garnered.
How do I boost my Facebook view?
You can grow your page engagement and audience by doing the following:
Ensure you share your posts on your feed. Let your family and friends know about your page.
Tell your friends to like your page. Invite people to "like" your friend list to like your page.
Request your friends to share your posts with those on your list.
Post in groups using your page.
How do I hide my Instagram content from people without blocking them?
Access the Instagram app.
Navigate to your profile.
Select the triple dot line in the upper-right area of the screen.
Select "Settings".
Tap "Privacy"
Navigate to below and select "Account Privacy."'
Select the "Private Account" link.
Is there a way to tell if someone has restricted me on Facebook?
Yes. The easiest way to find out if your profile has been restricted is to check if you can access any posts from that user.
If you can't access their posts, it shows that you may have been blocked from viewing their posts.
Is there a way to discover if someone has checked your profile often times?
No, there is no feature that lets you know if anyone has checked your profile on Facebook. You won't find 3rd-party apps that offer this functionality.
What's the ideal time to post on Facebook?
The ideal time to share content on Facebook for ideal engagement is on Weekdays from 10am to 4pm.
The least suitable day is Sunday, which has the lowest rate of engagement.
You will see the lowest level of engagement very early in the morning and late in the evenings after 6pm every day.
Can someone access your profile on Instagram if they are restricted?
Yes. Restricting is not the same as blocking.
This is so because restricted users on Instagram can still access your profile and add you to their follow list and vice versa (when restricted).
They can still be blocked after being restricted.
Can a restricted user on Facebook know my online status?
No. If you restrict someone on Facebook, they won't be able to view your online status or find out if you have seen their messages.
There's also no way for them to tell if you are online. However,
Facebook will notify you if the group chat you wish to join has someone you have restricted.
Conclusion
Facebook's unhide post feature is a great way to control your content visibility. By following the steps in this post, you should be able to unhide your Facebook post.
Also Read: