PC users may find it difficult to watch YouTube Shorts videos since they are only accessible in a vertical layout and appear to be best tailored for smartphones.
However, you may want to enjoy YouTube Shorts videos on your computer because they are informative and exciting within 60 seconds.
But how do you go about this?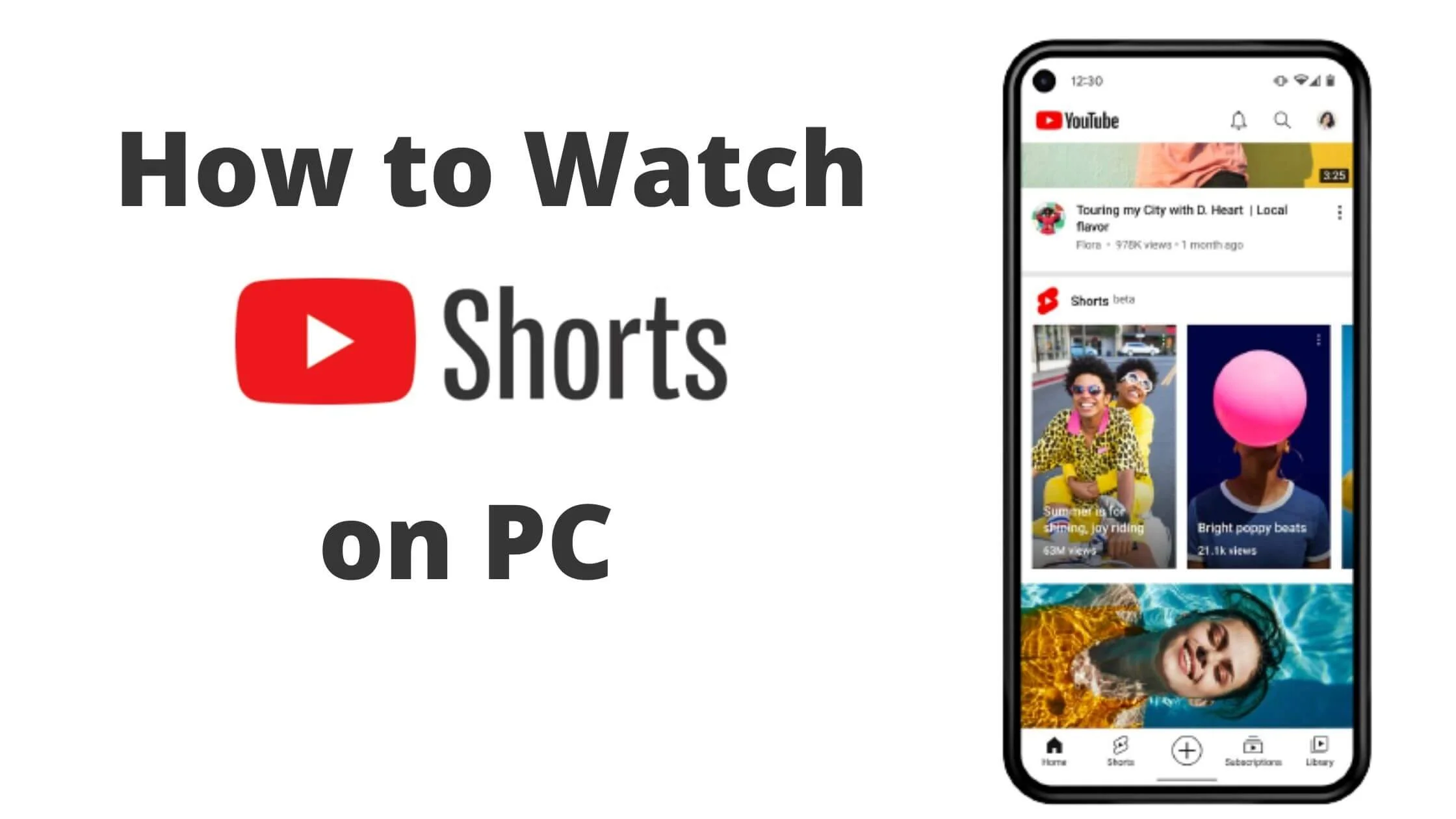 In this article, we will explore some effective techniques on how to enjoy YouTube Shorts on your PC without a lot of hassles, stress, complications or challenges. 
There are no technicalities involved.
We will just go through simple-to-use strategies that will let you access lots of YouTube Short videos from any creator or glide through limitless streams of engaging videos when you are in the mood to watch something.
Without further ado, let's begin with the basics.
See Also: How to Fix YouTube Shorts Not Showing
What is YouTube Shorts?
YouTube Shorts is the newest addition to the YouTube platform. It revolves around short-form user-generated content lasting 60 seconds or less.
It is widely used by video creators and entertainers who prefer the platform due to its user-friendliness, engagement and ease of use. 
YouTube Shorts allows anyone to convey ideas, share news and express themselves within a short time. It emphasizes three key aspects:
Create
At the heart of YouTube Shorts, lies creativity. The platform is unique in that it makes video creation hassle-free and exciting.
For instance, you can find the following features:
Multi-segment camera: Enables you to combine numerous video clips with ease. 

Massive Song Library: This feature helps you to make recordings with melodies and song tracks from a vast database of songs that have continued to expand. 

Speed Controls: Facilitates creative freedom in your shoot. 

Create highly engaging videos with a countdown and timer. 
Get Discovered
YouTube Shorts videos amass over 2 billion views each day. These videos are entertaining, educational and add value to their audiences.
Creators have earned billions of dollars from monetizing their YouTube channels. This won't end anytime soon as YouTube Shorts is empowering a new wave of creators. 
Watch
With YouTube's new interface, which has a new sidebar designated for YouTube Shorts, you are guaranteed an enjoyable viewing experience of endless streams of short-form videos. 
See Also: How to Upload YouTube Shorts From PC
How to Watch YouTube Shorts on PC
Search using the "#Short" term
Most YouTube users always insert descriptive captions, hashtags, titles and detailed descriptions into their content. This is to help the algorithm place their videos correctly.
You will find that most short videos usually have #Shorts in their descriptions and title tags.
Thus, a great strategy you can use to access YouTube Shorts videos on your PC is to type "#shorts" in the search bar, and you'll find thousands of videos available for your viewing pleasure. 
Now, let's analyze the process in full detail so you can better comprehend it. 
Access youtube.com using your laptop or desktop computer.
Once the page has finally loaded up, navigate to the search bar in the upper center section.
In the space provided, input the term "#Shorts" and click "Search". As soon as the loading is completed, hundreds of Shorts Videos associated with the #Shorts will be displayed to you. However, if you find videos that do not suit your preferences, you can sort through them using the filter feature.
Navigate to the filter feature. It is positioned under the search field on the left side.
Next, select it and then locate the length settings. Click "Under 4 minutes".
Finally, you will find an updated page with fresh results, and the majority of those videos will be short-form content.
Creator's Shorts
Here's another fantastic strategy you can use to access the Short Videos of your fave video creator. 
Do a search for any short video from your preferred creator simply by combining his or her channel's name with the hashtag "#Shorts" in the search field.  
It will appear as "#Shorts + channel name". For instance, if you are searching for Grant Cardone YouTube short videos, your search keyword would be "#shorts + Grant Cardone". 
This strategy is highly effective as you will have access to result listings where OgaSabinus videos are displayed in addition to any fan-made remix of any video of the creator. 
Here's a detailed analysis of how to access those videos. 
Enter youtube.com and navigate to the search field.
Input "#shorts +

Grant Cardone

" into the search field and click the search icon.
You will find an array of video listings displayed to you, and you can begin enjoying them.
Android Emulator
Android emulator allows you to easily install Android apps on your PC.
Bluestacks is the most widely-used and effective emulator for personal computers. It can easily be used to access YouTube Shorts on your laptop or computer. 
Once installed on your personal computer, you can run the smartphone application version of YouTube with the Shorts video category intact. 
However, you must ensure that your device supports the software. Otherwise, you may have problems with installation. 
Access the

Bluestacks website

and install the software on your PC. 

Select Google PlayStore. 

Sign in after inputting your email & password.

Browse and install the YouTube app.

As soon as you have finalized this process, launch the YouTube app on Bluestacks. You will find the #Shorts category.
See Also: How to Enable Comments on YouTube Shorts
The Home Feed of the YouTube Channel 
This method depends on how lucky you are because this has not been fully confirmed. 
Video creators and other classes of YouTubers may decide to modify the home page of their channel. 
They can highlight playlists, videos and uploads that they want to display on their home feed. 
At times, you can access the shorts section from the home page of their channel by navigating to the lower area or anywhere categorized as "Shorts". 
Please note that this strategy entails you navigating the channel of your preferred creator and looking for YouTube Shorts content. 
Watch YouTube Shorts on PC FAQs
What is the best way to upload my short-form videos to YouTube via PC?
Here's how to upload your short videos with ease on YouTube: 
Enter youtube.com and properly log in to access your channel account. 

You will find a feature you can use to either create or post videos in the upper right area of your home feed. 

It's very similar to the method of uploading a long-form YouTube video. 

You will be redirected to the YouTube studio page, where you have the option to either drag/drop files or select files directly from your computer. 

To initiate the video upload process, choose any short video and click "Okay".

As soon as the file is finished loading, you will be required to provide relevant details about the video. Ensure you input all the data.

These details include descriptions, hashtags and titles.

Next, be sure to click "upload". The video will be placed on your channel with a Shorts label on the lower right area. 

This is an effective and hassle-free way to upload your short video via PC. 

Ensure you include the "#Shorts" in your description to boost engagement and visibility. 
Are there any benefits to uploading YouTube Shorts videos as a business owner?
YouTube Shorts is a great platform where diverse audiences can consume easy-to-watch content. If properly utilized, it can boost your brand awareness and translate to better conversion rates. 
Creating YouTube Shorts videos can be of tremendous benefit to your business or brand. Here are some of the advantages:
Improved engagement
YouTube Shorts videos are known to boost audience engagement, notably among millennials who prefer video over other types of content. 
These videos have increased virality and are widely shared across social platforms, and, in the comment section, there's a higher rate of interaction and feedback.
This will boost customer engagement and improve your relationship with your audience.
Captivating content
YouTube Shorts videos are easily digestible. Thus, your audience can easily remember them.
They are very precise as there is less superfluous content and elements that have no impact on the video's central theme or core message.  
This is why they are highly impactful and can easily be remembered by your prospective customers and leads. 
Good for SEO
YouTube Shorts videos can tremendously benefit your SEO campaign as they capture the interest of your visitors for extended stretches of time.
Thus, this can boost your ranking on the Google Search Engine Results Page (SERP).
This is because the Google algorithm factors in the amount of time your audience spends on your YouTube videos when ranking content on SERPs.
See Also: How to Fix YouTube Oops Something Went Wrong
Higher Email Open Rates
Building your email marketing campaign around short-form video content will eventually boost your open rates.
To reap the benefits, ensure you add the term "video" to the subject field. 
Increased visibility
Businesses and brands are presently faced with the challenge of customers' limited attention span.
We are in the age of information, and there seems to be an endless stream of visual content jostling for everyone's attention. 
By using YouTube Shorts videos with all their appeal and allure, you can remain competitive and enjoy great audience engagement rates.
Grow your community
You can leverage YouTube Shorts videos to establish a sense of belonging in your audience. 
For instance, you can set up a video challenge that can inspire your audience to carry out a new activity, express themselves in a special way and take part in a trend or contest. 
This will create a bond between your brand and the audience, fostering brand loyalty and communality. 
Conclusion
In this article, we explore some easy strategies you can use to watch YouTube shorts on PC as well as their benefit to your business.
With YouTube Shorts, you can enjoy engaging, interesting and viral videos. Don't forget to share this article with your friends and loved ones. 
Also Read: