Many users have asked how to fix YouTube's "oops something went wrong" issue.
This article will assist you with all the tips, and in no time, you will be back streaming your favorite video on the platform. There are nine practical solutions to rectify this issue.
Ensure you try them one after the other and find out if the error is finally resolved.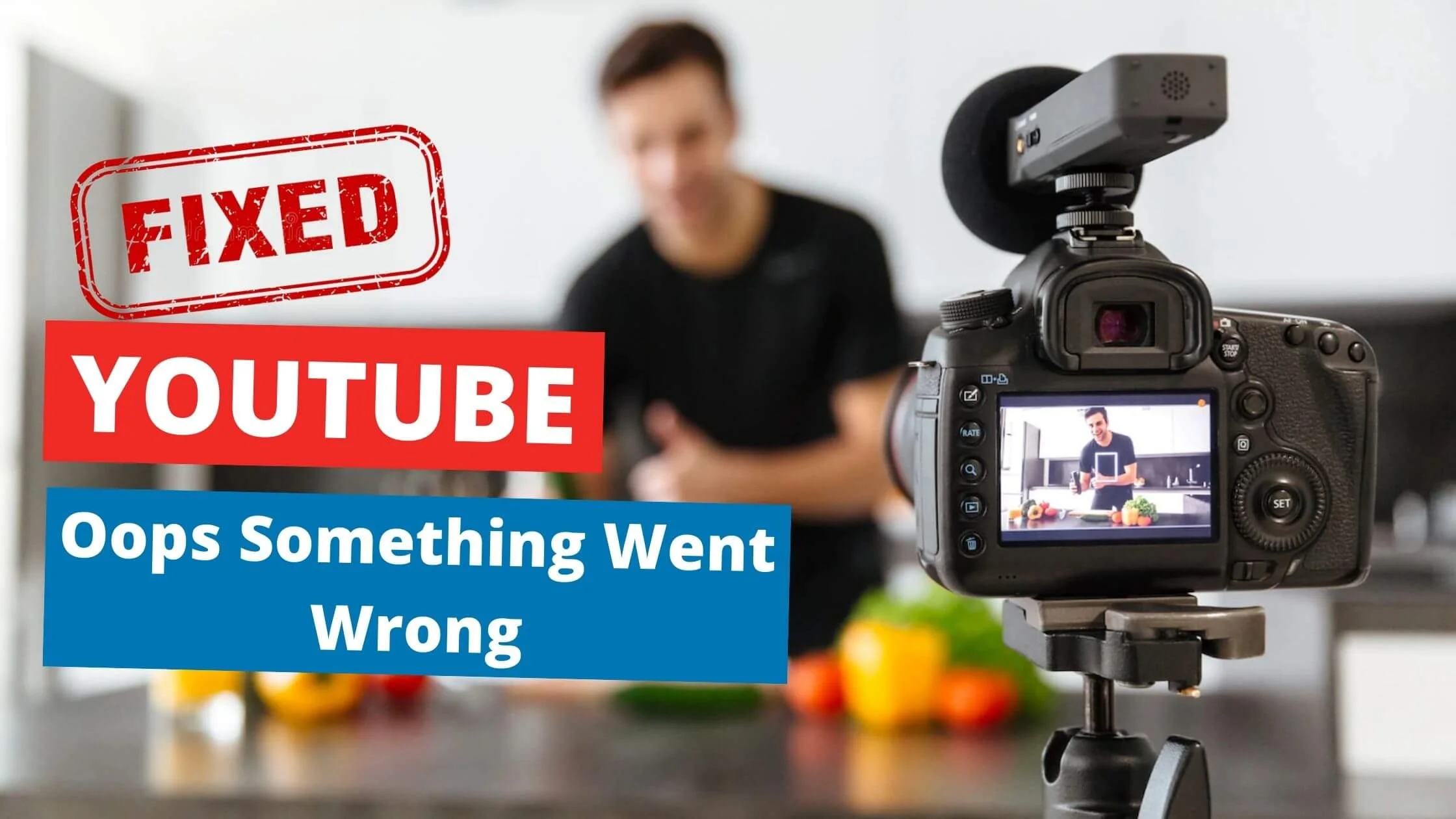 Anyone can access videos on YouTube without signing in. However, before you can engage with (dislike or like) or comment on a video, you have to log in first.
Sadly, lots of users get an "Oops! Something went wrong" screen whenever they attempt to log in. 
You might most likely encounter this issue when you try to access a YouTube page via your computer or mobile web browser.
Some of the reasons why this error might occur are faulty or obsolete web browsers or issues with Google accounts. 
How to Fix YouTube Oops Something Went Wrong
Below are nine ways you can rectify the "Oops! Something went wrong" issue on YouTube. 
YouTube Servers 
At times, defective or poorly configured servers can be responsible for the "Oops! Something went wrong" error on YouTube.
To confirm this, ensure you make use of outage detection platforms like Downdetector that showcase real-time data of websites and apps' status. 
If the source of the problem is YouTube's server downtime, the only best step to take is to wait patiently.
Still, if you are desperate for results, you can try any of the troubleshooting ideas to see if they rectify the problem.
See Also: How to Watch YouTube Shorts on PC
Disable Your VPN
If you are using a VPN, that could be the cause of the problem. Sometimes, VPNs frequently have a hard time connecting with YouTube servers.
So the ideal thing to do at this stage is to disable your VPN. Even though they are fantastic for securing your internet connection, VPNs can also mess up your connection and cause complications. 
Some VPNs are known to tweak IP addresses randomly, and this may cause your device to experience difficulty in maintaining a continuous connection with YouTube's servers. 
Thus, disconnect your VPN and try accessing YouTube once more.
Switch Your YouTube Region
At times, your region's dedicated server or web host may experience hiccups or problems. If this situation applies to you, then it could be that the problem is confined to your location.
However, you can rectify this issue by manually making changes to your region and testing other servers. 
Please remember that this method is effective for web browsers alone, not the mobile app. 
To start, launch your web browser and access the YouTube site. 
Next, navigate to the address bar of your browser and highlight "www."

Lastly, replace it with "ca" and click "Enter."
Afterward, try accessing YouTube as usual and check if the "oops something went wrong" error still occurs.
Reduce Playback Quality
In situations where an "oops something went wrong" error pops up when streaming a YouTube video, it could be because your broadband connection is so slow that it can't satisfy the bandwidth requirements of the video.
The steps you need to take to rectify this issue are to adjust the playback quality on your smartphone or PC. This will boost its performance tremendously. 
Let us show you how to tweak the playback quality of YouTube videos. 
To start, navigate to YouTube and access the video you are interested in. 

Next, select the Gear icon within the video settings. 

Lastly, select Quality and adjust the video playback quality.
If you are using a smartphone, follow the steps below to adjust your video resolution.
Launch the YouTube app on your phone and pick a video you are interested in. 

Next, select the "More" button and tap "Quality." 

Then, adjust the video quality to 480P or lower. 
Once you are done updating the playback resolution, return to the video and play it to check if the error message still pops up.
See Also: How to Change YouTube Name Without Changing Google Name
Update the YouTube App
From time to time, YouTube sends out updates that tackle bugs and errors present in the app. If you are yet to install the most recent version of YouTube, now is a perfect time. 
Here's how to install YouTube's most recent update via your Android smartphone:
To start, launch the Google Play store app and navigate to its side panel. 

Next, select "My Apps & Games" to enable the Play Store to look for updates. 

Lastly, select the "Update" button if you find any updates.
Here's how to install YouTube's most recent update via your Apple smartphone:
Launch the App Store.

Next, navigate to the lower area of the navigation bar and select updates. 

Finally, select the Update button beside the YouTube app to download the newest update release. 
Ensure Your Browser Cookies and Cache are Cleared
Sometimes, emptying your browser cache and cookies can fix the problem of inaccessible or slow-loading websites.
If compromised, they can negatively impact your connection with some sites. 
Here is how to clear your browser cookies and cache:
To start, launch your web browser and navigate to the history tab. 

Next, select Clear Browsing Data located on the side menu. 

Ensure you checkmark "Cookies and Other Site Data" and "Cache Images and Files" in the settings option.

Select a time range and click All Time from the menu listing. Then, click the "Clear Data" option to finalize the settings. 
After that, access YouTube to find out if the "oops something went wrong" error is still displayed. 
Change to an Entirely Different Web Browser
All web browsers have engines that they utilize to deliver website content and showcase them on our screen.
The fact is that they use different rendering engines, and the way they access code differs considerably from one browser to another.
This can be seen in the way some browsers access particular websites without problems, but other browsers may experience difficulty. 
If this happens, you can use a different browser to log in to YouTube. Better still, popular browsers like Firefox, Chrome, and UC Browsers are user-friendly and highly optimized for the majority of websites. 
See Also: How to Watch Age Restricted YouTube Videos
Your Internet Connection
Most of the time, "oops something went wrong" error notices imply that your device is finding it difficult to connect to YouTube servers.
To confirm this, visit fast.com to conduct a speed test on your internet connection.
However, if the result signals that you have a weak or poor internet connection, reset your router.
Unplug your router's power cable and disconnect it for a minimum of 12 seconds from the power socket. Next, plug in the cable to reset your router. 
After resetting, conduct another internet speed test to make sure things are in perfect condition. If you still encounter challenges from your network, get in touch with your internet service provider and file a complaint. 
Block Your CDN Address
CDNs (Content Delivery Networks) are highly important for media streaming on websites like YouTube.
But the challenge is that the use of CDNs can trigger your network provider to restrict your connection, causing errors on YouTube. 
You can rectify this by restricting CDN addresses from making connections to YouTube's servers. 
To start, launch the Command Prompt on your PC.

Next, input these commands on the cmd.exe. netsh advfirewall firewall add rule name="YouTubeTweak" dir=in action=block remoteip=173.194.55.0/24,206.111.0.0/16 enable=yes
Lastly, push enter on your keyboard to activate the command.
Once completed, navigate to YouTube and verify if the error message has cleared off.
Fix YouTube Oops Something Went Wrong FAQs
What are the Fastest Ways to Resolve the "Oops! Something went wrong" Error?
Switch to an entirely different web browser and refresh the YouTube main page.

Empty the browser data (cookies and cache) and then reload the browser.
Turn off your firewall temporarily to enable the completion of the login process.
Deactivate any security encryption tools that may compromise your internet connection.
Yes. In August 2022, YouTube announced it would be shutting down YouTube Go.
The mobile app is particularly built to function on phones with Android Go systems or with low RAM features. YouTube stated that the GO app hinders it from improving its user experience when compared to the main application. 
What does https YouTube com Oops?
When you encounter an "Oops something went wrong" on YouTube, it may mean that your device cannot access YouTube's servers, or your internet connection may be defective.
However, the problem can also emanate from YouTube's server downtime. 
Help! Why Can't I Update my YouTube App?
It is important to find out if there are new versions of the YouTube app for quality user experience.
However, the main cause of your inability to update the YouTube app could be that Google has discontinued support for your phone's Android OS.
This happens if you are using Android 7 (Nougat) or earlier versions. You won't be able to operate newer versions of YouTube on your device. 
What are the Most Effective Browsers for Streaming YouTube Videos?
UC Browser, Opera, Microsoft Edge, Brave, Google Chrome, Safari, Mozilla Firefox and Tor Browser. 
Conclusion
This article presents you with all the practical solutions to the YouTube error message "Oops, something went wrong."
Hopefully, one of them will remedy the problem, and you'll be back to streaming your favorite videos. Ensure you share this content with your family and loved ones. Thanks!
Also Read: