YouTube is among the world's most popular websites.
Launched nearly 18 years ago, the video content website has evolved to encompass a broad array of content like movie clips, infomercials, music videos, news & current affairs analysis and many more. 
A big problem for many YouTube users is poor internet access which negatively affects video streaming. Using a YouTube video saver, you can easily store videos on your device for offline viewing.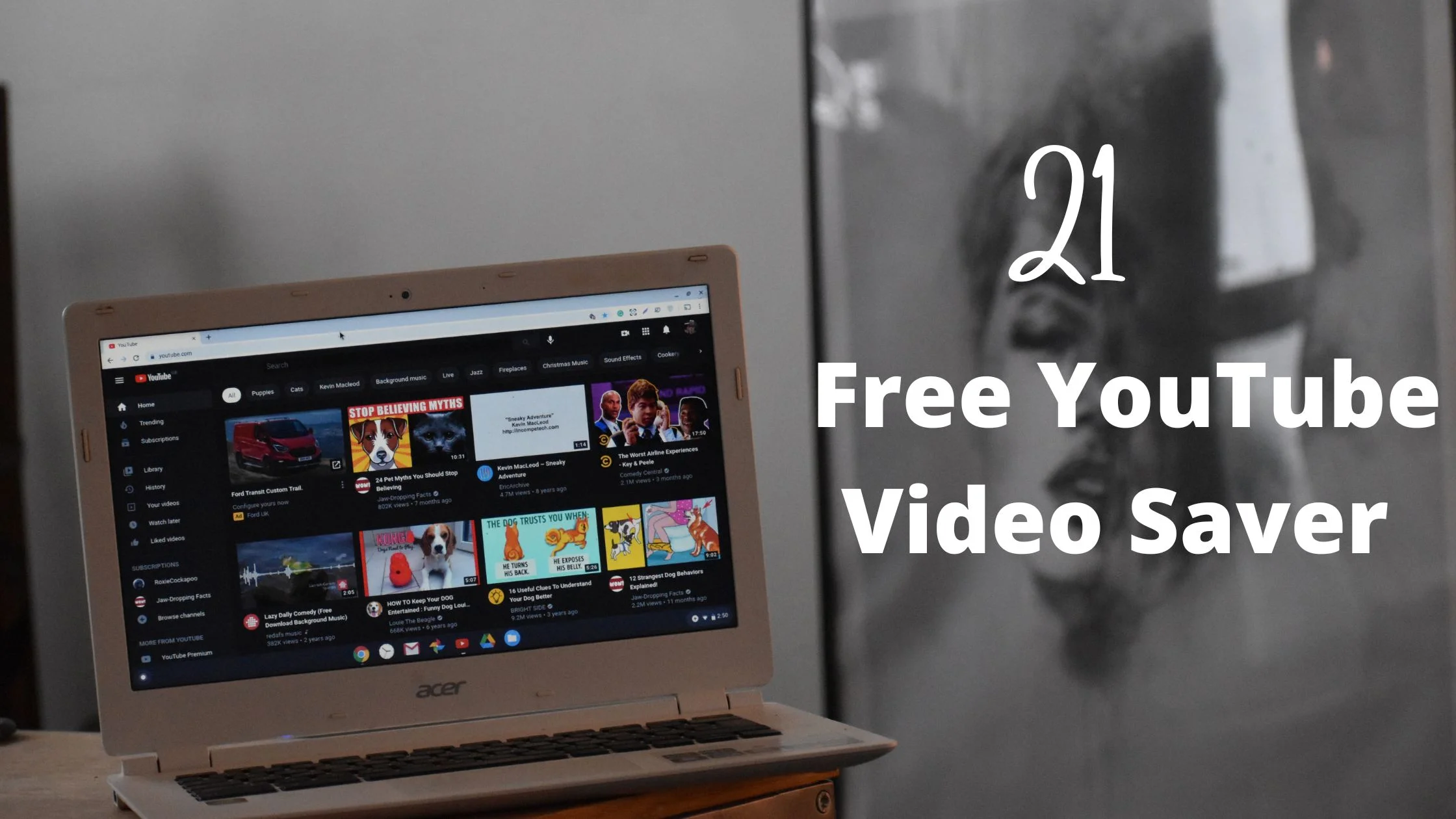 This means you can access the YouTube video without worrying about internet access.
This article will explore all the top free YouTube video savers you can find online. 
Note: We do promote or recommend saving copyrighted YouTube content on your device. This is a gross breach of YouTube's terms of use.
Ensure you have full authorization or consent from the video owner to lawfully save the video offline via YouTube video saver apps.
These YouTube video saver apps will enable you to save videos to your device in high resolution and with great speed.
They are capable of saving the content of any size, ranging from YouTube shorts to TV series and movies. All you need is internet access and a good web browser, and you are set to go.
Best Free YouTube Video Saver
Here are the 21 best free YouTube video savers: 
SnapTube
SnapTube is a highly flexible YouTube video saver for smartphones. It allows anyone to save YouTube videos of varying quality to their mobile device.
SnapTube is unique in that it categorizes your video into trendy, shorts, new and other variables, allowing you to search for a specific video, access it and save it for offline view. 
With the SnapTube app, you can utilize the search field to find any content you want on YouTube.
If you save any YouTube video, it is instantly stored in your phone's memory, letting you share it with your loved ones or upload it on other social media platforms.
However, it's important to have good internet access before saving the videos via the app; else, you'll be disrupted by popup advertisements.
See Also: How to Save YouTube Shorts to Camera Roll
YT3 YouTube Downloader
Looking for an app that will allow you to instantly save YouTube videos to your mobile device at super-speed, then YT3 YouTube Downloader will meet your expectations.
The app is easy to use and won't require you to waste time understanding how to use it. You can choose your preferred video type, MP3 or MP4, with quality varying from 144P to 4K. 
You can also access the preview mode, where you can watch and listen to the video before you save it to your device.
It is one of our favourite YouTube savers because it is specifically optimized for YouTube, so you don't get overwhelmed with unnecessary features.
You can later upload the saved videos to different social media channels and even transfer them to your loved ones via Bluetooth. 
YesTube
YesTube is a super effective YouTube video saver platform that allows you to save videos from YouTube and even over a thousand video-oriented streaming sites.
You can freely pick from a wide variety of video resolutions. However, you need a good internet connection to save videos in 4k resolution.
There is also a wide variety of video formats, including MP4, M4A, MOV, AVI and MAV.
The platform also intelligently stores YouTube videos you have watched so you can access them whenever you want. This saves you time and prevents frustration associated with other YouTube sites.
Another unique thing about YesTube is that it stores your saved video in a password-protected file that prevents unauthorized access to them.
There's also a bulk mode feature that allows you to save multiple videos simultaneously. 
VidMate
Vidmate is a powerful app that enables you to easily save any YouTube content in half a minute.
The app also has an integrated video player that you can use to preview videos before saving them. There's also an ultra-speed saving mode.
However, using this can tremendously compromise the quality of your video because the app's default mode is the best quality. 
You can also manually specify the video quality you want, even choose 4K, but this may be time-consuming. You won't find this YouTube saver on Google Play currently, but it is safe to use.
See Also: How to Monetize TikTok Videos on YouTube
YouTube Video Downloader
YouTube Video Downloader is a free video saver that lets you instantly save video content of varying durations from streaming platforms like YouTube, Twitch, DailyMotion and SoundCloud.
All that is required is to copy/paste the link to the video into the corresponding field, pick your preferred format (MP4/M4A) and Quality (480P, 720P or 1080P).
You won't find a single popup ad, limitations or overlays when saving YouTube videos from this platform.
This is commendable because other platforms are riddled with these annoying elements.
Furthermore, this app is available as a chrome extension and has no limits on the speed of download (it totally depends on your internet service provider).
InsTube
InsTube Searching for a YouTube video saver with optimal speed and great quality?
Then you need to try InstTube.
You'll be thrilled by its fantastic converter that lets you easily convert saved YouTube content to whichever format you like, including MP3 and AVI. 
Furthermore, saved videos are sent to a different folder, which is password-protected to prevent strangers from accessing them in your gallery.
However, this app does not allow you to save bulk or multiple videos simultaneously, which is a serious drawback of the platform. 
Videoder
Videoder is a convenient YouTube saver that lets you do a short preview of a video before saving it.
It has an integrated player that enables you to access and choose the video quality that you prefer before saving. The app can even help you save YouTube videos in complete HD resolution. 
You can even save video and music files differently and enjoy MP3 and M4A content.
As long as your internet connection is decent enough, you can save your videos en masse. The only thing needed is the link to the YouTube video. 
iTubeGo
If your priority is saving high-quality videos, then your best bet is iTubeGo.
It is an excellent YouTube video saver that allows you to store YouTube videos in High Definition quality without any compromise.
Furthermore, you can save any video from YouTube, even those that are not originally meant for download. 
It also has an integrated converter that you can utilize to change videos to a different format, e.g., M4A, MP3 etc. HD quality video can take up plenty of time to download.
But to save time, it's best to select a medium quality for your video. Another advantage of the platform is that you can save videos from other engaging sites like TikTok.
YouTube Go
For anyone with limited memory space but wishes to save YouTube videos on their smartphone, YouTubeGo will prove useful.
YouTube Go lets you designate the amount of space to allot for your preferred video, or you can save the video directly to your phone's memory.
HD videos are also available for download. However, you can adjust the video quality to control your storage space.
It has been claimed by many online users that it is the best YouTube video saver because it allows for easy viewing of content to limit data wastage and junk files.
The app is also effective at restricting your network bandwidth so you can conserve data. 
See Also: How to Fix YouTube Oops Something Went Wrong
KeepVid
If you need a swift and no-installation YouTube video saver, KeepVid is the most amazing to use.
However, it requires high-speed internet access to effectively save any YouTube clips in a short time. You can also save videos from over 20 popular video streaming websites.
Keepvid also lets you preview the content before saving it. 
So all you have to do is choose a video and specify the resolution, and the platform will initiate the process of storing the video on your device.
One drawback of the platform is that it is riddled with plenty of intrusive popups. However, essential features like ad-blocking are only available to users of the paid version. 
NewPipe
NewPipe is another amazing YouTube video saver tool.
It is open-source and freely available for download on Android devices. NewPipe enables you to select the resolution and quality of videos before saving.
It also has an embedded media player for users to stream music and videos if they wish. All you have to do to save a YouTube video is tap "download" after searching for it. 
Furthermore, Newpipe won't in any way store your browser information or history, so you don't have to use VPN to make your browser anonymous or secure.
You can also enjoy YouTube videos via this platform. Amazingly, you won't encounter any intrusive ads. 
TubeMate 
TubeMate is a user-friendly web tool that can help you download your preferred YouTube videos to your device and access them even when offline.
So the platform lets you pick a video quality from 120P to 1040P.
For newbies, TubeMate has an easily navigable interface that lets you search for YouTube videos and click the green button in the lower corner of the screen to save. 
Dentex 
Dentex is a popular YouTube video saver for mobile devices. It is so effective that within 30 seconds, your video will be saved for offline use.
The dashboard is made up of 3 seconds. The first area is for video search and result display, the second part is for setting resolution and format types, and the last area is a library of recently saved videos. 
ByClick Downloader
ByClick Downloader is a YouTube video saver that is effective for all websites. It allows you to save videos in your chosen format, e.g., m4a, Avi, Mkv. 
You can freely download YouTube content with different resolutions. There's also a backup mode that can help you store a copy of your download history. 
InsTube Free Video & Music Downloader 
InsTube Free Video & Music Downloader lets you save YouTube content at a good speed and in formats like MP4, MP3, M4A and 3GP.
The platform is also good for saving YouTube videos in high definition and 4k resolution without hassle. You can also save videos from over 40 sites and store them on your device. 
WonTube
With WonTube, it's easy to download YouTube videos to your device for offline viewing. The app provides a great user experience for everyone. WonTube allows you to easily integrate videos and change them into a new format. It is a highly distinctive feature. 
SaveFrom.net 
SaveFrom.net is a popular tool that helps you save YouTube content to your phone or computer.
The tool also works for hundreds of video-oriented platforms like DailyMotion, Instagram, Facebook and TikTok. 
The YouTube video saver tool lets you reliably save videos without hassle. Although some users have claimed that the site is riddled with annoying popup ads, it is free and perfect for saving YouTube videos. 
See Also: How to Clear YouTube Search History
SaveMedia 
SaveMedia is an effective app for saving videos from video content platforms.
It also supports all operating systems. This includes Macintosh, Linux, Android and Windows. You can also save any playlist, shorts, albums and mixes from YouTube. 
SaveMedia lets you save multiple videos from a wide variety of websites. However, the platform can only save videos in restricted formats exclusively.
Thus, you need a separate conversion tool to change the video to your preferred format. 
CleverGet
CleverGet is a widely used YouTube video saver for PCs (Mac and Windows).
It's also great for saving videos like TV series, Hollywood films, webcast videos and music. It supports video content channels like TikTok, Netflix, Twitch and Likee.
You can also save videos in any resolution ranging from 480P to 8K UHD. 
arkTube
arkTube is a convenient and easily accessible YouTube video saver for mobile phones. It is powered by the YouTube-dl command line. 
It is minimalistic in design and is optimized for low space consumption.
It differs from other YouTube video savers in that it does not have a distinct area for YouTube download. arkTube allows you to save YouTube videos automatically from the YouTube mobile app. 
YMusic
YMusic is a popular tool that allows users to save YouTube content and enjoy it through background play. 
The app also displays some viral YouTube videos and hot songs. It also has playback capabilities as you can rewind, slow or speed up saved videos.
There's also a sleep timer feature that conserves your battery.
Through the app, you can save high-definition YouTube content. A drawback is that you can only save videos to MP4, MP3 and M4A formats. 
Conclusion
This article explored 21 of the best free YouTube video savers available online.
They do not only let you download YouTube content in high-quality resolution but enable you to store them in any format you prefer.
A lot of them have integrated video players for preview, playback mode, sleep timer, video converter and ultra-fast download. But the underlying fact is that you won't be charged to use the tools listed above. 
Also Read: