Following our previous article, how to make money online in Nigeria, you must have noticed that knowing the best freelance websites in Nigeria is probably the first step to becoming a successful freelancer in Nigeria.
There are lots of online jobs you can do and make a whole lot of money in Nigeria, and freelancing is just one of them.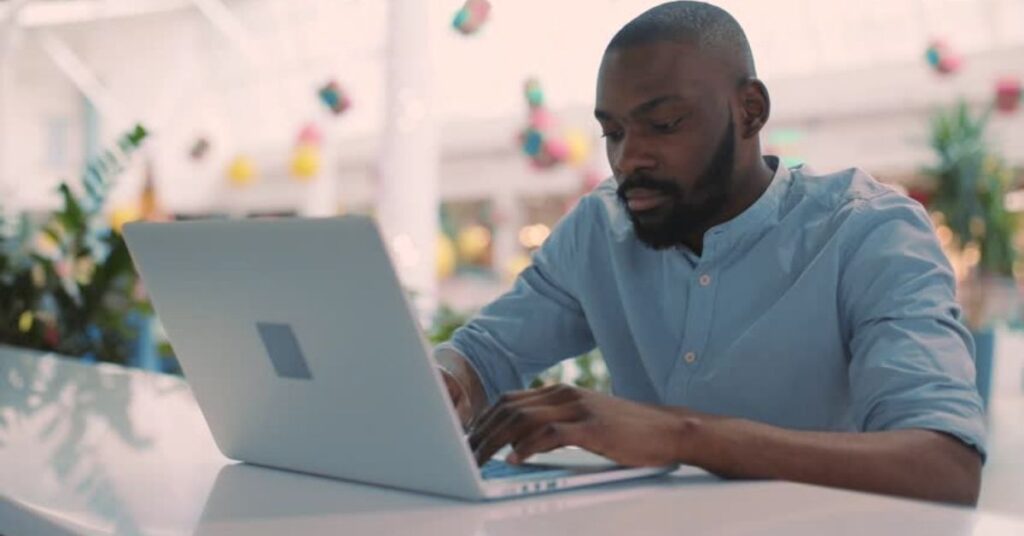 Are you a bit tired and frustrated that there are not enough authentic freelance sites that freelancers in Nigeria can advertise their digital marketing skills?
You're not alone, this is the major problem Nigerian freelancers face and we're about to show you the way out.
Through our research in digital marketing, we've come across skilled and professional Nigerians who complain about how it's difficult for Nigerian freelancers to find freelance gigs.
Perhaps, if you must know, the number of Nigerian freelancers is increasing by the day, this is the reason why the search volume for how to become a freelancer has increased suddenly.
The increase in search volume for this particular topic is simply because you can easily get freelance online jobs from freelancer websites, work from home jobs in Nigeria and definitely get paid.
See Also: 10 Hot High Paying Affiliate Marketing Programs In Nigeria
Who is a Freelancer?
A freelancer is an individual who has acquired a top digital marketing skill (either SEO, Content writing, Animation, Web design, Copywriting, Graphic designing, Social media marketing, Programming skills, etc).
Therefore, such an individual offers such skill remotely on freelance websites and get paid for doing so. 
What are Freelance Websites?
Freelance websites are digital platforms that connect skilled individuals to potential businesses looking for their services.
Freelance sites allow professionals with diverse skills in Nigeria to make money online.
Being a freelancer is one of the best ways to turn your skill into a hobby and earn from it.
Freelance platforms allow you to apply or accept jobs that you think is best for you and also, has a good profit margin at the end of the project.
Check out: How To Get Jobs On Upwork With No Experience
Also, with these freelance websites, you have the opportunity to establish a solid start for your freelance career in Nigeria.
These platforms have been designed to help you land the first freelance gig that helps you build your portfolio as you progresses.  
There is no geographical limitation as to getting jobs from these best freelance sites in Nigeria.
You can get gigs from the United States, the United Kingdom, Germany and beyond.
As you constantly acquire new projects through different projects from diverse employers, your skillset sharpens. The better you become, the more jobs you get and the higher your offers. 
See Also: Top 15 Free SEO Tools to Boost Your Website Ranking
How to Become a Freelancer in Nigeria
To start your career as a freelancer in Nigeria, we recommend you review the Freelance Success Guide that offers a beginner step-by-step guide to a successful freelance career.  
Below are some key actionable recipes that you will need to kick-start a successful freelance career. You would need:
The freelance idea and also resolving to start freelance writing.

A good plan to succeed.

Skill acquisition or an upgrade on your already existing skill.

Funds to get the needed hardware and software equipment.

A freelance pricing system.

To be able to work productively and also have good time management skills, project management, tools etc.

The attitude and mindset of a freelancer.
See Also: Top 45 Lucrative Business Ideas in Nigeria to Start
20 Best Freelance Websites to Get Jobs in Nigeria
Now you're fully equipped, let's get started with the list of 20 best freelance websites in Nigeria that will pay you from the comfort of your home without so much stress.
Freelance Websites in Nigeria #1: Fiverr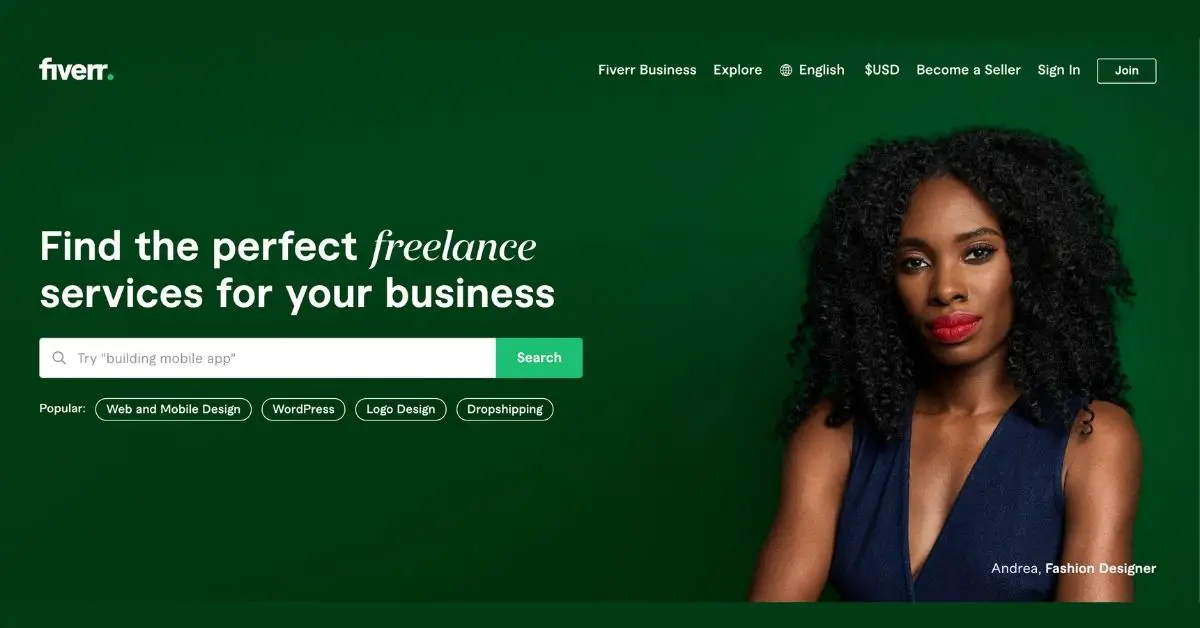 This is a global online marketplace simply offering tasks and services, beginning with the least pay of $5 per Job completed. Don't think too far.
Also, you can make up hundreds of dollars per day and even more than that in a month, If you know how to boost your earnings with Gig extras.
There are Nigerians that work on Fiverr and reach thousands of clients in faraway countries.
High in Demand Services on Fiverr.
Transcription services

Writing articles and creating content for blogs and websites

Website and Graphics design

Proofreading and editing

SEO services

Virtual assistance etc.
  The payment method is mostly through PayPal.
See Also: 25 Actionable Email Marketing Strategies for Businesses
Freelance Websites in Nigeria #2: Upwork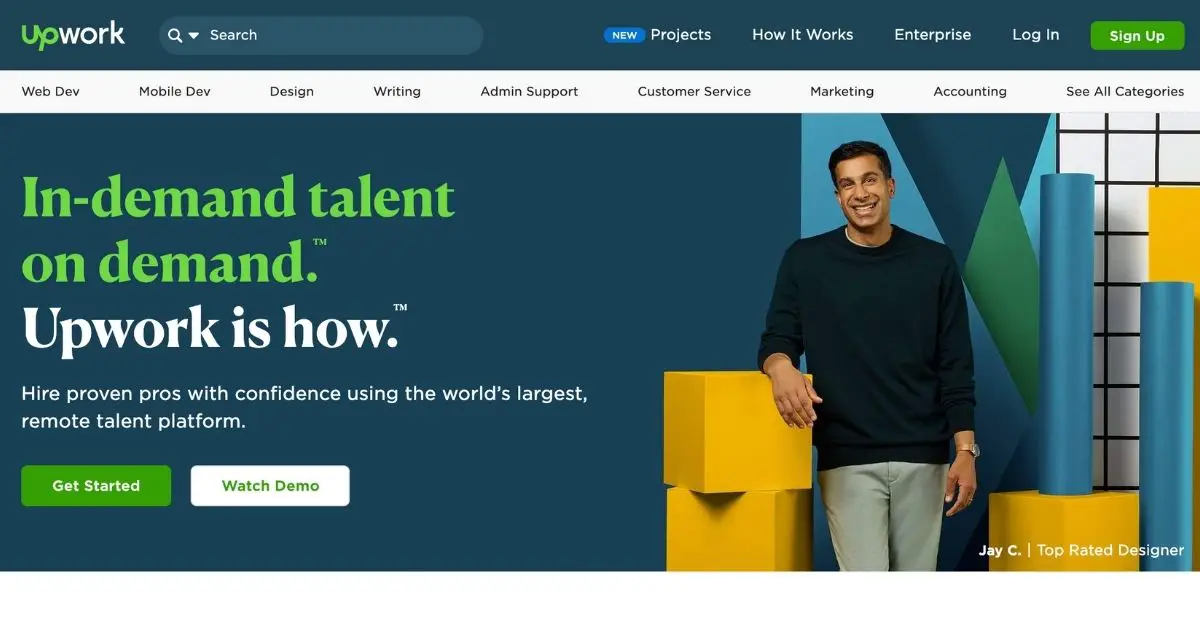 This is one of the global freelance websites you can register with to get freelance jobs working from home in Nigeria. 
It is a worldwide marketplace where independent professionals and businesses are able to connect remotely for the purpose of rendering various freelance services.
Upwork was first known as ElanceoDesk and was later rebranded to up work in 2015.
This freelance website is not as popular as Fiverr amongst Nigerians.
Hence, one of the reasons we have decided to include it in this blog post to assist those interested in working from home on several freelance websites in Nigeria.
Just to mention, Upwork takes 20% off your gig offers until you've built up a long term business relationship with a client.  
Also, the platform is beginner-friendly to the core.
High in Demand Services on Upwork
Video editing

Writing of articles and content for blogs

Programming

Social media and

pay per click advertising

Graphics design

Editing and proofreading
Payment method: Payoneer and PayPal
Freelance Websites in Nigeria #3: FindWorka
FindWorka is an online marketplace for gigs and digital services, where customers find and connect with diverse freelance experts in Africa in a very timely, affordable and secure manner.
It was launched in May 2016, Find work presently has over one thousand freelancers ranging from graphics designers, web developers, content creators etc.
High in Demand Services on FindWorka
Software Development

Programming

Mobile App Development
See Also: How to Start a Blog and Make Money Online
Freelance Websites in Nigeria #4: Freelancer
Freelancer is simply a global marketplace that allows potential employers to post jobs that freelancers can bid to work on and complete.
It makes it easy for employers and employees to be in contact with each other.
This site also makes it possible for employers to post their jobs for available freelancers while bidding in a competitive way.
High in Demand Services on Freelancer
Website development

Logo design

Marketing

Writing articles and content for blogs

Transcription services
Freelance Websites in Nigeria #5: Indeed

Indeed collectively gets all the jobs on the internet and puts them in one place for easy accessibility. Searching and looking for remote jobs is made easier with indeed.
If you're open to working at a local company, you can as well search that too.
What will interest you more about this is that it's totally free.
If you've been having challenges with other sites, indeed is here for you and it even makes the whole process a lot easier.
Therefore, it's high time to say goodbye to joblessness.
High in Demand Services on Indeed
Copywriting

Virtual assistance

Proofreading and editing

Content writing
Freelance Websites in Nigeria #6: iWriter
iwriter, as the name boldly spelt out, is a freelancer website set aside specifically for writers.
On this platform, Nigerian writers are not left out in any way as they can offer to write unique articles, blog posts, copywriting, SEO writing, eBooks and any other kind of content writing depending on the buyer's request.
We strongly recommend that you sign up with iwriter if you want to be a freelancer in the writing niche because it is quite easy to get integrated into iwriter if you have good writing skills.
It might also interest you to know that the total amount of money you make on this platform is strictly based on the following: your rating, the number of words in your article and your efficiency (the number of articles you can write per day, week or a month etc.)
Your buyers might also be moved to tip you of your article is very impressive.
High in Demand Services on iwriter
Copywriting

SEO content writing

Website content writing

Ebook Writing
See Also: How To Pay For Facebook Ads In Nigeria: A Step-by-Step Guide
Freelance Websites in Nigeria #7: Toptal
Toptal is a freelance company dedicated to only recruiting the top talents from around the world as the name implies.
It is a talented network of writers, developers, designers and even financial experts from everywhere around the globe are highly welcome to sign up and participate actively in Toptal.
However, such freelancers should be ready to face competition as the application process is so challenging.
Also, Toptal really makes it easy for employers to get the best freelancers, as their strict screening process has already ensured that only the most qualified candidates are always selected.
This is also one of the freelance websites also allows registration from freelancers in Nigeria.
Toptal Registration Requirements:
you must be able to speak, write and read the English language very well.

be passionate about your chosen field of expertise, with proven mastery

must possess unique skills and services for freelancing.

you also have to possess all the technical knowledge in your expertise field or fields to pass the test.
Freelance Websites in Nigeria #8: Contently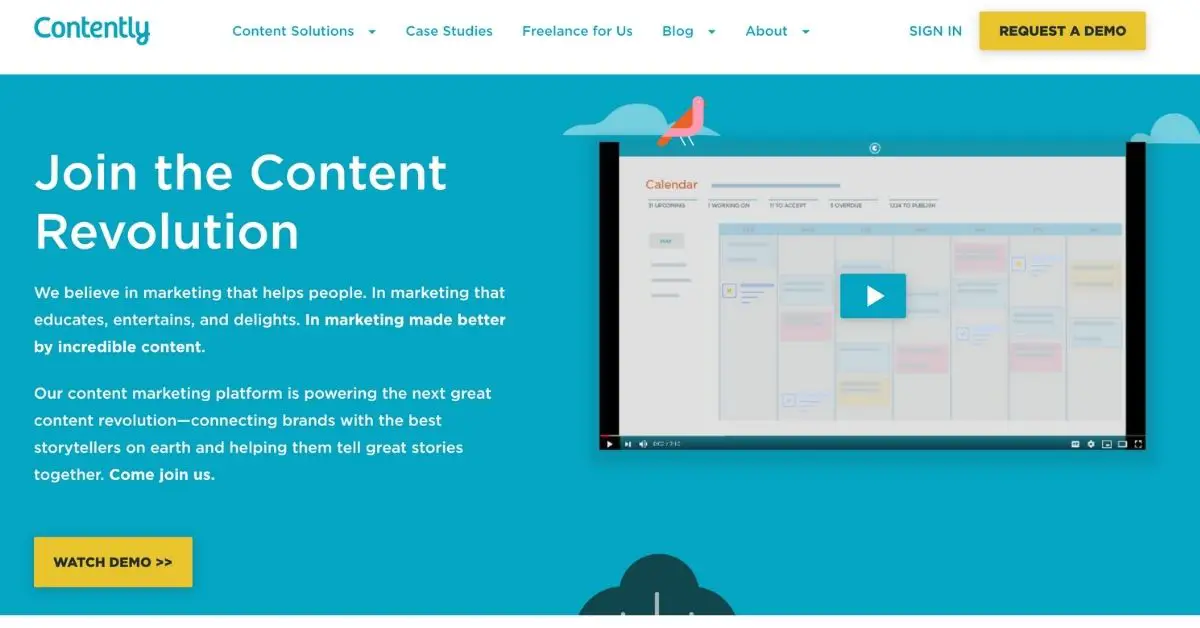 This is a platform that (when you're specifically selected by their account management team after you must have created a portfolio) directly connects you for well-paid freelance writing projects in Nigeria.
Contently is really sophisticated and this is why writers can charge top dollar for their articles (charging upward of $100 and above for each article).
However, the great marketplace and high demand for writing actually make this platform one of the best plus their stern editorial team.
High in Demand Services on Contently
Copywriting

Ebook Writing

SEO content writing
Freelance Websites in Nigeria #9: Justfrom5k.com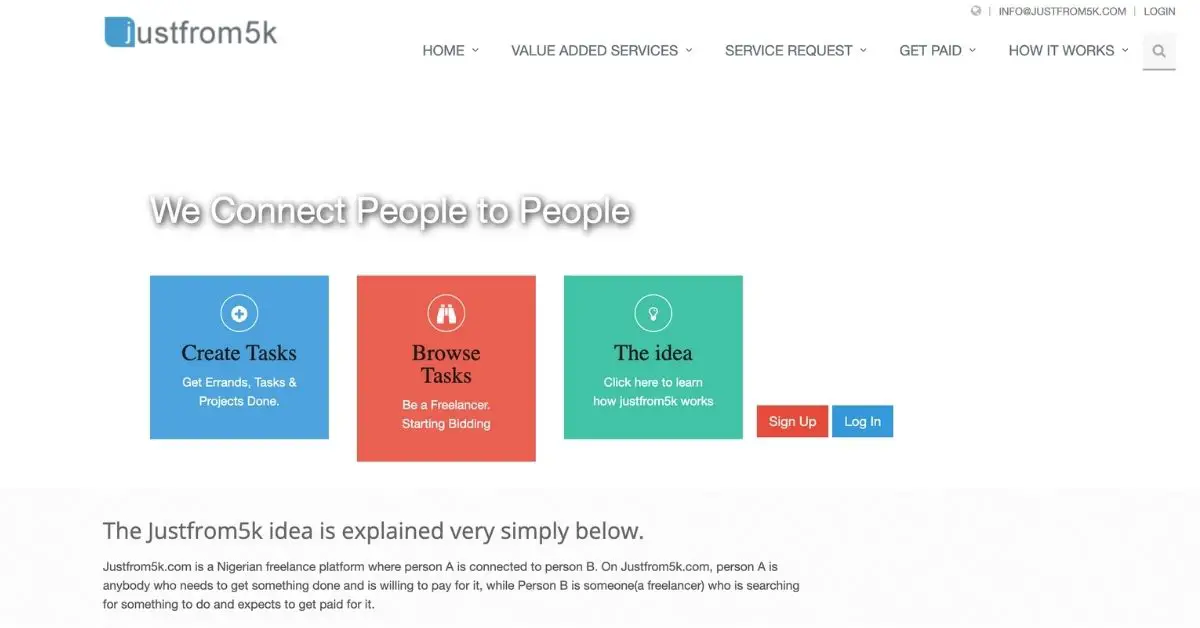 If you're looking for basic errand jobs, justfrom5k.com is the perfect solution to that. This is an ideal platform you can easily browse through if you're in search of local freelance errand jobs.
Asides from this, this platform also offers professional tasks that freelancers can successfully complete and immediately get paid for.
Justfrom5k.com is one of the freelance websites in Nigeria that mainly focuses on local errands and professional freelance jobs.
As a Nigerian, this website will be of great help, you should check it out.
High in Demand Services on Justfrom5k.com
Web programming

Marketing

Graphics design

Research and feasibility checks
See Also: How to Start a Profitable Mini Importation Business in Nigeria
Freelance Websites in Nigeria #10: Fixlancer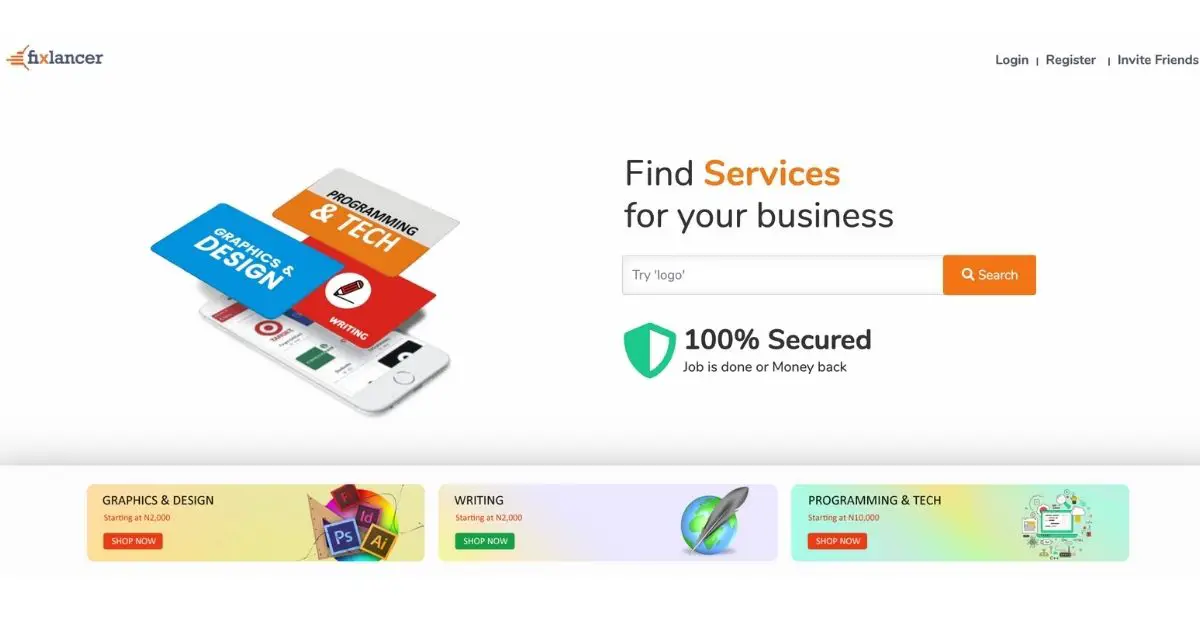 Fixlancer just like every freelance website in Nigeria provides a platform where freelancers offer digital services for businesses/individuals to patronize.
It is a local freelancers platform with Paystack payment integration system that makes it easy to receive your gig payment directly to your local bank account. 
High in Demand Services on Fixlancer
Graphics design

Video animation

Website design

Copywriting
Freelance Websites in Nigeria #11: 99designs.com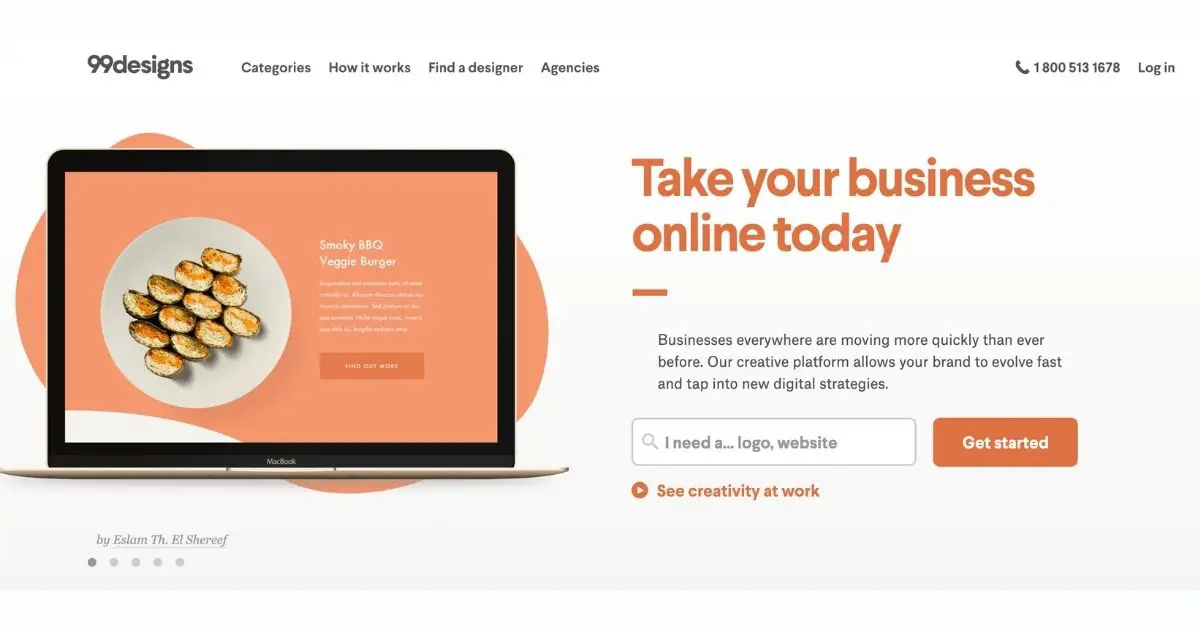 99designs.com is a freelance website targeted at designers only, and it has been highly successful.
What makes 99designs unique is the ability to fully niche down.
Clients looking for the best designing gigs from freelancers knows that this is the best platform to visit.  
Ways to Get Designs on 99designs.com
Clients can get their design either by working directly with highly skilled designers or starting a contest that allows the creative community of designers to participate in the project. 
Freelance Websites in Nigeria #12: Yokebay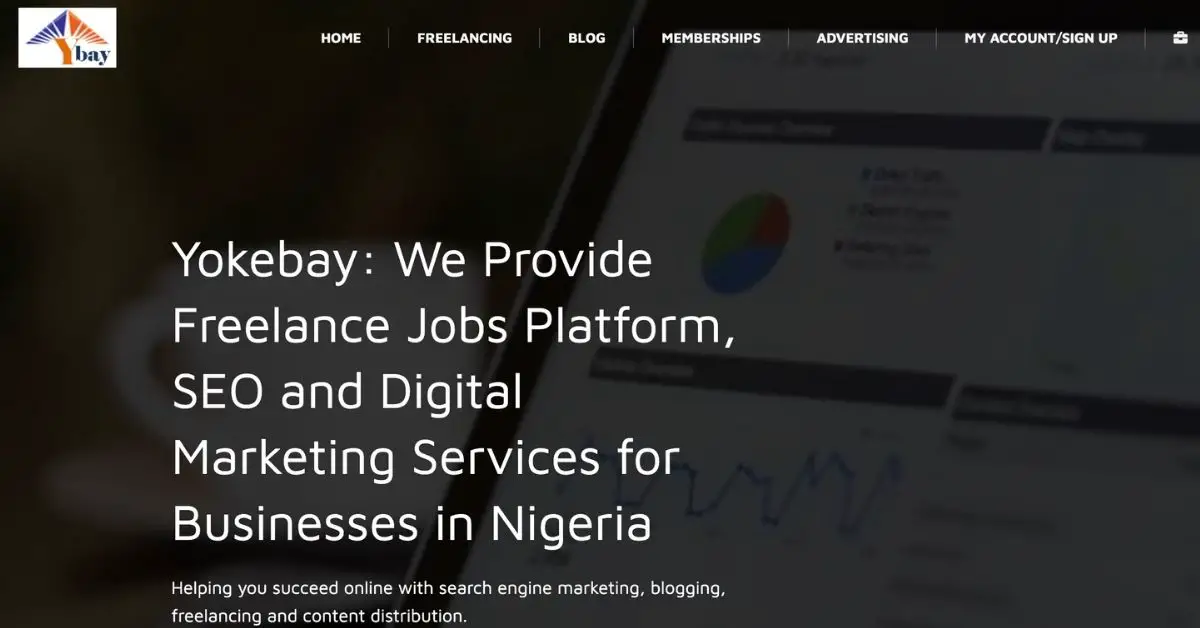 Yokebay is one of the websites that offer online jobs that pay for every type of freelancer you can think of in Nigeria.
The available jobs on this platform range from graphics design, website designer, social marketing to various online marketing jobs.
It is a great platform for beginners and experts because wherever you are in your freelancing career or your level of experience, Yokebay is always likely to have jobs for you.
In addition to this, you have the choice of setting your own price for the very jobs you have an interest in.
High in Demand Services on Yokebay
Web programming

Content writing

SEO services

translation services

proofreading and editing
See Also: 15 Best Social Media Marketing Tools for Online Marketers
Freelance Websites in Nigeria #13: DesignCrowd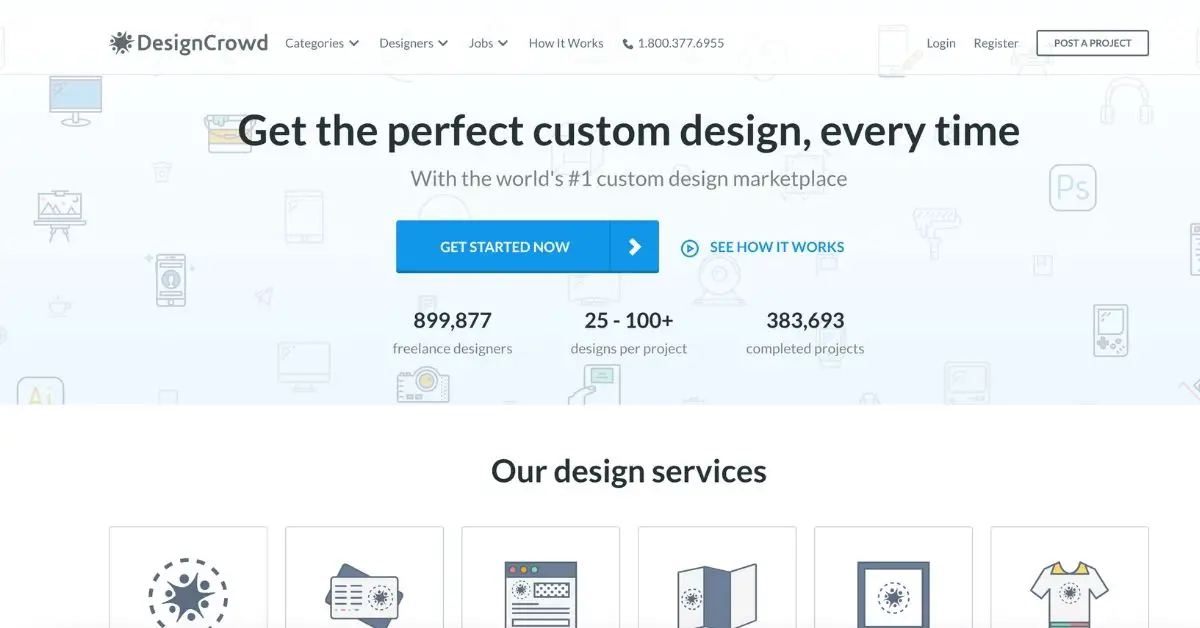 DesignCrowd is a design marketplace where businesses and organizations can actually actualize their ideas by crowdsourcing.
Just from the logo of your brand to graphic designs, DesignCrowd is simply a platform where you can receive multiple quality proposals from designers around the world.
DesignCrowd plays host to over 600,000 freelancers globally to populate your design contests.
Posting a design contest will definitely allow you to get over 50 designs from various designers.
Once you've selected your winning design, you gain full copyright ownership to the design files. 
Freelance Websites in Nigeria #14: JoLancer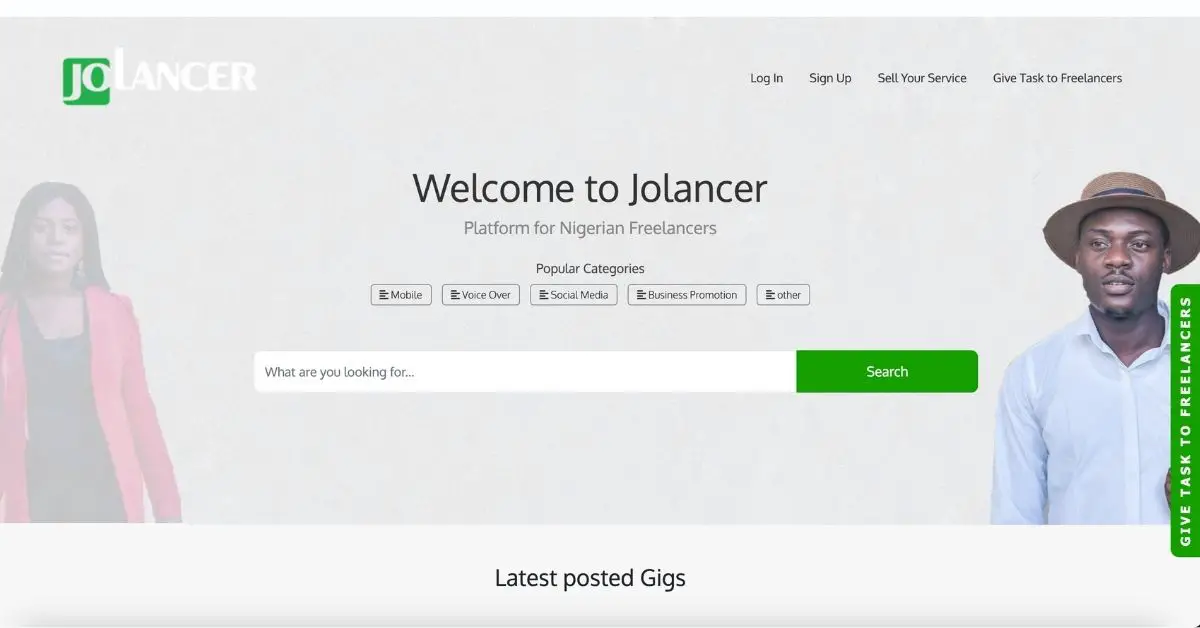 Jolancer is one of the freelance websites for skilled freelancers in Nigeria to register their portfolio and bid for projects in the area of expertise. 
The platform also allows clients to find highly qualified freelancers for their project which in a long term reduces the cost of hiring an employee for such a task. 
This platform is developed to bridge the gap between freelancers and project owners in Nigeria.
The very good thing is that there is a possibility for a freelancer to eventually get a full-time job with the client company.
High in Demand Services on JoLancer
Business logo design

Web design

Copywriting 

Lead generation services
 #15: PeoplePerHour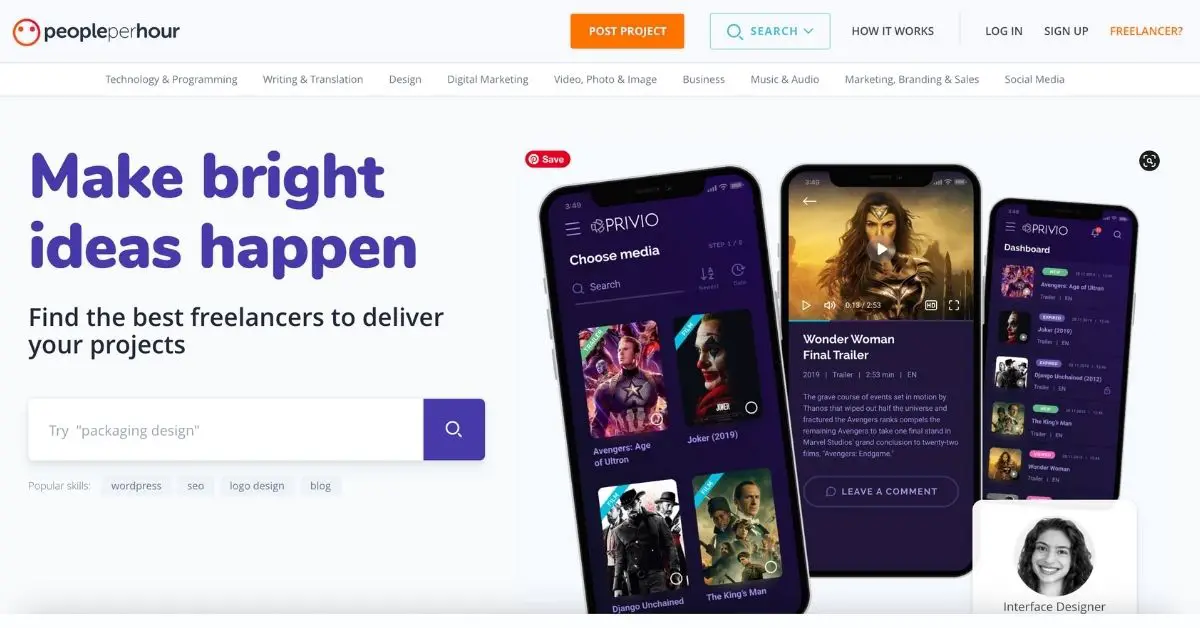 PeoplePerHour is a UK-based freelance website with the capacity to accept worldwide freelancers and give them the opportunity to get home-based online jobs or for clients to hire verified freelancers.
Just like every other freelance website in Nigeria, PeoplePerHour is completely free to register.
However, every application is thoroughly vetted for authenticity before being granted access to sell skills on the platform.
High in Demand Services on PeoplePerHour
Content Writing

SEO

Website Development

Voice over

Logo design
See Also: 25 Smart Instagram Marketing Strategy that Actually Works
#16: Dirlance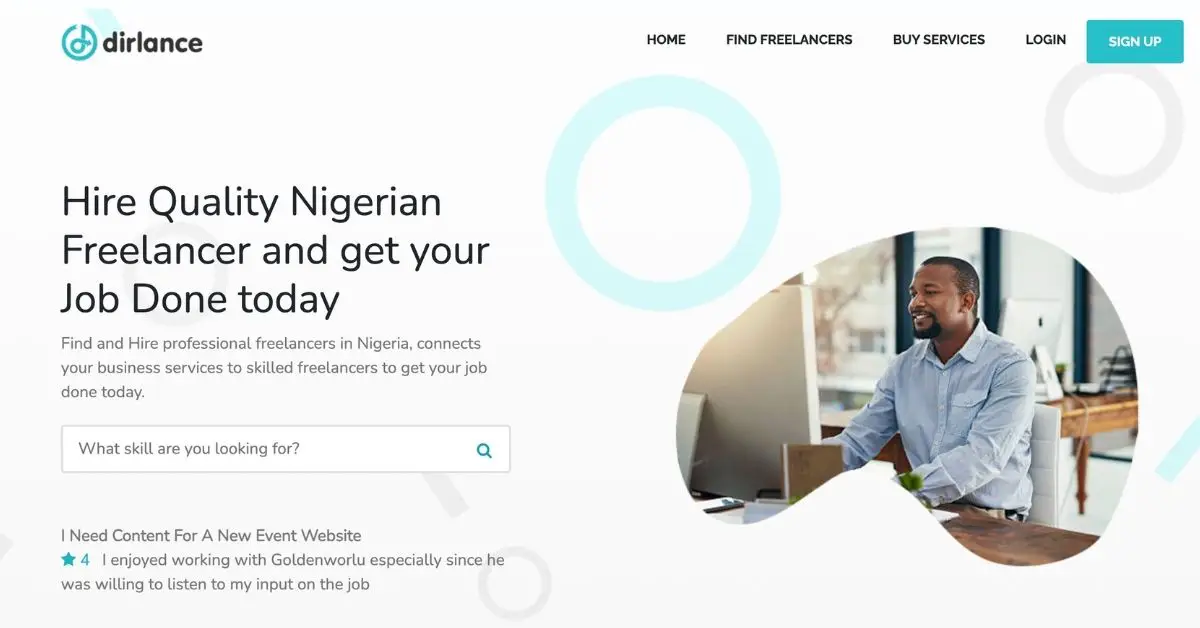 This is a community marketplace for professional freelance in Nigeria that connects business services to skilled freelancers.
It might interest you to know that Dirlance provides you with whatever you actually need to run your ideas into s booming reality, whether it's programming or even writing you have passion for.
Dirlance also helps you find, hire and collaborate with and as well as pay freelancers around Nigeria to take your business to greater heights.
High in Demand Services on Dirlance
Creative writing 

Sales and marketing

Social media marketing

Accounting services

Virtual assistance

Data entry
#17: Trulancer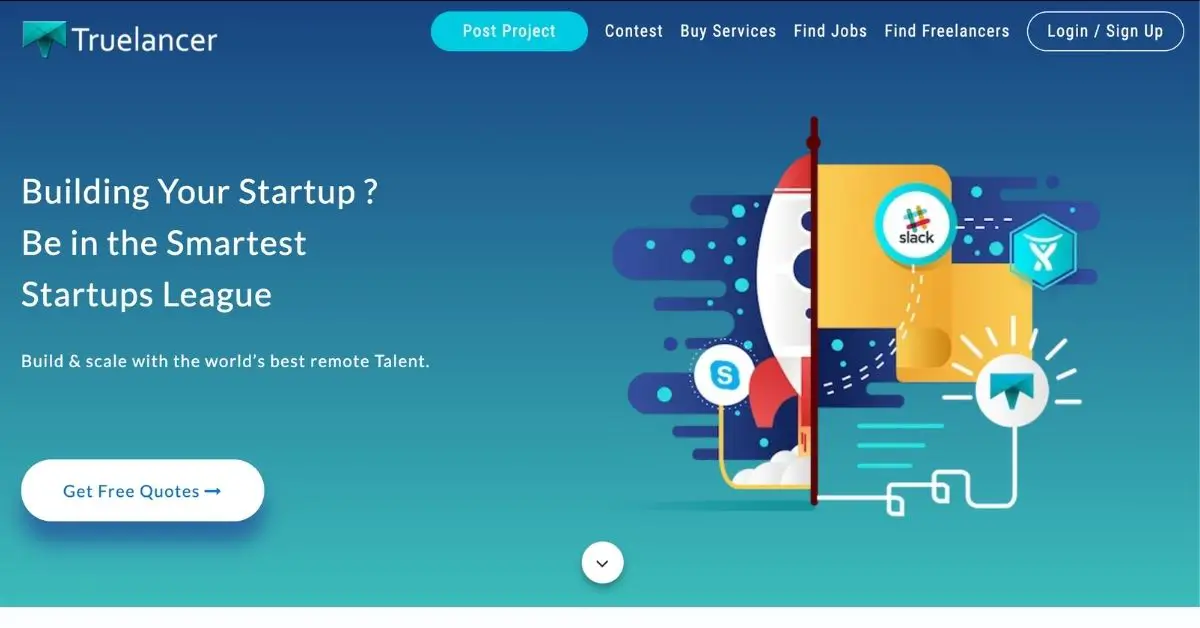 Truelancer is like every other global freelance website, it has thousands of highly skilled freelancers in Nigeria. It is simple and also quick to register and get jobs as a freelancer in Nigeria.
You can receive your first is through PayPal and the subsequent payout can happen via direct wire transfer to your Nigerian bank account.
High in Demand Services on Trulancer
Web development

SEO Content writer

Social media marketing

Proofreading and editing

Virtual assistance
#18: Flex Jobs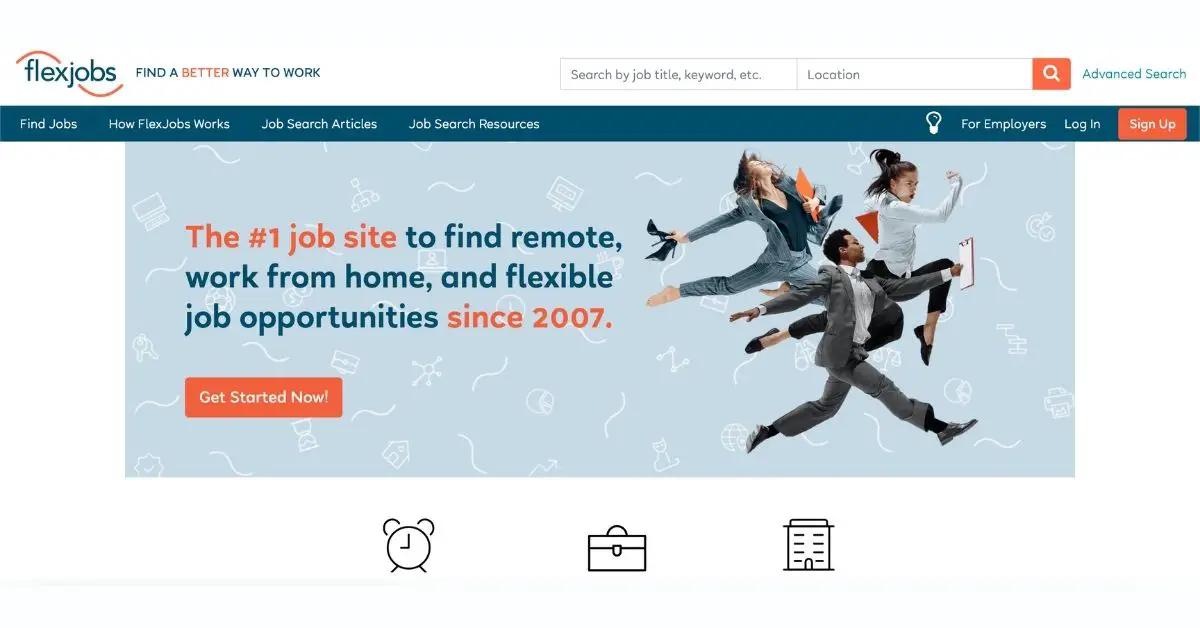 Just as you can tell from the name, flexibility is the foundation of Flex Jobs.
This freelance website has over 50 categories of services, hence there is something for everyone.
As a freelancer on Flex Jobs, you will definitely find a job as these are curated from large polls of requests.
High in Demand Services on Flex Jobs
Account management

Software development

Transcription 

Telemarketing
#19: Guru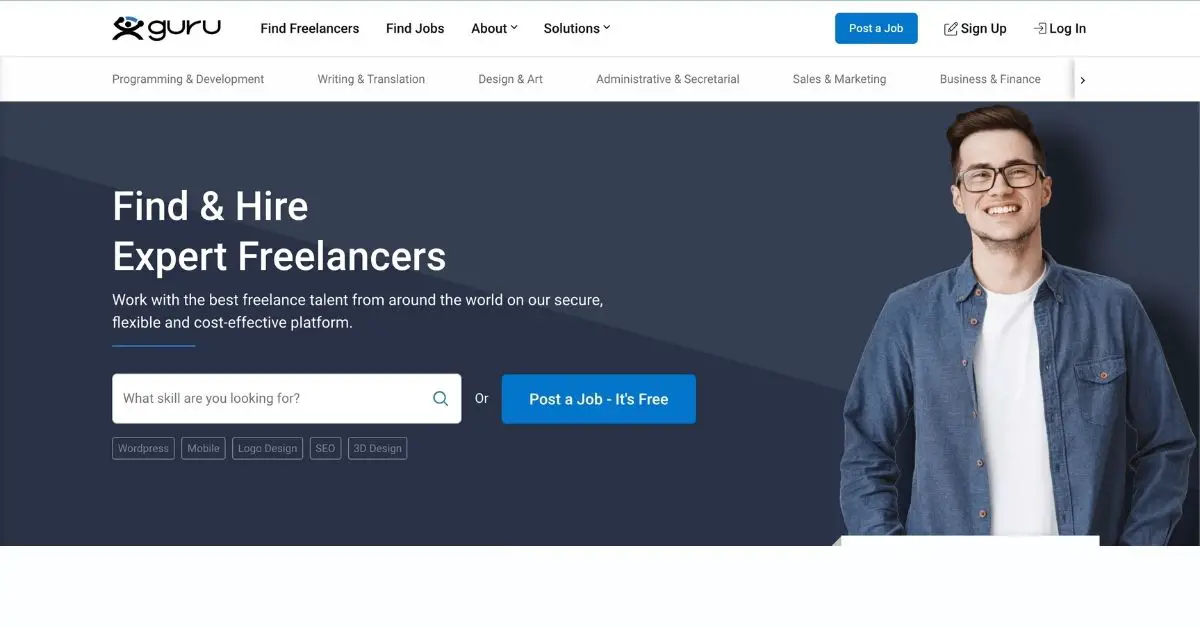 All kinds of freelancers can find useful work on Guru. The guru platform works on a bid system, freelancers need to submit quotes in a reply to client job postings.
Guru enhances easy communication between employers and freelancers, from creating agreements on payment schemes to sharing work documents.
High in Demand Services on Dirlance
Graphics Design

Writing and Translating

Programming and web design 
See Also: How To Make N250,000 Monthly In Nigeria Working From Home
#20: Simply Hired
The most interesting thing about Simply Hired is that you can browse freelance jobs in your nearby location.
To add to it, there's also a list of top salaries and a tool to estimate your fee.
This is really helpful to benchmark for a particular work you want to do. You'll also get to create a resume from their website and also learn a whole lot from their blog.
Freelance Websites in Nigeria That are No Longer Active
Below are some of the freelance websites in Nigeria that were active a few years ago but no longer in operation.
It is important to mention them in this article.
Asuqu: This was strictly a Nigerian marketplace and freelance website for creative and professional services in Nigeria.
SourceGig: SourceGig.com was actually designed for local freelancers and job posting clients. This freelance website also offers clients the opportunity to post jobs at the same time, so freelancers can easily look up the job posted.
Oyerr: This marketplace is simply a Nigerian Freelance platform that services and micro-jobs are created and paid for.
Gigs Nigeria: Gigs Nigeria was one of the outstanding freelance websites for people who have small shops to actually make extra money as Freelancers of small jobs.
Alance.Co: Alance was also an online outsourcing platform, designed to bring outsourcers in contact with professional service providers from diverse professional fields.
Conclusion
With the high unemployment rate in Nigeria, only a few Nigerians are leveraging freelancing to make money and be out of poverty. As a result, to break the 3rd world barrier, you will need to implement and take the right action now
The best thing about being a freelancer in Nigeria is that you're more flexible in choosing your jobs because you are your own boss.
Also, beyond registering for multiple freelance websites in Nigeria, you have to consciously equip yourself with top freelance skills in high demand. 
Lastly, the best freelance websites in Nigeria are friendly when comes to flexibility, payment as well as the scope of work. Enough said, get to work!
Also Read: