Are you having trouble restoring your deleted Facebook posts?
There are occasions when you deliberately delete your Facebook posts such as pictures, videos, group media, timeline uploads and so forth.
Then, what if you'd want to recover them?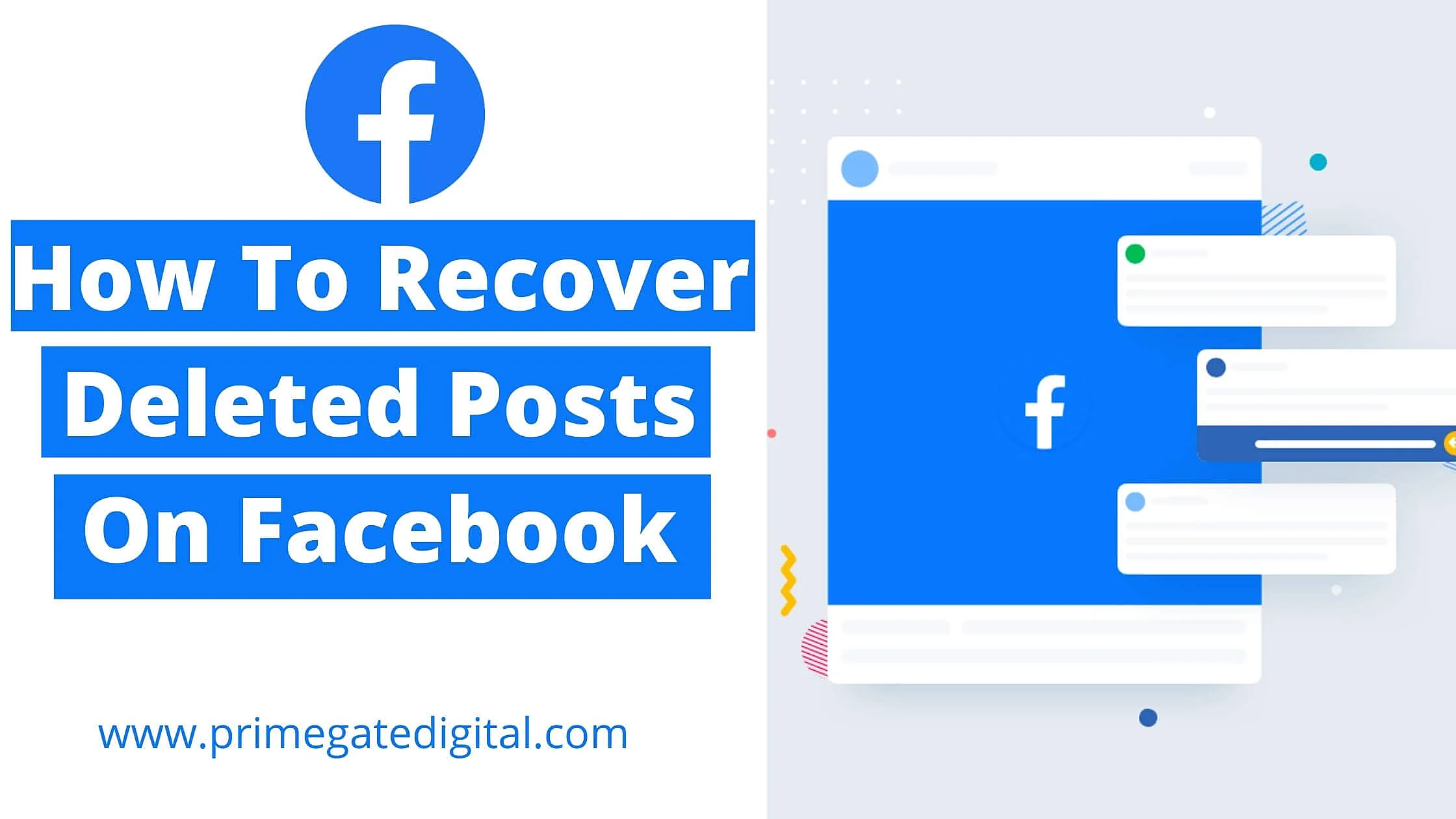 When you delete your Facebook post, you might feel bad about it. So, you might have a change of mind and seek ways to restore the posts you made there, even if it is just to reflect on those contents.
In this article, we will show you reliable and highly effective methods that can use to restore your deleted Facebook posts and other valuable content.
Before we go into the techniques of retrieving your Facebook posts, there are a few things you should know.
Let's look at how to find your already deleted Facebook posts. 
See Also: How To Recover Deleted Comments On Facebook
How to Recover Deleted Facebook Posts Using a Mobile App
Let's take a trip back in time and guide you on how to see deleted posts, clips, and other saved data on Facebook that you want to restore by following the simple but effective steps outlined below:
Use the Facebook Mobile App to access your account

Navigate to your Facebook account's home page and tap the three dots in the upper-right corner

Proceed to the Settings and Privacy section

Select 'Activity Log' from the 'Settings and Privacy' section under Your Information

The next screen will appear when you head to the Activity Log. Simply select Manage Your Posts or click on your posts

When you tap the Trash Can button on the next page, you'll see a list of all your Facebook posts that have been deleted and can be recovered
You will undoubtedly feel the need to recover and restore past memories after finding and reviewing the deleted posts. We have some excellent techniques that have been proven to be effective.
NOTE: You have 30 days from the date of deletion to restore your Facebook posts, videos, and other data. As soon as 30 days have passed, it will be irreversibly deleted.
See Also: How to Get Verified on Facebook for FREE
How to Recover Deleted Facebook Posts with Android Phone
In this article, we'll cover two simple ways to find and undo deleted posts on Facebook using your phone.
Use of the Recycle Bin
To restore deleted posts on Facebook from your Android phone or tablet, Simply follow the steps highlighted below to complete the process:
Choose the deleted posts you want to recover from the Trash can button

After you've selected the posts you want to recover, go straight to the Restore tab

All of your previously deleted Facebook posts will show up on your profile if you use the method outlined above
Download Your Information
You can use this technique to download your Facebook data, from the latest to the oldest, from video clips to written posts and shared timeline data.
Simply take it down a notch at a time.
Select Settings and Privacy from the three lines in the upper-right corner

Continue to the bottom of the page, where you'll see a Download Your Information link

You can select the Facebook media– posts, messages, and more– you want to recover by clicking on it on this page

Select the Facebook posts you want to recover using the Alt key

To download all of the data, scroll down to the bottom of the page and select Create a File

To save your Facebook data, tap "Create file."

After tapping Create File, navigate to Available copies in the sidebar to review and manage your downloads
See Also: How To Recover Deleted Messages From Facebook
Many users join Facebook Groups to discuss ideas, act funny, interact, promote businesses, and listen to music.
Your Facebook Group data—posts, videos, and so on—can be accidentally or knowingly deleted.
But there's no need to be worried; we'll give you all the tips and tricks.
Here's how to recover deleted posts on Facebook group
Visit the Activity Log section of Facebook's settings and privacy settings

To get to the next page, scroll down and click on Groups, Events, and Reels

To view and restore any data that has been accidentally deleted from a Facebook Group, click the trash can button

The deleted data can be easily found on the Trash page

Simply select the photos/media you wish to restore, navigate to the end of the page, tap the Restore tab, and confirm by selecting Restore
Hopefully, using the Facebook Mobile App and Groups, you were able to retrieve your deleted Facebook data. If you want to retrieve the data through a web browser, we will show you an easy way to do that.
See Also: How To Recover Deleted Video on TikTok
How to Use Google Web Browser to Retrieve Deleted Facebook Data
Accessing Facebook via a web browser is simple and convenient. How can you restore your deleted Facebook data if it's accidentally wiped from your web browser?
Without a doubt, just take a look at the following tips:
You'll need to access your Facebook Home Page. Simply sign in to your Facebook account via Chrome Browser.

Once you've successfully signed in, head to the top-downward right's button and select Settings and Privacy.

Navigate to Settings in the Privacy & Settings section.

Access Your Facebook Information from the Settings menu.

Underneath Your Facebook Information, select Download Your Information.

On the next page, you'll be expected to select the date, level, and type of the data you wish to download

Choose your preferred date and additional options. Then select Update.

Navigate to the bottom of the page and indicate the files or posts you wish to restore or download with a checkmark.

Next, move up and select Create File from the menu options.

A confirmation message will pop up.

As soon as you click on the Download button, the files you have selected will be downloaded to your computer or mobile device.

To view the files already downloaded, simply head to your Device's Downloads or Files area.
See Also: How To Find Recently Watched Videos On Facebook
Other Ways to Restore Deleted Facebook Posts 
Here are some alternative options to consider if your already deleted posts are lost and inaccessible on Facebook:
1. Search the Original Post
You can use Google or Facebook's search box to find any already-deleted post. These tools help identify the post's keyword or any related web page.
2. Check Your Mailbox
Facebook push notifications are alerts sent to your email about Facebook activities, even when you are not actively surfing the platform.
This implies that you can have access to some already-deleted posts. If you can recall specific texts from your Facebook post, you can look them up using your email's search box.
3. Your Friend's Mailbox
Your Fb friends that have active email push notifications may have gotten alerts about your post — particularly if they were tagged or mentioned.
Request they check through their emails for the already-deleted messages you wish to see.
See Also: How to Contact Facebook Support to Fix Account Issues
Recover Deleted Posts on Facebook FAQs
Is it Possible to Find Deleted Messages on Messenger?
When you delete chats from Facebook Messenger, the content is permanently deleted and cannot be recovered.
Although you may have erased your part of the chat, it might still be accessible to other parties. Request that they find the chat and copy/paste the content into a new message.
Alternatively, suggest that they email you a snapshot of the entire conversation.
Is There Any Third-Party Software that can Help me Recover my Deleted Facebook Post?
No, there isn't. Avoid using third-party software or tools to access your Facebook account because they may pose security risks, not limited to hacking and data theft. 
See Also: How To Recover Deleted Comments On Facebook
Conclusion
Think twice before deleting items on Facebook because it may be gone for good — particularly when it pertains to Facebook messages.
Despite this, do not feel hopeless! Before deleting something completely, you will always see a confirmation box asking if you want to delete it. To get rid of the post, head to the menu bar and select Delete.
We hope that this guide on how to undelete a post on Facebook helps you restore your deleted posts.
Also Read: