If you are an Instagram user and you are seeking a strategy to remove email addresses from your Instagram account, this article is for you. 
An effective method of rectifying Instagram account issues is modifying or changing the email address linked to your account. This will prevent an inability to access your account.
If your Instagram account has been compromised or you have lost your password, the process is simple and hassle-free.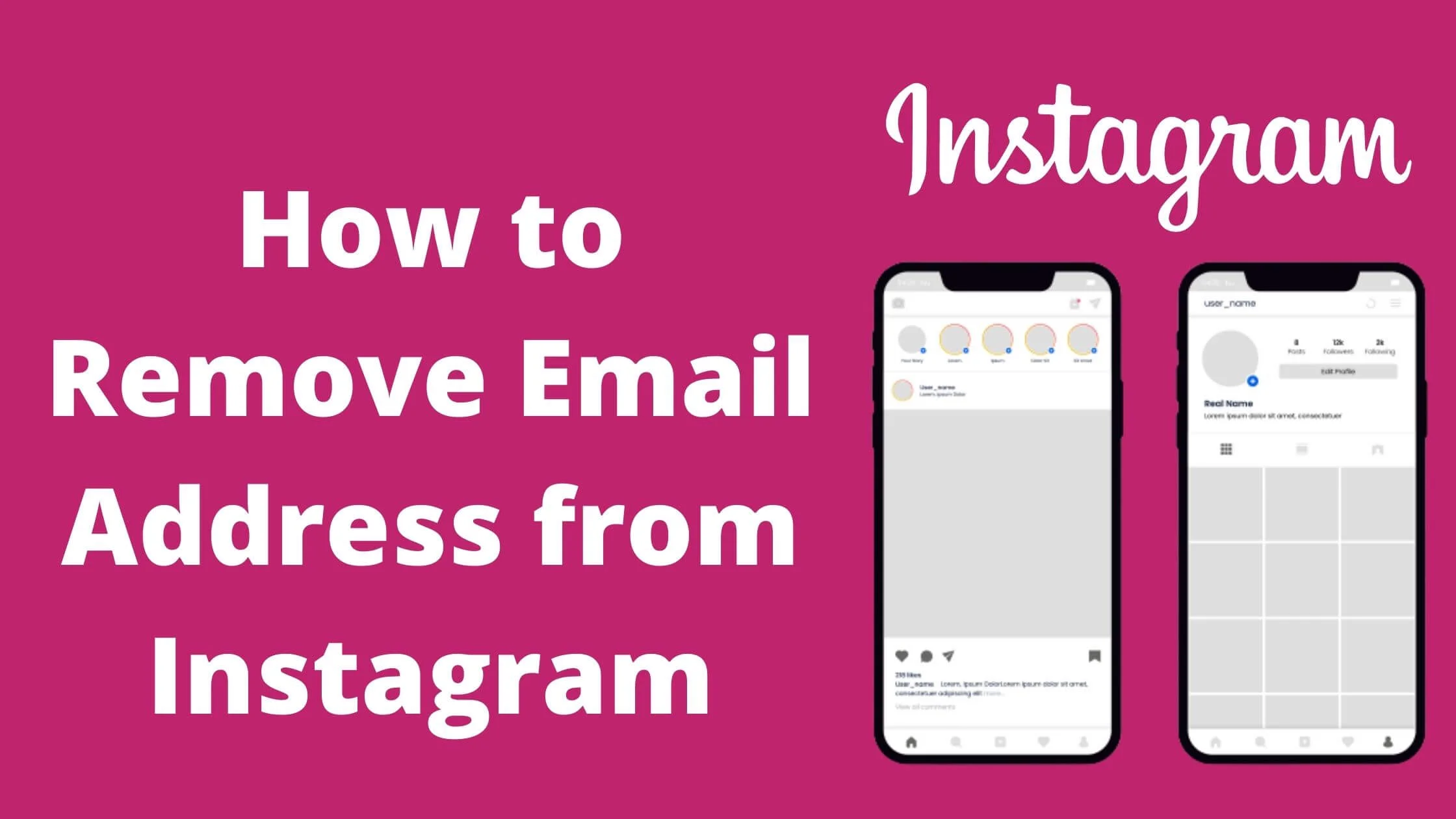 There's also the issue of Instagram users using fake or obsolete email addresses that are not valid. This might be the source of challenges in the linked account. 
If you set up your Instagram account with a false email address, you might find it difficult to access your account whenever an unfortunate event occurs.
This is one of the major reasons why you should remove any obsolete or invalid email addresses you can't access or else risk ruining your account. 
Without further ado, here's how to remove your email address from Instagram.
How to Remove Email Address from Instagram
There are two ways to update the email address linked to your Instagram account: Instagram app or web. 
Navigate to your Instagram profile and tap on "Edit profile".

You'll find your current email address underneath the "private information."
Check to ensure that the email address is valid.
To change or remove the email address, click it.
After finishing up the process, select "done".
A confirmation mail would be sent to your new email if you updated your Instagram email address.
Access your email and complete the verification process.
See Also: How to Find Someone on Instagram by Phone Number
How to Change Instagram Email Without Signing in
You can use this method to remove the old email address and update your account with a new email address even if you can't log in. 
Please note that this method will only work if you can still log into the email address linked to your Instagram account or have access to the phone number used for account registration.
If not, you will forfeit your ownership of your Instagram account. 
This technique is highly effective for Instagram account recovery. If the process is successful, Instagram will permit you to change or remove the old email address or phone number and input a new email address.
This is the same method that users utilize to reclaim their accounts. At the end of the procedure, Instagram will ask for your new email address and mobile number.
You can input any email address at that point.
Launch the Instagram login or access the Instagram website.

Select the "forgotten password" option.
Select the "Help" option.
Navigate to the login page of Instagram and fill in the old email address, username and phone number.
You will be rerouted to a page where you can change your password.
A confirmation message containing a set of instructions will be sent to your email address.
Enter your new mobile number and email address.
Confirm.
See Also: How To Recover A Hacked Instagram Account Really Fast
How to Disconnect Email Address from Instagram FAQs
Why am I getting an Instagram email?
Instagram will send you email notifications if you sign up with your email or use your email to subscribe to receive notifications. 
Whenever you get a comment on your post or another user mentions you in his post, you will get a notification mail from Instagram.
Notifications are not limited to this, as you will still be notified about other activity on your account via email. 
Furthermore, you will still receive emails from Instagram about the latest updates, announcements and promotions. 
Are Instagram emails authentic?
It depends. You should always note the context of the mail and its requirements.
If you receive an email from Instagram that directs you to perform a specific action, for instance, account verification or changing your password, it's most likely authentic. 
But if you receive mail seeking private information, for instance, your bank details or contact address, then you should be wary and exercise discretion because Instagram will never request such via email. 
Why did I receive an email from Instagram about difficulty logging in?
If you are experiencing difficulty logging into Instagram, it is most likely that Instagram has deactivated your account.
Your account may have been temporarily disabled because you logged into your account via a third-party tool or software.
To re-activate your account, read the guidelines in the email you received from Instagram. 
Instagram may have blocked your account because it appears that you're accessing it through a third-party app. Follow the steps in the Instagram email to unlock your account.
See Also: How to Fix Instagram Not Loading Pictures
Why am I receiving emails from Instagram every time I try to log in?
You might be facing challenges logging in and receiving Instagram emails due to some reason. First, it could be because of unauthorized access to your account.
Someone may have tried gaining access to your account via an incorrect password or email. This is why you have gotten an email from Instagram with instructions on how to recover your account. 
The second reason could be an error with the way your account's security was set up. 
Is there a way to contact Instagram via email?
Instagram has no official email address. It is a photo and video sharing platform that allows people to connect and engage easily. 
What email address does Instagram use to send notifications?
[email protected] is the email address utilized by Instagram to send notifications. 
Why can't I access my Instagram account?
Instagram might send you many emails about password resets for many reasons. It could be that someone has tried accessing your account without your authorization.
If this happens, you will get an email regarding this with directions on how to carry out a password reset and secure your account. 
Another reason is that you requested a password reset after tapping the "forgot password" option on the login page. 
Can I discover the person who attempted to sign into my Instagram?
Definitely. Instagram allows you to locate the person who attempted to access your Instagram account. To achieve this, launch the Instagram app and head to the Settings menu. 
Scroll to the lower part and select "Logged out of Instagram". You'll access a rundown of the devices that have previously logged into your Instagram account in that "Where You Logged in" menu.
You'll be provided with further info when you select "see more". 
Is there a number to call for Instagram support?
No. Instagram does not have a contact number that you can reach for assistance or support.
However, there is a help centre where you can access plenty of online resources to rectify challenges with your account. 
The Instagram Help Centre contains lots of articles that can assist you in making the best use of the app. There's also a guide that will show you the most effective way to enhance your Instagram videos and pictures.
You can reach out to Instagram via email if you are in need of further assistance. 
Is it true that Instagram sends out password reset emails?
Yes. If you can't remember your password, you can get emails from Instagram that can help you reset your password. You will find guidelines on how to do an Instagram password reset in the email. 
What's the easiest way to stop Instagram emails?
What's the easiest way to stop Instagram emails? There are different methods you can use to stop Instagram from sending emails to you. However, the easiest is unsubscribing the email from the "unsubscribe" option at the bottom of the email. 
Another method is by updating your email settings. Here's how to do this:
Launch the Instagram app.

Head to your profile.
Tap "Settings" from the hamburger icon in the upper left panel.
Navigate to the "Email" option below and select it.
Disable the "Email" option below "Notifications".
Can I access my Instagram account's email?
To view your email in the Instagram app, navigate to settings and check in the "Account" tab. 
I can't find my Instagram login email; what do I do?
If you have forgotten your Instagram login email, you can retrieve it using the "Forget Password" option. If it is not successful, search your email inbox for any Instagram email.
What is Instagram's email address?
Many tech companies do not have an official email address for support or assistance. Instagram is one of them. This means the company does not respond to enquiries or complaints via email. 
If you face difficulties with your Instagram, you can file a complaint via the "help" page. If your problem is not rectified, you can lodge a dispute to get a refund if you made a purchase.
What is the easiest way to see my Instagram email address and password?
To start:
Sign in to your Instagram account.

Navigate to the gear icon on the upper left side of the screen.

Tap the gear icon. Your email address will be displayed in the upper part of your page. 
You can change your password by tapping "forget password" on the login page. 
What is the best way to get someone's email address?
There are lots of strategies for getting someone's email address. One of the best strategies is to request it directly from them. You can also search for their email address via social media platforms. 
Conclusion
You can easily change your Instagram email even without signing in. If you can access your Instagram account, navigate to your profile and update your email address.
If you can't log into your account, ensure you utilize Instagram's forgotten password option.
Also Read: