Instagram is one of the most popular social media platforms in the world today.
It has helped businesses drive income and has also helped in building a strong online presence for many businesses worldwide.
Some businesses function majorly because of Instagram and more are still coming up on this platform every day. What a way to say thank you to innovation and creativity.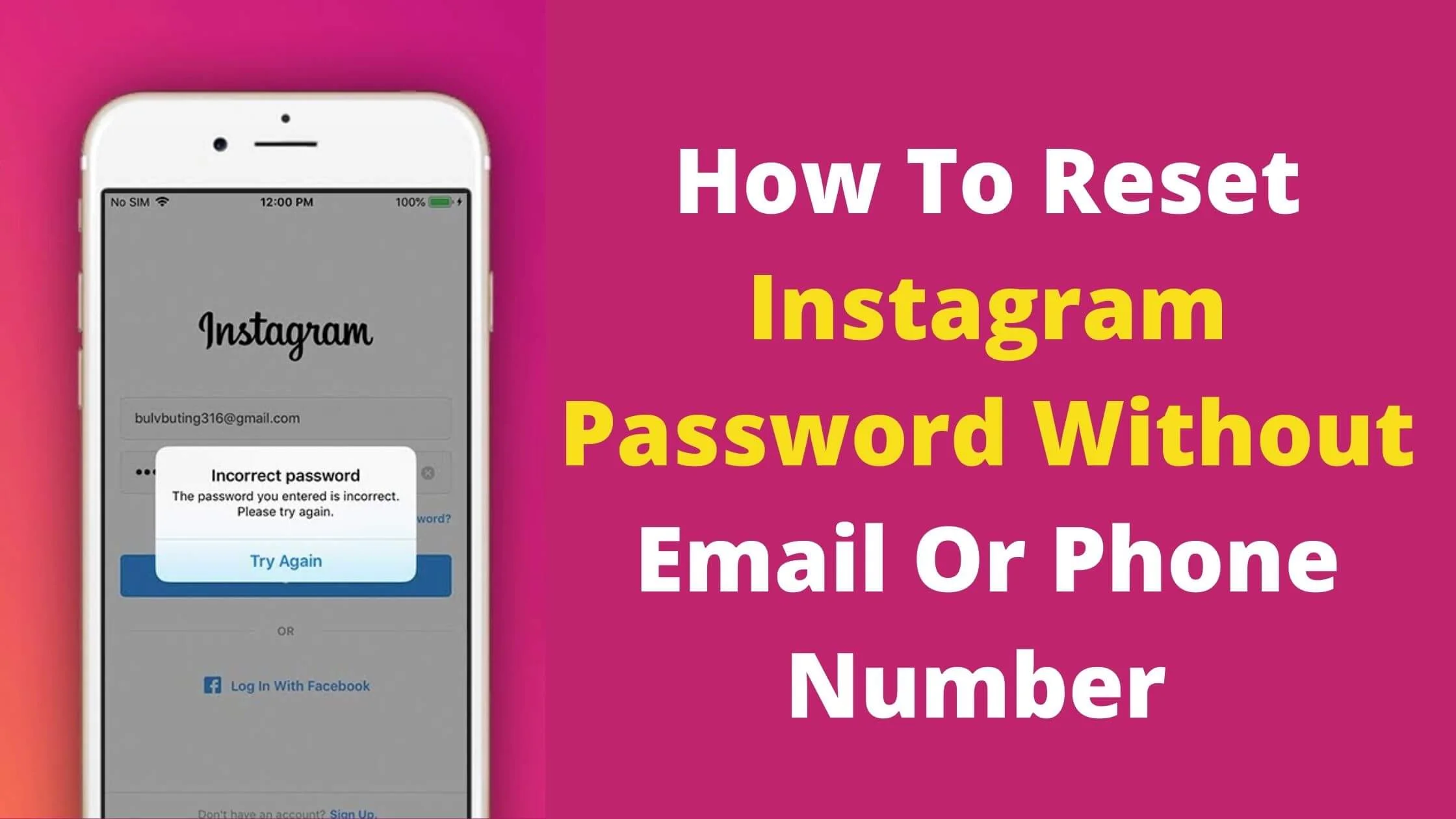 Instagram was founded by Kevin Systrom who launched the platform in 2010. He is also one of the graduates of Stanford University. It's so amazing how he was able to transform this startup into a phenomenon.
Instagram is a photo-sharing app and then transitioned into fusing video in the platform. The company registered huge traffic and got stable in no time.
In 2012, Instagram was acquired by META – A company owned by Mark Zuckerberg for $1.0 Billion. Since it has been fully controlled by META to date.
Instagram is estimated to have over 1 billion active users every day. With such data in the hands of one man, there has to be a high level of security awareness and privacy.
With so many things going on in the world today, one would tend to forget some things which include passwords to certain platforms such as Instagram.
In this article, you would be learning how to reset your password without your email and phone number. But, if you find yourself in such trouble and you need to log in to access some information, how do you do it?
This is what you will be learning in this article. As the word says, there are many ways to get to the market – this is one of them. Want to learn more? Read on.
See Also: How to Reset Facebook Password Without Email or Phone Number
How to Reset Your Instagram Password Without Email and Phone Number
The following are ways to reset your Instagram password without resorting to using your email or phone number.
These are not the regular steps that you may have in mind but are guaranteed to get you back your details.
They are the following;
Through Facebook.
Using your Instagram support mail.
Help me sign in option
Through web browser
Request Support Form
Using WhatsApp
How to Reset Instagram Password Through Facebook Option
This is one of the ways you can change your Instagram password if you do not have access to your email and phone number.
To get this done, you must follow these steps;
First, you need to enter the login page of the application on Instagram
On the log-in page, you will see the highlighted section that says, log in with Facebook.
When you log in through Facebook, you can always get redirected to your Instagram page.
Note: this will only work when you have your Instagram page linked with your Facebook. If you don't have this, you can always use forgot password.
How to Reset Instagram Password Using your Instagram Support Mail
This is the second way to reset your Instagram password without your email and phone number.
This is a very strategic route to take that most people don't know about. How do you get this done?
Look at the following steps below.
You can either decide to copy your Instagram support mail and insert it in your Gmail and send it for further assistance.
Use your support button from your Instagram app beneath the page at the settings section.
When you have done this, you can follow the available information being asked of you to provide.
Note: One thing you must understand is that Instagram is very sensitive these days. Any little mistake from you can have your account deactivated till you have to contact the support team. You don't want to go through all that stress.
See Also: Vanish Mode on Instagram – What it is and How to Use it
How to Reset Instagram Password Using the Help me Sign-in Option
You can always reset your Instagram password by using the help me sign in option. You are going to learn how you make use of this feature to retrieve your password anytime.
The following steps below will give you a clear view of how to use this.
First, you open the Instagram app o your mobile device
Click on the get help signing in
Enter the contact number used in registering your Instagram account
In the next phase, you will get a verification code which you can enter on your recovery phone number.
Complete the process by retyping your new password and confirming the password to finish the process.
How to Reset Instagram Password Through the Web Browser
You can reset your Instagram password using the web browser option.
Follow the steps below to do this:
Simply click on the web browser and insert the URL link www.instagram.com.
If after you click and enter this URL link, it shows you that you are already logged in.
Click on your profile pics and at the right corner, click to reset your password.
If you know your current password, you can click on change password.
Type in your old password and type in your new password and confirm it. Then you have completed the process.
This is one of the easiest ways to reset your Instagram password.
How to Reset Instagram Password Using Request Support Form
To reset your Instagram password without your email or phone number, you would need to
Navigate to the get more help section on your Instagram page.
When you get to this section, you will be able to request the support form by tapping the "I can't access this email".
After clicking on the "I can't access my mail", it will take you to the request support form.
Enter the email address you want Instagram to get contact you with.
Make sure that the email you are inserting is linked to your Instagram account.
A list of questionnaires would be sent to you to answer, once completed, you will get a message from Instagram with a link to reset your password.
See Also: How to See Who Saved Your Instagram Post
How to Reset Instagram Password Using WhatsApp
Okay, yeah, I know this might be sounding new to you, but you can reset your Instagram password using the WhatsApp platform to get it done.
The following steps below will explain from start to finish how to get through with this.
If you don't have the WhatsApp platform on your phone, you might want to download it because you are going to make use of it.
Set it up with the number connected with your Instagram account.
Get your number verified so you can always have access to it.
Open up your Instagram app and search for [Get help with signing in] or use the forgotten password
When Instagram gives you options you can use to access your account, tap on the WhatsApp button, and a link will be sent to you.
On your WhatsApp handle, look for the link that is sent to you from Instagram.
Enter your new password twice and click the button that says checkmark at the top right side of the screen and your password is reset. This is only possible because most platforms such as Facebook, Instagram, WhatsApp, are owned by META.
Conclusion
If you have ever worried about resetting your password and have found it hard to do, you have been provided with solutions to getting it done.
It is very much important to know these various steps – although resetting your password is not something you would want to do all the time except if you feel your account has been compromised and there is a need to reset your password.
Always endeavor to keep your account credentials secured to avoid your account getting hacked by internet fraudsters.
If you run a business with your Instagram account, it is wise you reset your password 2 times a month to improve the security of your account.
If you are already doing this, very good. Find yourself the comfort you deserve and do more with what innovation has to offer.
Also Read: