Instagram Stories lets you create fun and engaging posts, then send them to your followers. The best reason to use Instagram Stories is that you can send them to your followers.
You can tag people in photos or videos if you want to get their attention. This way, they can see who posted what and learn more about you or follow you if they want.
If you want to tag someone, it's best to do it before you post. That way, they get a notification and don't miss it.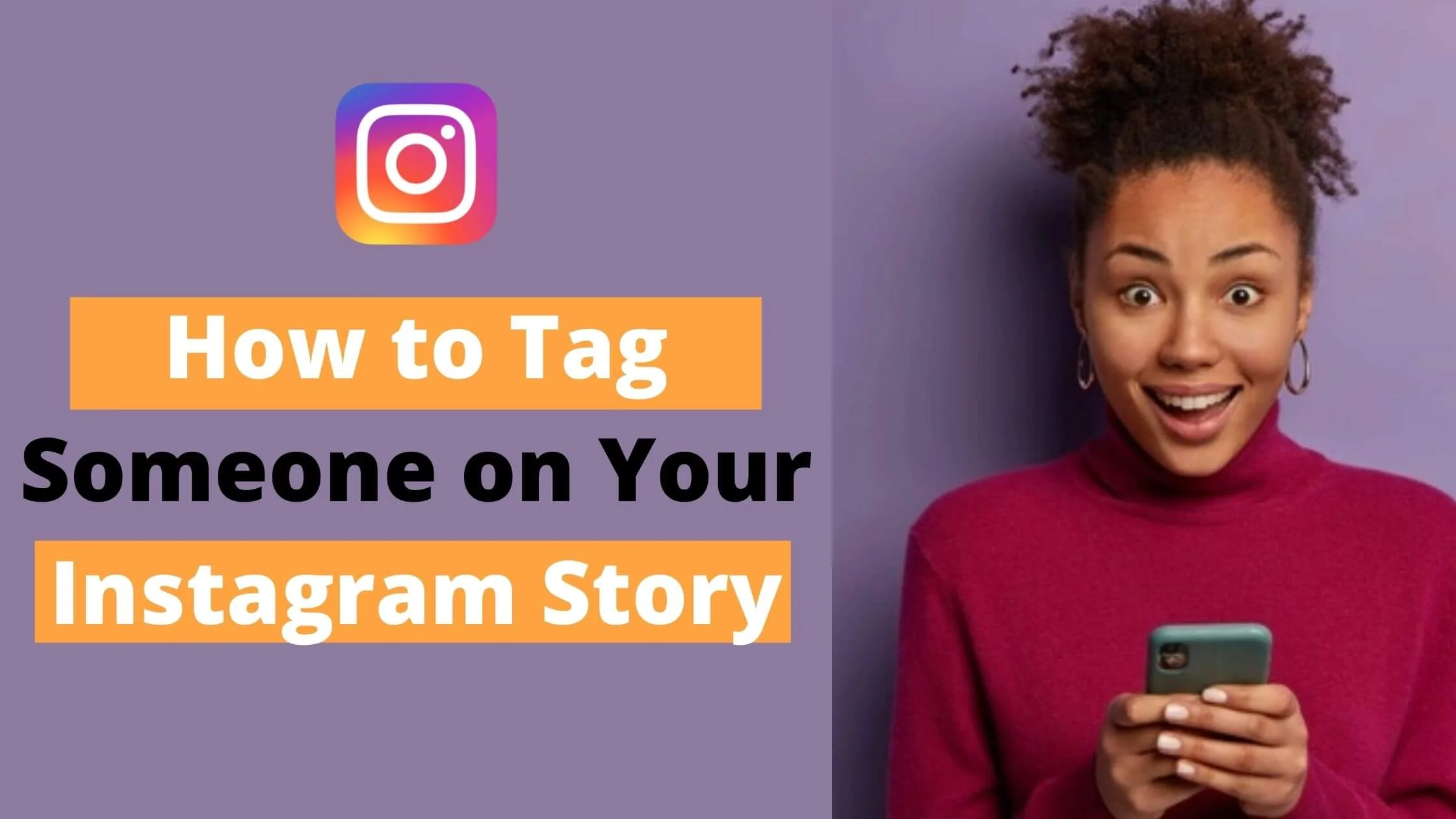 Tag a person in your Instagram Story using the "@" symbol and type their name.
In this article, I will guide you on how to tag someone on Instagram easily.
Without any further ado, let's get started.
See Also: How To Block Someone On Instagram Without Them Knowing
Reasons to Tag Someone on Your Instagram Stories
There are a few good reasons to tag someone in an Instagram Story. When you tag someone on your Instagram stories, it gives your post more visibility as it draws more attention to your content.
It is a great opportunity to gain brand awareness and content exposure.
Before you tag someone in your Instagram stories, make sure that the content you're posting is relevant to them in some way. This ensures they find your content useful and keep coming back for more.
As a best practice, it's a good idea to tag your photo or video with your name, your business, and the location where the picture was taken.
This allows viewers to learn more about you and your business, and it also makes it easier for other people who are looking for businesses in that area to find yours.
How Many Persons Can You Tag in Instagram Story
Instagram allows users to tag up to 10 people per Story. This is the limit on every IG account.
Therefore, you should not panic when you try to tag more than the set limit, and it doesn't pull through.
How to Tag Someone on Your Instagram Story
Here's how to easily tag someone on your Instagram story.
Add Text to Instagram Story and Tag Them in it
Open your Instagram app and navigate to your Story Feed
At the Story Editor section, click on the "Aa" icon in the top right corner of your screen
Proceed to type @ symbol and then the person you wish to tag the user's name. When you enter any text, Instagram will, by default, suggest to users you might wish to tag.
Tap on the right Instagram profile that you want to tag
An underline will be added to the Instagram username
You can tag more Instagram profiles or add more text by following these procedures.
Add a @Mention Sticker
On the Story Editor Tab, click the sticker icon
Proceed to choose the @Mention sticker
Start to type the Instagram username that you wish to tag. Again, Instagram will automatically suggest based on your typing.
Go ahead and click on your profile picture to select the IG user.
See Also: How To Recover Deleted Comments On Instagram
How to Tag Someone After You Publish Your Instagram Story
If you're missing a person's name in your Instagram Story tag, use the "@" symbol, like @JohnSmith.
The good news is that you can add a tag to a published story.
It's easy to create, post, and share stories on Instagram. You can add up to 10 images and text to each Instagram Story, and you can use hashtags and likes to encourage others to join in on the conversation.
You should not worry about losing followers when you delete a tag from your story.
If you don't want to waste time and disturb your followers with a similar slide, you can just delete the previous slide and start over.
What is Instagram Tagging?
Tagging on Instagram consists of adding products, locations and clickable usernames to a post. There are three types of Instagram tagging:
User Tag
This occurs when you add a clickable profile on Instagram to a comment or post (picture or video). This is also referred to as user tagging.
Location Tag
With a tag, you can connect a post to a location.
This type of Instagram tag is called location tag.
After tagging the location to a post, it will appear on the results page whenever someone searches on Instagram.
Product Tag
You can connect your product to your post on Instagram. It is referred to as "product tag".
Instagram Tagging Restrictions
Users on Instagram can freely use the tag feature to connect friends to their stories, posts or comments.
This is important because it lets you grow your engagement with your customers for business account owners.
However, Instagram allows users to tag no less than 20 friends for every post.
Anything above that number may lead Instagram to flag your account as spam.
It may also negatively affect your engagement rate or place your account at the peril of a shadowban. Or, in extreme cases, a permanent block.
Don't overuse the tag feature, especially if your account has fewer than ten thousand followers. Use the tag feature once every 3 or 4 days.
Instagram Tag etiquette
If you use Instagram the wrong way, rather than engaging leads and gaining the exposure you wish, you will end up annoying people and stop them from interacting with your content.
Tagging is an excellent way to get people to notice you and improve your engagement level but if it is not done with poise, it might create a negative impression.
What's the best way to tag people, garner attention and create a favorable impression? Continue reading this section.
There are some important tips worth paying attention to when tagging.
It will make people pleased to check out their notifications rather than get vexed.
Before we explore our three strategies, the most crucial thing to note is to ensure there is a solid reason to tag anyone you wish.
Tip #1
A good reason to tag someone on your Instagram post is if you are using a picture (and the picture is nice) and the user is in that specific picture.
Tip #2
If you wish to upload someone else's picture or video, it is an excellent idea to use the tag feature to inform them that you have shared their content.
This is a good way to build relationships because it credits them as a source. (This will work for business and private accounts.)
Tip #3
Tag someone if you are sharing valuable content they will like and appreciate.
But don't forget to include the context and purpose of tagging them, and your concern shouldn't solely be reposts and sales – particularly if you own a business profile.
If you upload content to Instagram and aimlessly tag 15 to 88 people ( surpassing the maximum number of tags), then that's a spam tactic and a bad utilization of tags (and a waste of time).
It is attention-seeking and doesn't produce results.
However, if you are sharing a picture from an occasion and tagging all those present and adding some context about your experience and then explaining that they are in your thoughts or you actually miss them and so on, this is a nice move.
Tag Someone on Your Instagram Story FAQs
Why Am I Still Unable to Tag Someone on Social Media?
It is hard to tag people on Facebook if they haven't enabled their tagging options.
Alternatively, you can tag people on your follower or friend list.
Tagging helps your post get noticed and not everyone is interested in it.
Is tagging better than mentioning on Instagram?
Yes, tagging is more advantageous than mentions.
This is because the latter can be hard to find in notifications (because Instagram feed displays only the hundred newest notifications), while tagging appears differently.
Also, tag posts appear with tagged pictures, getting your account the engagement it needs.
Is tagging different from hashtag?
Yes, on social media platforms, tagging someone is a way of drawing their attention to a post or profile, while a hashtag is a word or phrase added with a hash mark (#), usually added within a social media post to signal a relevant topic and simplify the process of finding it.
Can tagging boost my followers?
Possibly, tagged posts garners over 60% increase in comments and likes than posts without it.
Tagging on Instagram can boost visibility and exposure.
Instagram tags help organize posts and encourage people to search for them on the site.
Does tagging users grow your likes?
Yes, tagging can boost your post engagement (likes, comments and shares). This will help improve your account visibility.
Tagging customers can also boost brand loyalty, implying you value them.
Conclusion
Gaining more visibility on Instagram Stories can boost your confidence and encourage you to create more relevant content.
Following this guide on how to tag someone on an Instagram story will help you get started on increasing your brand visibility with tags.
Also Read: