Rank Math vs Yoast vs SeoPress – which is best for you?
Boosting your business by increasing your audience base and becoming much more effective is what anyone who seeks to be successful in developing their business online would want.
Online SEO tools can be of great benefit in boosting your business when it operates with the right plugins.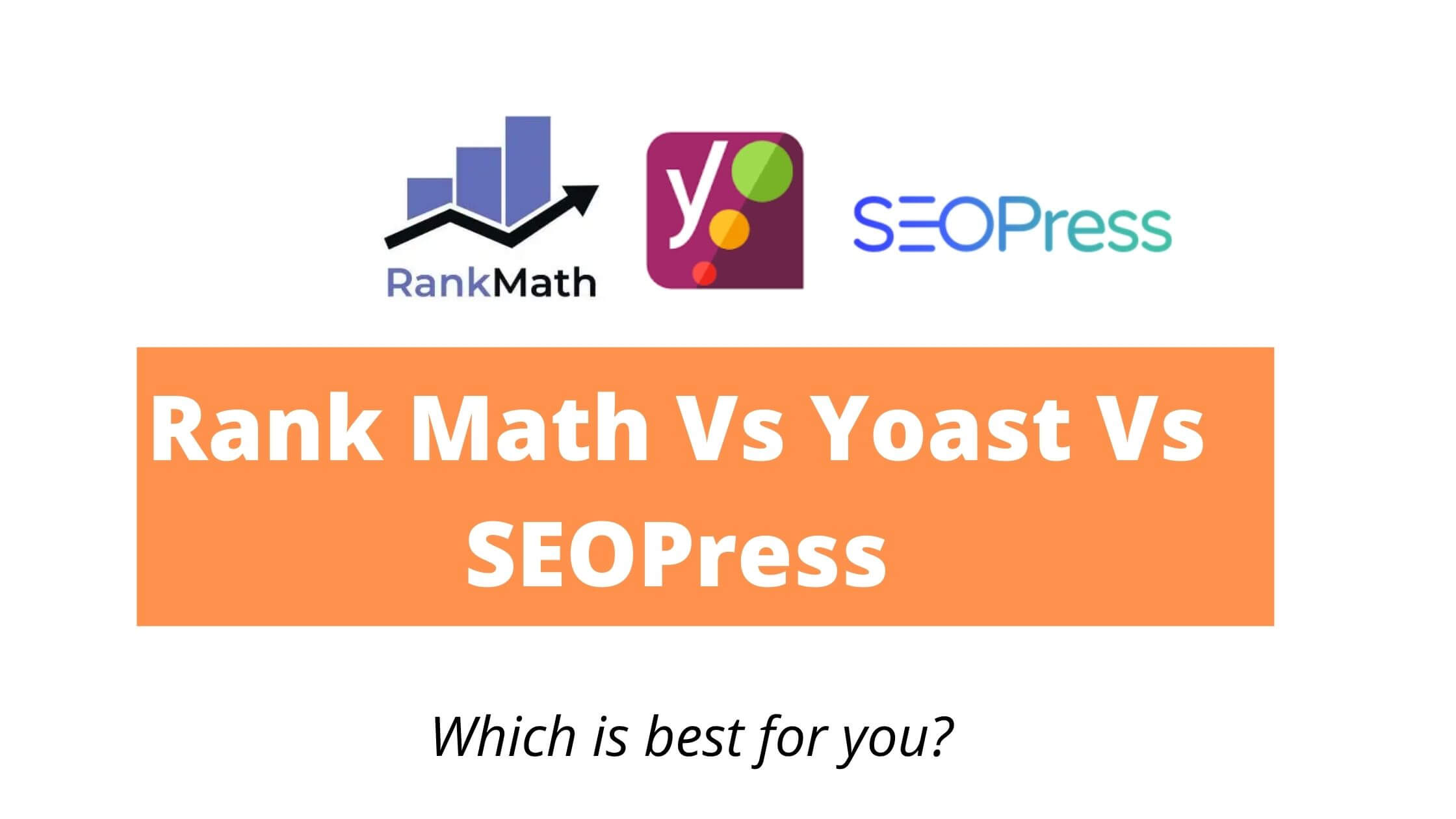 Most often, making a choice between these plugins can be a hassle as there are a lot of them out there but this article will act as a guide when you have to make a choice between these top plugins on WordPress depending on your business needs.
Before we delve into the Comparison of the different WordPress SEO plugins it's imperative we have a basic understanding of some terms:
What is WordPress?
WordPress is the easiest and simplest way to create your blog or website for your business. Statistically according to w3tech, WordPress hosts about 40% of all websites registered on the internet, which is equivalent to running 1 in every 3 websites and that is no mere feat.
For experts, WordPress is a content management platform that allows all users to modify its features, and it is licensed under GPLV2. It allows you to manage the contents of your website without necessarily knowing anything about programming.
WordPress can also be used to create eCommerce stores, Blogs, Portfolios, Forums, Social networks, Forums, and basically any platform on the internet.
What are SEO Plugins?
SEO plugins are linked extensions for content management systems on the internet and other software solutions. These plugins increase the possibility of the source software's functions with the addition of special features to the base features of the source software.
This helps to improve search engine optimization and boost online marketing strategies.
Now that we have that at the back of our minds, let's get down to Rank Math vs Yoast vs SeoPress review.
See Also: Best 15 Free SEO Tools to Boost Your Website Ranking
Rank Math Vs Yoast Vs SeoPress – Which is Best?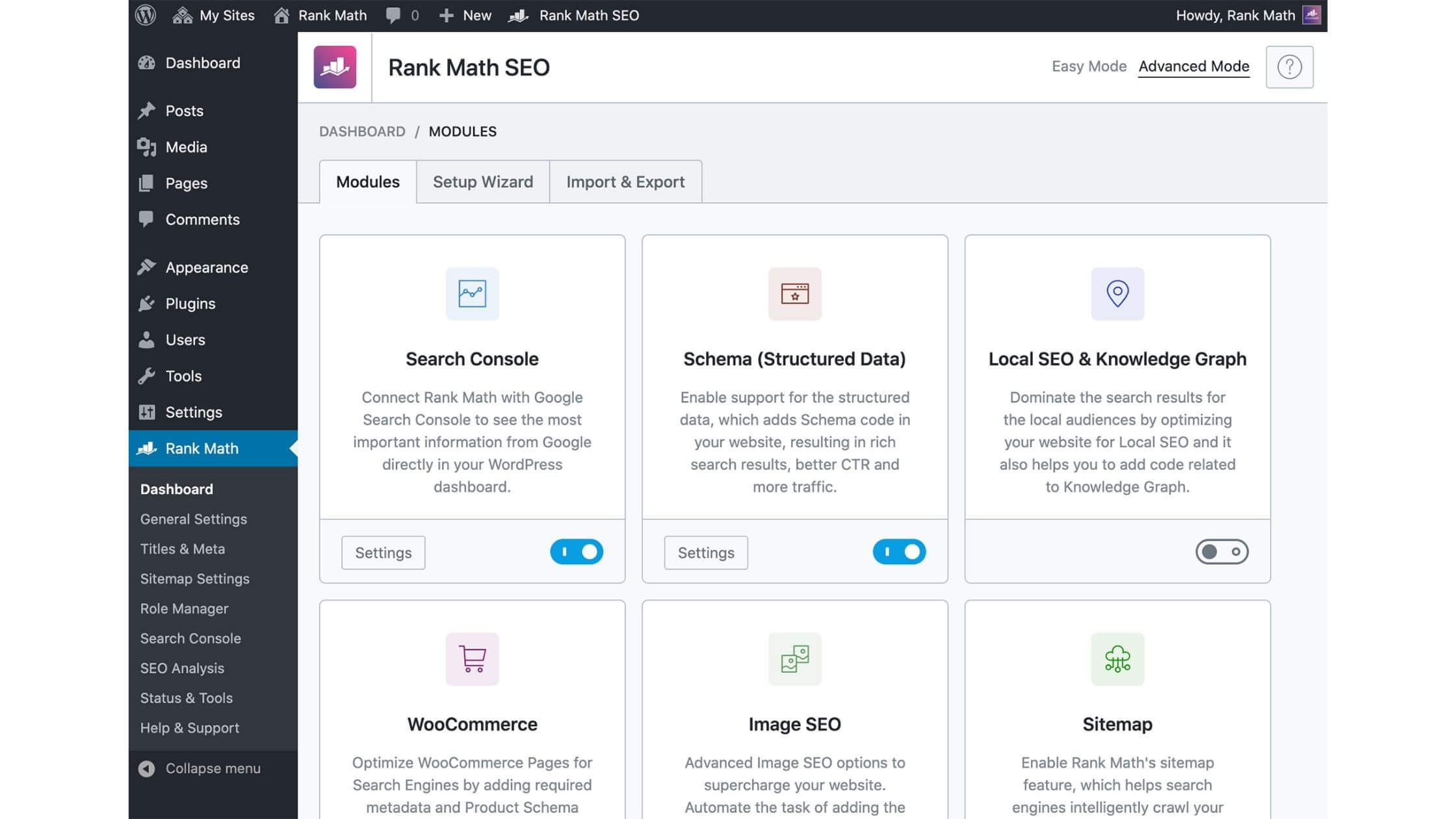 Source: Rank Math SEO
Rank Math
Best WordPress SEO Tool
It is quite new in the world of WordPress SEO plugins, but it has quickly become popular due to its array of intelligent features which were hitherto out of reach to users.
It was founded in 2018 and gained ground quickly so much so that it now has as many active users as other popular SEO plugins created years before it.
Rank math is an ideal WordPress SEO Plugin for:
Features of Rank Math 
Rank math hosts feature like Smart automation which gives the user access to an entire virtual SEO team with just a few clicks and other top features like:
●
Google keyword ranking suggestions.
●
Clean and simple user interface.
●
Google keyword ranking – lets you keep track of keyword rankings on google.
●
XML Sitemap – this is a quick-loading sitemap feature that works with different post types.
●
Setup Wizard which is easy to use and follow.
●
Optimize unlimited keywords – lets you optimize your website content for unlimited focus keywords.
●
Google Schema
Markup
– these are rich snippets that help to optimize your website or blog.
●
LSI keyword tool – gives different variations of a focus keyword.
●
Advanced SEO analysis tools – make SEO auditing a piece of cake.
●
404 Monitor – this helps to locate and take care of 404 errors on your website.
●
Smart Redirection manager – this helps to enable and disable link redirections on a large scale.
●
Role manager – this lets you control the functions of employees if you have multiple of them running your website.
●
Social media optimization.
●
Multisite handling – this allows you a variety of sites as it supports the WordPress Multiuser Project.
●
Importation of other plugin settings.
See Also: 9 Best Ecommerce Platforms (Top Rated & Reviewed)
Cost of Rank Math
Rank math has a free version with has so many features but there are two pricing tiers:
⮚
Pro: costs $59 per year.
⮚
Business: costs $199 per year.
The pro and the business tier have similar features with just a few differences.
The business tier provides:
●
Tracking of up to 10,000 keywords, unlike the pro tier which provides tracking for just 500 keywords.
●
Support for client sites.
● White-labelled
 email reports.
●
Unlimited preservation of google data.
The features provided by these plans cut across all sites owned by a user unlike other SEO plugin tools in this article.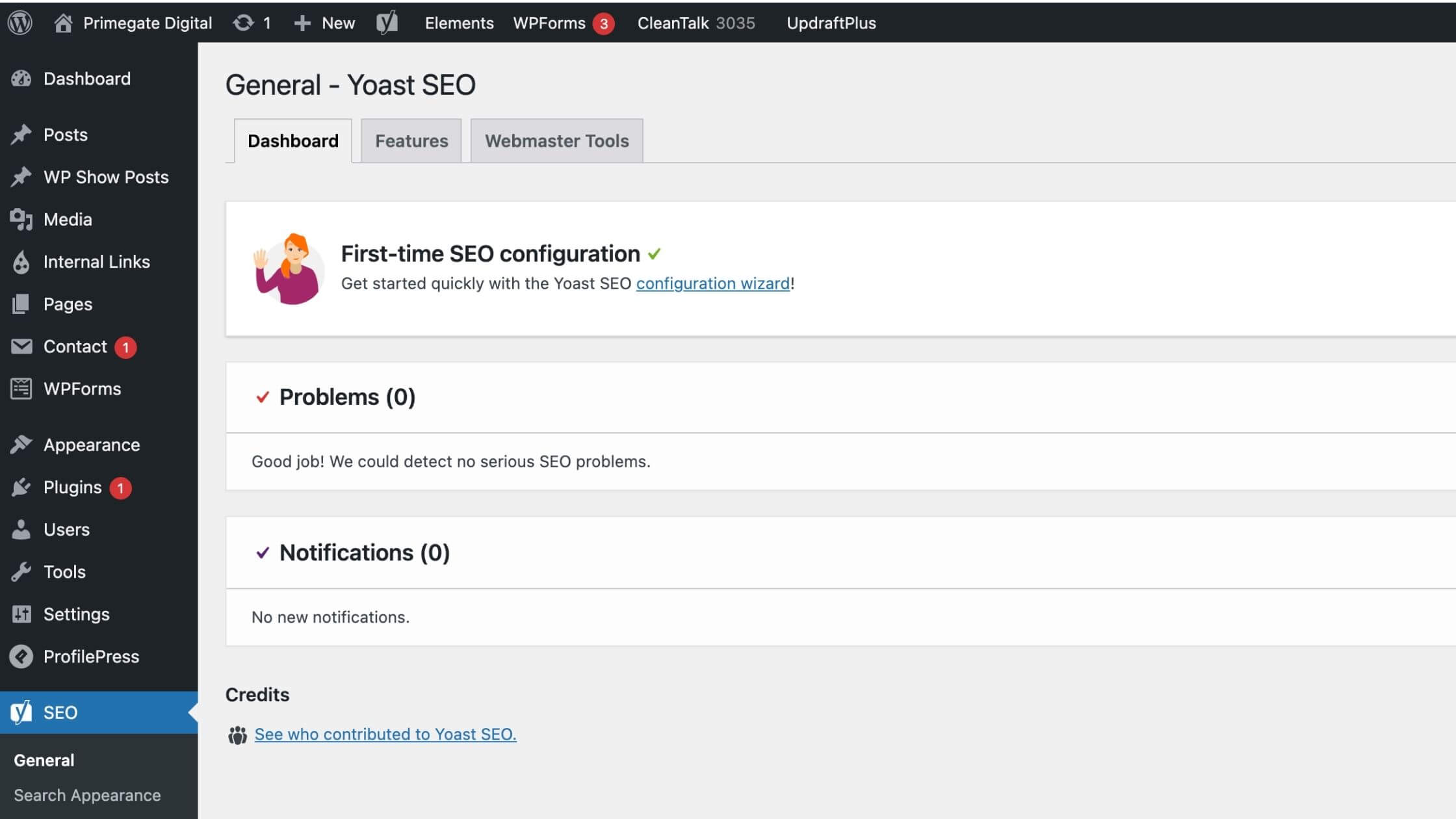 Yoast
Best Seo for Everyone
Yoast is a WordPress SEO plugin that has been around for so long, so much so that is now literally regarded as WordPress SEO. It has been around since 2008 and it is the most-used WordPress SEO plugin.
It provides SEO services to small business sites, even to sites with the most traffic, and that is not surprising as Yoast's mission is "SEO for everyone". Yoast is much more suited for on-page SEO and less for off-page SEO opportunities like backlinks.
Features of Yoast
●
Technical and automatic SEO improvements – like
meta
tags.
●
Templating for titles and
meta
descriptions.
●
User-friendly setup wizard.
●
Finished page Google previews.
●
Google Search Console integration.
●
Keyword optimization checklist.
●
Readability analysis – promotes understanding of your content.
●
Suggestions on internal linking.
●
Internal linking blocks.
●
It also provides different add-ons like:
Yoast Local SEO – this is better suited to provide access to a local audience.
WooCommerce SEO – It helps all online shops increase their rankings in search results and boost their social media visibility.
Yoast Video SEO – this increases the ranking of your videos by Google on the results page.
The Yoast News SEO – this helps news websites increase their visibility and overall performance.
Cost of Yoast
1. Free Version
Yoast has a free version that you can download and install is usually suitable for most people though if you have questions, you can only find answers using their FAQs, there is no additional support from the platform.
2. Pro Plan
This plan costs about $89 per year for just one site. It is quite expensive in comparison to the price of other plugin premium plans.
This plan provides 301 redirects, 24/7 support from the platform, optimization of multiple keywords, and of course, a really nice elimination of ads.

Source: SEOPress
SEOPress
Best On-Site SEO Plugin
SEOPress is also relatively new in the world of WordPress SEO plugins as it was started in 2017. It is a powerful SEO plugin that has the typical features of all SEO plugins like XML and HTML sitemaps, managing redirections, and more.
With SEOPress, there are no advertising, footprints, and white labels on the platform. SEOPress doesn't require the installation of additional extensions as it comes with all the features needed for proper search engine optimization on the WordPress site.
Developers really give good reviews about SEOPress and the features it offers.
Features of SEOPress
●
Installation wizard – which helps you set up your site quickly.
●
Easy importation of files from other SEO tools.
●
Social media network sharing.
●
Custom XML and HTML sitemaps.
●
Mobile/Desktop Google preview.
●
Google knowledge graph.
●
Meta-robots – like
nosnippet
,
nofollow
,
noindex
, and more.
●
Image SEO – automatically sets title images and descriptions.
●
Supports multiple languages.
Cost of SEOPress
SEOPress has a free version that contains all the basic features you may need but the premium version costs $39 per year and it provides extra services like Woocommerce SEO, Universal SEO meta box, integration with elements or pages, and more.
See Also: 9+ Best Influencer Marketing Software Tools
Conclusion
Rank math has a wide variety of tools and it meets the needs of people all around the world. It is one of the most affordable SEO plugin options in this article and it is especially helpful if you need a plugin to manage multiple sites.
But, it is still relatively new, and it could still have some loose nuts, going for more established software could offer a better user experience.
Yoast is a very popular SEO plugin with a very wide audience base. It is an established and well-trusted brand with over 12 million active users.
It has a really nice user interface but it also has downsides as well. Yoast is a really large platform and you will need another SEO tool in addition to Yoast to help with keyword and competitor research since Yoast can't perform these tasks.
SEOPress is a really good option as a WordPress plugin as it offers lots of amazing features and it's considerably cheap to purchase the premium plan. It is also relatively new compared to other platforms on the market.
So, depending on your marketing needs you can choose whichever plugin works best for you, remember to weigh the pros and cons of each plugin and choose whichever best suits you.
We hope that Rank Math vs Yoast vs SeoPress comparison guide you.