When you have branded your products and you're ready to start selling on the internet, what next?
It's one thing to have fantastic products, but it's another thing to gain global relevance and make world-class sales from it. We're sure you are all out to make generational wealth from your products.
That's why you need to leverage the best ecommerce platforms around to boost your business growth and increase revenue.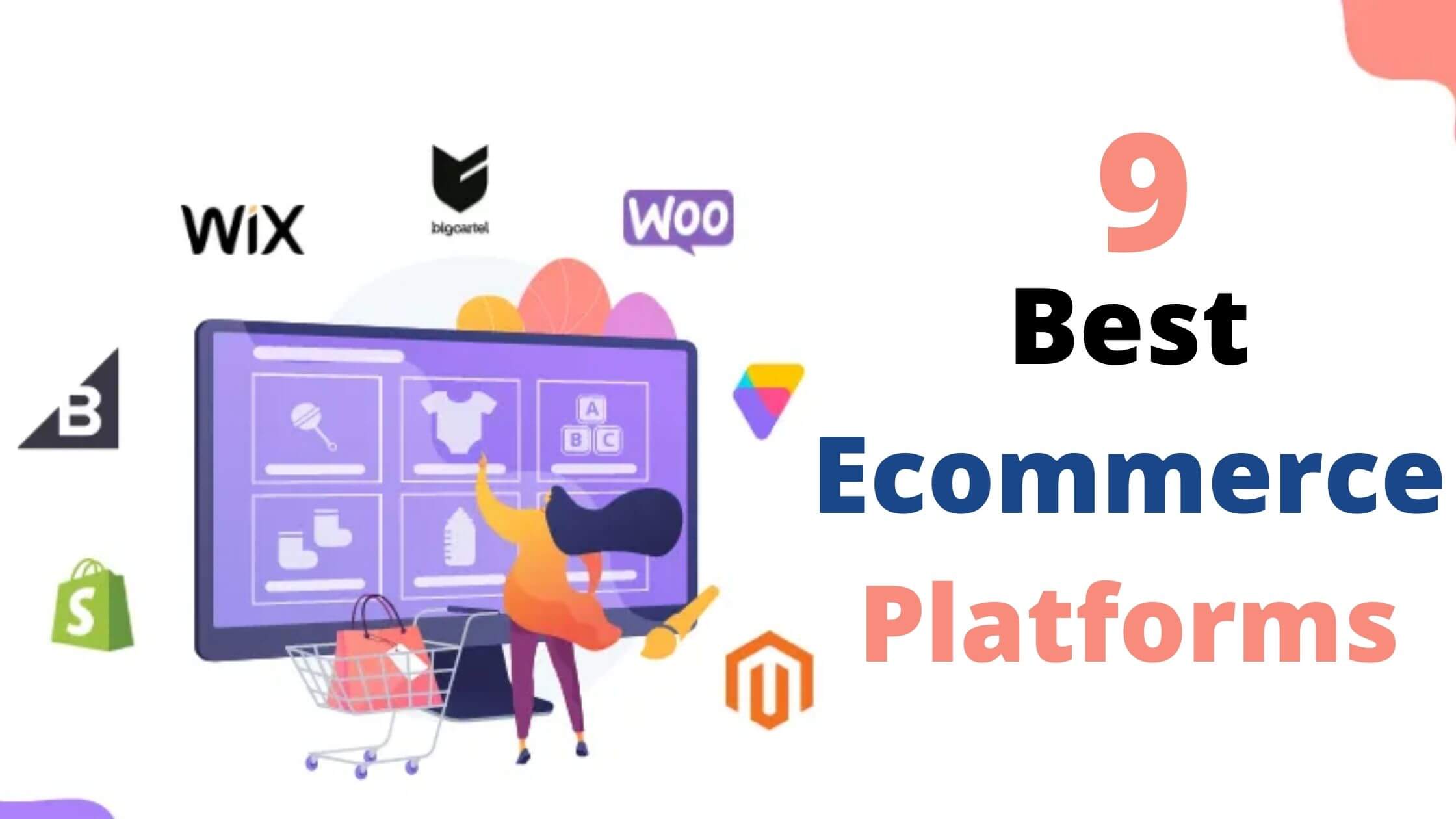 However, please note that not all most common ecommerce platforms are worth it. Some of them have no web visibility, traction, or even provide you with efficient backing as a SaaS.
No, don't roll your eyes yet. That's the reason we are here for you. We have researched and drawn out the 9 best ecommerce platforms for your business.
These platforms are the best of the best. Some of them are open source, while others are cloud-based. Either way, you're in safe hands and are good to go with any of them.
See Also: How To Start Shopify Dropshipping With No Money
The 9 Best Ecommerce Platforms for Businesses
As you want to start or scale your online business, here are the 9 best ecommerce platforms for your small business, startup as well as already established brand.
1. WooCommerce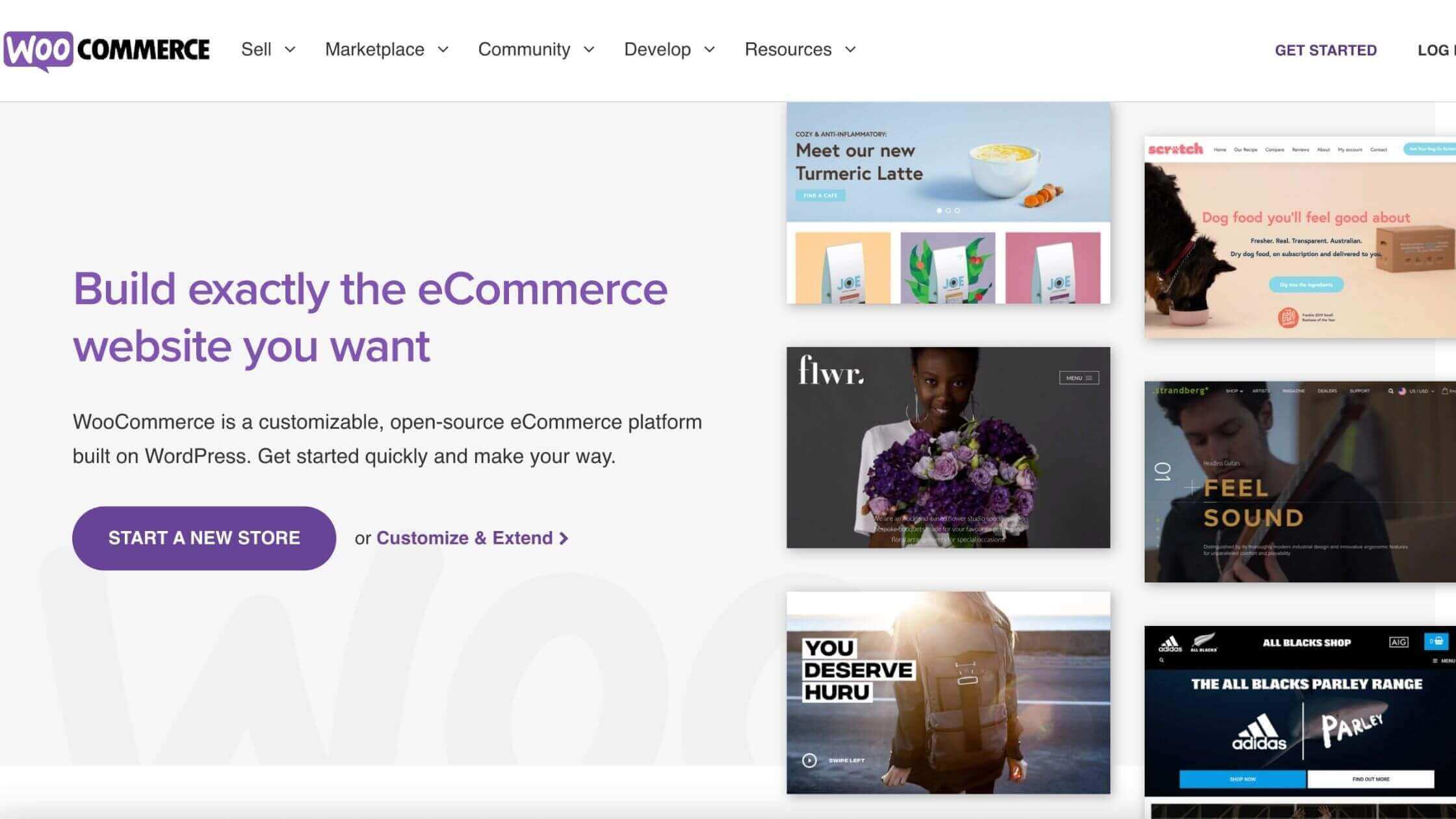 In the grand scheme of things, WooCommerce is always one of the first and very best ecommerce platforms that almost anyone would recommend without thinking twice.
Over the years, Woocommerce has built a credible authority in the ecommerce industry. So if you want to create your ecommerce store, you should consider setting it up on Woocommerce.
With this platform, you don't need to spend days setting up your store – that's not necessary. All you need to do is to have a WordPress and WooCommerce to it as a  plugin; that shouldn't take more than 10 minutes.
Personalization is the essence of branding. Therefore, your store should be different from all others with due customizations. 
WooCommerce allows you to make your customers feel at home by customizing every functionality on your website to be in line with your brand identity and marketing goals.
Furthermore, management of your business is key and you should be on top of your game. On this note, you can create your store, process your orders and monitor everything about your business right on the WooCommerce mobile app.
Also, the engineering team of WooCommerce made it in a way that your web developer can easily get to go about it in no time. This is because you can easily integrate it and it has a REST API.
See Also: 15 Best Mailchimp Alternatives for Beginners and Experts
2. Shopify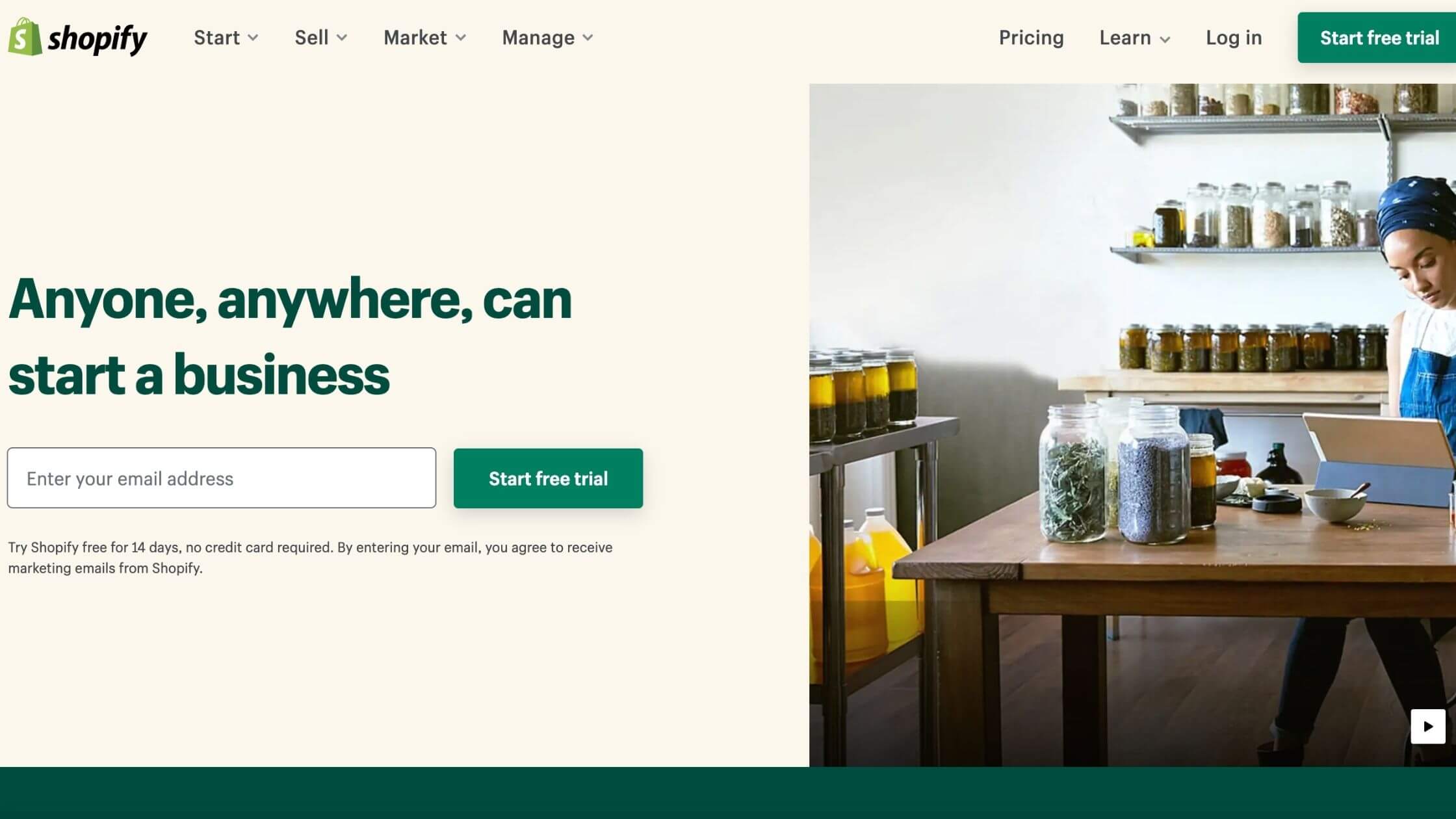 Shopify, is to some people, the very face of ecommerce. It's that popular.
They have clientelé in almost 175 countries of the world, and businesses have made more than an aggregate of $200 billion from their ecommerce platform.
From our experience, their service is stellar. If you're new to the industry, we recommend that you start with Shopify.
Shopify is the best ecommerce site for not just online stores but also digital products and dropshipping.
You can integrate it into your website, social media platforms, or any other digital marketing platform.
Aside from that, you can use it to sell your products in real life and collect money with POS.
This is the reason some marketers prefer Shopify as their open source ecommerce platform.
You'll have a dashboard for your business where you can get to see, analyze, and manage all of your data—orders, shipping progress, and final payment—without stress.
If it is the case that you experience a hiccup with your ecommerce store or anything happens along the line, they have responsible 24/7 customer support that will attend to you and solve your problems.
In practice, a Shopify store is not hard to set up – especially if you're pretty much into tech.
However, if you feel it's not quite easy for you, you can contact us at Primegate Digital – we've successfully helped many clients to set up high-paying Shopify stores.
Right now, you can hop into a 14-day trial of Shopify—they won't ask for your credit card details—and start enjoying their service.
Remember, you can cancel if their service doesn't meet your taste.

3. Wix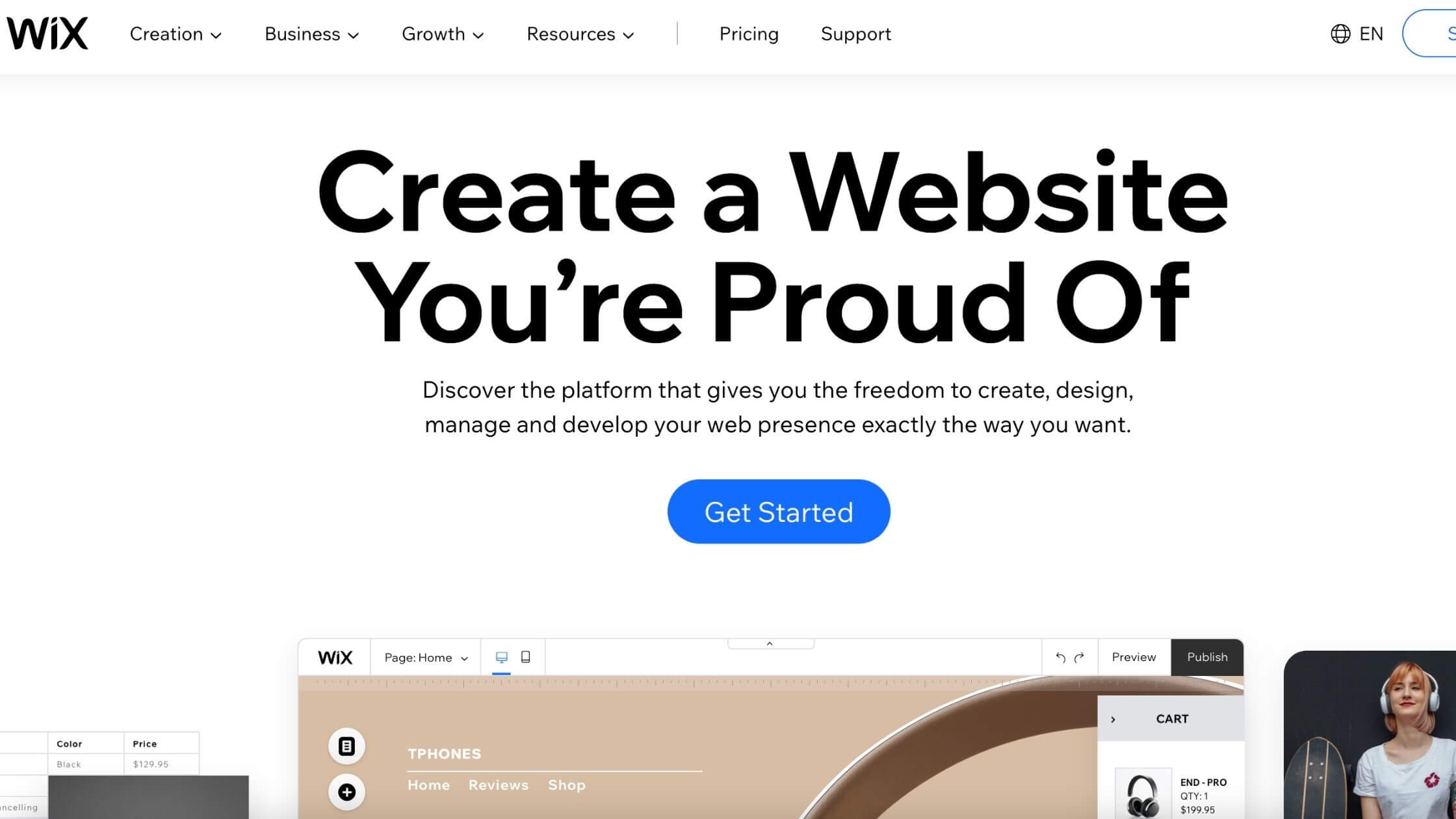 One of the problems that online business owners always have with designers and web developers is that these experts don't always listen to the idea and how the owner wants it to be – they always discard it as a layman comment.
It's because of this that Wix created an amazing ecommerce platform where you can create a website with your hands, and fashion out what you are proud of; thus blossoming your creativity.
There are two ways for you to easily set up your website on Wix.
It's either you answer a few questions that their AI asks you and you'll get a well-tailored website for your business.
Or you'll build and customize it yourself.
This is not a hard exercise. You just need to find a well-befitting template. Then you'll customize it to fit your business needs and marketing goals; it's as simple as that.
It doesn't end there.
You can also set up a blog section where you amass authority on the web and provide your customers with real-time editorial value. This will go a long way in ensuring your web visibility.
Bear this in mind: every store you build on Wix is responsive. Meaning that it will fit perfectly into the screen of any customer using a PC, tablet, or mobile phone.
That's a plus and huge step to holistic inclusion.
As you would have known, search engine optimization determines how far your store will rank on the web.
On this note, Wix has several in-built SEO tools to help you ensure that both your website and the content be-friend the search engines.
See Also: How to Start an Ecommerce from Scratch
4. Big Cartel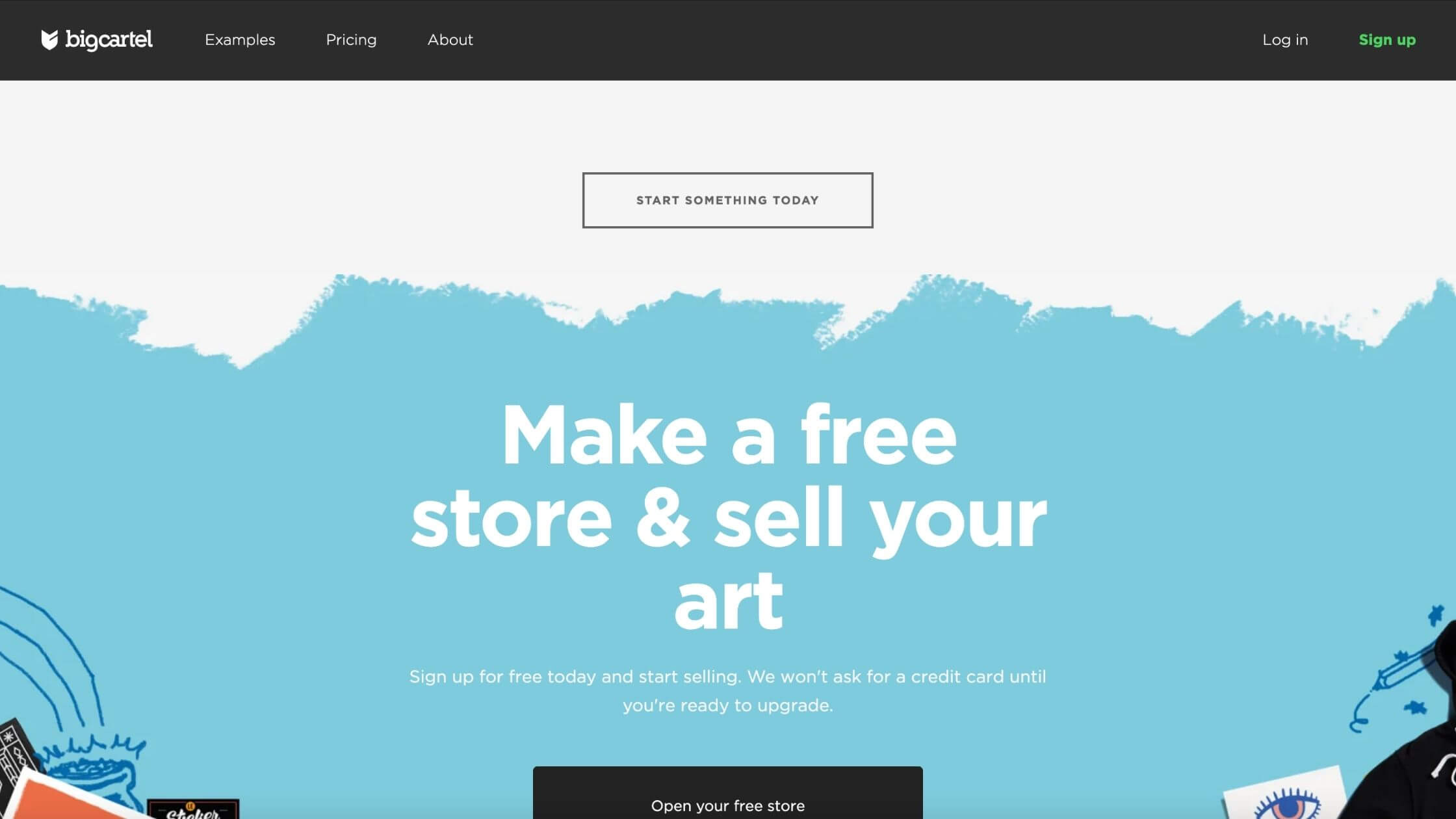 Big Cartel's clientelé is more specific: they focus more on artists – those who paint, draw, and design.
Thus, this is one of the best ecommerce platforms for creative artists who want to sell their craft to the larger world.
One of the most exciting facts to first know about Big Cartel is that they offer a completely free service.
Their mission is to, at all cost, bring artists into the financial limelight through their works, and they are hell-bent on doing that.
In short, if you're an artist looking for an ecommerce platform, Big Cartel remains the best one for you because it's both efficient and free.
There's no time to waste so the Big Cartel already has a lot of attractive website design templates made with artists in mind.
You're only left with choosing the one that impresses you.
When you've done that, you have the liberty to customize it to your exact taste and make it look the way you want.
That's amazing, ain't it?
Moreover, you'll have a dashboard upon the creation of your account.
Therefore, you'll be able to manage well each of your products, the orders, the delivery, the sequence of sales, and the final payment – talk about accountability.
However, you should also know that nothing is free even in Freetown. On this note, you'll have to upgrade your free account when you're posting a lot of products.
But even at that, the prices of the Big Cartel are still crumbs and affordable.
See Also: 15 Best Backlink Tools to Boost SEO Strategy
5. Salesforce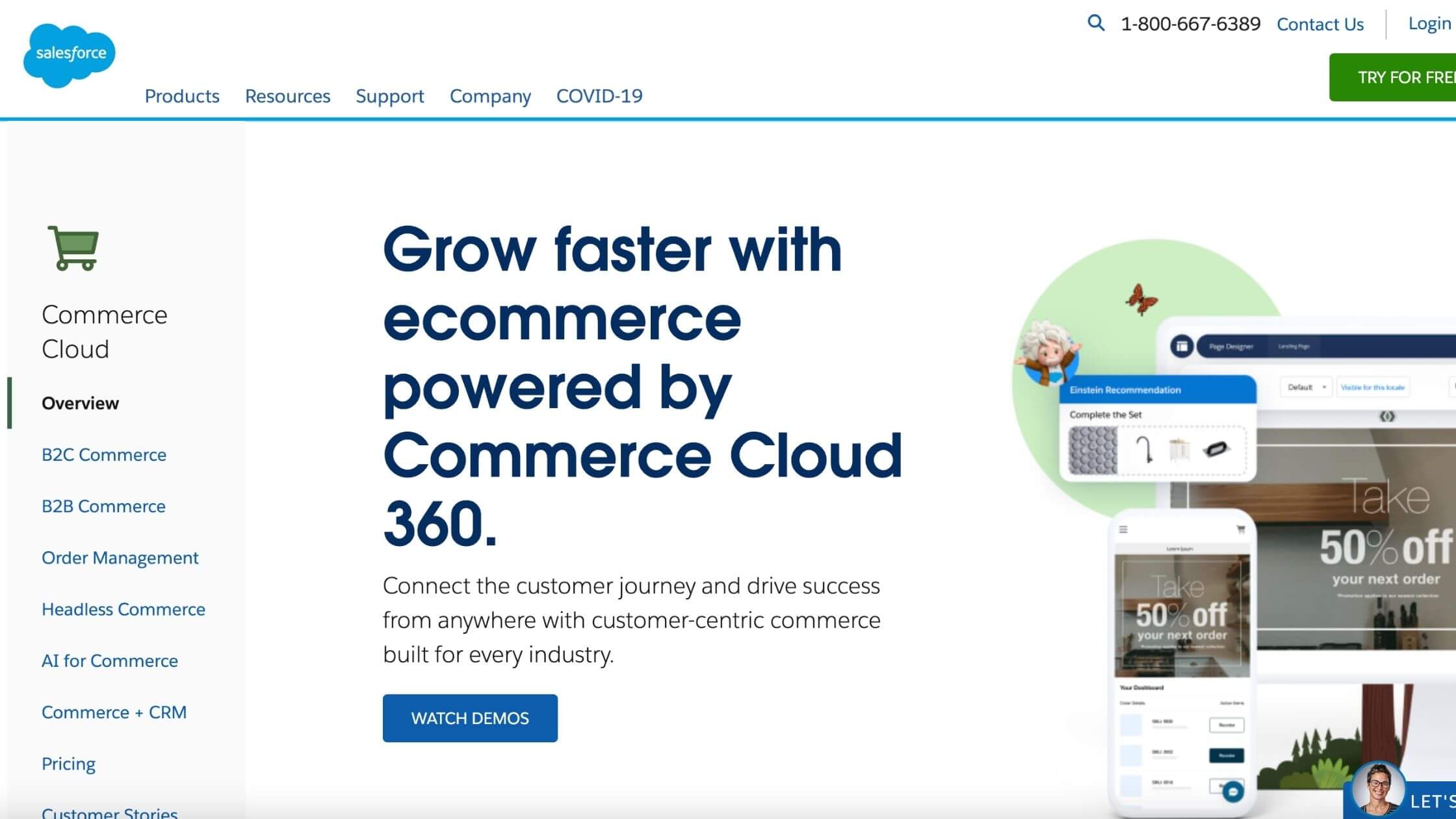 Salesforce is an award-winning multinational ecommerce platform. They have received several awards as the best ecommerce platform for B2B and B2C marketing.
It is such an amazing and well-coordinated cloud platform where you can get to flow well with your customer's journey and make them develop interests in buying what you sell.
They have stratified tools that help your CRM.
You can monitor each of your operations efficiently with your team and achieve the best conversion, sales, and accountability.
Be that as it may, Salesforce gives you an option to choose from among wide arrays of templates that befits your marketing purposes.
When you've got that, you can always feel free to customize it and add your features as you like them. However, there are no templates of landing page copies: you'll have to do that yourself or get experts to do it for you.
We recommend Salesforce for you if you focus on B2B and B2C ecommerce marketing.
6. Weebly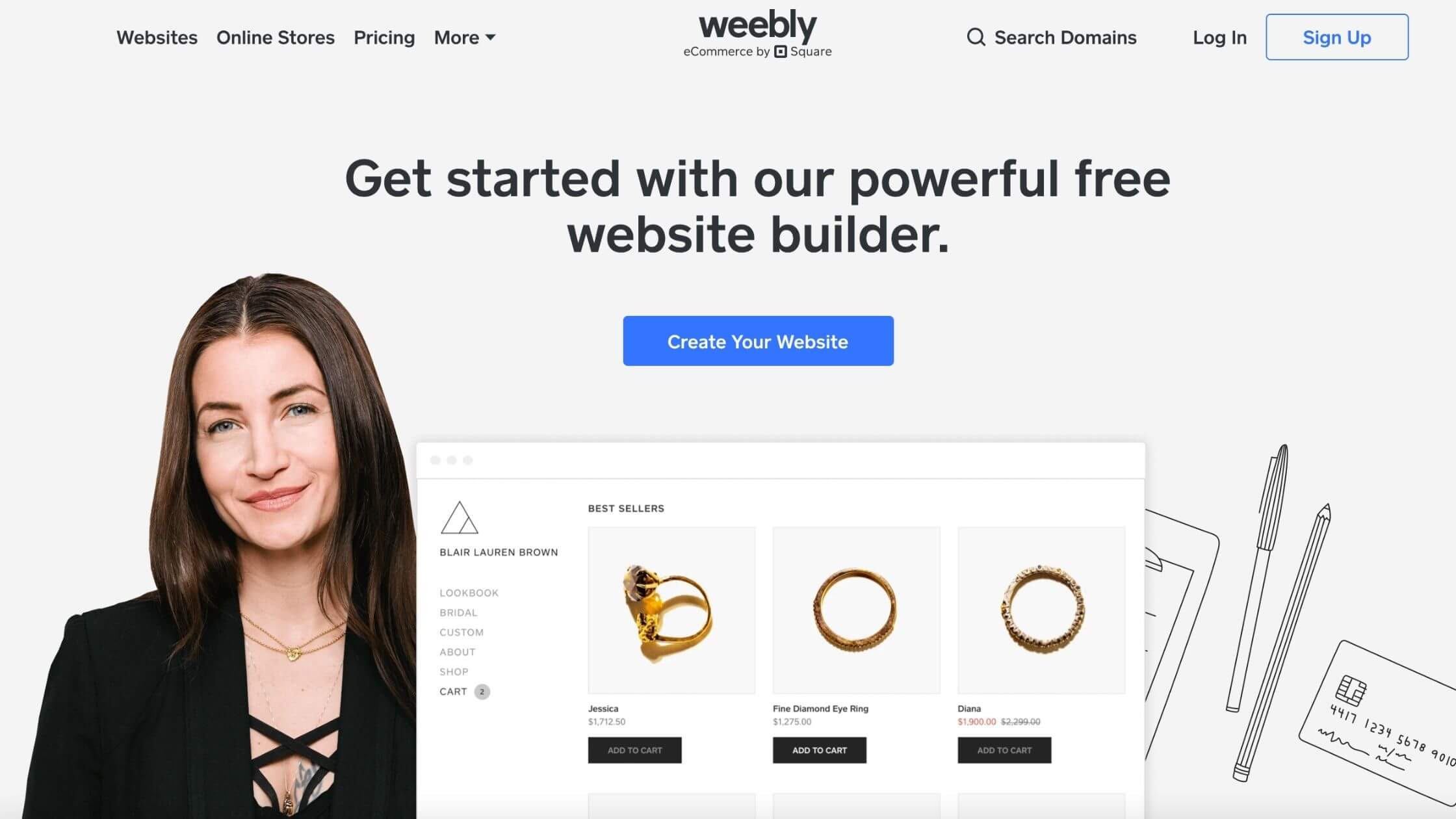 These days, the online discovery of businesses depends on whether or not they are on the internet. Hence the reason for online stores.
Thus, Weebly is an outstanding ecommerce platform that is the first among equals.
They are effective in equipping brands with the necessary resources to build their websites and be discovered on the internet.
It's okay if you don't know how to set up an ecommerce website – even though it's just to click and drag.
Weebly has comprehensive yet simple guides that will help you master that in less than an hour.
When you're done with that. Then you're set to go.
Lay hold on to the website builder and make something beautiful from one of the free templates to make your online store.
Like other ecommerce websites, you are free to customize the features of your website with Weebly.
In terms of management, Weebly is the easiest thing after sliced bread. You have simplified tools that give you clear-cut reports of every single development on your website
Also, as one of the best ecommerce platforms enables you to market what you sell with in-built advertisement tools like Facebook and Twitter ads.
See Also: How To Target Wealthy Individuals With Facebook Ads
7. Volusion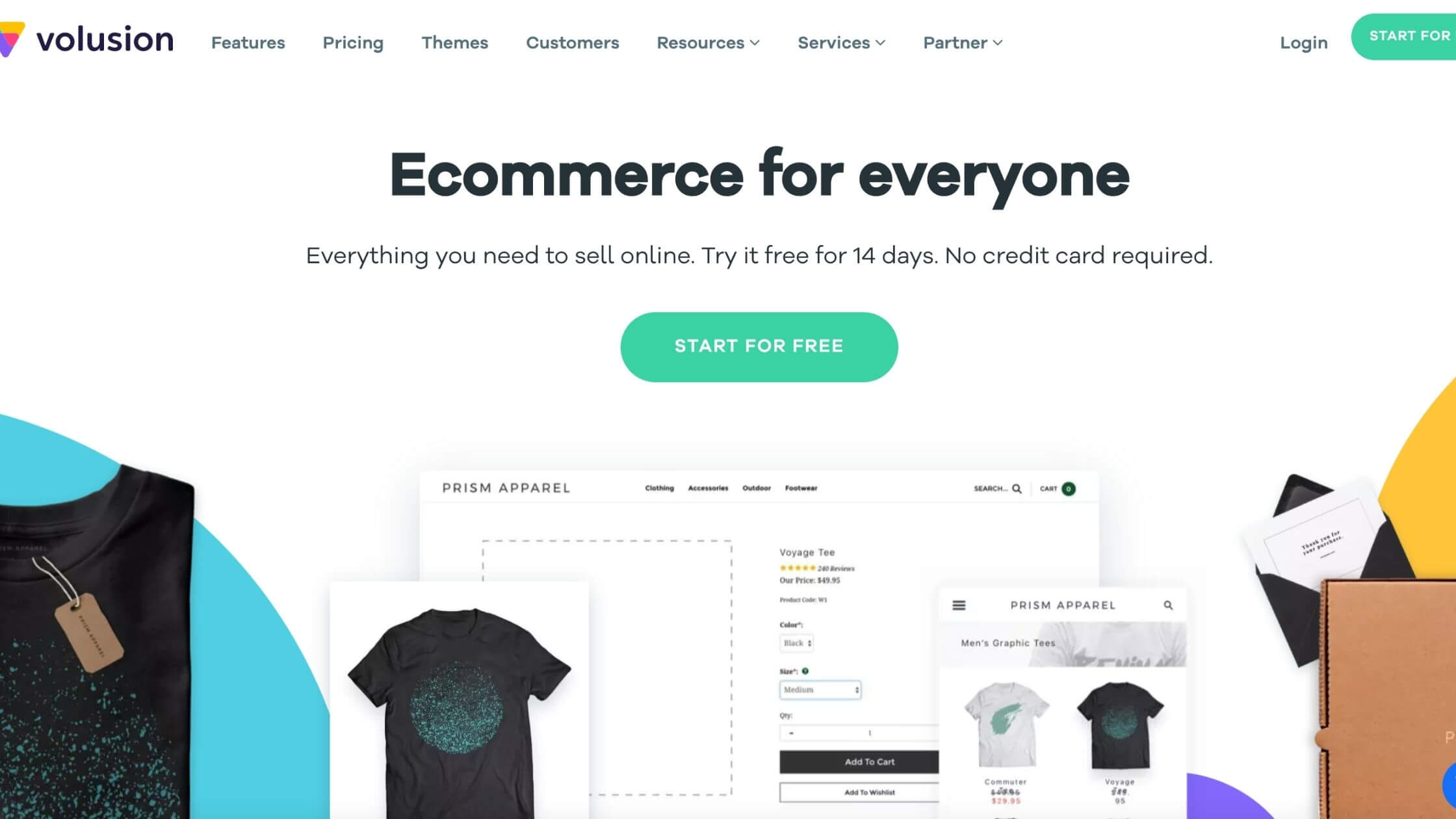 If techy jargons always turn you off and you're more of a realist, then you must fall in love with Volusion.
This is an ecommerce SaaS with which you can build a robust professional and fully functional website.
It's the favorite of most online product marketers because of its simplicity and speed. Indeed, a lot of their customers claim to be generating fantastic results.
First, they have extremely beautiful themes that will impress almost anybody.
It doesn't end there, these themes are also responsive – they can adjust by themselves to the screen of the viewers' devices.
Would you like other external functionalities—like MailChimp or PayPal—to be on your ecommerce website or store?
That's never a problem as you can add any one of them, as much as you want, to your Volusion-based store.
In growing your store, Volusion can also be of help because you can link and promote it with your social media accounts.
And if you face any service ditch, don't hesitate to mail their customer support department.
In case you want to have a taste of how Volusion looks like, you can utilize their 14-day free trial – no need for credit cards.
8. Opencart
Do you remember those shopping carts we use to pack groceries at malls? Now, imagine a cart that's open for everyone to use and get products over the internet.
That's the marketing philosophy that begins the Opencart.
An Opencart plugin allows you to build up your online store and set up your products for sales. Here you can have more than one store and add the prices, themes, and localization features.
After you have set up your store, you will agree as an online marketer that the finesse of sales is in the specific details that accompany every product. 
That was why Opencart added a feature for you to give a brief in-depth description of each product to your customers.
You will be able to add colors, texture, height, brand location, size, and other relevant features—that will grab a lot of customers—to it.
Later in life when your business starts to expand—or you're starting with a big team—you can add your team members up as fellow administrators of your store.
This will enhance efficient collaboration and results.
See Also: How to Create and Optimise Your Google My Business Listings
9. Squarespace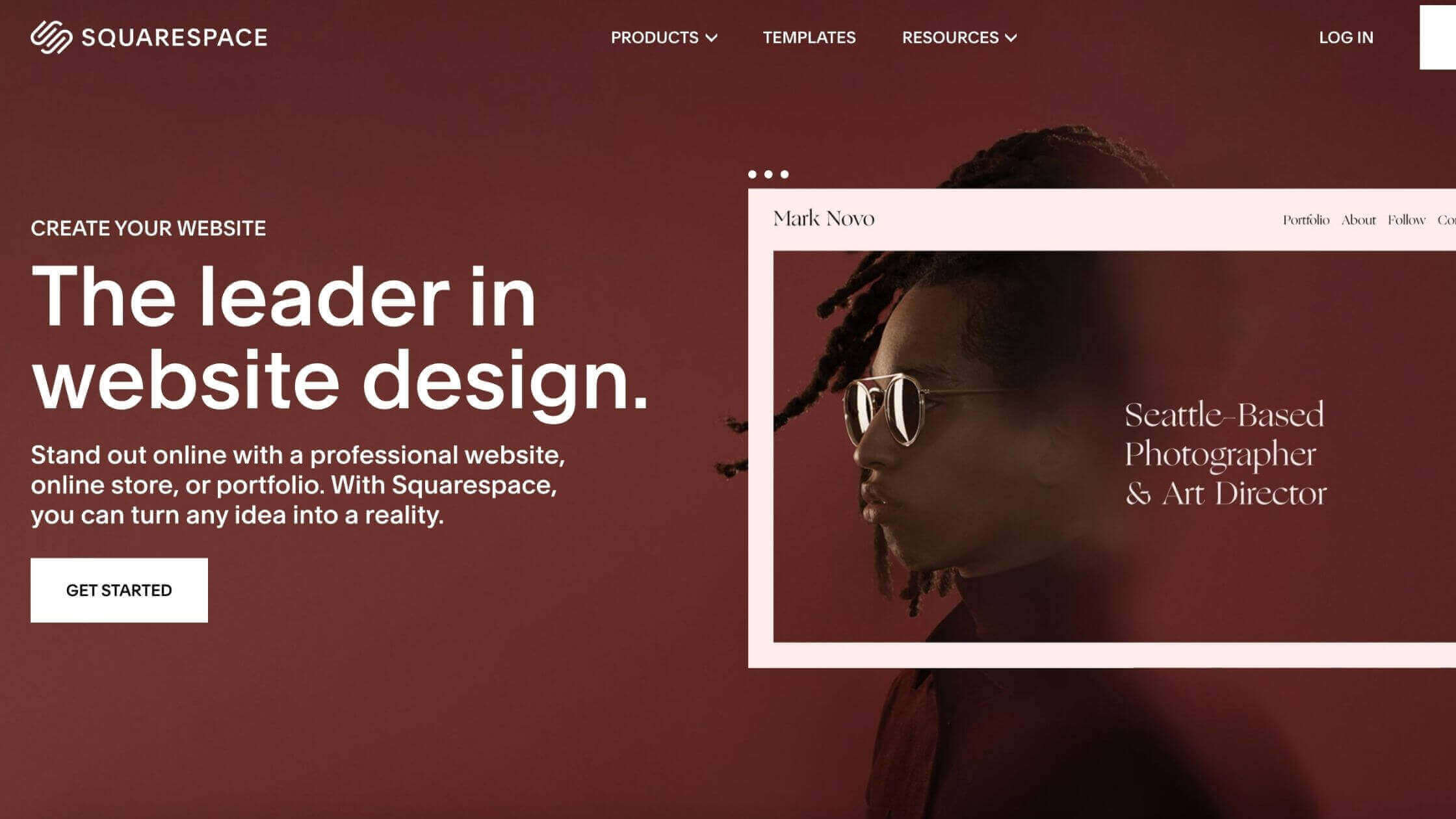 Squarespace is one of the best ecommerce platforms for small businesses. Thus, it's a great option if you're thinking of setting up your online store.
As a business builder and owner, you'll have to attend to so many things and you wouldn't want your website set up to delay you, right? 
Thus, Squarespace will help you create your website in a matter of minutes – you should jump for joy. The reason is that you don't need to either design or code your website.
There are tons of amazing website templates that you can use to build your website. These templates are in line with world-class design standards and stellar user interfaces.
When you have picked the right template that suits your business, the next issue is to determine your relevant functionalities to show on your website.
On this note, you can add necessary buttons like "order now, book my services, add to the cart" or any other ones that catch your fancy. 
You won't experience any problem adding these features because all you only have to do is click-and-drag and there you have it set up.
Do you have a logo as a brand?
Don't fret if you don't have one yet, you can use a free logo creation tool of Squarespace – cheers to branding and sales.
Conclusion
Ecommerce is fast becoming the next gold mine. Moreover, you can't keep doing physical shopping for long at this age.
You have to integrate and flow with the easing technological trends.
Before you choose any of the best ecommerce platforms we listed above, please mind your budget, marketing purpose, brand identity, and their respective legal policies – that's super important.
Nonetheless, don't overthink it.
Every ecommerce platform we listed above is on top of the game in this industry. Therefore, you can pick anyone that catches your fancy.
Start making use of any of these 9 best ecommerce platforms for your business and record an exponential shift in your conversion and sales.

Also Read: