YouTube launched YouTube Shorts not too long ago, giving creators the opportunity to publish short-form video content (videos that have a 10-60 seconds span).
YouTube Shorts is now immensely popular, and studies have shown it racks up 30 billion daily views. It is also the quickest way to grow your YouTube channel and engagement.
Lots of creators have uploaded short videos in various genres like science, entertainment, DIY, education etc.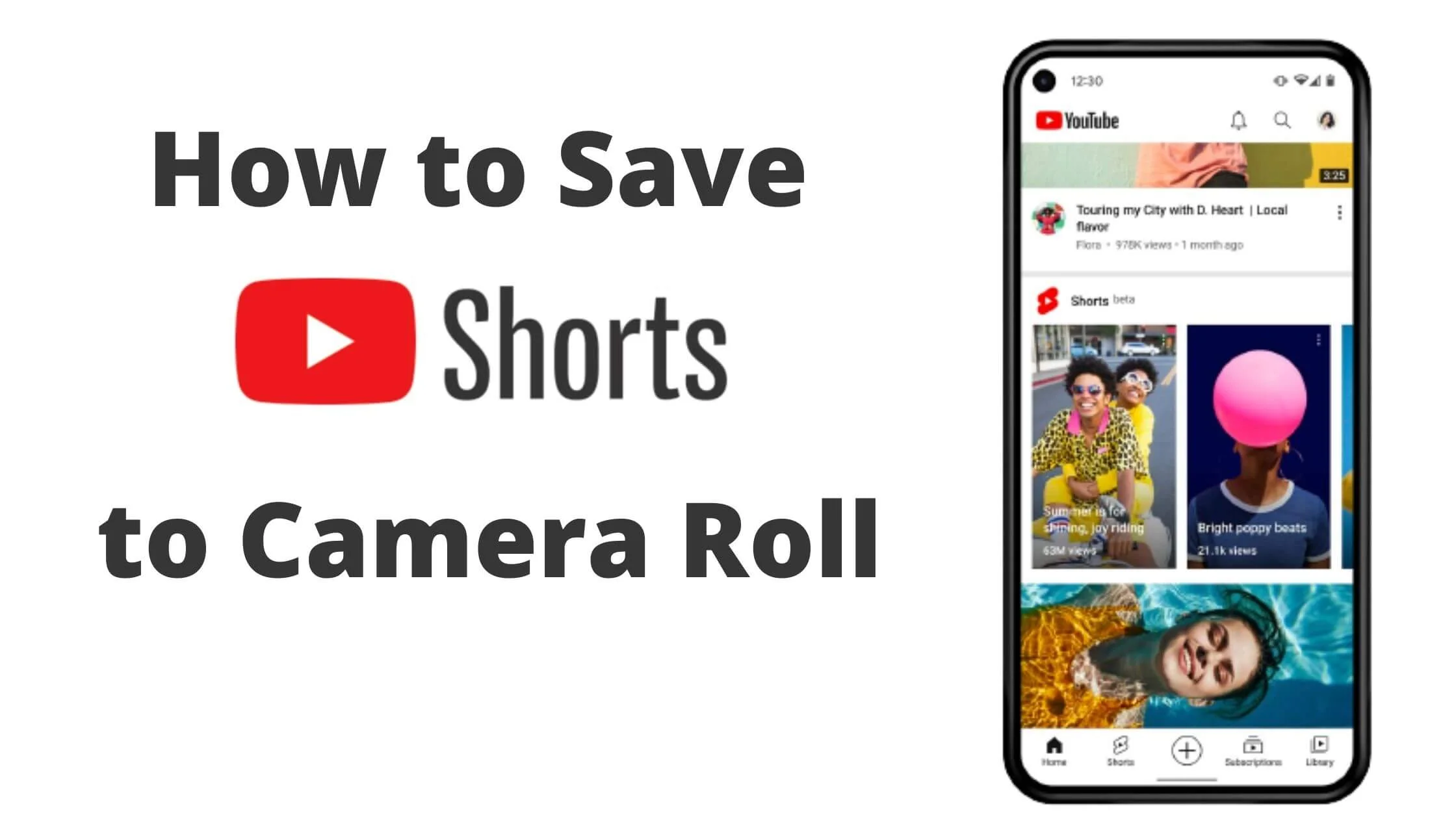 Although YouTube Shorts content is available to everyone as long as they have internet access, many people prefer to save it on their device and watch it offline. 
It is believed that saving a YouTube shorts video will save you the hassle of searching for the content later. It also saves your data and enables you to share content straight to your WhatsApp status or with your friends and loved ones. 
In this article, we will analyze the best techniques that you can use to save YouTube shorts to your camera rolls or phone gallery. 
Note: The use of any third-party application or website that lets you save videos on Instagram, YouTube, Facebook and Twitter is a breach of their terms of use.
Ensure you only save videos for private offline consumption for non-commercial use and when it's strictly important. Any for-profit distribution of these saved videos may have legal consequences. 
 See Also: How to Upload YouTube Shorts From PC & Mobile
4 Best Web Apps to Save YouTube Shorts to Camera Roll
Below are some of the best apps to save YT Shorts to camera roll.
Y2mate
Y2mate lets you freely save and convert video clips from a wide range of sites such as Facebook, Youku, YouTube Shorts, Dailymotion, and Vimeo, all in high definition quality, MP3 or MP4.
With this web app, you can save all formats of video ranging from 3GP, MO, WMV, WEBM to FLV, M4V, MP3, MP4 and the likes.
You can also freely save tons of videos from YouTube shorts and other video-oriented platforms. 
Instructions
Start by inputting the name of the video you seek to save into the provided search bar or paste the URL of the YouTube shorts video.

Select "Start" to initiate the download process. 

A wide range of audio and video formats will be displayed. Choose the one you prefer and select "Download".
Features
Zero-cost forever and no restrictions on the number of videos you can download. 

Ultra-speed video download tool. 

No need to sign up or log in. 

Accepts a wide variety of video/audio formats. 
See Also: How to Fix YouTube Shorts Not Showing
YTshorts
Since it is impossible to save YouTube Shorts Videos directly to your camera roll via the YouTube app, YTshorts exists solely for this purpose.
It is a fantastic platform that lets you save YouTube shorts content. In fact, a lot of users bookmark this site just because of its effectiveness.
You only need the URL of the YouTube Shorts content to save it directly from your smartphone or desktop PC. 
Here are some of YTshort's amazing features:
Super Quick Download
Get ready to save your YouTube shorts video with instant download. There's no bandwidth cap or restriction when you download videos on the site. 
Unlimited Videos
The site gives you access to limitless downloads. You can save hundreds of videos at a go. Also, you don't need to fill out any signup or login form to save videos. 
Safe and Secured 
Unlike other sites, you don't have to worry about viruses or malware getting into your smartphone or desktop. The site is 100% safeguarded against all sorts of malicious software.
Thus, you'll enjoy maximum satisfaction from the download. 
Choose Quality
To save data, the site lets you save videos of diverse quality. You can even save videos without sound. Feel free to pick your desired video quality before you save your video.
User-Friendly
The site is particularly tailored to mobile devices. The site is 100% user-friendly and accessible to all types of devices. 
Zero-cost
The site allows you to save YouTube shorts videos at no cost. It does not demand any payment plan or log in details. 
How to Save YouTube Shorts Videos via YT shorts 
To use YTshorts to save YouTube shorts content to your smartphone or PC, check out the instructions below:
Select the YouTube Shorts Video you intend to save to your camera roll. 

From the right area of the video, select the "share" button and click "copy link". 

Next, you'll need to copy and paste the URL into the space provided in the YTshorts platform. 
See Also: Top 21 YouTube Shorts Ideas to get More Views & Subscribers
ShortsNoob.com
ShortsNoob.com is a simple, efficient and free tool for saving any YouTube Shorts video in HD quality.
ShortsNoob can help you save YouTube Shorts videos at no cost to your camera roll, apple and android smartphones and PCs. 
The reason why ShortsNoob has enjoyed widespread acceptance is that it does not in any way make use of the YouTube API, so there's absolutely no need to enter your account details or sign up for an account.
The service is also freely accessible and will never request any form of payment or subscription fee for YouTube shorts download. 
All that is required to save your YouTube shorts video using Shortsnoob downloader is the video's URL. You will have to paste it into the space field to download your video successfully.
Shortsnoob will assist you in seamlessly syncing the video and generating a link for you to download the video. 
Some outstanding features of the platform include:
Super-quality download. Very few online tools are as effective as Shortsnoob in downloading HD quality YouTube shorts videos.

Super simple download. Unlike other YouTube downloads characterized by hassles and complications. Shortnoobs is devoid of intrusive bugs or popups, allowing you to save your YouTube Shorts video with ease.
Save your YouTube videos to various devices such as Laptops, smartphones and iPads.
Forever free; enjoy downloads at no cost at all.
How to save YouTube Shorts Video via Shortsnoob
To save your YouTube shorts videos using Shortsnoob, check out these easy steps: 
Ensure you copy the Shorts video URL you want to download from YouTube.

Copy/paste the URL to the space provided on the main page.
Select "Download" to start the video download process.
Next, a new page will pop up; navigate to the three lines and select "Download".
Wait a few seconds for the download process to finalize, and then your web browser will notify you about the video availability. 
You can save this short video to your gallery or storage app. 
8downloader 
8downloader is a zero-cost, easily accessible and user-friendly YouTube shorts video downloader that assists anyone in automatically and conveniently saving videos online.
All you need to do is just paste the link of the YouTube shorts videos in the space field provided, and it will instantly save your desired video. 
You'll find this short YouTube downloader hassle-free and accessible. It doesn't require you to set up any extra plug-in, extension or software. This tool is absolutely free of signups and subscriptions. 
This YouTube downloader was designed for educational, academic or journalistic use. Anyone who desires to have videos free of copyright on their mobile device or computer will find the web app really useful. 
It is considered the most secured YouTube downloader available online. 
How to save YouTube Shorts Video via 8downloader
Launch your internet browser and access YouTube. Better still, you can use the YouTube app if you are currently a smartphone user.

Navigate to the YouTube shorts video you desire to save to your camera roll. Ensure the link is properly copied. Alternatively, you can access the video link via the address bar of your browser if you are on a laptop or personal computer.
Input the 8downloader.com on your web browser.
Copy/paste the URL of the video to the search field and select "Download".
Next, click on the video format and quality of the video you intend to save to your camera roll.
See Also: How to Enable YouTube Shorts on iPhone | Android | PC
Apps to Save YouTube Shorts to Camera Roll on Phone and PC
Snaptube 
Snaptube is a fantastic video downloader freely accessible to Android smartphones.
Snaptube is the most trusted service for saving short videos and audio files from platforms like Facebook, Instagram, SoundCloud, TikTok, Twitter, YouTube and the likes. 
Snaptube app was made available to the public around late 2014. As of now, the SnapTube app is used by more than 100 million people around the world. The app saves more than 85 million video clips daily. 
You can't find or install SnapTube on the Google PlayStore.
However, you can access the app for easy download on their affiliate mobile application stores like Huawei AppGallery, MI Store, 9apps, Uptodown and Aptoide. 
SnapTube is undergoing a series of improvements, so you can rest assured that all you get from the app is a smooth user experience and ultra-fast download.
Airy YouTube downloader
Airy YouTube downloader for Mac and Windows is known for its high performance, speed, effectiveness and visually appealing design.
The tool saves you time and effort, allowing you to enjoy a satisfying download of your YouTube shorts video. 
Here are some of the best reasons to use the Airy YouTube downloader:
Superfast download speed that lets you instantly save your YouTube 

You are not required to sign in or give up any sensitive info.

The app has multilingual features in more than 20 languages. 

Unlimited downloads. 
See Also: How to Monetize TikTok Videos on YouTube
Save YouTube Shorts to Camera Roll FAQs
Here are frequently asked questions on how to download YouTube shorts.
Is YTShorts safe?
YTShorts is safe to download YouTube shorts to the gallery. There have been positive reviews about this YT short downloader.
Are there any advantages to saving YouTube Short videos to your devices?
Here are some merits of saving YouTube short videos to your devices:
The videos are available for offline viewing. Particularly convenient when flying or on vacation.

You won't find any ads when viewing the short video in your phone gallery. 

You can better edit the saved video or add clips or filters.  
Is Y2Mate safe?
Y2Mate is safe to download YouTube shorts to the gallery. There have been positive reviews about the YT short saver.
Why is it wrong to save YouTube shorts videos to your phone gallery?
Here's why you should reconsider saving YouTube shorts videos for your camera roll:
You may violate copyright laws if you save some YouTube shorts videos. Find out if a video is copyright-protected by checking out its description. 

You will be "robbing" creators of monetary compensation because you are watching their videos without ads.
Are these YT Short tools safe to use?
Yes, all of these tools are 100% secured and safe to use. 
Is 8downloader safe?
8downliade is safe to download YouTube shorts to camera roll. There have been positive reviews about the YouTube Shorts saver.
How to save a YouTube short to your camera roll
There are different free YouTube short saver that you can use to download YouTube shorts. Some of these tools are:
Y2mate
YTshorts
8downloader
ShortsNoob.com
Is shortsnoob safe?
Shortsnoob is safe to download YouTube shorts to gallery. There have been positive reviews about the tool.
Conclusion
In this article, we explored the very best tools that can assist you in saving YouTube shorts to camera rolls. This will enable you to watch these videos offline and share them with your friends. 
Also Read: