The most important part of your Facebook business page's brand identity is your Facebook page name. Hence, coming up with a unique Facebook page name is vital.
During the creation of your Facebook business large, you will be asked to add a page name.
If you added a name that does not represent your brand or you have decided to change your brand name, how do you do so?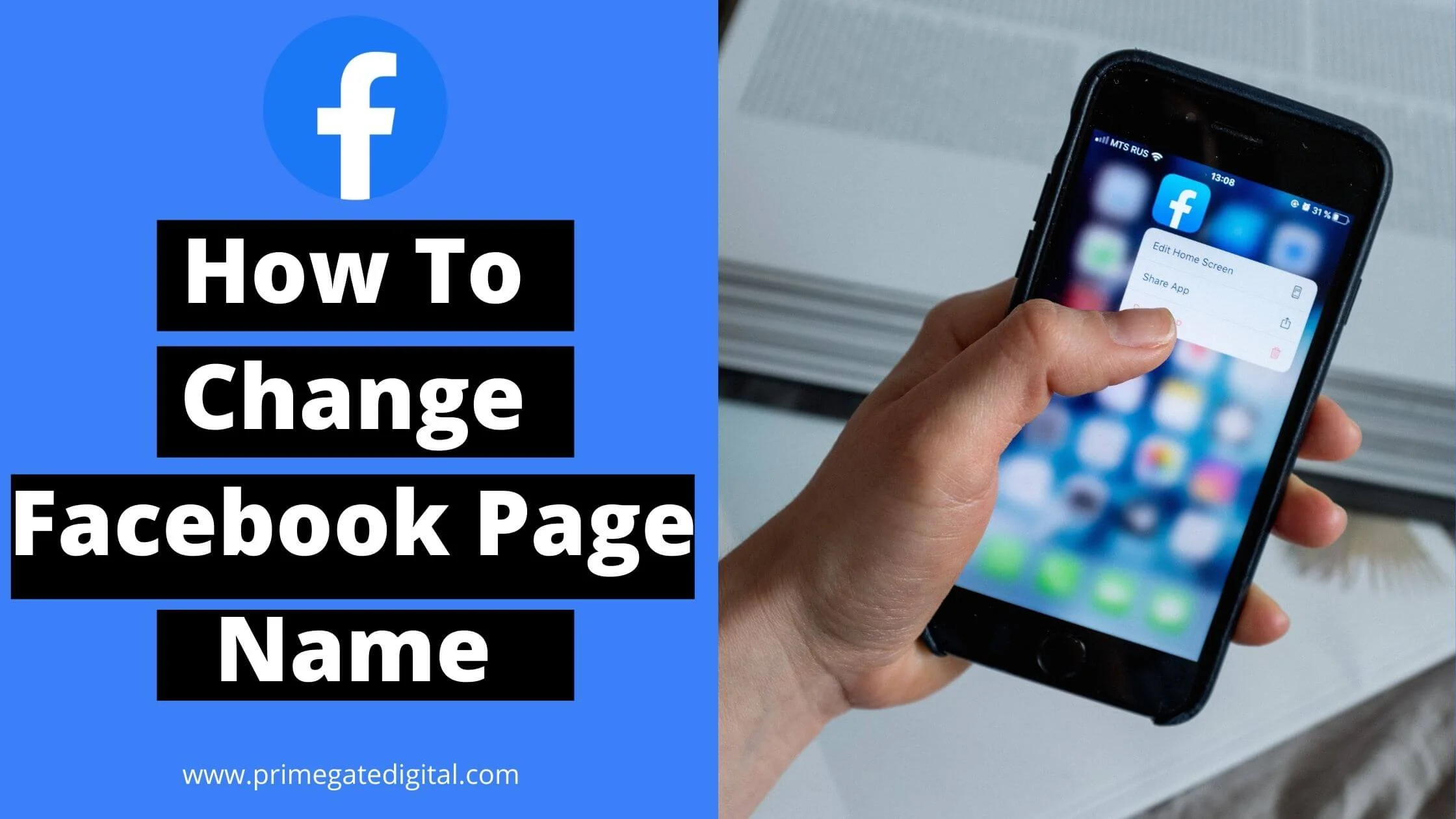 In this guide, we will go through the step-by-step guide on how to change a Facebook page name.
Sounds interesting, right?
Let's get started!
See Also: How to Recover a Hacked Facebook Account
How To Change The Facebook Page Name?
To change your Facebook page name, follow the steps below:
Go to your Facebook page
Navigate down and tap on "Settings."
Proceed to Tap on "Page Info"
In the section provided, you can add a new Facebook name.
Confirm your name change and tap on "Request Change."
By following the steps highlighted above, you will be able to change your Facebook page name.
See Also: How to Contact Facebook Support to Fix Account Issues
Why Can't I Change My Facebook Page Name?
There are diverse underlying reasons why you can't change your Facebook page name. The reasons might be:
You're not the admin on the Facebook page that you want to change the page name to.
The Facebook page name has been changed recently by you or any other admin to the page. Hence, there's a limit placed on your page.
If the regional Facebook page is connected to a Global Facebook page, you can't change it.
A limit has been placed on your Facebook page. If your page violates any of Facebook's policies, they might place a limit on your Facebook page, which includes but is not limited to not being able to change your page name.
After Editing the Facebook Page Name, What's Next?
To completely change your Facebook brand identity, ensure that you make changes to other elements of your business page just after you have changed your Facebook page name.
We recommend that you change the following:
the Facebook page URL
also, the username of your Facebook page
profile photo if you have included your previous page name or made changes to your logo
your Facebook cover photo.
Make sure to communicate these changes to your existing page followers to ensure that you don't lose them in the process.
You can create a Facebook post detailing why the change was made and its importance to your business.
This step will help you keep and even improve your brand reputation.
Other Ways To Change The Facebook Business Page Name
There are other ways to handle issues with your Facebook page besides having to change the page name.
Perhaps you have not calculated lots of followers on Facebook. You can unpublish your Facebook page or permanently delete the Facebook page.
How To Change Facebook Name
Besides changing a business page name, you can also change your Facebook profile name.
To do so, follow the steps below:
Login to your Facebook account
Tap on the down arrow icon at the top right of your screen
Proceed to click on the "Edit" icon just where you find your existing Facebook name
Go ahead to change it to the new name that you want to use.
Finally, tap on "Review Change."
Note that this Facebook name change will be reviewed, and once approved, the new name will then be displayed on your profile. Also, once the name is changed, you cannot change it again until after 60 days.
See Also: How To Delete Facebook Ad Accounts Permanently
Best Practices for Naming a Facebook Page
When naming a Facebook page, there are certain rules and guidelines that you must follow. They include:
Choose an easy-to-remember and simple-to-spell name
When setting up a Facebook page, you have to essentially select a name that isn't difficult to memorize and easily spellable.
This is because a hard-to-spell and memorize page name will result in prospective fans not being able to discover your page when looking for it on Facebook.
Furthermore, if someone attempts to share your page, they may be unable to spell it the right way, which can cause confusion and negatively impact your engagement
To improve the memorability of your page name and make it simple to remember, ensure you never use symbols, symbols or acronyms in the name.
Instead, use simple to memorize and non-confusing words. Furthermore, ensure the name is as succinct and brief as possible while delivering the central idea of your page.
For instance, if your page is for football, you can consider a name like "football fans" instead of "the biggest football addict society."
Keep it brief and simple
Short names make it simple for people to memorize. A confusing and long name is hard to remember, making it complex for prospective fans to locate your page.
Furthermore, a simple name would be better suited for search result pages and Facebook posts, as well as marketing content.
When choosing a Facebook Page name, ensure you shorten your name to 20 characters and below if you can.
This lets you utilize the full page name for promotion and marketing without bothering to shorten or omit keywords. It also simplifies the process of inputting the URL into your browser.
Lastly, ensure that the name properly reflects the content or theme of your page. Stay away from using non-specific words like "page" or "fans," as they are not effective in describing what your content is about.
Instead, use keywords that are relevant to your product or brand. This will positively impact your page's reach and exposure, allowing it to appear in related searches and appeal to the right audience.
Do use symbols and icons
If you use abbreviations, symbols and numbers, it may be hard for people to memorize your page name.
It is essential that your page name is not hard to remember so it will be simple for prospective followers to locate and like your page.
Furthermore, it may be challenging for search engines to index your Facebook page when you use characters, numerals and abbreviations in your page name.
This may cause difficulties finding your page whenever anyone searches for a keyword relevant to your brand.
Ensure you use words related to your brand and properly reflect your page topic or theme to avoid such problems.
Your page name has to be brief and succinct but still informative enough that people will understand what your page offers.
Furthermore, ensure you add keywords relevant to your brand as this will enhance its SEO performance and simplify the process of locating your page.
Beware of trademarked terms
Be wary of trademarked terms that exist when selecting a Facebook page name.
If you add a trademarked term to your page name, you risk being hit with copyright infringement and possible legal troubles.
To prevent this, do a due diligence check before choosing a page name. Start by carrying out an exhaustive search via online resources like the US patent and Trademark office portal and other registries.
You will likely see if the name you wish to use has been registered by another person or business.
If this is the case, select an alternative name that doesn't infringe on a trademark that is already registered.
Furthermore, when developing content for your Facebook page, be careful when adding copyrighted material.
Most times, it is advisable to use only original content that comes from you or from sources that permit recreating and sharing.
By sticking to these guidelines, your page will meet all relevant copyright regulations and policies.
Never use vulgar or offensive language
One way to ruin the brand's reputation is to use vulgar or offensive language in your Facebook page name.
It will deter prospective customers from interacting with your page, which may create the impression that you are reliable or credible.
Furthermore, when such language is present in your page name, it can result in harsh comments from followers on your page, which may further hurt your brand.
Ensure you keep your Facebook page name respectable and professional.
Steer clear of words or phrases that are regarded as indecent or offensive. Rather, work on choosing a name that properly describes your brand and attracts your target audience.
Include keywords that define your page offerings, so prospective customers can easily locate your page.
Conclusion
Having to change your Facebook page name is needed, especially during a change of brand. Following this guide on how to change your Facebook page name will help you get started.
Also Read: